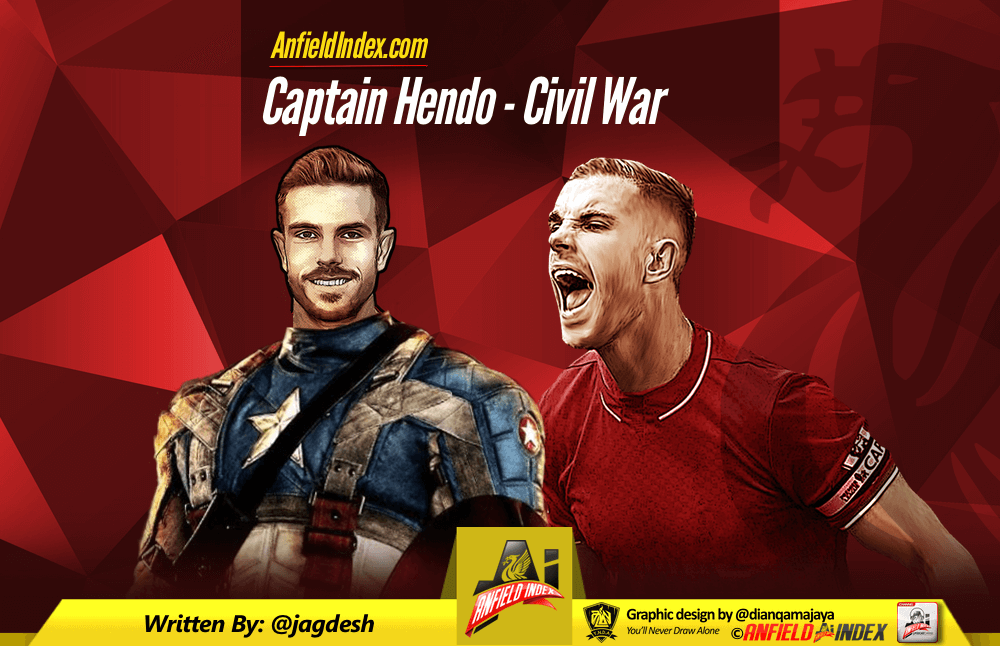 Captain Hendo: Civil War
When Dalglish pursued and finally signed a young Jordan Henderson, a few days shy of turning 21 years of age on the 9th of June 2011, many amongst the Liverpool faithful were very hopeful. It was the best of times, it was the worst of times. Liverpool had only just emerged from the toxic ashes of a civil war, nearly on the brink of being banished to administration only half a season before. Their new owners were viewed as saviors but these views were soaked with trepidation. A new lean team was built by supposedly an assured Director of Football, based on the foundations of youthful vigor coupled with the faithful promises of potential. Henderson was the poster boy of this youth signing policy, already having crafted a name as a young leader for the Sunderland team the season before and a regular for the England national U-19 and U-21 team. The decorations also included him being listed on the official FIFA website as one of 13 young players to watch in 2011. He was named Sunderland's Young Player of the Year for the second season running. We thought nothing else but how big a coup our trusted King had landed upon us. Fergie, on the side, had to keep up with the Jones. He fought tooth and nail with Kenny to get another young player with similar decorations, a young Phil Jones.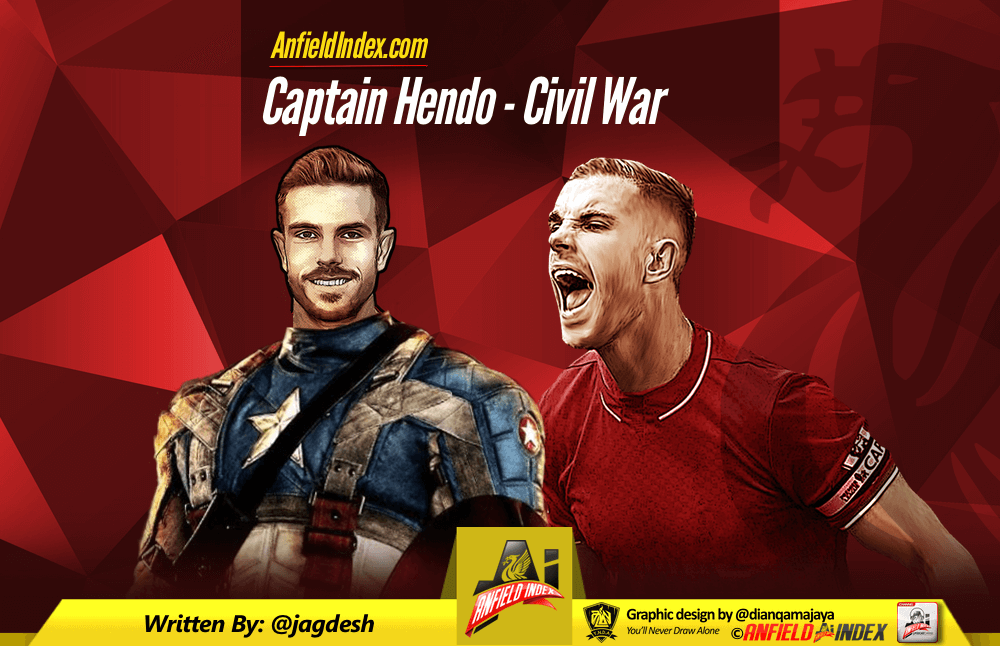 But impress us Hendo did not in his first season. His evident versatility while playing as central box-to-box midfielder for Sunderland didn't shine, although it has to be said that Kenny got him hitting the ground running as a right winger, hugging the touchlines, getting the crosses in albeit sporadically. Many of us contemplated that perhaps the Red shirt was too heavy a burden for the young man. At the end of the season, the youthful signing policy of FSG reared another version of itself, and a young manager was brought into replace the extended royal caretaker. Suddenly, with a little less than a season under his belt, the young Hendo was put into the shopping window, touted as the failed vision that got Kenny sacked. Fortunately for Hendo, fate didn't really wholeheartedly agree with Rodgers, and the deal to exchange the young midfielder with an aging American striker was finally scuppered on deadline day.

What transpired subsequently as the season started with a comical documentary was a resolute demonstration from the young player to prove his new manager wrong. Hendo displayed an unforgiving version of the Energizer Bunny, in the mould of the great Dirk Kuyt. He didn't tire whenever he was called upon, slowly but surely making him part of the spine that saw a mesmerized Anfield sing songs of winning the league very late in the 2013/2014 season. Many would remember that season, yes, that season as the season Gerrard slipped up our title chase. But equally, many would also remember the absence of Hendo following his sending off in that same game. Yes, that game at Stamford Bridge. Many like me believed that Hendo would have ensured that we didn't self-combust in the following games and lose that slim chance we had against the might of Manchester City. Attributing his absence to being a factor as big as Gerrard's slip in the title that wasn't meant to be was a testament to Hendo's turnaround from being a young pariah to Gerrard's successor as captain. He showed character. Yes, I said the dirty word.
Then came the whitewash of 2014/2015, when many believed the presence of the aging Gerrard hindered the growth of Hendo as the midfield presence and natural leader to his teammates. His succession as captain was received with the same emotions that the faithful had felt when Kenny signed him, with hope, enveloped with the uncertainty that he may not be able to handle the weight of the mantle. Let's be honest with ourselves, Gerrard is a 'once-in-a-lifetime' force of nature during his peak. Willing to win games was his hobby, influencing the outcome of the game by grabbing the game by the scruff of the neck (I'm overdoing the clichés, I know) was his idea of a fun evening and being the natural leader by action, not words or emotions, was his nature. Hendo certainly can't fit the huge broad shouldered Red jersey that could summon these qualities.
But the black armband didn't necessarily require these powers to summon. When the great big Finn, Sami Hyppia wore it, he wasn't a swashbuckling Roy of the Rovers character that his teammates depended on to win games. He was, however, the calming matured leader that other leaders in the team needed. He was the one to make sure heads don't get lost during pivotal moments of the game, by cajoling when required, by sternly reprimanding when required, by making each mate of his team know their roles and his expectations for them to play these roles to their best. Great leaders were always followers first. Hyppia was Gerrard's captain, both complete opposites as leaders, but both leaders the same. Hendo's character (there, I said it again) of dogging the fight, not giving up his place amongst the spine of the team, staring and barking at troublemakers like Costa, protecting his team mates against scourges in the league is no less a captain than Hyppia.
But his capabilities aren't world class, or at least he hasn't demonstrated his potential when we signed him. Many would question the club and the current manager's acceptance of his mediocrity, if indeed his capabilities are mediocre. But perhaps his world class capabilities aren't as apparent as the silkiness of Firmino, nor the thrill of Coutinho, nor the ruthlessness of Sturridge. Perhaps his capabilities lie within the dormant domain of making the sum of all parts in the team bigger than the individuals. Much like the previous Dutch clog of pure energy, Dirk Kuyt, who never exhibited any jaw dropping skills nor capabilities, Hendo when fit can be the Energizer Bunny on steroids that just does the dirty job allowing the Firminos, the Coutinhos, the Sturridges to shine. Coupled with the matured EQ heavy leadership qualities like Hyppia, Hendo can still be that captain, when fit and roaring to go.
After the debacle that was deemed the Skrtel Comedy show at St. Mary's, rumours were abound that Hendo had voiced out his concerns with Jurgen Klopp's training methodology, the intensity perhaps further aggravating his injuries that he so desperately tries to nurse back for him to get his limitless running energy back again. Klopp had remarked:
"I am pretty sure it is only a rumour [Tottenham wanting Henderson] but if not and if a player — let's not say Hendo but any player — comes to me and says he doesn't feel comfortable and wants to leave, style of play, more money, then you always have to start thinking. That's all I can say on this.

"Coutinho, [Roberto] Firmino, so many players are very special. You could go through the whole squad. But if a player wants to go to another club then I'd always be open to it because I don't want to have a player in my squad who doesn't want to be in the squad.

"These are problems you don't need during a season. A player is never good enough for you to have to cope with problems like that for an entire year."
These remarks have sparked heavy rumours that Hendo will likely leave in the summer. I personally don't think Hendo will quit as easily to work under an elite manager that could bring him the glories of captaining a resurgent Liverpool. History has shown that he would knuckle down, he would spit away the bile and he would fight for his captaincy, he would fight to prove why Kenny had pursued him and signed him in the first place.