It seems to be the constant posture Liverpool Football Club has found itself in since circa 1992.  We are always "in transition", always going through changes, always waiting for players to be bedded in, always looking for the deadwood to be shipped out.
After our 2013/14 season, where we so nearly brought the title home, there was a feeling that maybe one (two at most) more signings would be enough to push on in the following term.  Then, of course, we lost Suarez.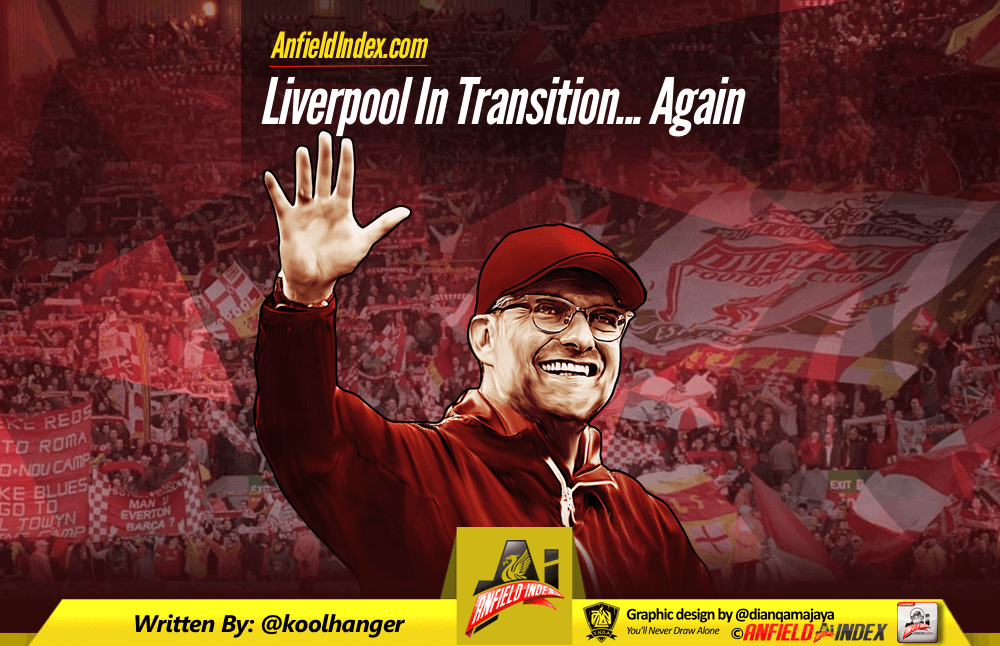 What followed was a huge recruitment drive: Lallana, Lovren, Markovic, Balotelli, Lambert, Can and Moreno all arrived.  There is no doubting we lost the best striker in the world, and one who has actually continued to improve at Barcelona since.  The chasm that remained was not only in the quality of our starting eleven but in the strength of character and never-say-die mentality that Luis Suarez took with him.
Since then we have added to the strength of our squad with the development of players such as Can, Coutinho and Sakho, plus the acquisition of seasoned pros such as Toure, Milner and Clyne (yes, he's only 25 next month but his professionalism is exemplary).  Younger players like Joe Gomez and Danny Ings have been out for the last seven or eight months but showed great promise before injury ruined their debut seasons.  They will hopefully be coming back stronger than ever and determined to pick up where they left off.  Ings is also the kind of player who seems to have the mental strength we are so desperately lacking (Exhibit A: last Sunday's 2nd half collapse).
There is talk of a large amount of players heading for the exit this summer.  Klopp has had his honeymoon period and now is the time to get serious.  Next season, questions will begin to be asked of his performance.  He will have had three transfer windows behind him by the end of 2016/17.  By that stage the personnel present should be getting closer to what he envisions as his own Liverpool squad.  Klopp will know better than most the need to try and lead his club on its next step at an appropriate rate of change.  Much as he would probably like to offload ten players together, is it wise to do so?  Look at the case of Graeme Souness taking over from Kenny in '91.
"Sure, I know I made mistakes, in both my manner, and the way in which I tried to change things too quickly."
That was Souness, speaking to The Independent in 1996.  He was then manager of Southampton after his Anfield overhaul had ended in disaster.
Could Klopp be giving a similar answer in the future after trying to enforce a drastic change too soon? There is no denying Klopp is far more advanced as a manager than Souness was at any stage of his career, however it is still something that needs to be kept in mind?
Rumoured departees for this summer include Benteke, Skrtel, Moreno, Lucas, Mignolet  Toure, Enrique, Bogdan, and even club-captain Jordan Henderson.  If only half of those rumours prove to be correct then we still may be losing four or five squad members.  With Matip and Grujic confirmed for arrival in June, Klopp has already begun putting his stamp on the team.  
Shifting Henderson out would be a huge statement from Klopp.  It would be a proclamation of what characteristics he wants and needs his players to possess.  I myself have been one of Henderson's biggest fans over recent years but he is not cut out to be club-captain at Liverpool.  I don't know if it was the pressure of this role coupled with his injury worries that have affected his performance but Henderson can no longer even be considered as a definite starter.
Steven Gerrard has been gone almost a year now so that particular band-aid has been ripped off.  Maybe his shadow has loomed over players like Allen and Henderson.  From next season onwards however that can no longer be considered a viable excuse for anyone underperformng.
With Emre Can as a main cog in any future midfield and Sakho in central defence at least Klopp has two parts of the necessary "spine" we always speak of.  Maybe Henderson will stay under Klopp and develop into a fine midfielder, maybe he is on the way out and Klopp already has his replacement lined up.  Whatever the decision, I feel Klopp has shown enough promise this season for us to place our trust in him (as we are so fond of doing, a la Rodgers, Rafa….).
This summer, as always, is going to be eventful.  With the European Championships in France and Copa America being held outside of the Southern Continent for the first time ever (taking place in the United States) it may be July before many deals are done.  
The next challenge is surviving the inevitable transfer rumour-mill until that time.  
@koolhanger