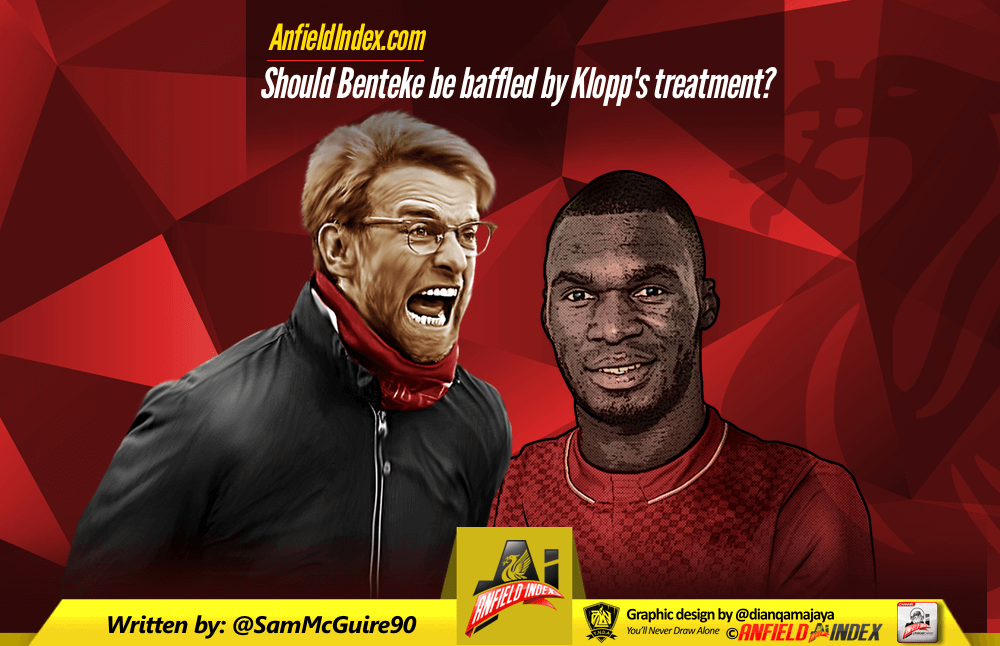 Should Benteke be baffled by Klopp's treatment?
It seems frustration has got the better of Liverpool striker Christian Benteke after he spoke out about his lack of playing time under Jurgen Klopp. Speaking to Belgian publication Sport/Voetbalmagazine the Liverpool no.9 said –
'When your coach says he wanted to take you to Dortmund and a little later you sit at the same club and he ignores you it is hard to understand.'
Should the Belgian be confused with regards to his current situation? Stating that Klopp had shown an interest in him whilst in charge of Dortmund seems completely irrelevant now. Managers adapt, tactics evolve and leagues differ. Just because the German side, with Klopp at the helm, showed an interest in him, but never actually followed it up for whatever reason, doesn't mean Benteke should now be first choice at Liverpool.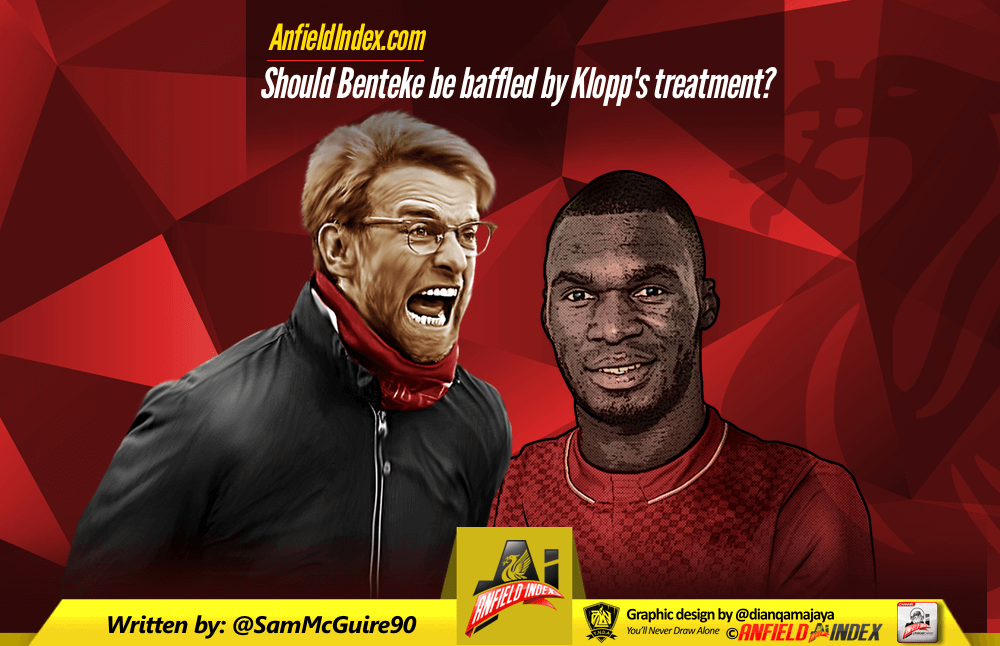 On paper Klopp may have had high hopes for Benteke. It's a situation many people encounter on a day to day basis where you want something but when you look at it properly, in real depth, it's just not practical. I'm sure every single person has bought something in their life and it's not lived up to their expectations. Now imagine you're gifted something you've previously looked at, similar to how Benteke was parting gift from Rodgers, if you don't like it then you don't like it.
Benteke then went on to mention Liverpool's style of play under Klopp –
'I can play pressing and moving a lot. It is not that we play in the Barcelona style.'
Liverpool may not play like Barcelona, the Reds have less control when in possession but the Catalan club have had an eight year head start in that respect. There are similarities though in terms of what's expected from their attacking trio. The movement from the forwards is what's vital in both sides being able to breakdown teams. It's why Liverpool have looked much more effective, fluid and efficient when they've had movement from all three of their attackers. It's not just about 'pressing' but clever movement when not in possession of the ball.
Alternating between standing on the edge of the area shouting for a pullback and then standing on the back post not looking to attack the ball is not what many would consider clever movement. Not only that but the striker has the bad habit of holding the ball up in the final third with his back to goal before playing it 20/25 yards backwards. It's this habit that had Klopp going bonkers on the sidelines against Southampton.
Simon Brundish posted stats on Twitter which compared the Liverpool forwards so far this season.
| | | | | | | | |
| --- | --- | --- | --- | --- | --- | --- | --- |
| | Presses per 90 | Shots per 90 | Goals per 90 | Shot accuracy % | Chance Conversion % | Key Passes per 90 | Dribbles per 90 |
| Firmino | 35 | 2.8 | 0.5 | 53 | 17 | 2.4 | 3.8 |
| Benteke | 10 | 3.4 | 0.5 | 45 | 14 | 1.8 | 1.3 |
| Sturridge | 10 | 3.8 | 0.9 | 77 | 22 | 0.6 | 2 |
| Origi | 17 | 2.9 | 0.3 | 64 | 12 | 1.2 | 3.2 |
You'll note that Benteke presses the same amount of times as Daniel Sturridge does per 90. So it's not as though Klopp isn't selecting Benteke because he doesn't press even though that's what Benteke implies with his comments.
The reason behind his lack of playing time will be more down to the fact his style just doesn't suit the team. It's not a knock on Benteke and he shouldn't be blamed for that. The club may have paid £32.5 million for the forward but he didn't set the price and in reality a striker with his strengths and qualities should be valued a lot closer to the £20 million mark.
Considering Benteke hasn't been getting many minutes as of late he still went 538 minutes before his winner against Palace without a goal. For context that means if you sat down and watch the entire Lord of the Rings trilogy from start to finish Benteke would've scored 15 minutes from the end of the third film. You could watch three and a half Harry Potter movies and finally you could fly from Manchester to Crete and back again in the time it took for him to score a goal despite not being given any chances.
One could argue that Benteke had his oppurtunities under Klopp and he literally didn't take his chances. The missed clear cut chances stat further back up this argument with the forward missing his last ten.
' I told myself that I had to adapt and change my style of play and then I remembered that Liverpool bought me for my qualities.

'The ideal situation is to keep my identity while trying to adapt to the style of the coach. And if it does not work, it does not work.' 
There have been glimpses, few and far between, that Benteke is looking to change his style of play to adapt to this Liverpool side, but these five minute spells aren't suffice. It would have been smarter for the striker to take his chances and let his football do the talking but these words are from a player who's looking for excuses.