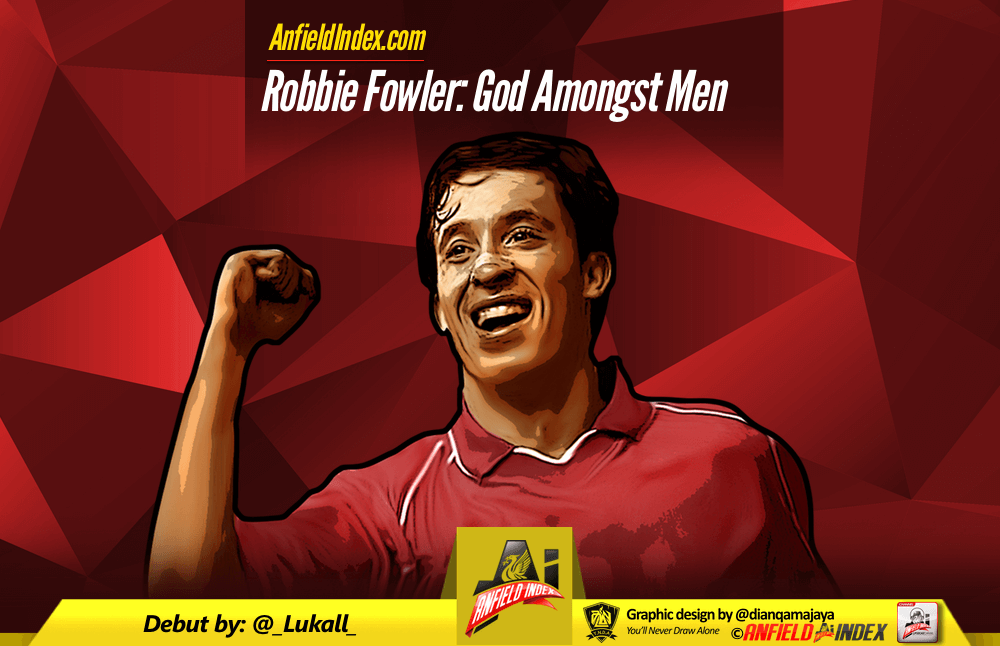 Robbie Fowler: God Amongst Men
According to one of its definitions on www.dictionary.com, a God is:
'One of several deities, especially a male deity, presiding over some portion of worldly affairs.' – A worldy affair, for example, of bringing joy the world over.
A deity, I didn't know, is defined as:

'Divine character or nature, especially that of the Supreme Being.'  – Devine in nature, being extremely good, by way of skill and ability.
Only a fool would say Robbie Fowler didn't create joy the world over. Only a fool would suggest Robbie Fowler wasn't divine in character and nature. By dictionary definition alone; Robbie Fowler is God.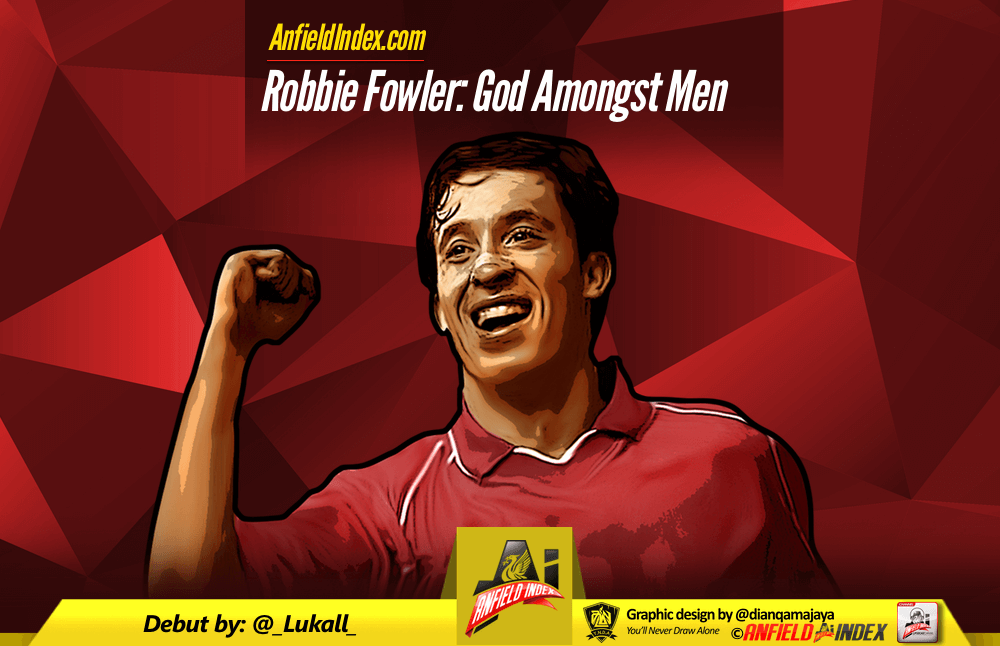 If you're of a certain age, you will have a favourite goal scored by Fowler. It's just one of those things. Favourite song, favourite film, favourite goal by Robbie. Mine is the one against Birmingham City in the final of the Worthington Cup as it was known back then. The way it sat up ready for the strike. The way it was allowed to sit up. The technique, the finesse. The Robbie Fowler cup, as it should be known.
I was admittedly too young to fully remember when Fowler broke onto the scene, but as a Liverpool fan it really doesn't matter if you were too young to have witnessed his first goal vs Fulham in the League Cup. Too young to witness his five goals in the return leg a few weeks later. All that matters is that he will have been one of the first lads you will have heard of growing up.
To score five goals in a game as a team is a bit special, but for one man, one young man to score them all, all five goals, is the kind of thing saved for FIFA or back-garden football. It's the type of thing lads will be going to sleep dreaming of doing. The type of thing I dreamt of as a child. Plaster on nose, jumpers for goals. Dreaming and wishing to be Liverpool's number 9.
We watch football to be delighted. Defenders can defend and everyone loves a crunching tackle or a nail-biting block, but it's the goals that we pay to see. The 5 yarders and the chips from far. The headers, shoulders, knees and toes. They go in off your arse, they're scored in all different ways and all different means, but it's the goals that entertain the fans. During the 90's Liverpool had the most natural finisher there was.
"A goal scoring genius" spoke David Fairclough, a man in-the-know when it comes to scoring a goal or two. "He played, kind of like, the best kid in the street" being another apt way to describe him, by football writer Brian Reade. Maybe that's what was part of his God-like status amongst Liverpool fans. The boy in the street. Again, he was the one living dreams for thousands of Scousers and beyond.
Loving a player isn't merely about what he does on the pitch. Liverpool fans revelled in the goals of Michael Owen on the pitch, but there wasn't much to him off it. This could seem unfair but fans will often give what they get, and with the likes of Michael, it wasn't very much. Polite in tone and sitting on the fence personified, the goal scorer from Chester never seemed completely relatable. He was the opposite of a tongue-in-cheek, everyday boy like Fowler.
Where Michael Owen was short back and sides and England's forward, Fowler was the bleach blonde locks, drinking Reef and a Liverpudlian lad through and through. They both scored goals, and they were both strikers for the big occasions, but one is known as God, whilst the other doesn't even have a song. Robbie Fowler was the relatable player in a sea of unapproachable personalities.
Unlike many strikers before him and since, other than be a poacher inside the box his ability to delivery stunning strikes from beyond 18 yards was breath-taking one second and jaw-dropping the next. His goal vs Aston Villa, where he turns Steve Staunton inside out before unleashing a vicious, immovable shot past the helpless Villa 'keeper was a wonder. It's probably one of his best, most iconic goals from a list of gold-standard excellence.
It's tough to mention the player without mentioning his one, big injury, but just imagine him without it. He missed the World Cup in '98 and most of the season previous. He lost his pace and was never quite the same. The finishing was there, but his game had to change. In fairness to him, he was good enough in his prime that pace wasn't his biggest asset. It was finishing he was known for. From anywhere with the ball at his feet. But with that extra bit of pace retained and a more favourable Liverpool manager, he could have been a Champions League winner.
The best way to describe Fowler is that if he has broken on the scene today, in Spain, Germany or anywhere overseas, the English media would be making him one of the biggest names on the planet. The goals he scored would make any player proud and any fan purr with pleasure. During a time when Messi rules the land and sea, the Argentine prince would have been made up with the lob vs United or his hat-trick vs Arsenal. As a matter of fact, he would have been proud of many of Fowler's goals. Timing is everything in football, and to become a footballing great, God's injury came at just the wrong time.
Robbie Fowler is already spoken of in the highest regard, with his name being uttered in the upper echelons of Premier League finishing legends. He's a man whose game was built on a love for the club first and a love for the sport a close second. It was his cheeky grin and record numbers that the fans loved most. His celebration screamed of 'fan given a game for the day' every time he scored. His delight and skill were equal in their extremes. He was born a boy from Toxteth and retired a legend the world over. His return for the club under Rafa Benitez was a marriage made not out of nostalgia but from – this time – perfect timing. Liverpool's God had come back, and provided some important goals too. He never was the same, after his injury. Maybe let's leave the imagining for another time. For now we have actual videos of his goals. Actual memories to look back on and actual plasters to stick on our actual noses. Cheers, God. You made believers out of the lot of us.