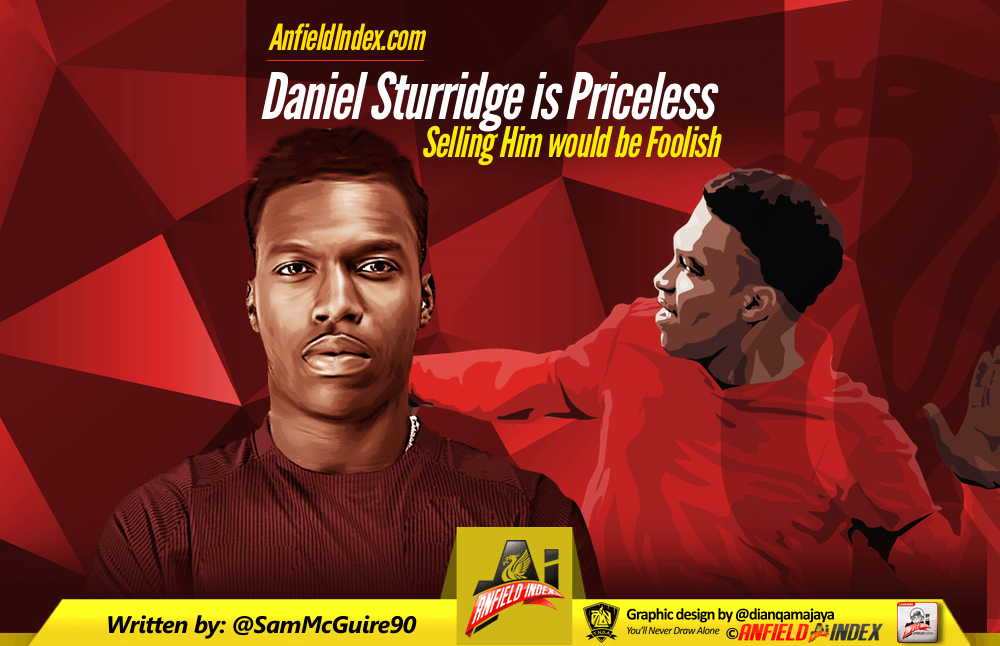 Daniel Sturridge is Priceless, Selling Him would be Foolish
In Premier League history Daniel Sturridge ranks fourth when you look at goal involvement per minutes on the pitch.
Yet there are a large portion of Liverpool fans that want to sell him and he's nowhere near his peak.
Since the inception of the Premier League in 1992 many great strikers have graced it. The likes of Michael Owen, Robbie Fowler, Dennis Bergkamp, Eric Cantona, Fernando Torres, Alan Shearer and Titi Camera.
Our very own no.15 is more effective than these greats when it comes to goal involvement. For those unfamiliar with this term it's goals plus assists divided by minutes on the pitch. Sturridge has been involved in a goal in some capacity every 104 minutes since his Premier League debut. The players ahead of him in the list are – Didier Drogba, Thierry Henry and Luis Suarez.
All of whom are strikers you'd mention when asked to name the Premier League greats.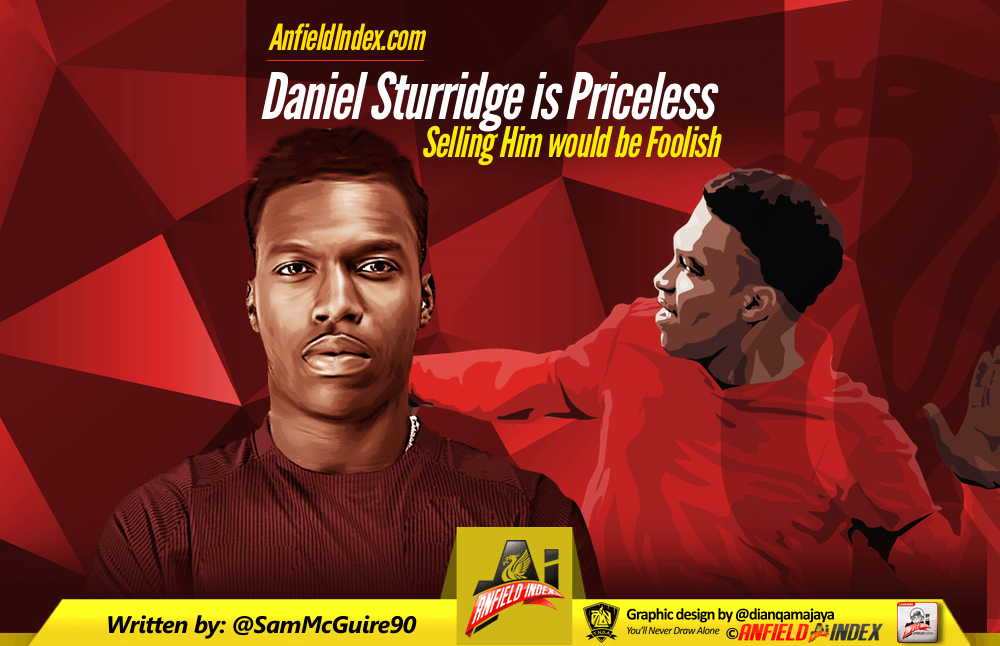 Luis Suarez went cheaply when he left Liverpool for Barcelona. £75 million should have been a lot closer to £100 million. If both Drogba and Henry were playing in the modern game their price tags would be closer to the £100 million mark too. Yet Liverpool fans, possibly the majority of them, would be willing to accept £20 million for Sturridge.
Daniel Sturridge is an elite striker and if it were not for the countless injuries he's had a European powerhouse would've come calling earlier. The recent rumours which lead to many debates on social media, saw him linked with a £45 million move to PSG, a club on the brink of joining Europe's big boys table. It's a rumour that has some credibility and that's why it's concerning for those who want to keep him. The loss of Zlatan Ibrahimovic looks inevitable and it's a void they'll have to fill, and quickly. On the surface Sturridge and Ibrahimovic may not seem comparable but scratch a little and you'll see that both are clever players, both are driven to be the best, and both score goals. Since his return to the Liverpool line-up after his latest injury he's average a goal or an assist every 81 minutes.
https://www.youtube.com/watch?v=vs7WG4A3zx4
Daniel Sturridge is forever having to prove himself to Liverpool fans and it's bizarre. When he originally signed there were question marks over his attitude, unfounded ones at that. He blew every single fan away when he signed in January 2013 and proceeded to score 11 goals in 16 games. The following season saw him lead the line in the absence of Luis Suarez, in the opening three weeks Liverpool had three consecutive 1-0 wins courtesy of three Daniel Sturridge goals.
Upon the return of Suarez it was Sturridge who twice assisted the Uruguayan in the 3-1 win against Sunderland. It was Sturridge who came off the bench in the Merseyside derby to rescue a point when Liverpool looked defeated. Sturridge hit a double against Everton in the 4-0 rout. He followed this up by grabbing the equaliser in the all important 3-2 win against Fulham. He then hit another brace in a 4-3 win against Swansea. Give him a centre metre in front of goal and he's clinical.
In 13/14 Sturridge was dancing to the beat of the Anfield atmosphere.
Luis Suarez got the plaudits but Daniel Sturridge's contribution in that season shouldn't be ignored. In that season if you removed his goals Liverpool would have been 26 points worse off. Over his Liverpool career, 62 Premier League games, Sturridge's goals have earned the Reds 37 points.
Despite having such an impact in a memorable season it's like many fans resent how unfortunate he's been. There are forever accusations being levelled at him that he's of a poor mentality, he has no desire to play for the shirt and he's a pussy. He's afforded no time to bed into the team before sections of the fan base are questioning him and micro analysing everything about him.
There was fan fume over the fact he didn't take a penalty in the League Cup final shoot-out against Manchester City. Just ignore the fact he could barely walk in extra-time and how Lucas actually injured himself whilst taking a penalty. Why risk Sturridge when you have five capable players already?
People contradict themselves by moaning about his desire to play for the club before kicking up a fuss about how he reacts when he's taken off. A player lacking commitment wouldn't look so annoyed at being subbed, would he? If he jogged off all smiles then you may have a point about his commitment. Until then, do shut up.
If you'd missed the last few matches but just read up about them on social media you'd be of the impression Daniel Sturridge has been underperforming. A goal against United, from the penalty spot just to really annoy some fans, and one against Southampton seem to have been brushed under the carpet because that's all he's supposedly done.
"He doesn't press. He's lazy" is a common phrase used with regards to Sturridge. There's a big different between clever movement and being lazy, like there's a big difference between clever pressing and a headless chicken act. Daniel Sturridge may not be the most energetic of players but his movement in recent matches has been so intelligent it should be admired. He's purposely drifting wide, dragging centre-backs out of position and isolating full-backs, to create space centrally for Liverpool to exploit. Teams like to sit deep against Liverpool and Sturridge's movement has been key in opening up both Southampton and Manchester United.
He's one of Europe's best strikers. Selling him for £20/30/40 million doesn't guarantee Liverpool will replace him with a player of his quality. When he's fit he's priceless.