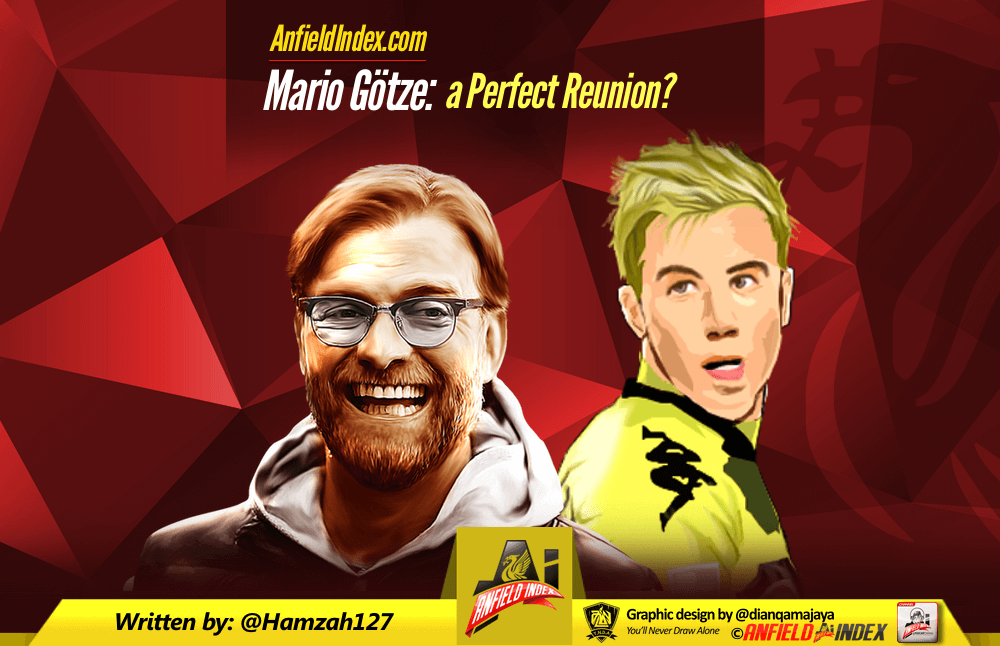 Mario Götze, a Perfect Reunion?

As soon as Jürgen Klopp arrived at Liverpool FC, various newspapers posed the question, 'Which former players from Klopp's Dortmund team would he attempt to sign?', Liverpool have been linked with Ílkay Gündogan, Marco Reus and Neven Subotić, but most recently there have been reports of a summer move for Mario Götze on the cards; fuelled by comments during an interview from Götze himself, saying,
"I have not heard anything. You should ask Klopp if he wants me at Liverpool. If he wants me, he should approach me."
Alongside this as fellow club and national teammate Thomas Müller stated,
"I fully appreciate that he [Götze] might not be satisfied at Bayern Munich. From a purely sporting point of view, of course you want to be on the pitch, you want to be showing the public what you can do. I would wish for him to stay at Bayern Munich — but you never know in this world, so I don't talk about potential new clubs with Mario Götze."
Whilst national coach Joachim Löw waded in to voice his understanding of Götze's current predicament at FC Bayern Munich,
"[Götze's] club form and lack of first-team chances because of injury and competition for places is a growing concern… [but] there will, of course, be a new coach in Bayern next season, so the first thing he should do is talk to the new coach."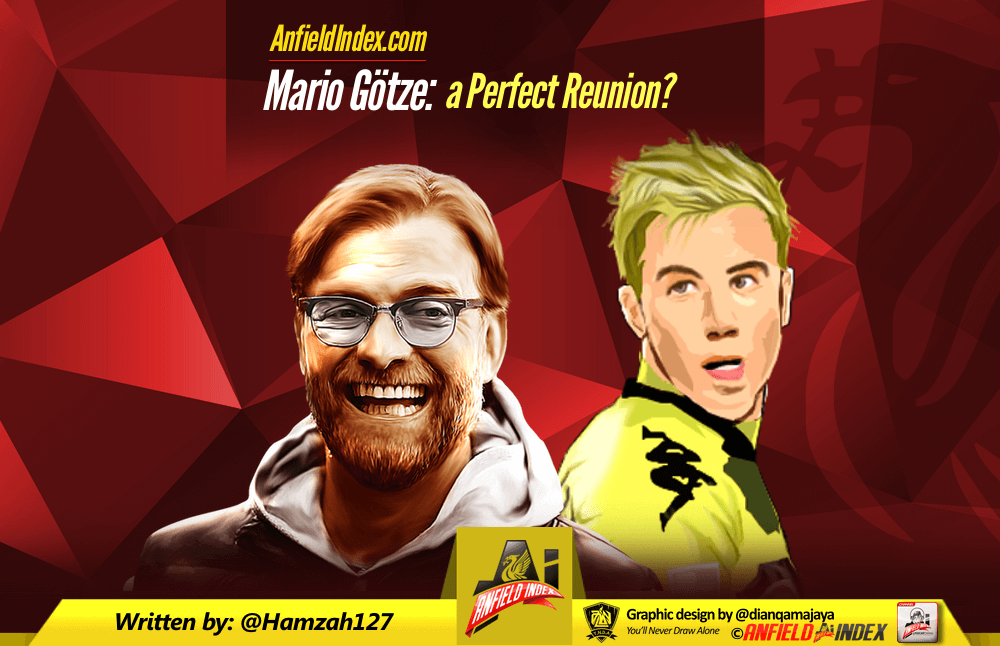 Without needing to look at Götze's statistics over the past few seasons, it's clear that he would add quality to the squad, competition, please the fans, come relatively cheap – as he only has a year left on his contract – and would suit Klopp and Liverpool's high intensity, fast, slick playing style – signalling that Liverpool are ready to really challenge at the top end of the table.
Götze may not contribute lots of goals, but he adds composure in midfield, is creative, would provide assists aplenty, and also match-up with Klopp's high press style, which naturally creates opportunities, which would be seized by a player of Götze's quality.
However, there are several concerns, firstly is Götze's injury record. This season, Götze has suffered three injuries, two of which are minor, and one which was serious. Over the two previous seasons he only suffered three setbacks, but in the 12/13 season he had seven separate injuries – one of which had him out for around two months. In comparison, Daniel Sturridge, since his arrival at Liverpool has only suffered eight injuries to individual areas of his body – with some recurring issues too though.
Considering Götze would be amongst the top earners at the club, could Liverpool afford another high-earning player with a high propensity to get injured and sit on the sidelines? Liverpool could certainly try to buy another young attacking midfielder with the money they may spend on Götze too, Max Meyer for instance, who is younger, and would likely demand a considerably smaller wage package.
The injury record is not the main issue though, the positives that he could potentially bring to the Liverpool team, mentioned earlier, far outweigh the negatives of potential injuries or wage demands, especially as Liverpool recorded a healthy profit this season, and will reap a vast windfall from the new Premier League deal. The issue is whether Götze could fit into Liverpool's current team, without compromising both Coutinho or Firmino.
Coutinho and Firmino are both excellent players in their own right, with Firmino currently in a rich vein of form, scoring nine and assisting nine this season, whilst Coutinho has nine goals and five assists in the same period of time, but arguably their best position is in the CAM role, and it is hard to fit both players into a 4-2-3-1 system without one of them playing out wide – where they aren't as efficient. Take the most recent games against Manchester United and Southampton for an example; in the Manchester United game, Coutinho may have scored from the left side of the pitch, but his greatest influence on the game came in periods where he was playing centrally, playing balls in behind, and linking-up with players on either side of him. Similarly in the Southampton game, where Firmino was absent through injury, Coutinho dominated the Liverpool first half display, scoring a goal, and putting in a performance worthy of more.
When Firmino has played out wide this season he has been less effective, seen earlier on in the season, whilst a switch to a 4-3-2-1 under Rodgers illustrated that cramming two CAMs into that particular formation meant that they would often get in each other's way, whilst also not providing the width that the team desperately needed.
If you add a Mario Götze to this situation, the predicament becomes even more complicated. Yes, Coutinho, Firmino and Götze can all play in the wide areas, but each of them are far more efficient in the CAM role. Rather than Götze, Marco Reus would suit Liverpool better, as not only does he prefer to play out wide, and would allow for either Firmino or Coutinho to play in their favoured position, but he contributes directly to more goals than Götze does.
A CAM player would not be high on Klopp's summer shopping list either; it would arguably be a waste to spend £20million on Götze in an already strong position for Liverpool, if that means a new goalkeeper or centre midfielder would not be signed instead. Alongside this is the issue of strikers too; with Benteke anticipated to move on in the summer, Liverpool would be left with Sturridge, Origi and Ings. Sturridge rarely plays a full 90 minutes, and whilst Origi and Ings are promising, they don't carry the threat of Sturridge. In order for Liverpool to retain their clinical aspect over a full 90 minutes, and over the course of a season, a new striker would need to be purchased too – so there is no point in having three fantastic CAMs, who are playing delightful passes in behind, if there isn't a striker to finish off those chances made. The £20million spent on Götze may be the difference between a good or a world class addition upfront.
Conversely though, it appears that FSG will give Klopp enough funds to improve the team, and will be able to reinvest any money that comes in from outgoing players.
For £20million though, it is hard to see another player of similar quality coming to Liverpool, especially as the new Premier League deal will inflate player prices and premiums higher, with players of Götze's quality most likely demanding a £40million or more price-tag when in good form.
Signing Mario Götze however would mark a shift in Liverpool's transfer policy, and really make them a cause for concern amongst rival clubs – if bringing Jürgen Klopp in already wasn't one. It would show a willingness from the club to invest in high quality players, with both high level international and European experience. This would undoubtedly please the fans, who have been looking for a marquee signing for some time, having seen players such as Christian Benteke unfortunately not living up to the price-tag attached to him.
Ultimately, signing Mario Götze would be beneficial to the club, as he would increase the quality within the team, and please the fans, as they finally get their marquee signing; but it should also directly improve the performances on the pitch, as Götze is a marked step-up from Adam Lallana and Jordon Ibe, and may iron out the inconsistent performances that Liverpool are prone to showing. Signing Götze would also be a sign of intent; and with the summer to get used to his potential new club – albeit a shorter than normal summer due to the European Championship – as well as already knowing the manager and his methods, it is fair to assume he would slot into the team nicely.
£20million seems fair for a player who is rated so highly and has won both domestic and international titles, so the only real issue would be tactical, i.e. how to fit Götze into the squad without compromising Coutinho or Firmino. This could potentially be rectified with a shift to a 4-3-3 formation, or sticking with the current 4-2-3-1 and playing Coutinho in a deeper role, the same way that Santi Cazorla was doing for Arsenal until he became injured – thus keeping Coutinho in a central position where he can affect the play, and make runs from deep, and also allowing Firmino or Götze to play in a central role.
These tactical concerns are most likely being exaggerated, and Klopp and his team may well find a way to fit all three players into the team without any of them suffering a loss of performance, providing Liverpool do buy Götze.
Much of this transfer will rely on the incoming Bayern manager, Carlo Ancelotti, and his willingness to allow Götze to depart the club, but also on any other potential suitors for Götze, with clubs like Manchester City or Chelsea almost certainly looking to improve their squad, and offer a deal for both the club and player that may dwarf Liverpool's prospective bid.
This deal has been described as a "realistic" proposition, by Ben Smith of the BBC, who also added,
"Liverpool certainly think they have a chance with Götze & he'd be a great signing for them."
If this is the case, it would certainly make sense for Liverpool to attempt to sign him, and he would be a fantastic addition to the squad, allowing for Klopp to build towards his promise of delivering a league title in his first four years as Liverpool manager. A CAM player may not be a priority currently, but opportunities such as these, where a top player actively wants to come to Liverpool, and for a 'cheap' sum must be grasped firmly with both hands, for the benefit of the club, and also for the fans too.
The signs are positive for Liverpool; the club should now endeavour to make this deal happen.