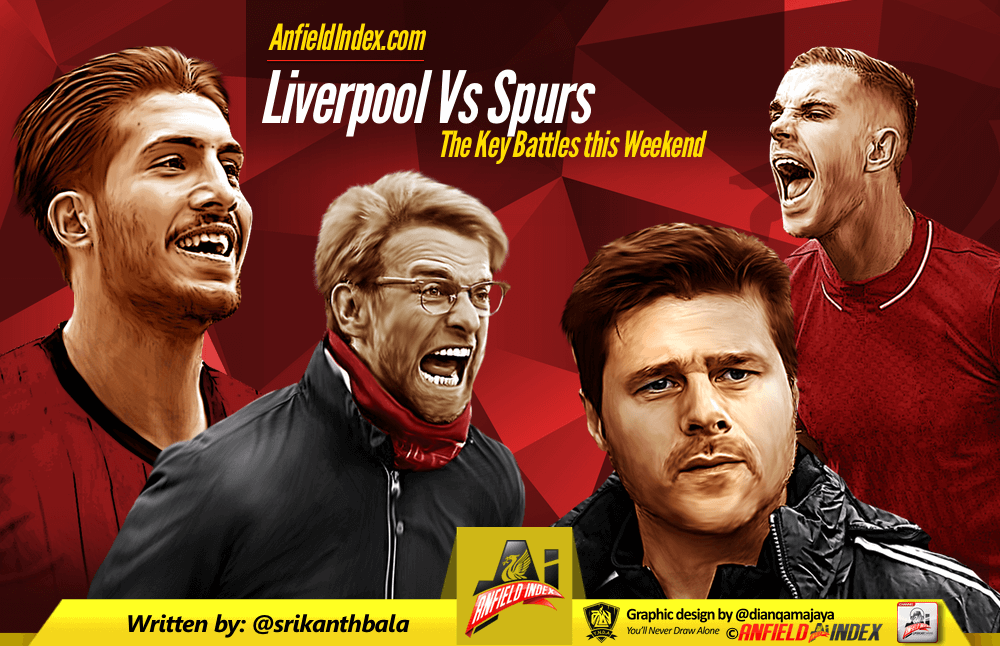 Liverpool Vs Spurs: The Key Battles this Weekend
Liverpool play Spurs this weekend, with each club in pursuance of varying ambitions in the league this season. Spurs are in the chase for the title, and hence this game becomes a must-win for Spurs. Liverpool are faintly in contention for a top 4 place, which took a beating after the 'defeat-from-the-jaws-of-victory' against Southampton. Liverpool, in recent years, have had a favourable home record against Spurs, with the last defeat coming in the 2010/11 season.
The Spurs team, coached by Pochettino, looks like a well oiled machine, with the defence especially looking well-drilled, so Liverpool are in for one of their toughest fixtures if they want to come away with the three points.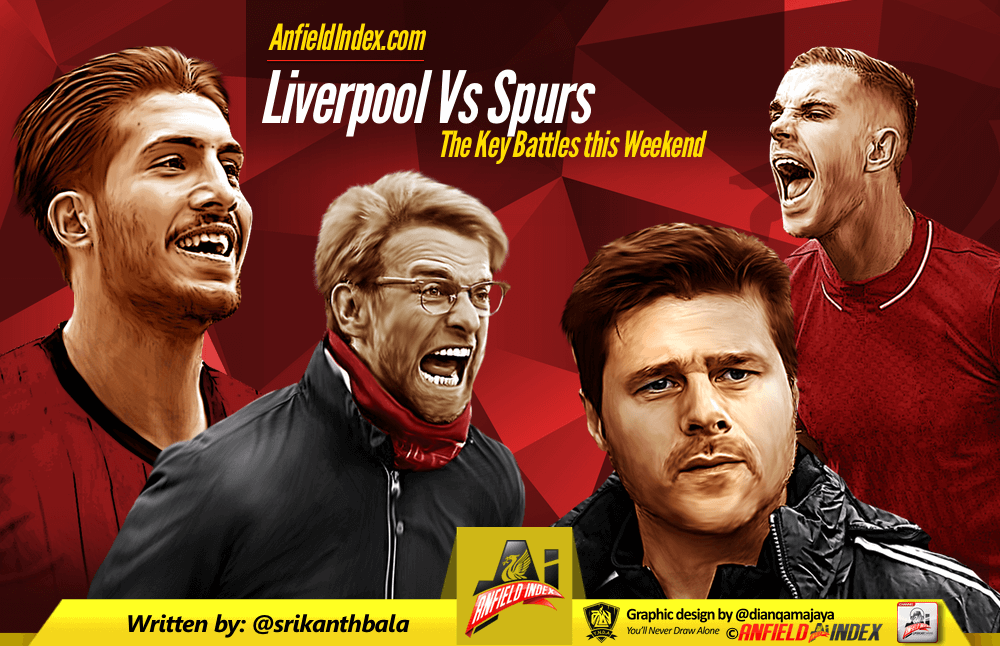 Battle 1 : The Midfield – Can/Henderson vs Dembele/Dier
Both teams believe in the importance of counter-pressing, and hence the midfield battle is going to be the most pivotal one. The resurgence of Dembele has been one of the key reasons for success; so much so he's already clocked more minutes than the whole previous season. The ability of the Spurs midfield to win possession at the earliest opportunity and re-circulate it has been one of their key operating tenets this season.
Let's look at how the midfielders fare comparatively: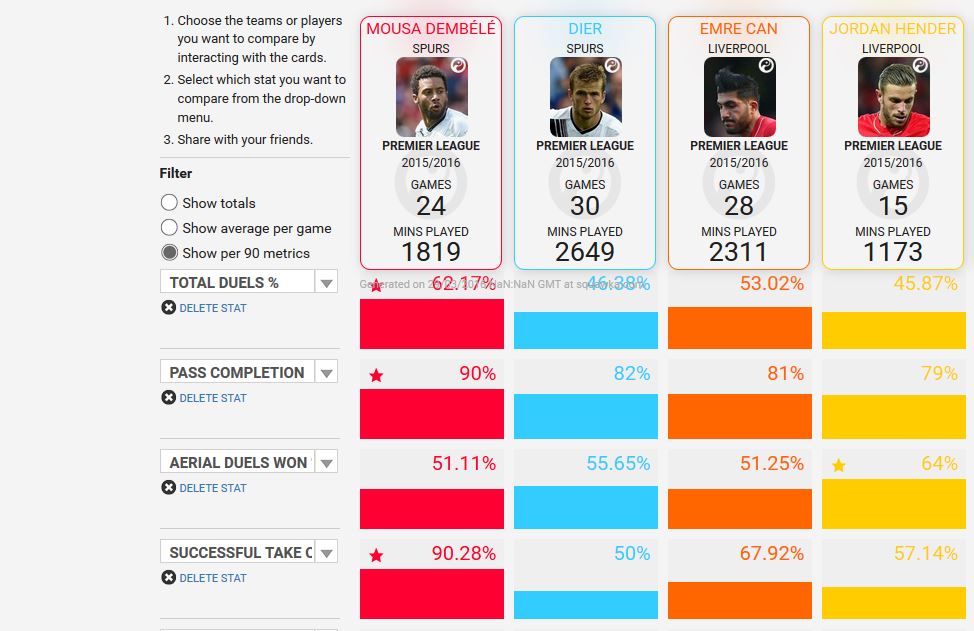 It is quite clear that the Liverpool midfield have a huge task on their hand, especially considering the not-so-good form of their captain, Henderson.
One way to get around this battle might be to play a 3-man midfield against Spurs and take advantage of the numerical superiority. Playing a 3-man midfield might also benefit Jordan Henderson, as his playing style seems to be far more favourable to this style than a double pivot with neither of Can and Henderson being comfortable sitting deep.
There might be a potential weakness for Liverpool to exploit, and that is to isolate Dier and cut off his passing channels. Let us not forget that he is essentially a centre-back playing in midfield, and he is not a player whom one would term as a 'ball-playing defender', hence passing is not his key strength. But Liverpool need to be careful as a failed press essentially opens up the midfield for Spurs to exploit.
Battle 2 : The Duels on the Flank – Clyne/Moreno vs Eriksen/Lamela/Son
This will be a very interesting battle due to the contrasting nature in which the Spurs wide players operate. For one, Eriksen is comfortable being a floater and occupying spaces centrally in tandem with Dele Alli. Eriksen generally prefers staying high so that he is the immediate passing option when the midfield wins the ball. This means that Clyne might have breathing space as Eriksen might not press, but Clyne needs to ensure he does not lose the ball as the transition from Spurs could be deadly.
Lamela or Son on the other flank is an entirely different player to handle, as they tend to press far more frequently (a bit like Lallana), so their intensity of pressing will be high.
It looks like Lamela is injured at the time or writing, so it is probable that Son could take the place on the wide-right . Hence it is imperative that Moreno either a) Pushes Son back or b) he does not get isolated with the ball.
Battle 3 : Harry Kane vs Centre-Backs
Harry Kane this season is not only scoring goals, but has become a more all-round player thanks to Pochettino. His ability to drop deeper and hold the ball up has got significantly better this season, while his finishing accuracy is still very good, and similar to last season.
Liverpool are coming off a horrific centre-back performance from Skrtel and Lovren, so it will be interesting to see who partners Sakho in defence, as it is highly possible that Kane targets that centre-back and begins peeling off the shoulder of the right sided-centre back. We have often seen that Sakho moves to his right to support his fellow colleague, hence it is imperative that the full-backs and the deepest midfielder hold their shape.
The stats below show the all round contribution from Kane vis-a-vis Sturridge.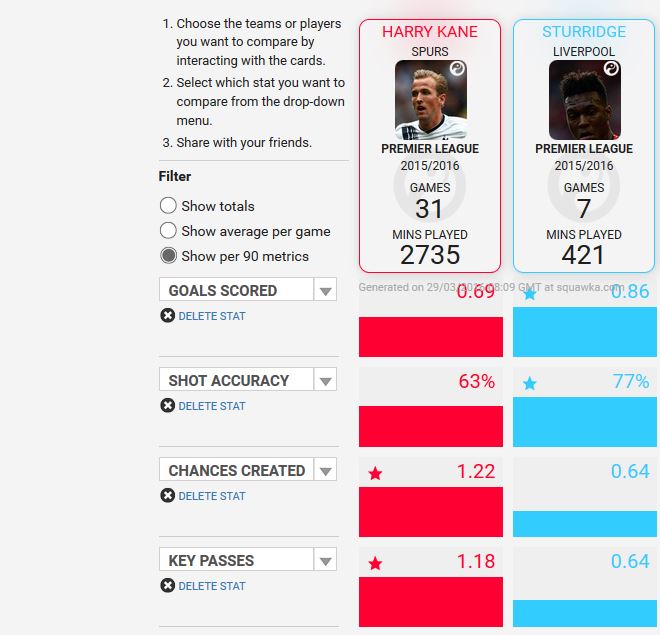 Battle 4 : Sturridge vs Spurs Centre-Backs
In the above graphic we can clearly see that Sturridge's ability to score from chances is remarkably high considering league average. With Vertonghen still injured, it could be Kevin Wimmer again lining up alongside Alderweireld, if he can recover from the stomach flu. It is quite apparent that Sturridge needs to target Wimmer, considering the imperious form that Alderweireld has been in. It is also important Liverpool play at a high tempo to make the optimal use of transitions during counterattacks so that Sturridge will be in a position to exploit potential one-on-ones with Wimmer.
Battle 5 : Coutinho
It is looking highly unlikely that Firmino would play any part in this fixture, thus the spotlight is firmly on 'Little Phil' to orchestrate some magic from the midfield. There is a possibility that he continues playing on the left hand side of the attacking trident; or there could be a chance that he plays more centrally in the absence of Firmino.
Irrespective of where Phil plays though, his ability to dribble past opponents and the close ball control in tight spaces means that he would be our biggest weapon in getting past the pressing of Spurs. His one feint could unlock their defence in a span of seconds and that looks to be our best bet against Spurs' Pressing Factory.
We have seen Coutinho floating around, and even dropping deeper to receive the ball, thereby making the opposition step up from their pre-set positions. It is important that Liverpool try to exploit this to the fullest, if we have ambitions of walking away with three points.
This match is set to be a game of many sub-plots, each as engaging as the other. Hopefully, post-match, Liverpool are the victorious team.