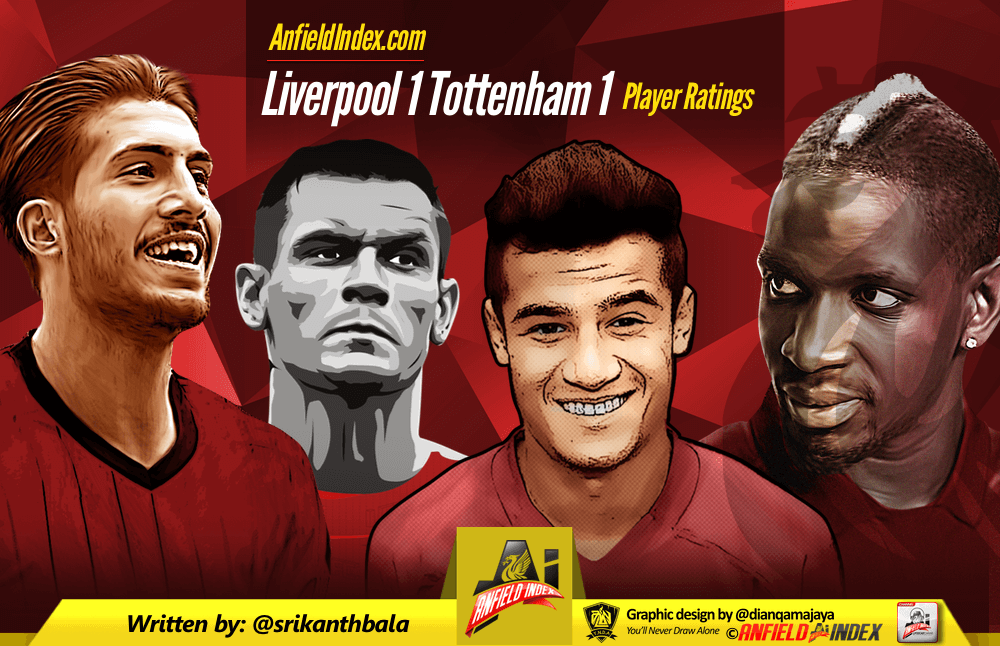 Liverpool 1 Tottenham 1: Player Ratings
A slow, error filled first-half was followed by an entertaining second-half as both teams fought hard and ultimately walked away with the share of the spoils.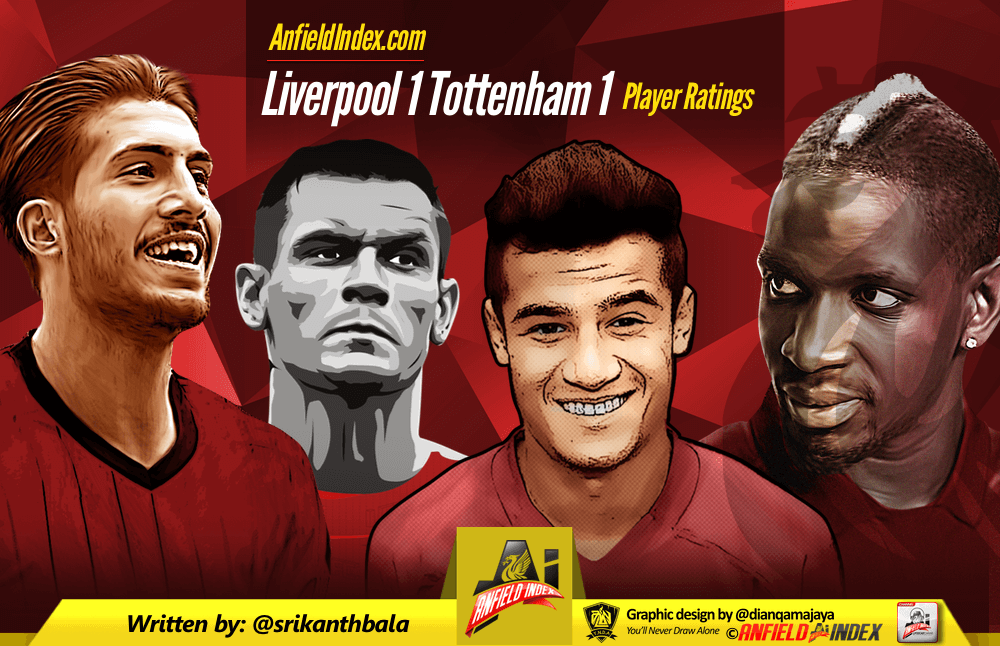 Let's see how the Reds fared tonight..
Simon Mignolet (6.5) – A relatively safe first-half for Mignolet, but for the usual indecisiveness which put the team in bother on at least one occasion. Made a very good save early in the first-half. Made a couple of really good saves in the second-half to cap off a good performance.

Nathaniel Clyne (6.5) – A safe first-half from Clyne and was a good attacking performance in the first-half from him and was definitely on the better side of the defence in the first-half. The second-half was not much different for the full back as he stuck to his duties whole-heartedly.

Dejan Lovren (7) – Had a solid first-half where he spent most of the time trying to cover up the mistakes of Sakho. He was often left in a position where he had to make a decision of closing the man or holding the position and made the right decision more often than not. Had a good second-half, but his decision to commit very early meant that it got just that bit easier for Kane to turn him and score. A performance filled with lots of tackles and passion.

Mamadou Sakho (4.5) – The first-half performance was one of the worst I have seen from a Liverpool defender and the team was lucky to not pay for it with a goal. Sakho repeatedly made the wrong pass or was caught high up the field and was beaten to the ball. The only way was up for Sakho in the second-half and thankfully the performance was significantly better. Overall, a poor performance from the Frenchman.

Alberto Moreno (7) – Had a decent first-half and seemed more troubled by Sakho's mistakes. He made a vital interception to prevent the ball from reaching Son. Was a very good attacking presence as we have come to expect from him. A very good defensive performance in the second-half as the full back was very aware of late runs from Walker.

Jordan Henderson (6.5) – Henderson's first-half performance was nothing much to write home about in terms of impact. He had very little attacking contribution in the first-half and preferred to sit deeper and pass it safely. A more catchy performance in the second-half as he constantly hounded Dembele and won the ball often to initiate counter attacks.

Emre Can (6.5) – Emre Can, again, put in a battling performance in the midfield, often being available for the pass when Liverpool won the ball, but made couple of poor passes in his own half which could have had the team in trouble. Overall, the dynamics with Henderson seemed better than past games. His yellow card means that he misses the next two games in the Premier League.

James Milner (5.5) – Lots of effort, very little quality. This should be the only sentence in the season summary for Milner. Most of what he tried did not work, but cannot fault him for the effort.

Adam Lallana (7.5) – Had a very bright first-half with two chances on goal which were expertly saved by Lloris. Had a quieter second-half but worked extremely hard off the ball. Was taken off late in the second-half.

Philippe Coutinho (8.5) – A virtuoso performance from the magician, as everything Liverpool attempted went through him. Coutinho created all three big chances Liverpool had in the first-half and expertly took his goal early in the second-half. He created further chances for himself and others. A blatant dive was the only blemish in an excellent performance.

Daniel Sturridge (6.5) – Had a big chance in the first-half from Coutinho and when he looks back he will realise that he could have taken an additional touch. Did not contribute much else in the first-half. An excellent interplay between Coutinho and himself led to Liverpool's opening goal. Was taken off at around 70 minutes.

Substitutes
Divock Origi (6) – Origi came on for Sturridge in the second-half and worked hard in the limited time he was given. Used his pace to good effect on couple of occasions.
Joe Allen & Jordon Ibe (N/A)