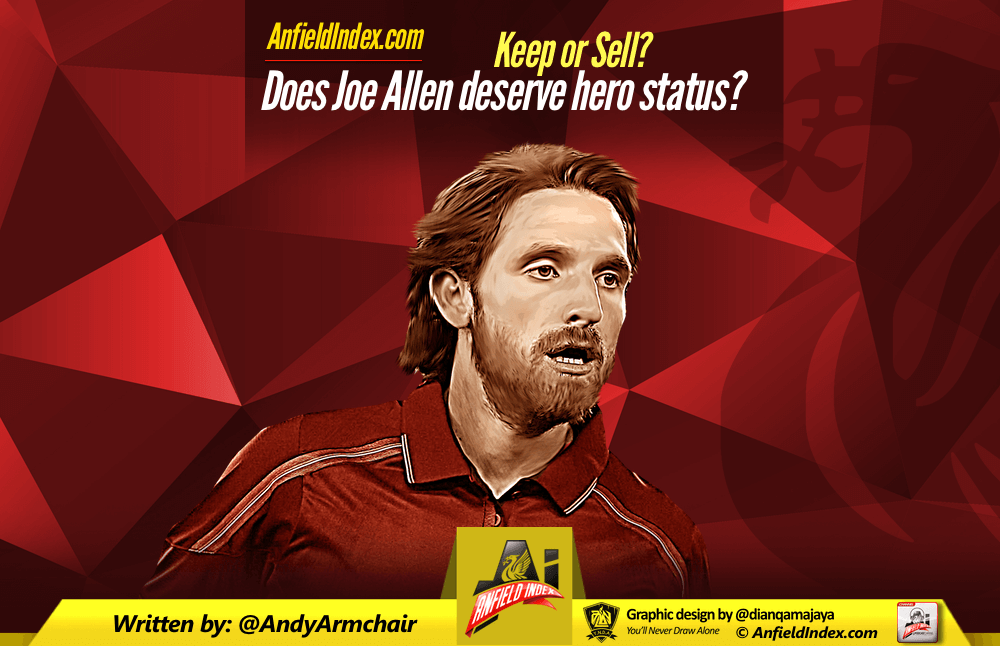 Keep or Sell? Does Joe Allen Deserve Hero Status?
When he arrived in the summer of 2012, Joe Allen was something of a statement signing for Brendan Rodgers; he was the player he desperately wanted. The two had worked well together at Swansea and Rodgers saw Allen as a vital cog, a key component in how he envisaged his Liverpool team playing. Many questioned the £15m price tag, but Rodgers was just delighted to get his man and was confident Allen would prove his worth. Unfortunately though, a quip from Rodgers that Allen was the "Welsh Xavi" would be a quote that would be a source of ridicule and hound Allen for years.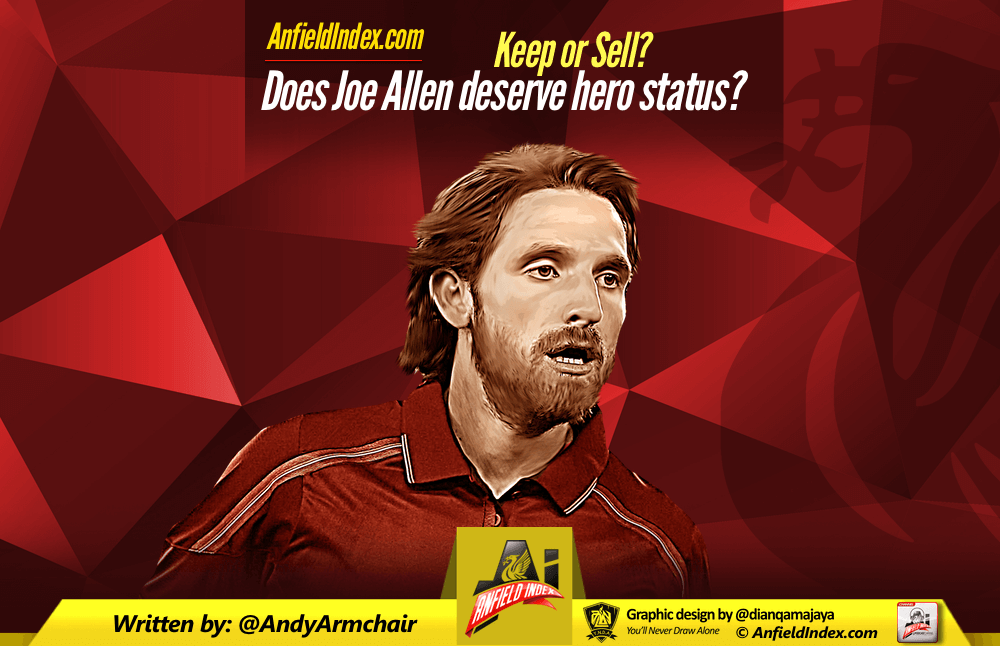 The first couple of months of Allen's Liverpool career saw him impress, his tidy technique and passing ability were pleasing to the eye. However, as his form dipped and confidence eroded, that "Welsh Xavi" tag became a weapon of derision.
Allen's debut season at Liverpool ended prematurely with a shoulder injury, something that became a familiar theme for him. Injuries have unfortunately punctuated Allen's Liverpool career; not serious injuries, but his thigh, groin and knee issues have cost him 1 – 2 months apiece. Often these injuries have happened just as he was finding form and sadly, it's usually taken him some time to recapture that form once he's returned. 2014/15 was a particularly difficult campaign for him with injuries interrupting the first half of the season. When he returned to fitness, Liverpool were in the midst of an unbeaten run and by the time he established himself as a regular starter again, Liverpool's form was ebbing away and Allen was finding it difficult too.
This season, with Brendan Rodgers replaced by Jürgen Klopp and Allen now sporting longer hair and a beard, the 'Welsh Xavi' jibes died off, to be replaced by light-hearted Pirlo references as Allen put in some impressive cameo appearances to earn cult-hero status amongst some fans. The disdain of him perceived by many as the prodigal son of the former manager turned to endearment, with him freed up to play in more advanced positions, he's been able to showcase his technique and passing repertoire to a more accepting audience.
So that is basically the journey up to this point, but with his contract due to expire next year, the question becomes one of whether to sell him this summer or offer him a new deal. The fact there's been no hint of negotiations on another contract may or may not be a hint that he doesn't feature in Klopp's plans for the future of Liverpool. So how does he compare to his central midfield colleagues this year?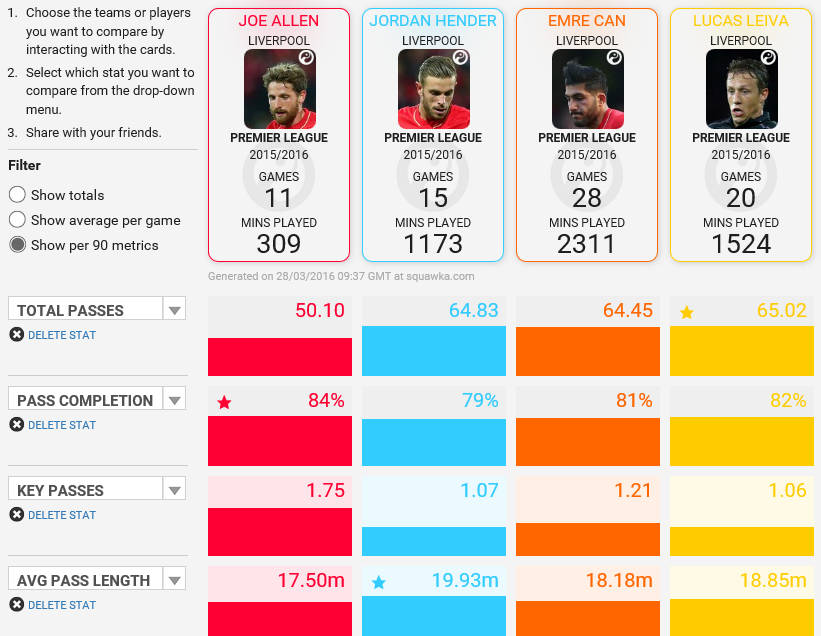 Due to the large variation of minutes played, the 'per 90 metric' is the most applicable in giving a fair reflection. Perhaps surprisingly, Allen trails his colleagues in the number of passes made, but is the most accurate and would seem to be the most incisive. Allen's ability on the ball has never really been in question and his performances in the FA Cup have particularly caught the eye.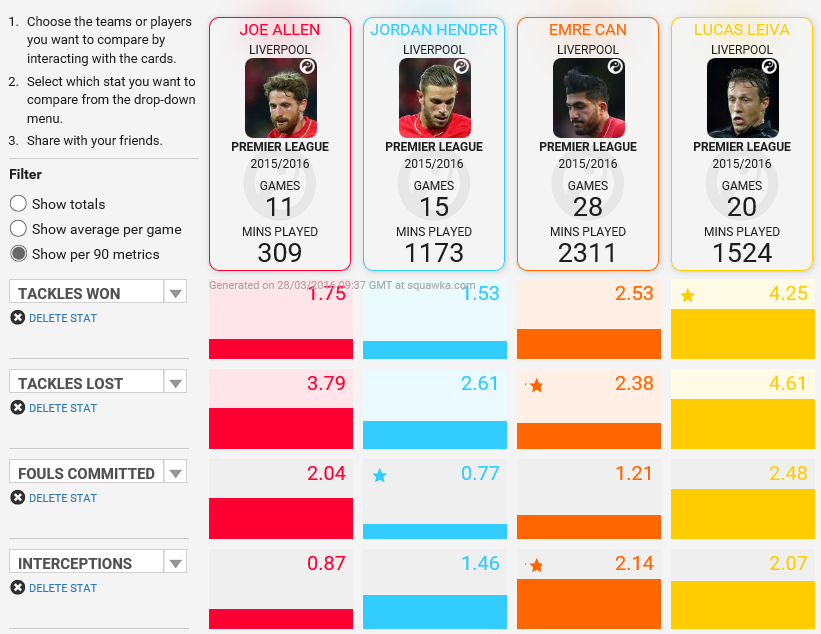 This however, is the area of Allen's game that could be his undoing under Klopp – what he does without the ball. Allen is somewhat diminutive in stature and Klopp is thought to prefer central midfielders with more physical presence. Personally, I've long felt that Allen is too lightweight when it comes to the ground and pound of that area of the pitch and that's not anything to do with his size, just that I feel he is too easily pushed off the ball and not imposing enough in winning it back. Again, that is not about his size, Javier Mascherano is no giant, but he was like an animal winning it and protecting it. The numbers show that Allen is not only weaker in winning tackles, he also loses a lot of them. Just like Lucas, Allen loses a significant number of tackles and commits a higher amount of fouls, and without the ability to intercept the ball to rely on, Allen's defensive deficiencies become an issue in the two man midfield that Klopp favours.
As cruel as this may sound, would Joe Allen be a cult-hero if he hadn't grown his hair and a beard? I'm not convinced he would. Harsh? Maybe.
However, more importantly, should he be awarded a new contract? Well, I'd be in favour of keeping Joe Allen in the squad if he had 2 or 3 years left on his current deal because his ability on the ball is a positive and that ability has helped in some recent games. There is a big but here though because offering him a new deal would be making a financial investment for the future on a player who has been peripheral and sadly, not best suited to the favoured tactics of Jürgen Klopp. So, as much as I like Allen and appreciate his endearing qualities, I think it makes more sense for Liverpool to sell and move on this summer.