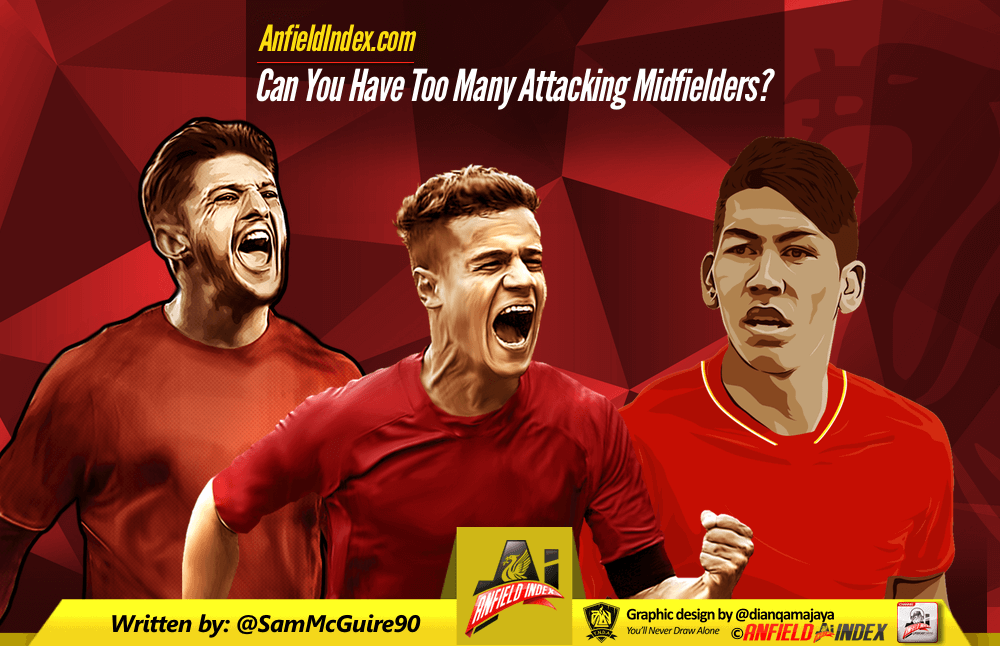 Can You Have Too Many Attacking Midfielders?

"Liverpool don't need Götze, they've already got too many attacking midfielders"
This comment isn't just exclusive to fans of the opposition, sadly, but actual Liverpool supporters. Yes you're reading this correctly, there are Reds fans that believe Liverpool, a Europa League team as things stand, don't need Germany's World Cup winning hero Mario Götze because they've already got Philippe Coutinho, Adam Lallana and Roberto Firmino as their attacking midfield options.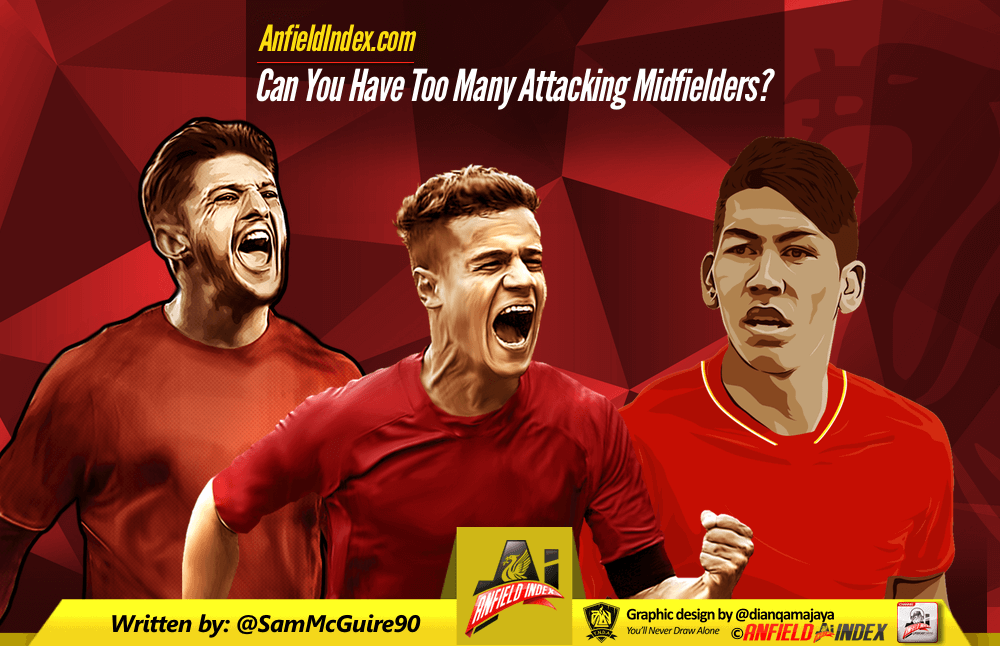 Of course, all number 10's in world football are the same so hoarding them when you already have three is bad, right?
Fifa, Football Manager and the Pokemon games all have a lot to answer for. Football games are very black and white – if you have an attacking midfielder then they can play in any attacking midfielder position. People don't really look at specific stats because it's not really relevant in a football game. It's about their overall rating. Having a player rated as 89 on Fifa playing as a right-winger despite being an attacking midfielder is better than playing a player rated 76 who is a natural right-winger.
Likewise, in the Pokemon games for Gameboy if you already have that Pokemon why would you catch another? It's a waste of a pokeball. People tend to overlook the fact you can teach the Pokemon different attacks making it just as effective, just different.
This is real life. Football is a tactical game and you need different types of players for when you encounter different types of opposition.
Some Liverpool fans can't seem to get their head around this. It's deja-vu for many as this same debate was had last summer when Roberto Firmino arrived.
"We've already got Adam Lallana and Philppe Coutinho, why do we need another attacking midfielder? We need wingers."
Liverpool do need traditional wingers but let's not pretend that the three players in question – Coutinho, Lallana and Firmino – haven't potentially been the team's most effective attacking trio this season.
Both individually and as a team the three aforementioned players have been more and more impressive as the season has progressed. Firmino tops the charts with nine goals and eight assists, Coutinho has nine goals and five assists to his name and Adam Lallana has five goals and seven assists. They complement one another and they all offer different strengths to the team.
This begs the question, can you really have *too* many players when all players are unique?
Good teams know this. Squad depth isn't just about having players to cover for injuries, it's about having different tools for the job at hand. Look at the likes of Bayern Munich signing Kingsley Coman on loan in the same window they signed Douglas Costa when they've still got Arjen Robben and Franck Ribery on their books. On paper these four players are quick wingers yet in reality all have had a huge impact on the season in their own right.
Klopp's ex-team Borussia Dortmund re-signed Shinji Kagawa despite having Henrikh Mkhitaryan. Both are attacking midfielders, many fans believe both are better suited to playing centrally yet this season both, alongside Marco Reus, have been in inspired form in a three behind Aubameyang.
Mario Götze struck up a good understanding with Shinji Kagawa as Dortmund stormed to back-to-back Bundesliga titles. Ask both and they'd probably say their best positions are behind the striker but throughout that season both spent time wide and did so for the benefit of the team.
Arsenal signed Mesut Ozil and Alexis Sanchez despite having 73 (this may be exaggerated) other attacking midfielders. I'm not sure how many of their fans went 'no thanks, I don't want Sanchez, we've already got Walcott'. Arsenal know if Ozil isn't doing a job against a certain team they can switch it up and use a Walcott or a Sanchez.
Liverpool fans can't naively assume the holy trinity of Lallana, Coutinho and Firmino is a one size fits all type situation. There have been games this season that these three have struggled and Liverpool haven't been able to switch it up. In the League Cup semi-final against Stoke we saw first-hand how Coutinho going off injured and Jordon Ibe coming on as a replacement disrupted the fluidity of the team dynamic.
Ask me for a hammer and my response would be which one? In my garage I have a rubber mallet, a normal hammer and a sledge hammer. All are hammers and all are better suited to certain scenarios. You're not going to use a sledgehammer to hit a nail into the wall. You aren't going to use a rubber mallet to try to smash through a wall.
If Mario Götze were to sign in the summer it wouldn't mean Adam Lallana's time at Anfield is over. The best three on paper will be Coutinho, Firmino and Götze but there will be games in which Lallana starts in place of one of them, or perhaps all four start and interchange positions throughout as Liverpool go strikerless.
Götze can press, he'd probably be the best technical player at the club and he's a creator. This all sounds very familiar – good energy, presser, technical and creates chances – but on-top of that he brings in a winning mentality and he's a vastly underrated finisher. It's not the ideal way to judge a player but take some time to look at his highlights on YouTube and you'll see he's nothing like Coutinho, Firmino or Lallana.
This prospect should excite Liverpool fans. It shouldn't be one they're negative about. If Jürgen Klopp is keen on reuniting with Götze then he clearly has a plan in mind with regards to how he's going to use the talent he has at his disposal.