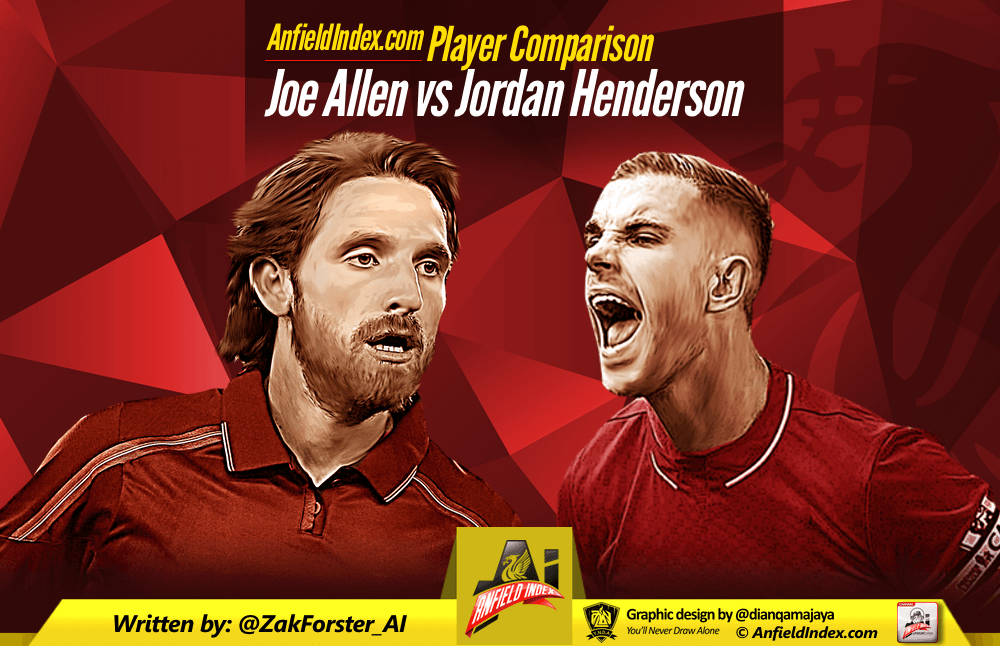 Player Comparison: Joe Allen vs Jordan Henderson
Two of the most pertinent issues surrounding the Liverpool squad at this moment in time involve the Welsh midfielder Joe Allen. The diminutive Welsh international has found his role in the squad somewhat limited at times under new manager Jürgen Klopp whilst, puzzlingly, still finding himself at the centre of some good talking points amongst the Liverpool fan base.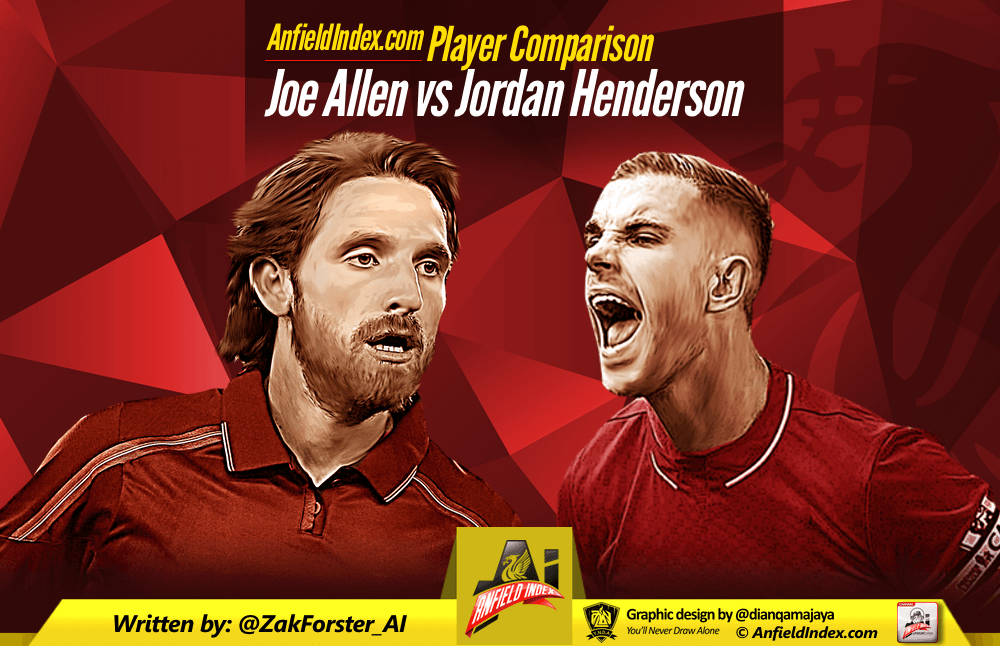 The first issue that everyone has an opinion on is whether or not Liverpool should keep Allen. He's not a proper regular and upgrades could be found but he's also not as bad as some of the other members of the squad, so the question of priority is a difficult one. The second issue is whether or not he's done enough in his brief cameos to nail down a starting berth or serious squad role – for the short term at the very least. The form of Reds captain Jordan Henderson has also come into question with performances stuttering in a few matches this season, so could he make way for Allen? Really? The captain? Klopp has already shown that he's willing to substitute and even leave out the skipper so surely Allen's gain would be Henderson's loss – with Emre Can a shoe-in starter.
Statistics can often be misconstrued and twisted to suit a particular agenda; nevertheless, this piece will aim to provide a foundation on which we could truly see which of these hard working players is performing better for Liverpool Football Club.
Keep It Ticking
A newcomer to statistical comparisons would be forgiven for thinking that these figures mean that Allen is a better passer than Henderson and Can, who I'm using as a third midfielder for an added comparison. His figures show he plays more successful passes in the final third, creates more chances and scores more goals per 90 minutes played (p90) than his two team-mates. However, with Allen's playing minutes being so much lower than the other two, the results become skewed as it is easier to maintain a better average having played less time. So, in essence, if any of Henderson's or Can's stats are as good as or better than Allen's it means they are definitely performing better in that particular category – in fact, better figures would suggest much better performances.
Obviously, we can see that Allen has the highest pass completion percentage with 84%. That's nothing extraordinary because we know Allen has always been a very tidy player. But, what does he do with this high pass completion?
These stats shed a little more light on what each player might be doing in each game. Henderson attempts the most passes overall (basically level with Can) and also the most forward, too. German international Can fires the most backwards but he also completes the most passes, of all types, p90. Overall, Allen seems less involved than both these players but I'd suggest that has something to do with his positioning on the field. Former manager Brendan Rodgers preferred Allen as his deepest midfielder whereas new manager Jürgen Klopp has preferred the Welshman further forward. This means Allen has less space for potentially easy passes like backward passes to the centre-backs and goalkeeper. However, this can be slightly contradicted because both Henderson and Can play more forward passes p90 – Henderson, especially, I would say is more expressive in his passing than Allen with numerous attempts at Steven Gerrard-esque sweeper passes per game.
This discussion of positioning now brings us back to the original figures from the first graphic. Go have a second peep at them, done? Alright, playing further forward than Can and Henderson has definitely allowed Allen to develop the offensive side of his game – or, at least, show it off for the first time. Allen creates, scores and is involved in the final third more than both his rivals thanks to Klopp's 4231 formation. All in all, the changing faces of Liverpool from Rodgers' final weeks in charge to Klopp's tweaking of the side has meant this comparison is actually more difficult than you'd think because Allen now plays a different position to Can and Henderson having operated in the same spot in the past (base of a diamond or in a deep "two" in the 4231). Basically, Allen's attacking stats will be better than Can's and Henderson's whereas simple ball retention will be easier for the deeper players.
Emre Can is a Unicorn
I'll start by reiterating the fact that Allen will not have defensive stats that can live up to Can's or Henderson's – the hunch was correct. Allen comes off far worse than his team-mates in this section of the analysis thanks to two reasons. His positioning in the team is one factor but the second is that Klopp simply knows Allen wouldn't be good enough as a defensive midfielder in his new look Liverpool team. Klopp likes his team to be fast on the break and technically imaginative, but he also likes them to be strong and tall down the middle. Allen has a massive weakness in his game in that he simply isn't big enough. He works as hard as any player I've ever seen wear the Red shirt but his stature weakens him both physically and aerially. Firstly, he wins just 25% of his headed duels compared to a surprisingly high 64% for Henderson. (I'll be honest, I'm pretty sure I saw Allen beat Marouane Fellaini in the air in one of the Europa League clashes a few weeks ago but don't quote me on it, anyway).
Secondly, and most importantly, is Allen's tackling. Allen might not have occupied the deepest lying midfield roles much this season but he still involves himself in the pressing actions as much as possible and he gets involved in a lot of duels – he just doesn't win enough of them compared to the ones he loses. Can's figures for these particular stats are truly excellent with the German winning 2.53 tackles p90 and losing just 2.38 meaning he wins 52% of the tackling duels he enters into. Allen attempts 5.54 tackles p90, which is great and shows what a seriously hard working man he is but winning just 32% of your tackles isn't enough and Henderson's follow up success rate isn't much better at 37%. Interceptions p90 show us exactly the same story with Can out on top by a big margin, Henderson in second and Allen in third.
So, what am I saying?
First of all, let me say I am really fond of Joe Allen. I've been a massive supporter since he signed for Liverpool in 2012 and I continue to be just that. I happen to think some of Liverpool's best football in the last three and a half years has occurred with him on the pitch – most recently the first half of Liverpool's defeat to Southampton in which the midfielder missed a sitter after contributing to a mesmerising bit of football before having a goal wrongly ruled offside. And therein lies the problem: Allen, linking the play masterfully one second, then misses a sitter to kill a game off. He's brilliant one minute and mind-bogglingly average the next. Think Goodison Park 2013, 2-1 up and Allen misses from 10 yards, we drew 3-3 and fell short of history. Players who win titles score those chances because they're the margins that decide footballing folklore. Klopp, the unbelievably charismatic and slightly crazy German sent from Europe to win Liverpool their first title in 26 years loves hard-working players but it seems he just can't attach himself to Allen in the way many thought he would. We all knew he'd love Can, Roberto Firmino and Divock Origi but most of us thought Allen would be another golden boy. Alas, it hasn't happened that way and it's something that truly saddens me. Sometimes, I just think Allen has been unlucky at Liverpool. He'd play five fine games and get injured, he'd produce wonder saves from 'keepers and he's had a sure match winning goal disallowed just before the international break. Nevertheless, if Klopp hasn't attached himself to Liverpool's hardest working player since Dirk Kuyt then who am I to question his judgement? Klopp wants the shiny trophy with the lion on top and if Allen can be upgraded, he will be. If he leaves Liverpool, I'd wish Allen the best of luck wherever he ended up and, to be honest, I'd probably miss him.