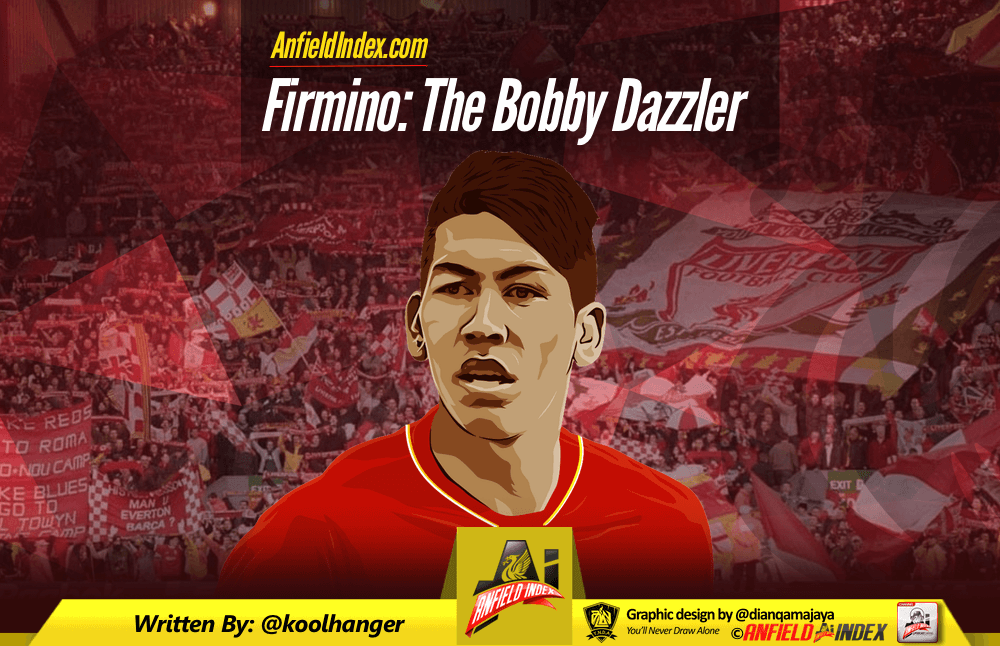 Firmino: The Bobby Dazzler

The story is familiar.  Poor kid from South America, family makes sacrifices to help him on his way, makes breakthrough in his home-country before transferring to a middle-of-the-road European club, performs highly in Europe, earns big-money deal to Premier League.
Most of us are familiar with the tale of Luis Suarez's career journey and ambition, however, this time it is Roberto Firmino's story we are narrating.
After failing to impress in a trial with first division Sao Paulo he made his breakthrough at Figueirense FC in the second tier of the Brazilian league in 2009/10.  Figueirense were situated 2000 miles away from Firmino's home.  He had to leave his family at the age of 16.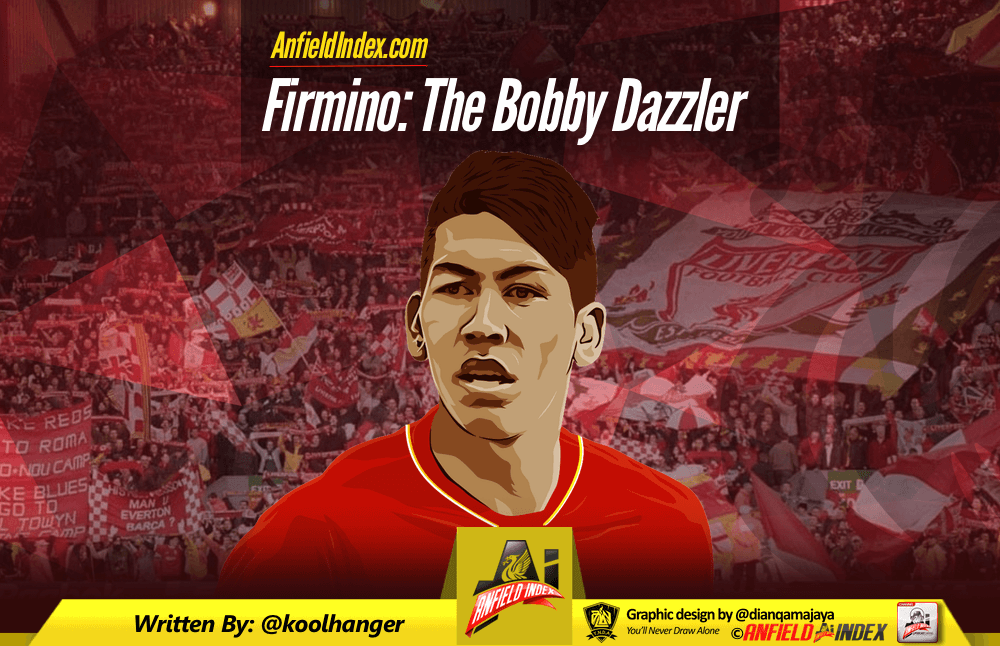 With seven goals in 36 appearances that season, Firmino was awarded the Player of the Year title and Figueirense were promoted.  All this coming at the age of 18.
Roberto was then snapped up by Hoffenheim in the Bundesliga at the age of 19.  In December of 2010 Hoffenheim signed him on a pre-contract agreement and he joined them officially on January 1st 2011. Hoffenheim were anxious to get the youngster signed up quickly as his name was beginning to spread around the various scouting departments of other European clubs.
Firmino made his Bundesliga debut in February 2011 in a 2-1 defeat to Mainz.  He scored his first goal for Hoffenheim in their victory over Eintracht Frankfurt in April, two months later.  Firmino continued to develop steadily in Germany, which is a huge achievement in itself for a 19 year old living not only away from home, but in a different continent.  In November 2011, Firmino was dropped by Hoffenheim for arriving late to training with a teammate.  It is his only reported disciplinary issue to date.
From an early age Roberto Firmino had fallen in love with football.  Speaking to a local TV station his mother Cicera said he would often sleep with his football in bed beside him.  Sneaking out of the house as early as 5am to practice was also fairly common for the young Roberto.  It was this love and devotion to the game that earned Firmino the nickname "Rachinha" – which means "kick-about".
The Firmino family lived on the east coast city of Maceio in Brazil.  Roberto was familiar with football stadia and sporting occasions as his father, Jose Roberto, was a street-vendor and often set up stall outside the venues to avail of the thronging crowds.  Jose Roberto travelled to Wembley last month for the League Cup Final when City beat Liverpool on penalties.  Rumours that he set up a stall outside Wembley are as yet unconfirmed.
In the early stages of his career Firmino was deployed as a defensive midfielder.  This tenacity and desire makes Firmino a suitable fit as one of the leading lines in a Jurgen Klopp eleven.  
One of his former coaches, Guilherme Farias, told GloboEsporte that "when he played for me, he was a defensive midfielder.  He only became more attacking when he moved on.  He wins the ball just as well as he uses it".  
In fact Firmino was ranked sixth in the Bundesliga for tackles made over the last two seasons before moving to England.  The five players above him were all defensive midfielders.
Farias had in fact helped Roberto to pay for some of his travel to tournaments in Brazil, such was the relative state of poverty his family were in.
Firmino is now established as a prominent attacking midfielder or deep-lying forward who exhibits slick footwork and an eye for an assist.  "Ronaldinho has always been my inspiration… I model myself on him" said Firmino.  The influence is evident in some of the on-pitch trickery Firmino can display.
This is in contrast to Firmino's personality off the pitch.  He admits to being shy in front of the camera, "I'm not used to doing press conferences and I don't like giving interviews.  But on the pitch I transform. I become a different person".
Firmino roams the pitch, wanting to win possession back when it's lost, seeking to create when going forward.  He provides an extremely active and mobile presence in the attacking third for Liverpool.
To date, Firmino has scored eight and and assisted eight goals in twenty-five Premier League appearances. Not a bad return in his first season.  His form has significantly improved since the turn of the year, underpinned by probably his best performance for Liverpool so far, against Arsenal in the 3-3 draw at Anfield in January.
In his final two seasons in the Bundesliga, Firmino had the second-highest assists total (21) behind only Kevin De Bruyne (26).  This was achieved playing for a team who didn't finish higher than eighth.  He had by far the best total for chances created in open play (140) and dribbles completed (291).  
Firmino is not afraid to take on a defender and he has shown he can finish as well as create.  His twenty-three Bundesliga goals in those last two seasons was the same total Marco Reus had managed and only three fewer than Bayern Munich's Thomas Muller.  He has already shown to the Premier League his desire to tirelessly press defenders and willingness to help out his own defence when the need arises.  
Probably the most impressive stat from those two seasons is the fact that only Muller (46) and Lewandowski (48) had a higher total of goals and assists than Firmino (44) in the Bundesliga.  This was in a period where Bayern had scored 53 more goals than Hoffenheim.  Very impressive reading indeed.
The Latin-American contingent at Liverpool has helped Firmino to settle, along with his wife Larissa, and daughter Valentina.  Lucas is practically a scouser at this stage and Coutinho has taken over the mantle as Liverpool's standout performer since Suarez left.  
Firmino has also impressed on the International stage for Brazil.  He scored on his full debut against Austria in Vienna with a 25-yard strike.  He has four goals in his eleven appearances so far for Brazil.
If Firmino manages to realise the vast potential he undoubtedly possesses then Liverpool are going to be a force to be reckoned with for years to come.  With Klopp able to choose from Firmino, Coutinho, possibly Gotze, and a fit Daniel Sturridge then the future is surely bright for all of us Reds fans.
@koolhanger