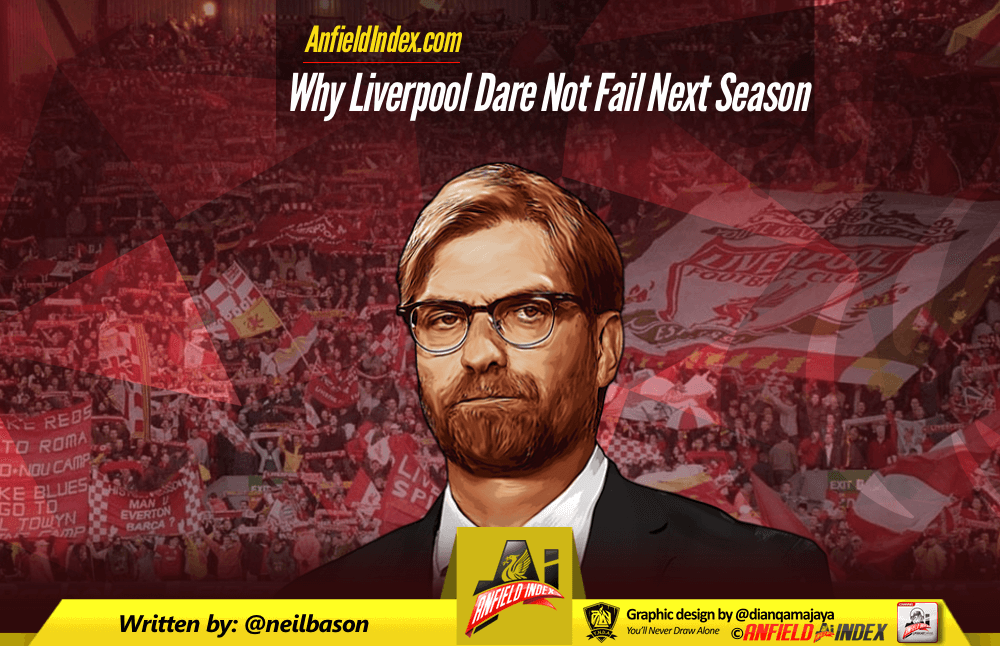 Why Liverpool Dare Not Fail Next Season
Behind us lie the ashes of the false dawns. Scattered across the landscape of the nineties when illustrious and God gifted Liverpool men such as Fowler and McManaman weren't enough to steady a ship ran from its course under the guidance of Souness. Haunting us through the opening acts of the new century, as one of our greatest called time on his life in red having never been blessed by the League title, and one night in Istanbul became further cemented in Liverpool folklore illuminated ever more intensely by the light of the false dawns to come.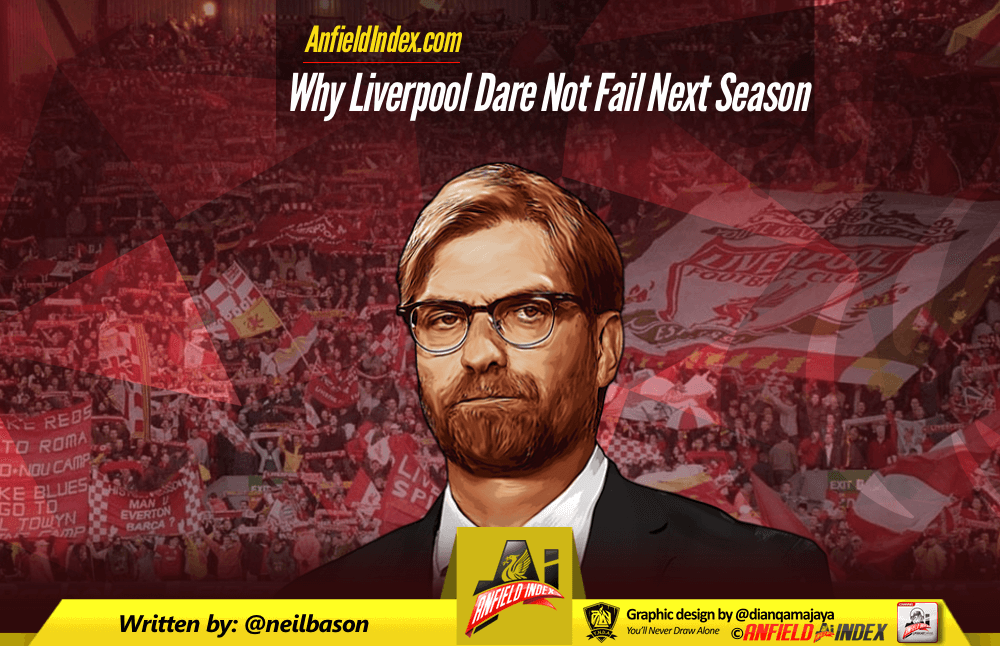 We'll always have Istanbul. But we should have had more.

And now we stand here once again. Another new dawn for the club we love. No looking back, no rueing missed chances, now we are about to embark upon twelve months that I believe are the most crucial we've seen at the club since Rafael Benitez smiled broadly at that first press conference over a decade ago.
Benitez was a man with a plan. A man with the tactical nous to win games, to outthink his opposite number, and he knew the players he wanted to make it happen. He gave us Istanbul, he took us to another European final and he restored the faith of the fans and the pulling power of the club to those looking on. But, when we go back through the history books there's still that one glaring space in the trophy cabinet that will always say, Rafa fell short.
Now we have another man with a plan. Jurgen Klopp knows what he wants. He knows what the fans want. His brand of football demands a certain type of player. Jurgen Klopp is already moving the pieces into place, courting those players that can keep his red machine well-oiled and purring, or roaring as the case may more likely be. What looms ominously on the currently distant horizon for Klopp, is judgement.
In these first few magnificently twisting and turning months of watching what amounts to Brendan Rodgers' Liverpool being driven by Klopp, the manager himself has been largely free from criticism. It did raise an eyebrow after the Southampton collapse but generally, regardless of the result, our new man has been able to play the get out of jail free card, his burgeoning reputation in the game untarnished.
This reputation puts Liverpool in a surprisingly strong position when the transfer window once again opens for business. Klopp has pulling power. It hurts me to say it, but, right now Klopp has considerably more pulling power than the club itself. We've become the sleeping giant. At times over the past two decades we've threatened to slip into a slumber so deep it needs the kiss of a football genius to wake us. Enter Klopp stage left.
Over the past few weeks the club have both signed and been linked with some genuinely exciting players. Matip and Grujic are in. Normally I'd be pretty sceptical, had Rodgers acquired these two I'd be doing the normal, sensible thing, and waiting until they had a good number of games under their respective belts before feeling any flutter of excitement. But, the fact they've been signed by Klopp has overridden any sensible actions I was considering. I'm already convinced that if the big man thinks they're what Liverpool need, then chances are they're what Liverpool need.
Then there's the tantalising prospect of Mario Götze. Now, as Liverpool fans we're well used to being linked with what could be considered the big names of football. It's just that as Liverpool fans we're also well used to any hope of signing them disappearing in a puff of smoke shortly afterwards. But with Götze it suddenly feels like it might happen. Despite the fact that there's a good chance we won't be sitting at the top European table next season and no guarantees that a league challenge is imminent, the power of Klopp is such that we might just land a Mario, who could genuinely be super.
And this could just be the tip of the transfer window strengthening. But, it also points to how huge the season that follows is going to be.
Going in to this window, Jürgen Klopp is a manager with an aura, a respected football man, a charismatic charmer, a tactical mastermind and a breeder of winners. His pull is strong and standing on the shoulders of Liverpool Football Club elevates this further. But from August the only way this continues and builds is from results on the pitch. If Klopp's Liverpool are as good as his vision for the club then we only get stronger. If it falls apart the pull of the manager diminishes, he becomes tarnished and he becomes judged.
There are no guarantees next season and come opening day I'll be feeling the nerves stronger than ever before. I don't expect to win the league, like most fans I just want to see forward momentum, increased consistency and real, measurable progress. This keeps Klopp's halo in place, this makes Liverpool a place to be, this begins to wake the giant and from here we continue to build.
On the flipside is a much darker place. If Klopp fails to improve next season, if we continue to enjoy our love affair with seventh place and thereabouts, then it leaves some serious questions. Will the manager still have any pull in the transfer market on the back of a mediocre season? And if not are we back in the hunt for untried potential and big gambles and a continued spin on the transition merry-go-round?
I understand it's not all about players in. But, when the manager can attract bigger names than the club alone it's vital we take full advantage of that and get some serious foundations in place before the chance is gone.
The coming season is beyond measure for Liverpool. We find out about our manager, and our manager finds out about us. He'll find out that we'll back him through thick and thin over the next twelve months, but also that he's at a club who despite hitting the snooze button for two decades still harbour great expectations.