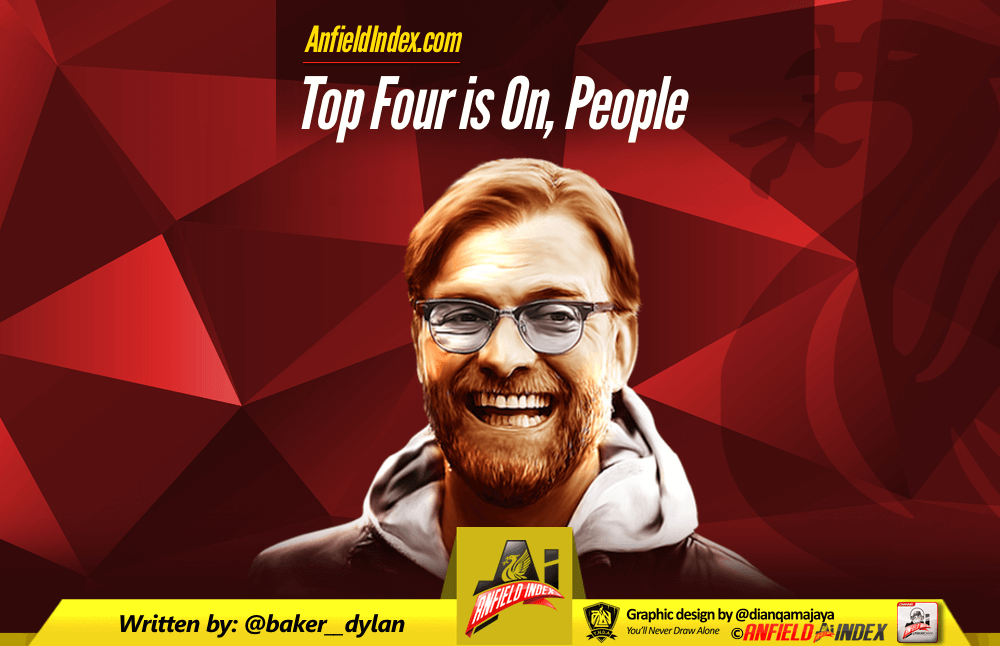 Top Four Is On For Liverpool, People
For those of you who took the time to click on an article so shamelessly titled in such an abhorrent manner, fear not: I am not deluded. Though many have mused that very possibility, and while there have been times when that may have been the case, this is not one of those times. While schedule congestion will work against the Reds in their attempt to seal a top 4 spot by season's end, a combination of simple mathematics, a slightly optimistic prediction for the remaining fixtures to play, and a likely Europa League bust will help Liverpool rise back into a Champions League berth.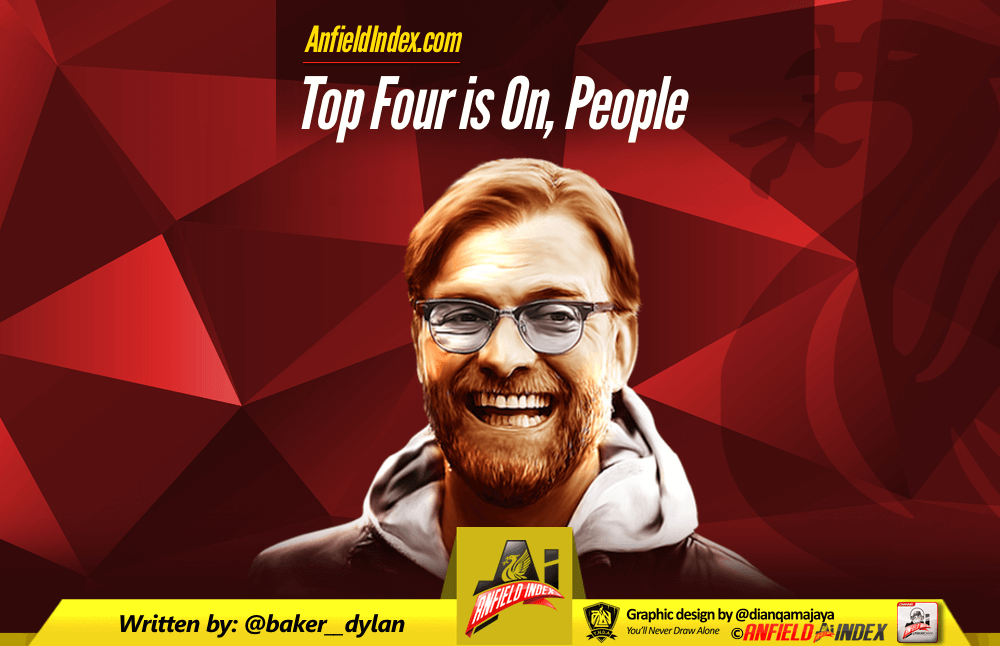 Here's how…
Yes, folks, we'll have to discuss Liverpool having one or two games in hand, no matter how much it's been beaten to death by Twitter lately. From the standpoint of a temporary, for-this-article's-purposes-only mathematician, there's no reason the goal of placing in the top 4 is out of reach. Liverpool have taken 44 points from 29 matches, and the current holders of the 4th place seat – Manchester City – have taken 51 from 30. A narrow gap to close, if the Tottenham match at the weekend goes well: 47 points compared to City's 51.
And, just before moving on, this is the way we should be looking at the top 4 battle at the moment. There are contenders for those exalted spots from first place Leicester on down through Liverpool in ninth. But there's no reason to be concerned with Leicester, or Tottenham, or probably Arsenal at this stage for the Reds – hoping to combat any of those sides in their league positions would mean a) a monumental collapse of two teams riding a strong wave of momentum, and/or b) a Gunners side that manages, somehow, to close out the season just short of "well enough."
Instead, Liverpool should focus not only on the achievable fourth-place position, but the clubs fighting for it as well. That includes Manchester United, Manchester City, Southampton, Stoke City, and West Ham. The points between these sides, as it stands, span a total of seven points.
I'll say that again: seven. Such is the state of the Premier League this year.
But, it should be mentioned, seven is a larger, and more important number for the Reds than the rest of the clubs in contest as the campaign comes to a close. Seven, increase or decrease as it may, is the bridge Liverpool have to cross in order to climb the table. From a mathematical standpoint, we're screwed if City win for the rest of their season – four points would remain between us if Liverpool somehow managed the same feat.
But football is a rather shocking sport, isn't it? Let's look quickly at the remaining schedules for the contesting sides and see who fairs best.
Fourth: Manchester City – Bournemouth away, home against West Brom, Chelsea away, then to Newcastle, back home against Stoke, traveling to Southampton, home against Arsenal, then Swansea away. Rating in terms of difficulty: C+
Fifth: West Ham – hosting Crystal Palace and Arsenal, traveling to Leicester, home against Watford, West Brom away, back home for Swansea, away to Manchester United, and closing the season out against Stoke away. Rating: C+
Sixth: Manchester United – home against Everton, away to Tottenham, back home to take on Aston Villa, Crystal Palace, and Leicester, traveling away to Norwich City and West Ham, and finishing the season at home against Bournemouth. Rating: B-
Seventh: Southampton – away to Leicester, home against Newcastle, away to Everton and Aston Villa, back home against Manchester City, away to Tottenham, and closing the season at home against Crystal Palace. Rating: B
Eighth: Stoke City – home against Swansea, at Anfield to Liverpool, home against Tottenham, away to Manchester City, home again for Sunderland, away to Crystal Palace, home against West Ham. Rating: B
Ninth: Liverpool – home against both Tottenham and Stoke City, away to Bournemouth, home against both Everton and Newcastle, away to Swansea, home against both Watford and Chelsea, and closing out the season away to West Brom. Rating: C
These ratings are done with the notion that an "A" means a side has a tough schedule, and an "F" means it'll be a cakewalk through the final fixtures. While everyone's rating is close, it seems to me that Liverpool have the easiest schedule for the Premier League matches remaining. While Tottenham, Stoke, and the Merseyside derby will be tough matches, all are at Anfield. As the atmosphere has improved, so too have the performances of the squad when at home.
If Liverpool have the easiest schedule, then it'll simply come down to the players and the manager to get it right and get results. That, though a simple sentence, is indeed easier said than done. But clearly, it's not an impossible task.
Whether or not Liverpool will be able to contend in some of these matches will depend greatly on fixture congestion, which has been a plague for the Reds all season. While some of it is unavoidable – the Everton and Chelsea matches are replays from domestic cup competitions – the Europa League is going to cause strain on the players. Though there have been several shouts for the Europa League becoming the primary competition Liverpool should focus on, the most recent draw will make that decision tougher than expected.
Traveling to Germany to play Klopp's former club Borussia Dortmund will be many things – exciting, filled with narrative, and ever-so dramatic, to name a few. But, to add one more, it will be the toughest match Liverpool have had to face since the 2013/14 season during the title run. Stakes are high, and so too will the emotion surrounding Klopp's return on 7th April.
But, all things considered, those willing to face realism will understand that the likelihood of leaving Anfield a week following with a semi-final berth in the Europa League is minute at best. Dortmund have enjoyed quite the purple patch lately – since the beginning of February, they've not lost a game. During that time, Dortmund have edged past FC Porto and Tottenham in the Europa League and drawn with Bayern Munich at Signal Iduna Park.
No small feat, to be sure.
While going out and getting a European trophy is both important and exciting, when comparing the Premier League schedule to the upcoming quarter-final fixture against Dortmund, it seems more prudent to focus on the league and come back for a trophy in the fall. Given Klopp has the time and money to spend during the summer to bolster his new squad (as we fans are fully aware he can), there are trophies in Liverpool's future.
This season may not be the time, the setting, nor the situation for a trophy, granted Klopp's late arrival to Merseyside. And that, in the end, should be absolutely fine. Because, in the meantime, a top 4 finish in on, folks.