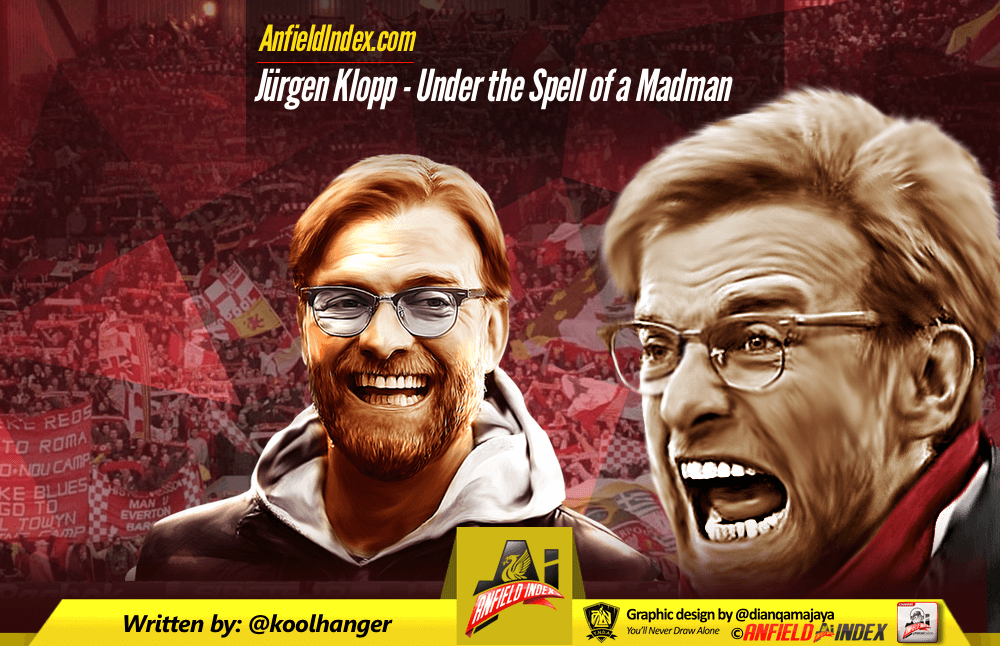 Jürgen Klopp - Under the Spell of a Madman

Why the optimism?
Maybe it's because we wrote this season off when Rodgers was sacked in October.  A new manager, whoever it was, would need time to affect change and instill their vision within our club.  Then it happened… Klopp-mania.  The question is not "why did we expect immediate miracles?" but "how could we have avoided those thoughts?" with the media frenzy that ensued.
Jürgen Klopp's reputation went before him and added fuel to the flames of hysteria surrounding his appointment.  Here he was, German Manager of the Year in both 2011 and 2012, leading his beloved Borussia Dortmund to the Bundesliga title in the summer of both those years.  Were we expected to remain calm, collected and reasonable with our expectations?  Our club has struggled to buy established, big-name players (Suarez was not the star he became) since Rafa's departure as our European stature dwindled.  Now here we were pulling off one of the biggest coups we could ever have imagined.  One of the most sought-after coaches in world football was on his way (remember the tweets showing his flight and its progress across mainland Europe?).
It reminded me of the arrival of Rafa in 2004.  Very different styles of football, I know, but the fact that Rafa had led Valencia to two league titles in a domestic league normally dominated by the other big-guns?  Well, Klopp's achievements upon arrival bore more than a passing resemblance to those of Benitez over a decade ago.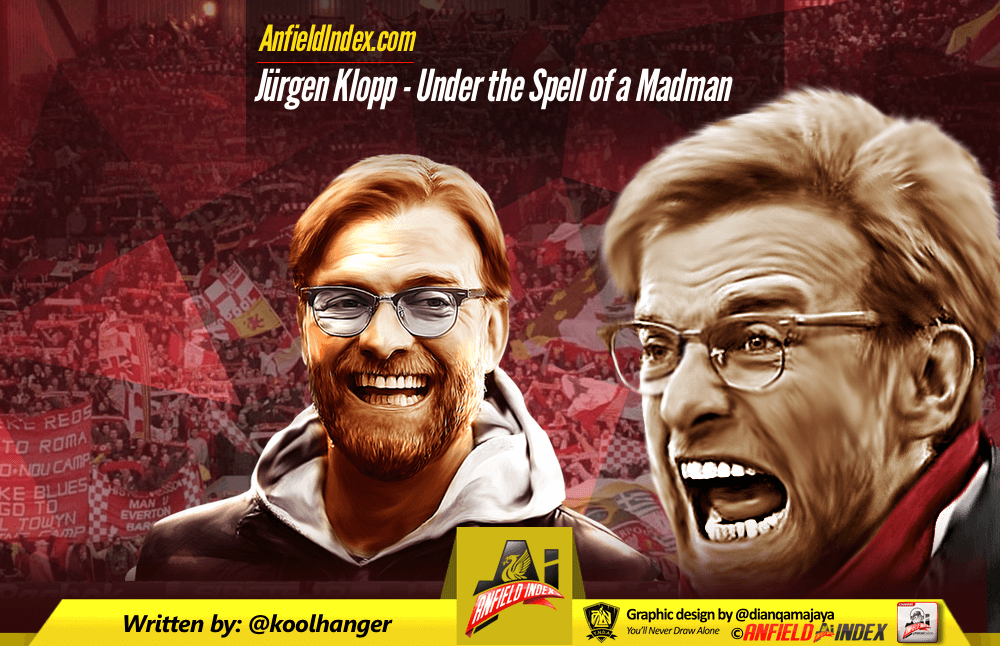 So how is he doing?
So far, Klopp has taken 1.52 points per game (ppg) in the Premier League.  A marginally better total than the 1.5 ppg Rodgers achieved over his three years at the helm.  Writing for ESPN in early February, Tony Evans argued "It is no excuse to say that this is not Klopp's squad" when discussing the underwhelming form shown by Klopp's Reds so far.
I would argue that it is a clearly valid explanation and the most relevant point when analysing the remains of the German's debut term.  They are not the men he chose for battle. This army was assembled by Rodgers and the infamous transfer committee.  Klopp will not have given up hope on forming a successful working relationship with any of them but this season is about sorting the men from the boys, those players who are willing and capable to join the manager and our club on this journey.  Evans appears to have a more old-school, yet impatient viewpoint, "It would be nice to see less grinning and more winning from Klopp" he continued, "Liverpool need more than charisma".
Liverpool lost their backbone and fighting spirit under Rodgers.  In January, George Cooper wrote for The Independent that Klopp's "self-confidence seems strangely at odds with his timid players who have been bullied off the pitch by Watford, Newcastle and West Ham United".  None of that can be argued with.  Yes, there was a fighting quality present in the title-push of 2013/14, but so was Luis Suarez.  I feel the influence and drive the Uruguayan had on that squad was more significant than any motivational speeches Rodgers delivered.  Also, Gerrard was still there and his desire for that elusive league title must have seeped into everyone who shared a dressing-room with him.
Klopp seems to be bringing the fight back.  Liverpool, as a club, have not had that form of identity, that "never beaten" trait and belief since around 2009.
Klopp's passion for the game is as infectious as the uncontrollable chuckles of a child.  His crazy laugh and toothy grin endear him to the coldest of hearts.  He looks like a fan, like an exuberant fan, who just wants to bring enjoyment to the masses.  He is doing that already, by just being Klopp.  
His charisma and likeability factor are off the charts.  He rarely commits a PR faux-pas in press conferences or even the "heat of the moment" after-match interviews.  Now remind yourself that English is not his native tongue.  Klopp has a compelling ability to say the right thing at the right time, and it doesn't seem to cost him a thought.
The next step is delivering that pleasure from the pitch.
Objective One – Make Anfield ours again
Teams need to be fearful of their visits to Anfield again.  It is something Klopp has struggled with so far. Our biggest wins and best performances this season have come on the road.  Besides our cracking 3-0 victory at home to City and the Europa League domination of United, the home form has been mediocre at best.  The pressing style works well away from Anfield as the onus is on our opponent, as the hosts, to take the game to us.  
At Anfield, however, it is a different situation completely.  We may still be pressing but we are normally doing so against two blanket lines of four in defence.  This is where Klopp has to, and will, evolve.  His tactical acumen will be tested to its limits against Pulis, Allardyce and co. when they arrive to park the proverbial bus.
Objective Two – Sort the Defence
We have conceded 30 goals in the 21 league games since Klopp's arrival, or 1.43 goals per game (gpg). Last season under Rodgers we conceded 48, in the 38 games.  That is equivalent to 1.26 gpg.  A clear deterioration in an already worryingly poor defence is a concern under Klopp.  There have been gradual signs of improvement over recent weeks (discounting Southampton away) with Sakho beginning to show a consistency we have lacked in central defence since the departure of Sami Hyypia (no, I'm not comparing Sakho to Hyypia).
The rest will come
"You should not only look at the standings… look at the football we have played in recent weeks.  We've made a huge step forward as a team.. Our problem is that we are just not consistent enough.  We follow up two good matches with one bad match too often.  We need to manage to be consistent for a longer period of time"
That was Emre Can speaking to Kicker in March.  Can has been one of our best performers in recent months.  The midfielder was acknowledging that inconsistency is what we're good at now.  Plugging a leaky defence and restoring Anfield's fear-factor is the solution.  We hope Jürgen Klopp is the man to do that.  He has made us believe since October.  Now he needs to show our faith has not been in vain.
All stats and info accurate up to 1st April 2016