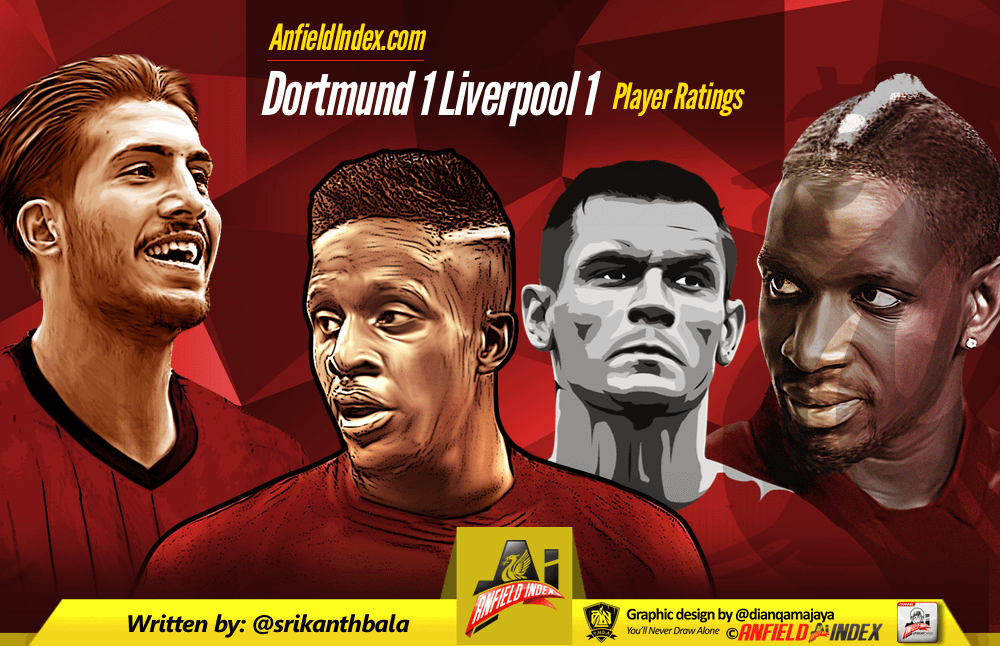 Dortmund 1 Liverpool 1: Player Ratings

Liverpool put in a great defensive effort against Dortmund to share the spoils and keep the tie alive. The Reds definitely had the better share of clear cut chances which bodes well for the return leg.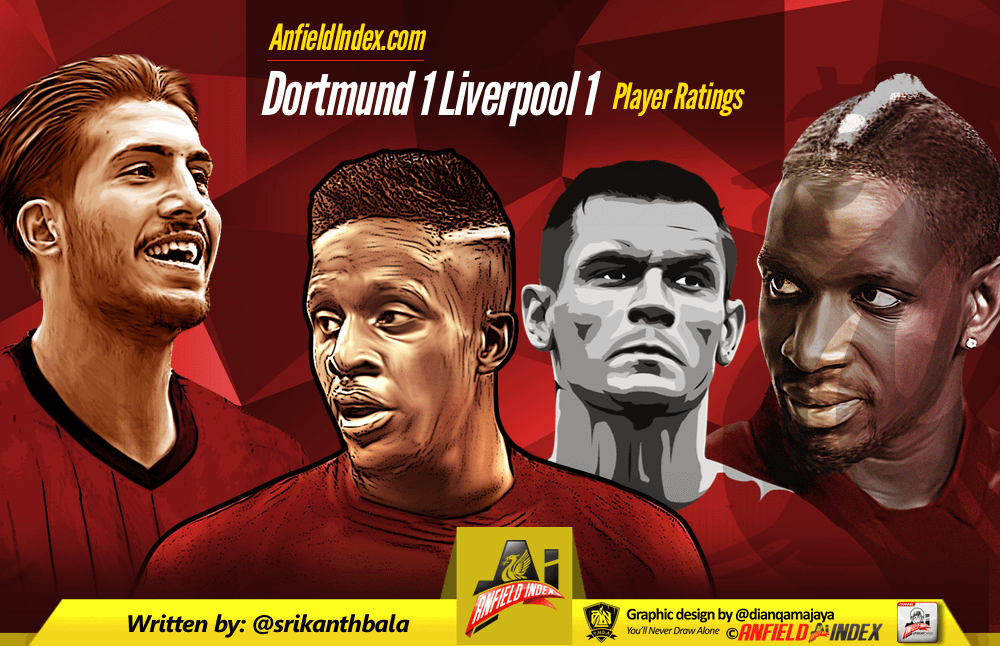 This is how they fared.
Simon Mignolet (7) – A solid night for the Liverpool keeper as he was at his reliable best. Came off the line to make couple of punches while his catching and distribution was safe rather than spectacular, which is what is needed of a goal keeper.
Nathaniel Clyne (7) – Seemed far more intent from Clyne towards attack than seen usually this season. Often moved narrow to cover the midfield, thus allowing Schmelzer to exploit space. With the majority of the attack being played out on the right hand side, Clyne was heavily involved in every team move in the second-half. His defending was safe and reliable for most parts of the game.
Dejan Lovren (7) – Started decently in the game, and was presented with a rare chance from a set-piece but headed it straight to the keeper. Often preferred the long ball to relieve the pressure on the defence. Made a really good interception late on in the first-half. Had an efficient second-half as Liverpool defended their goal with all their heart and all the parts of the body legally allowed.
Mamadou Sakho (8) – A welcome return to form for Sakho in the early stages as he saved the team the blushes with an incredible sequence of blocks. His ball control also seemed to return to normal along with his solid passing. As the match wore on, the famous Sakho meme 'Sakho Says No' seemed to become a reality, as he found a way to intercept every possible danger with his foot, chest, head, knee etc. Incredible comeback considering his shambolic performance against Spurs.
Alberto Moreno (7) – Moreno had a good defensive performance on the night, which is not something he is complimented about. The fact that Liverpool did not attack much on his side meant he had less 'bombing' on to do. Such balanced performances will go a long way in changing the perceptions of supporters.
Emre Can (7.5) – A really good performance from Can, as most of the first-half he was the only midfielder who seemed to be playing the game. Once he got booked, he had to toe the fine line between aggression and caution. He executed his plans with aplomb. He used his strength on most occasions to shield the ball and pass it on to his team mates. A forced rest on the weekend is good news for Can and Liverpool with respect to this tie.
Jordan Henderson (4.5) – Henderson had a horrid first-half with a series of misplaced passes, one of which put Lovren in real trouble. His attacking contribution was minimal and it was not a surprise to see him substituted at half-time.
James Milner (5.5) – Lots of graft from the midfield, but would have been useful if only he could pass the ball to his team mates with more accuracy. He delivered a couple of good set-pieces which Liverpool could have made better use of. Ran his socks off till the very end, which is what we have come to expect from the Englishman.
Adam Lallana (6) – Was a fleeting presence in the first-half, but was the first man to press when Liverpool did not have the ball. He was more involved in the second-half as Liverpool started attacking through his flank.
Philippe Coutinho (6.5) – Coutinho was coming into this game in excellent form and he had his share of chances, especially in the second-half. Otherwise he was not much involved in the second-half, but often stayed wide to give Liverpool width whenever needed.
Divock Origi (7) – Cut an isolated figure early in the first-half as Dortmund started exerting their influence. Worked his socks off running the channels and was duly rewarded with a goal, albeit a deflection from a Dortmund defender. He could have easily made it a couple of goals but missed a clear cut chance. Worked hard in the second-half as a pressure-reliever as Dortmund turned the screws.
Substitutes:
Joe Allen (6.5) – Joe Allen came on for Henderson in the second-half, and there would have been no one happier than Emre Can as the midfield started redeeming themselves in the second-half. The Welshman continued with his knack of finding spaces to occupy, and with his consistent good performances stands a good chance in making the starting XI against Stoke.
Sturridge, Firmino – N/A