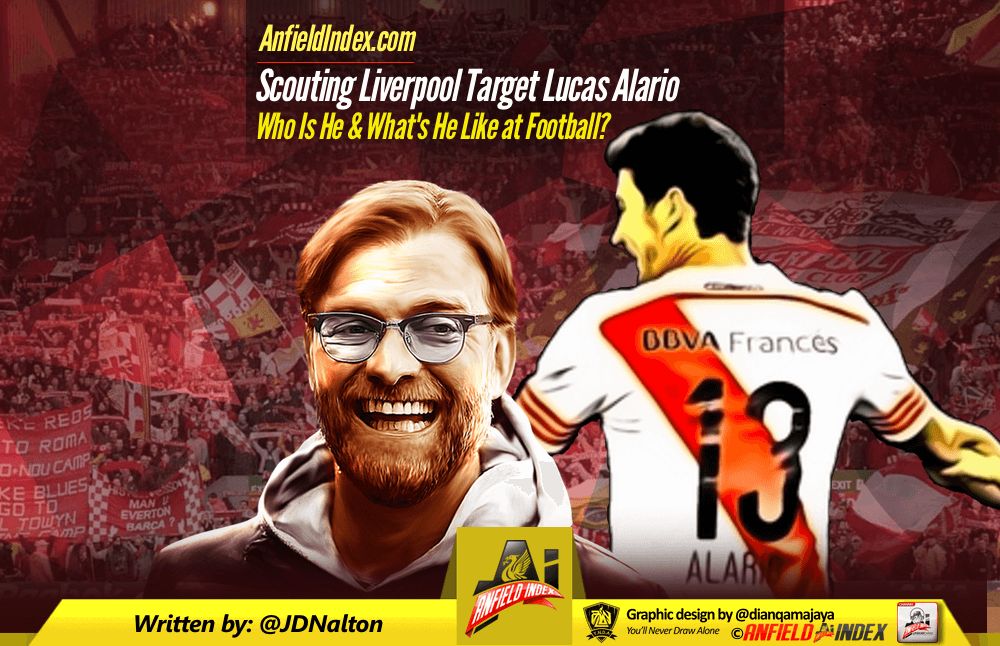 Scouting LFC Target Lucas Alario - Who Is He & What's He Like at Football?
Liverpool need an Argentine, but no one was expecting this one.
Last week it emerged that the club were in serious talks with River Plate to bring striker Lucas Alario to Anfield in time for next season.
The fact (according to Transfermarkt) he holds an Italian passport, which would help bypass any work permit issues, may be one reason clubs from Europe are interested in signing him, but there are plenty more reasons why Liverpool are looking to add the player to Jurgen Klopp's 2016/17 squad.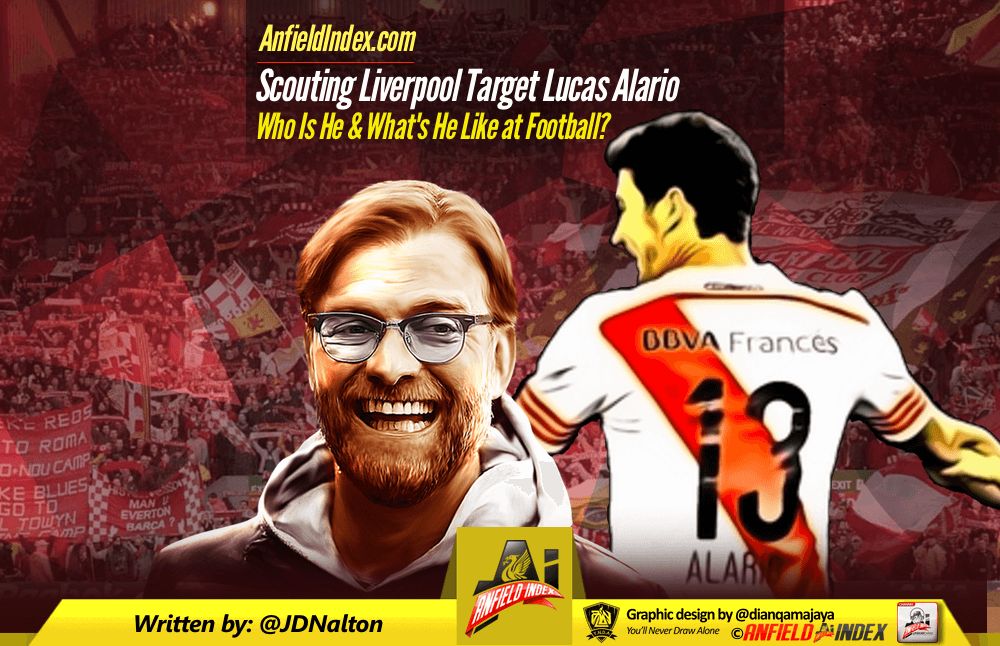 Who is He?
Alario began his career at Colón, a club based in the city of Santa Fe which is the capital of the province of the same name and is based to the south of his hometown of Tostado.
The right-footed striker helped the team return the the top tier of Argentine football in 2014. He was the side's top scorer in Zone A of the second division which they won on goal difference. His six goals and four assists in 15 appearances were a big part of Colón's return to the top tier.
Despite the success his performances weren't raising too many eyebrows, but River Plate still saw something in him which was enough for them to put their hands in their pockets and bring the player further south to the capital city.
The things they saw in the player were the same things which have since attracted the likes of Liverpool and Borussia Dortmund. During his time at River he has improved his goals to games ratio, and has also scored in some important matches.
His strikes in the 2015 Copa Libertadores contributed greatly to River's triumph in the competition. It was the third time the club had won South America's prestigious and notoriously difficult tournament, and their first since 1996.
Alario scored when it mattered. His goal in the second leg of the semi-final against Paraguayan side Guarani in Asuncion was his first for the club, and secured Los Millonarios' path to the final.
The goal was a showcase of his deceptive turn of pace, good positioning, and composure once through on goal.
He then went on to score in the second-leg of the final itself, where River faced off against Mexican side Tigres UANL.
The first leg finished 0-0 in San Nicolás de los Garza, Mexico, but the second game at the monumental ended in a 3-0 victory for the hosts, with Alario scoring the all-important first goal with a trademark header to break the deadlock. Incidentally, Ramiro Funes Mori, now of Everton, scored River's third goal.
https://www.youtube.com/watch?v=DlpP9DyXNyE
With a Copa Libertadores win in his first season in Buenos Aires, Alario would then go on to prove his worth in the league, scoring four goals in six games, a return which was enhanced by a hat-trick against the excellently named Nueva Chicago.
This year he's already scored four goals in six starts, but River are struggling, and lie eleventh in Zone A of the Primera División.
As alluded to previously, Alario's game isn't all about goals, and if he does arrive at Anfield fans will see determined, well timed, and intelligent running, as well as an ability to head the ball – especially from left sided crosses – which Liverpool can often appear to lack in forward areas.
His work-rate, running off the ball, and well-timed leap bring to mind Irish striker Shane Long, and even though he doesn't have the blistering pace of the Southampton man, he shares many of his traits.
Further Complications
The forward has already publicly said that he wants to join Liverpool. "Tell them to contact me," Alario told TyC Sports – a TV station in Argentina. "Given the choice, I'd like to experience the Premier League, and I'd like to play for Liverpool. I always select them when I play football on the Playstation."
But securing the his signature may not be straightforward, as he is owned by both River Plate and an investment group linked to his former club Colón. River also have the option to buy a further 30% of the player's rights for £950,000 in May.
Liverpool experienced a similar issue when signing Javier Mascherano from West Ham. and there are many South Americans who will have more than one owner.
Even though FIFA announced the practice would be banned from May 2015, some players still have multiple owners from earlier deals, which must be the case with Alario from his time with Colón.
How Would he Fit at Liverpool?
Daniel Sturridge is Liverpool's best striker by some distance, but given his past injury problems he's likely to need plenty of support from the squad in order to prevent more of the lengthy spells on the sidelines which have plagued his career so far.
Alario would provide a reliable option from the bench as a possible replacement for Sturridge. He'd give the Englishman a rest if the side are leading and, thanks to his intelligent forward play, he could also prove vital as a second striker if the team need a goal.
Given that it looks increasingly likely that Christian Benteke won't be around next season, a striking unit of Sturridge, Divock Origi, Danny Ings and Alario would be very useful, even though it still threatens to lack star quality should Sturridge succumb to injury.
This lack of quality and nous up front has been the constant worry since Luis Suarez departed to Barcelona and Sturridge departed to various treatment tables around the world.
However, with a host of star attacking midfielders and wingers linked to the club, the return of Markovic, and Roberto Firmino also comfortable leading the line, Alario might be a man for a specific role, rather than a star man who'll have to be shoehorned in.
Ings and Alario would offer the hard running up front, while at the same time providing good all-round striking quality even if they're not outstanding in any one area, whereas Sturridge and Origi would be asked to turn on the style.
Klopp is looking to build a spine of strong personalities, hard workers, and tactically astute players, and Alario would definitely fit this mould. More Argentines please.