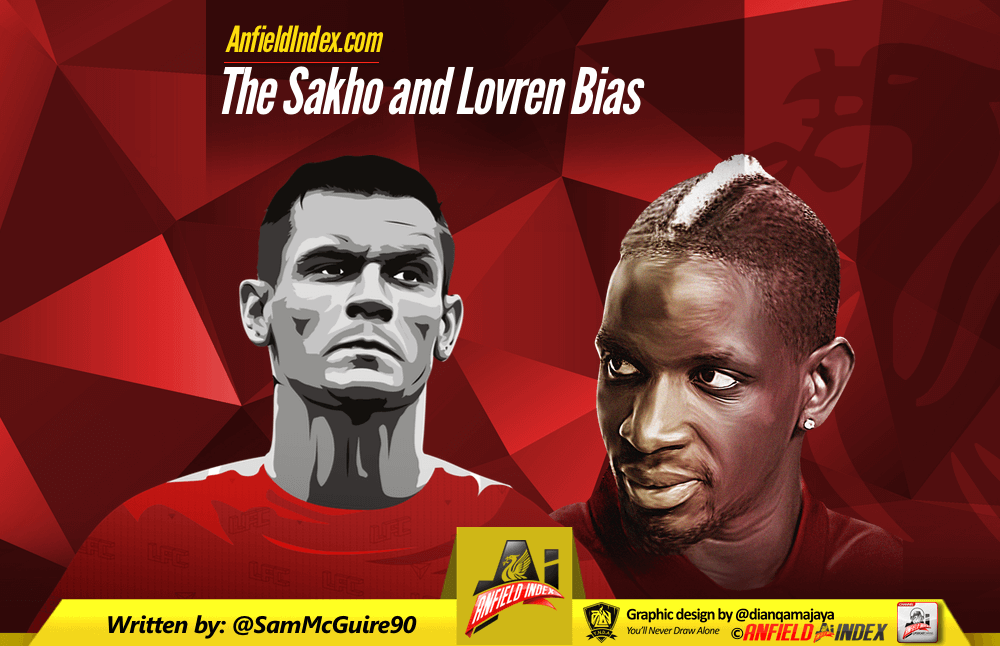 The Sakho and Lovren Bias
It's ingrained in every single one of us from birth. It's second nature. It's inbuilt.
Bias.
No matter how fair we all try to be we look at things with rose tinted glasses from time to time and it can't be helped. If you see a nice pair of trainers in a colour you dislike they're automatically horrible colours. If I see anything in Everton blue I'm easily dissuaded from buying it. Sometimes there's no genuine reason behind it, you just don't like something. There's a chip shop literally 5 minutes from my house but I prefer the one that's further away. Why? Too complex for anybody other than myself to understand (about ten years ago a friend said he had a weird tasting curry from they were no longer a viable option in my eyes).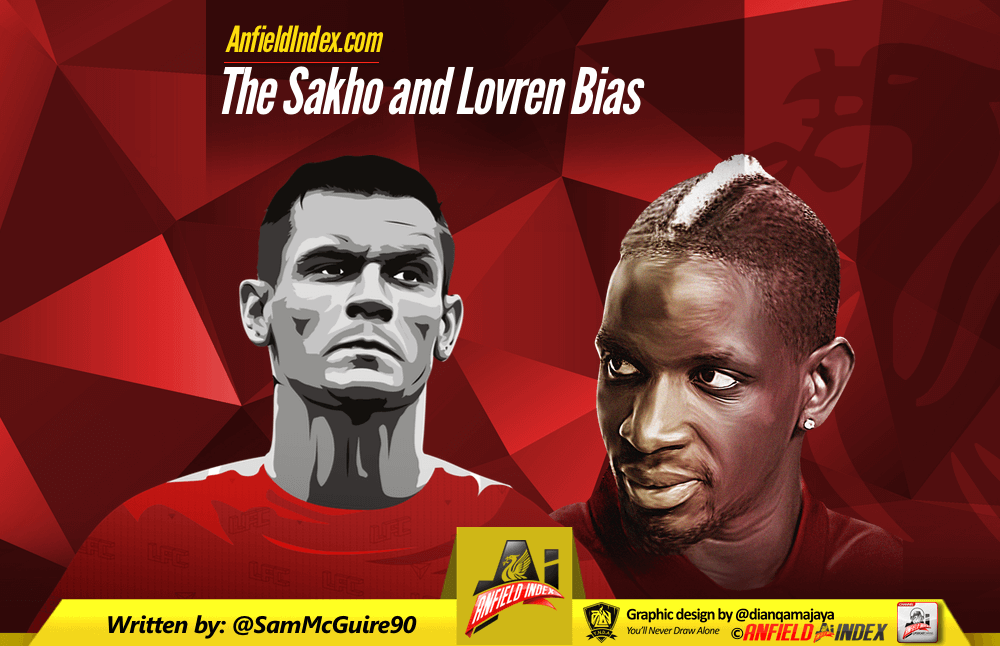 It happens in every single walk of life; especially when it comes to footballers. Lionel Messi or Cristiano Ronaldo? I dislike how Ronaldo stands and because of that you'll never convince me he's better than Messi. Before you say it, yes I know I'm a stubborn dickhead. I'm narrow minded and my girlfriend is forever telling me so I am making a conscious effort to open minded and fairer.
This is where the Mamadou Sakho and Dejan Lovren debacle comes into play. I'll be honest from the off – I was made up when we signed Sakho and devastated when we signed Lovren. I was vocal when discussing how the club had overpaid for the Croatian, especially having seen just how bad he could be when playing in France for Lyon. In the pre-season friendly against Dortmund, a game that Liverpool won 4-0, I pointed out how Lovren had been erratic positionally and I was slaughtered on Twitter for 'analysing' a friendly. It was just an observation at the time  but due to the fact I'd been against his signing it was seen as an agenda. At the time everyone was on a Lovren high so anything negative was practically treason.
Fast forward a few months and it seemed everybody was on the same page. Did I feel smug about being 'right'? No. Why would I? Liverpool were suffering. I'm not one to gloat about these things. Sakho was reintroduced into the starting XI and the fortunes turned around. He was a key part of the three at the back system which saw Liverpool rise in the table and actually challenge for fourth.
To my surprise both Brendan Rodgers and Dejan Lovren started the season at Liverpool. The team kept three consecutive clean sheets and Dejan was once again heralded as the new Sami Hyypia. Everything in football is very short term. It seems many fans judge a player on their last performance instead of their last ten/twenty games. People were quick to say I was wrong about Dejan. Then the West Ham game arrived and Dejan Lovren was a dithering mess of a player. The confidence he'd gained from those three clean sheets disappeared and he looked like a danger to the Liverpool side.
Jurgen Klopp was appointed, Sakho came back into the side and once again showed why he should be starting matches. He's not aesthetically pleasing when in possession of the ball but he's effective. I know what I'd prefer. People may bang on about Sakho's passing percentage but they've every right to. In the modern game you need to be able to play out from the back and at times the Liverpool midfield doesn't have that cut throat passing you need and we look blunt. That is until Sakho steps up and slices the opposition open with a pass into Coutinho. Forget that though as he looks uncomfortable on the ball, right?
Martin Skrtel picked up a knock and fans were finally given a Sakho-Lovren partnership for a sustained period. There was a relationship there. When one attacked the ball the other sweeped and vice versa. When one had a 5/10 game the other seemed to carry them with a 7/10 performance. How it should be.
Instead of being stubborn and saying 'Sakho is still better' I started to praise Dejan. Their partnership was encouraging. He seems like the sort of player were less is more. Less step overs and he looks a lot more effective. Instead of being this one man defence he was playing as part of a unit. He didn't need to head every single ball.
Then I noticed it. As this partnership progressed those that were so readily prepared to praise Lovren aren't capable or willing to praise Sakho.
The Frenchmen put in arguably Liverpool's best defensive performance in the last decade against Manchester United at Old Trafford in the Europa League. In the opening thirty-five minutes of that match Anthony Martial nearly retired Nathainel Clyne (nothing to be ashamed about there), Dejan Lovren looked overawed by the occasion and James Milner was playing as a left-back. Mamadou Sakho was holding that defence together.
Twice in first half Dejan was caught ball watching and twice United nearly scored because of it. The first time was when Mata lashed the ball wide from about 7 yards out and the second instance was when Sakho got across to put Rojo off from 6/7 yards. In the second half he was much more composed. Shakey first half, better second half. Sakho was monumental throughout.
Chris Bascombe of the Telegraph took to Twitter after that match, the one against United, and Tweeted – "Lovren superb. Has been since Klopp joined." and followed it up by asking if Emre Can was man of the match then joked about the Sakho fan club attacking him.
After the 1-1 draw with Spurs Bascombe once again took to Twitter "Despite Harry Kane's goal – which was brilliant – thought Dejan Lovren exceptional again y'day. Been consistently good for a while now."
Dejan Lovren was impressive against Spurs. The Harry Kane goal was a great finish. Perhaps Lovren could've shown him onto his left foot instead of allowing him the room on his favoured right foot but that's being really picky. It was Lovren's best performance in a Liverpool shirt and he was rightly praised for it.
The issue here is the consistently good part. It's like the first half against both United and Southampton never happened. In the latter he was subbed after 45 minutes for a variety of reasons. He'd picked up a yellow card early on, couldn't handle Shane Long, could've given away a penalty and as Klopp said after the game, he couldn't handle the emotion.
If he's had a bad 90 minutes in the last 225 minutes he's played can that really be considered 'consistently good'? Over that time period It's clear Mamadou Sakho has been better consistency wise, no? A great 90 minutes against United, ok 90 minutes against Southampton, then a poor first half against Spurs followed up by an improved second half.
Likewise it only took a really uncharacteristically bad Mamadou Sakho performance for those not keen from the start to crawl out from under their rocks and announce how they were right about him all along.
John Brewin of ESPN seems to not be a fan of Sakho's.
After the Spurs game he Tweeted – "Predicted a while ago, to much abuse, that Lovren would make it under Klopp while Sakho would not. Quite pleased with that."
Back in October he wrote an article saying Sakho had no future at Liverpool while Lovren and Skrtel potentially did have. Yes, the same Martin Skrtel that was the catalyst for Liverpool imploding against Southampton.
In January he said "Sakho is chaos" before following it up in February by Tweeting "Most abuse I have received this season is for saying Sakho is no good. I still make myself right."
I had a search on Twitter and couldn't find any Tweets in which John actually praised Sakho even after a formidable game. He only seems to Tweet about Sakho when he's had a bad game to crow about his superior opinion.  Surely that type of behaviour just antagonises Sakho fans who will respond when Sakho has a good game? Bit of a pointless weekly battle. The tit for tat shit between both sets of fans is boring.
We all have bias, even paid journalists can't help themselves. People clamour for balance but it's almost impossible. I've been a fan of the Sakho and Lovren partnership.  It means no Skrtel. The Sakho performance against United and the Lovren one against Spurs gives me hope that the team has it in them to put in a massive defensive performance soon in which we'll grind out a result because of how good the defence is. It should be an encouraging sign, not used to fuel the agendas.
Do they have a long-term future here? It's doubtful both will due to their injury record, it makes it difficult to build a defence around them as starters. They're the best partnership currently at the club though.