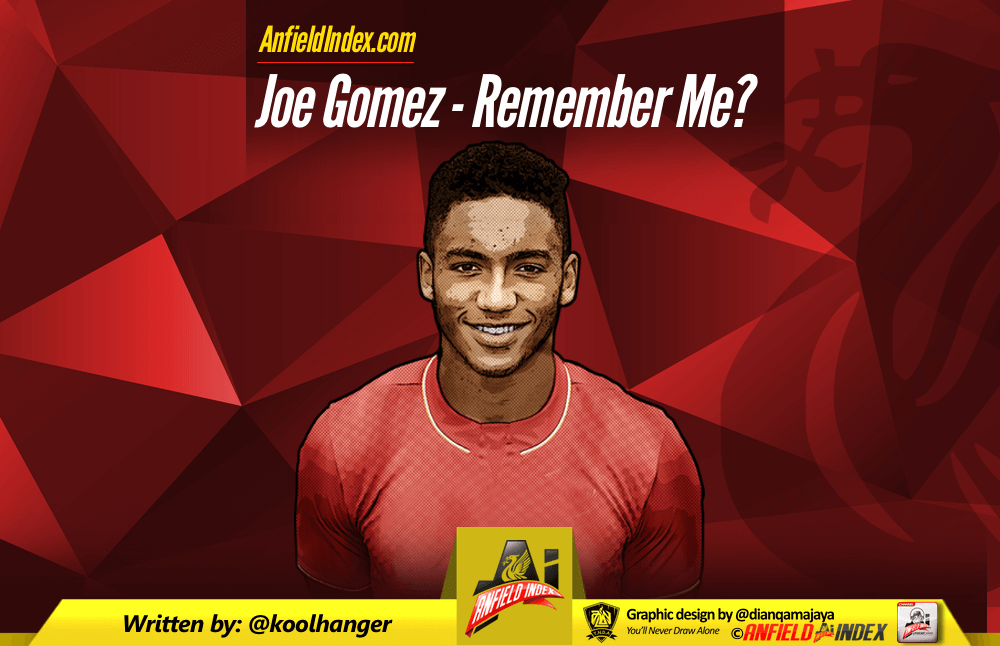 Joe Gomez - Remember me?

An Unfamiliar Face
Last summer I heard we were buying a young, quality defender from Charlton Athletic.  Admittedly, I had never heard of Joe Gomez.  I dug a little deeper to find out who this kid was.  I wanted to know why Liverpool had swooped early to acquire Gomez, reportedly from under the noses of Arsenal, Manchester City and Borussia Dortmund.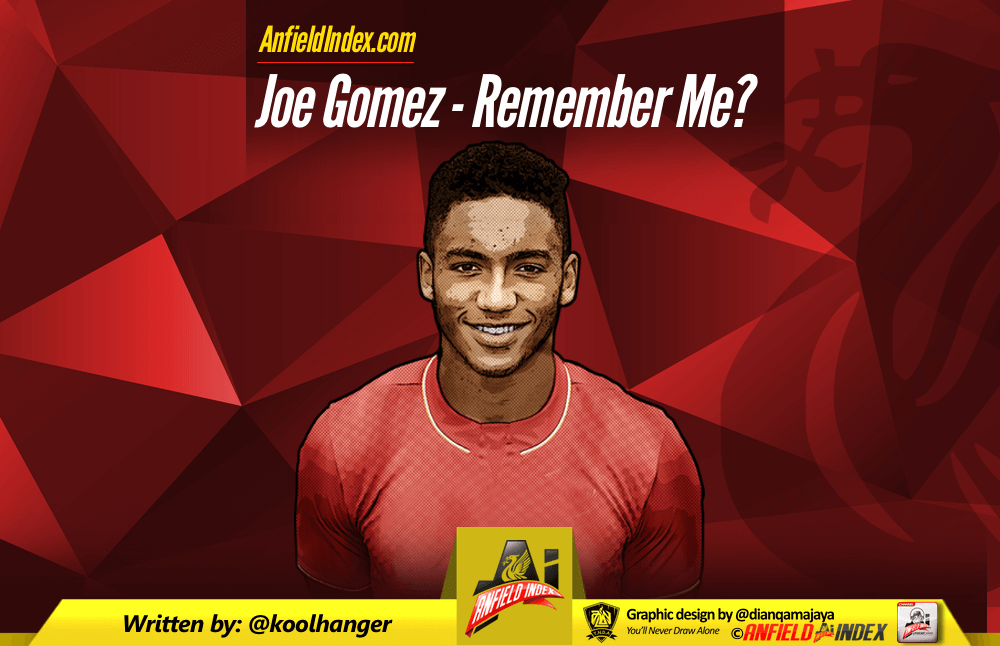 I was excited by what I was reading.  Gomez's description sounded like that of a young Alan Hansen (no pressure, Joe), or maybe a stronger version of Daniel Agger.  
I then predicted his role for this season; a fixture in the reserves or a loan move back to the Championship was what beckoned for Joe.  
That all changed after his pre-season form.  Gomez hit the ground running and was extremely impressive in July.  Brendan Rodgers gave Gomez his Premier League debut in the 1-0 win at Stoke on the opening weekend of the season.  
Normally a very physical and imposing team to face, Joe was not one bit phased by the occasion.  All 6`2" of him looked composed throughout the full ninety minutes.  The youngster was playing at left-back and he was already causing Alberto Moreno some concerns about getting back in the team.
Gomez played every minute of the next two games, keeping clean sheets as well (1-0 home to Bournemouth, and 0-0 away to Arsenal).  Whoscored.com rated Gomez very highly in those opening three league matches (7.4, 7 & 7.61).  Not only was he impressing statistically, Joe looked like he belonged.
Then came the wobble in Liverpool's form and what would be the beginning of the end for Rodgers. West Ham won comfortably at Anfield and then United beat us with ease at Old Trafford.  Gomez struggled in both games.  He was, after all, still just 18 and trying to settle into a team with no backbone, a team that crumbled at the first sign of struggle.
Rodgers tinkered with the formation and Gomez's next two games were in a back three in the Europa League (1-1 away to Bordeaux, 1-1 home to FC Sion).  To his credit Joe's performance level improved again and whoscored.com had him at 7.11 & 7.49 for those matches.  It is worth remembering that this was an 18 year old being asked to play in a different defensive setup at his new club within two months of his debut.
England U-21s
Joe's form had not gone unnoticed on the International stage either.  He was called up to the England U-21s and played in the victory over Kazakhstan in a Euro 2017 qualifier.
Unfortunately, that was the last game Joe would play this season.  He twisted his body while trying to turn on the pitch and his right knee gave way.
Speaking to James Pearce of the Liverpool Echo in November, Joe remembered the night of the injury –
"My initial thought was 'this is a bad one'.  I was in agony but after about five minutes it started to ease off and I was thinking I might even be able to get back on…When I went home that night I wasn't even on crutches".
Back at Melwood
Unfortunately for Gomez he had ruptured his anterior cruciate ligament.  What should have been a very positive first meeting with his new manager, Jurgen Klopp, ended up being the day he received the result of the scan on his knee.  "When I came back from the scan Klopp was there to meet me – little things like that make a difference… he was telling me to stay positive and that he was happy to wait for me to get fit again.  It was nice to hear that".  Gomez's ACL injury generally puts players out of action for between 9 and 12 month.
A cruel twist of fate for Liverpool and Klopp saw our new striker, Danny Ings, also damage his ACL in training at Melwood the day Gomez got the bad news of his own injury.  Gomez and Ings underwent surgery on the same day in London shortly afterwards and were able to lean on each other mentally throughout the rehabilitation period.  
Ings' case was possibly even more devastating than Gomez's.  Danny had been starting to score for Liverpool and made his full England debut only 48 hours before his injury.
"It's a reminder for both of us that everyone gets setbacks in football, it's not all plain sailing.. Neither of us wanted to be in this situation but it has really helped that we're going through it together".
Old head, Young shoulders
Another trait of Gomez, and one of the most remarkable, is his grounded approach.  Listening to him speak you forget he is still just a boy of 18.  "I've been using the time to analyse my game by looking closely at the clips.  I might not be able to play at the moment but I can still learn".  It's not often you get to hear a teenager with such a learned approach to their game and development.
This will come as no surprise to those that know him as Gomez has always had to meet high expectations placed upon him by various managers.  He was drafted into Charlton Athletic's U-18s setup at only 13 years of age, he made his Championship debut shortly after turning 17 and appeared in the Premier League at just 18.  Joe had been named in the UEFA Team of the Tournament after winning the Euro U17 Championships in Malta in 2014.  He won the Charlton Young Player of the Year award after his 24 appearances last season.  Put simply, this boy has been impressing a lot of people for a long time.
Nick Wright of Sky Sports wrote in July 2015 that watching Gomez play is "like watching a seasoned pro. He is cool-headed and quietly authoritative… and his physical development and athleticism defy his years… he is strong in the tackle and enjoys having the ball at his feet, keeping things simple with his passing… and has discipline and maturity in abundance".
What's to come?
Gomez is aiming to be back in full training for the pre-season campaign in July.  With Skrtel looking like he may be on the way out and Lovren still struggling for consistency, Gomez could be vying for a first team place with Mamadou Sakho and Joel Matip, who is arriving from the Bundesliga.  The left-back spot is currently Moreno's, but Gomez may be a more reliable option there.  Joe's most natural position however is in the centre of defence.  He may start quite a lot at left-back next season if Klopp wants him to gain on-the-field experience beside Matip and Sakho.  Moreno still has the energy levels and a more attacking approach however which is more suited to the manager's tactical approach.
Gomez has a bright future ahead of him.  His debut season was destroyed by injury after such an encouraging start.  If his knee heals adequately and he can avoid serious injury next season Joe may be looking at 20-30 games under Klopp in all competitions.  
Joe knows we may be about to embark on an era to remember under our German boss.  If we can hold onto this brilliant young talent then it gives Klopp some very strong foundations to build upon for years to come.
@koolhanger