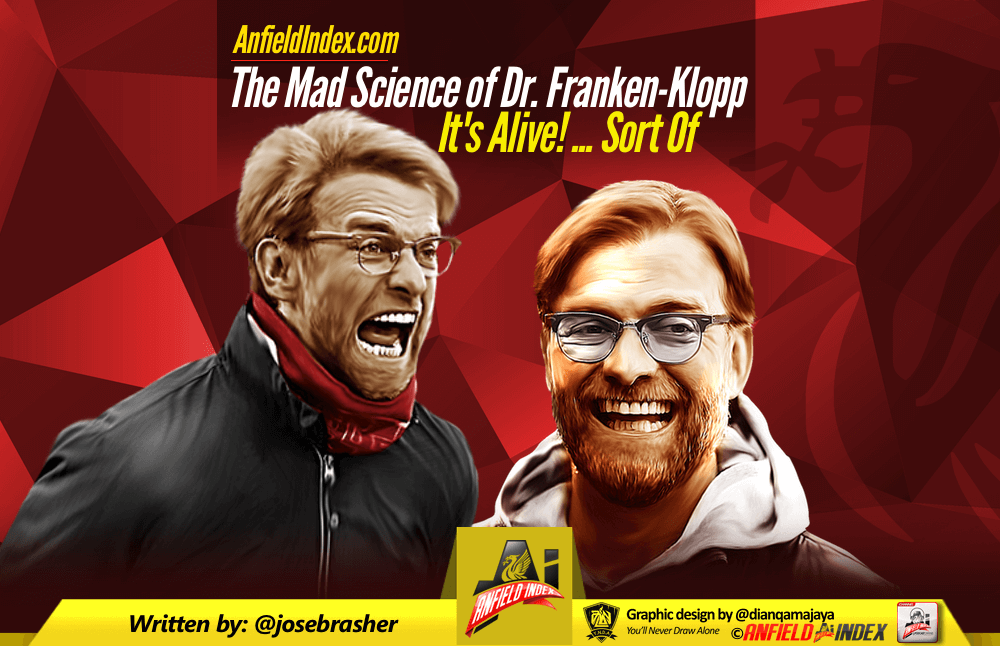 The Mad Science of Dr. Franken-Klopp - It's Alive! ... Sort Of
You can see the images now. A slightly disheveled, sleep-deprived, Jürgen Klopp emerges from his office in the middle of the night. The dim lights cast shadows on his maniacal face as His assistant, Mr. Buvac, silently stalks in the background. They both watch on, as lightning strikes and thunder crashes. There in the darkness of the offices at Melwood, it staggers to life and limps toward the door, and they can't help but feel a silent admiration for this beautiful monstrosity, because it's their creation birthed out of their sweat and ingenuity…the selection sheet for the next game.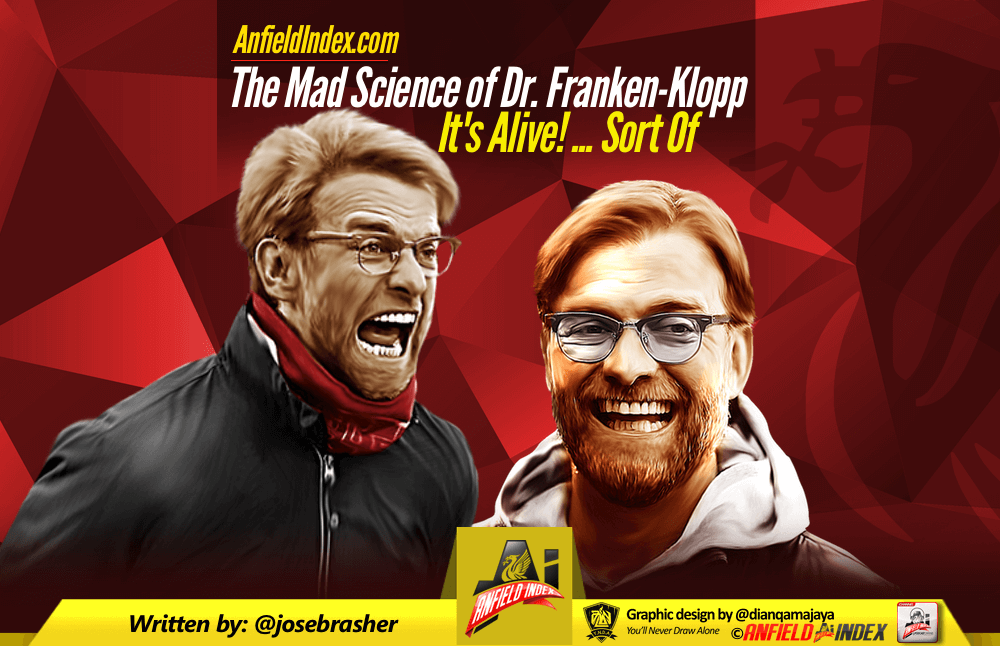 At times this year, it feels as though Klopp and his coaching staff have worked similar wonders to that of Dr. Frankenstein of Mary Shelly's imagined world. In the book, the young doctor, obsessed with dark science and power, creates a human-oid being with spare body parts that he can dig up or find in a nearby morgue. The monster is brought to life and begins to wreak havoc on everything around it, destroying all it touches. The book raises important questions in terms of what human genius and creativity can do together and what are the limits of science, and we as Liverpool fans should be asking similar questions, what are the limit of expectations and hope?
Klopp took the reins of a Liverpool side, that if we're to be honest, was looking dead set to finished in the bottom half of the league. With no transfer window to dabble in and a bull-ish commitment to the "team he signed up with" Klopp trudged through the winter months, looking more the supervisor of a wartime triage unit than that of manager of a top-level club. Into December and January, Jürgen was met with even more opposition as he couldn't hardly find 11 players to toss onto the field. We moaned as we saw European hopes for next year slipping away and saw our trophy dreams slowly go up in flames (Europa League notwithstanding), but in the fire, metal was being cured and a madman was plotting his revenge.
Since those hellacious months of December through February, Klopp has rebuilt a swagger into his side. With convincing showings against Manchester City, Man U, Augsburg, Crystal Palace and last week against Tottenham. Liverpool continues to show promise of what-might-be next season. The up and down season, that has drained the side and discouraged the fan base, isn't without a gilded lining. Klopp, our mad scientist in waiting, isn't just biding time until the off season but instead is giving us a glimpse into his deranged laboratory.
The Normal One, however, hasn't had all the prime pieces he needs to sew together the monster that LFC deserves. Like Dr. Frankenstein, he's had only suboptimal material in the lab up to this point, throwaways from the Rodgers era, with a few quality parts here and there. A sturdy base is still lacking in the construction as our defence continues to show fragility against dynamic attacking sides. Though improved over the last few months,  the substitution of Dejan Lovren in the Southampton loss showed just how fragile our back four (plus goalkeeper) can be when not full strength (who would have thought that sentence could have been written four months ago? We need Lovren to shore up our defence? Leave it to Klopp's dark arts.) While some of the defenders may make the final cut, an overhaul is desperately needed to a back line that hasn't shown enduring steel since Rafa stalked the sidelines. The midfield is a mixture of promising youth and chronic overachievers, but with the injury to Jordan Henderson and lack of a destroyer-type DM, the midfield is still looking for an overall facelift. The attack is a different animal all together. The real potential in lasting quality is found in this unit, with the likes of a resurgent Coutinho, steady Firmino, dynamic Sturridge and serviceable Lallana. This line might be the most put together in Klopp's lurching behemoth, a combination of a developing Origi (maybe a revitalised Danny Ings?) and a few minor upgrades here and there could see a very good unit turn into a Death Star, but we'll leave the Star Wars reference to Gags and that lot.
Klopp has managed in a few short months, to invigorate a side, a city and a fan base. Every step has been a calculation in his mad science experiment. From the time he called out the fans for leaving early, to the after game hug-fests, to the crazy runs down the touchline, the planning, the line ups, the interviews, Klopp has had a plan from day one and we're starting to see the chemical product of his wild machinations.
Klopp chose a project when he landed at Liverpool and his patience is starting to pay off. If it wasn't for a miraculous Leicester, the talk of this season would have surely been a marauding and free-scoring Tottenham side. A team that has London burning to the ground in a sweaty-anticipation 50+ years in the making.  Tottenham in a way is a glimpse into our future, a high pressing side with a dynamic attack, but Liverpool doesn't aspire to be Spurs and we showed just how bright our future can be on Saturday outplaying the second place team for large parts of the contest. Instilled with new hope and a style that is beginning to seap into the DNA of the players, we are all witnesses to what Liverpool will become.
Liverpool is far from a polished product, however, and Dr. Klopp knows that better than anyone. As he tinkers with this monster through the rest of the season and into next, he'll dispose of the inferior parts for better and stronger pieces. He and Buvac's monster may limp and struggle into May and the final few fixtures but one thing is clear. The grand master of football science Dr. Klopp is on his way to constructing a footballing monster, that has  a potential to tear the league limb from limb. If he can breathe life into this roster and show us shadows of what he wants, think what the wild and unknown future might hold….