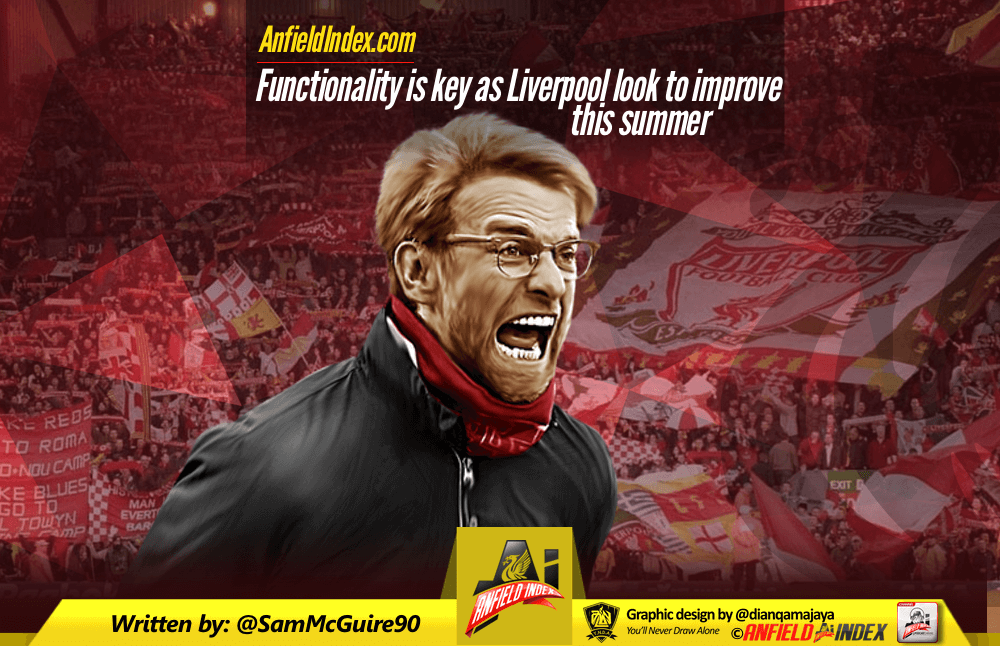 Functionality is key as Liverpool look to improve this summer

Liverpool fans were infamous for their 'next year will be our year' statement. However, for the past decade, the phrase associated with the fans has slowly morphed into 'Liverpool's summer transfer window is their biggest in years'. The two phrases are of course linked. Fans of the Reds are forever harbouring the belief that they're a mere one or two players away from being able to challenge for the title, thus if they signed the right players next year would actually be their year.
There are arguments for the previous two summers, 2014 and 2015, being the biggest Liverpool have ever had. The Summer of 2016 is going to top both of them, and there's no doubting it will be the most important transfer window since the inception of the Premier League.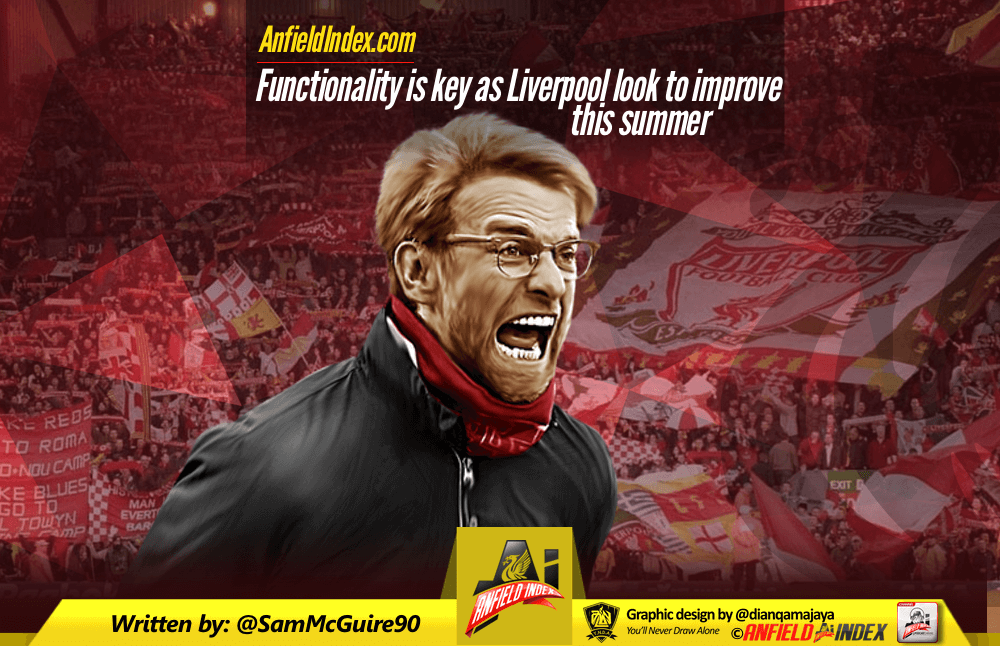 Jurgen Klopp's first as Liverpool manager
Not only will fans see just how Jurgen Klopp's Liverpool team will shape up but they will also find out just if club owners Fenway Sports Group intend to back the new manager wholeheartedly. The latter will be interesting to watch how it all unfolds, not just in terms of incomings but, possibly more importantly, outgoings. For example, if Klopp is adamant about selling Christian Benteke, just how much of a loss will FSG be prepared to take on him?
Functionality reigns supreme. Just look at Leicester City.
Klopp needs to have a clear idea of how he wants his Liverpool side to play. He needs to know what functions every part of the team has to bring for it to work as a collective.
Potential incomings is always a hot topic of debate amongst fans, whether it be sat in the pub with friends or discussing it on Twitter. People like to showcase their player knowledge when putting together their summer transfer targets list. When piecing together these lists it's as though many seem to forget about the functionality of the team and just list players, almost like they're playing FIFA.
Sometimes it's not about signing the best player available reputation wise but about signing the right player.
It's no secret that Liverpool need a new goalkeeper. Identifying a 'keeper isn't as easy as many like to make out. It's not as easy as simply signing a better one because there are external factors you have to consider. Firstly you have to consider what style the team plays. Are they a possession based team or a route one type? Do they play a low defensive line or a high one? What's his distribution like, does he prefer short or long passes? People accept that there are different styles to every single outfield position, but when it comes to goalkeepers they make out they're a one size fits all.  They aren't. A goalkeeper has strengths and it's risky to have them adapting their style at the top level.
I've seen people say Mattia Perin would be a good signing for Liverpool. A great shot stopper, quick off his line and very direct with his distribution. Genoa, his club, play a deep defensive line. They don't press the ball like Liverpool do so his starting position is deeper than it would be if he were to sign. Would the transition be smooth? Look at what happened with Simon Mignolet.
He was signed off the back of his best season at Sunderland. He was behind a deep defensive line and although he faced a lot of shots he was never really exposed like he has been at Liverpool. Lots of factors to consider when indentifying a potential target.
Likewise this a problem I've seen when people target outfield payers.  I've seen people state that Liverpool need a player to play wide right of the three behind the striker. They then go on to list players such as Marco Reus, Mario Goetze and Filipe Kostic as players they'd target.
Granted all three are attacking midfielders, each of these players would have an impact on the team in different ways.
Mario Goetze as a right 'winger' would heap pressure on Nathaniel Clyne. The full-back would be expected to offer the width, and the pace, on the right. Goetze isn't slow but he's not going to stretch teams with his pace and he'll be looking to drift infield and influence the play from there.
Marco Reus, even though he's much more effective as a left winger, could play on the right. He has the pace to trouble defences in behind. He'd keep the width if necessary and has the ability to beat a full-back on the outside.
Filip Kostic has been a standout in Stuggart's resurgence. The left footed wide player is capable of playing on the right hand side but he's much more effective on the left where he's able to beat his man on the outside. He has the pace to stretch a team but he'd be inclined to want to cut onto his left foot which makes him 'easier' to control.
Goetze and Reus are players who can play in a team that press. Both are goalscorers and both don't shirk their defensive work however both have an impact on the balance on the team in completely different ways. Kostic isn't tested in a pressing side and he's not the best defensively. He does score but not at the same level as the two aforementioned players. Jurgen Klopp could sign any one of these players depending on the functionality desired – signing Kostic when you want an effective presser isn't practical.
Many problems Liverpool have encountered this season has been down to poor recruitment in past transfer windows. Simon Mignolet not being a comfortable in possession of the ball was obvious during his Sunderland days and yet he was signed to play as part of a ball playing side. It's a bit like trying to use a screwdriver to hammer a nail. It's not practical.
Christian Benteke scored goals for Aston Villa. He was signed for Liverpool and many expected him to just transfer those goals over despite the fact Livepool's style isn't that of Aston Villa's. It's a bit like using a normal kitchen knife to cut a steak because it's got a history of cutting other food. It gets the job done but it's not as effective as it could be.
Liverpool can't afford to make these mistakes again. Not in key areas of the team anyway. Jurgen Klopp has his work cut out for him if he's to handle the pressure of navigating Liverpool's biggest ever summer window.