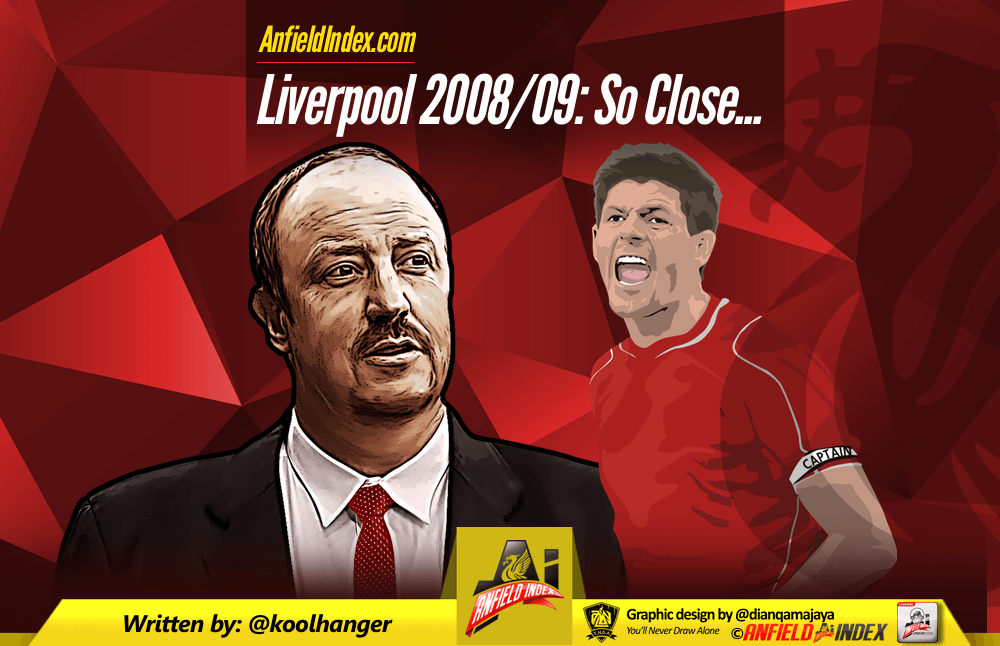 Liverpool 2008/09 - So Close...
How Things Are
Different eras connect with different people.  Based upon what was going on in your life at the time – where you lived, who you were dating, where your career was at – you may have so many memories about a period that is simply trivial to others.
To this day, if I hear a track from Smashing Pumpkins' "Mellon Collie…" album it takes me right back.  It was the first time I fell in love with music, and a specific band as well.  It was a new interest in my life, and in my teen years it was something that could, and would, quite simply take over.  
21 years later and those tunes still have that effect.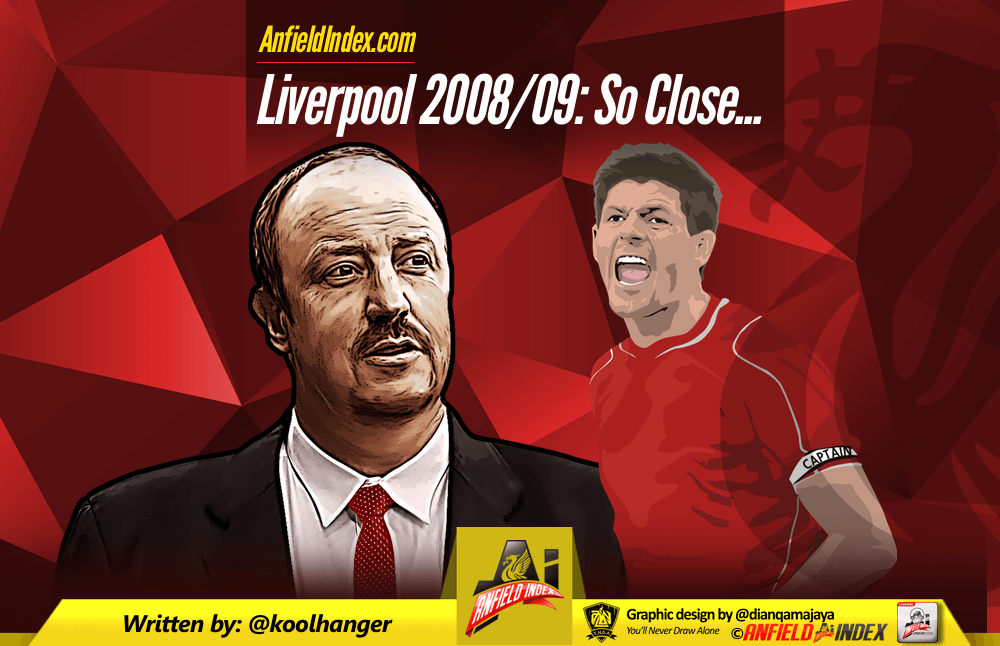 The Pinnacle of Rafa's Reign
I will never forget the 2008/09 Liverpool season.  It was, I felt, the performance peak of our team under Rafa's leadership.
Rafa always divided the Liverpool fan base with his style of football.  I will always contend the fact that it was an organised style rather than a boring style.  Rafa had us working like a well-oiled machine.  The eleven men on the pitch made one unit, a unit where the sum of the total was far greater than the sum of the individual parts.
Those individual parts I speak of; Rafa had them playing together, removing egos and establishing a work-ethic which meant you either pulled your weight or you were out.
To beat us, you had to outsmart us and outwork us.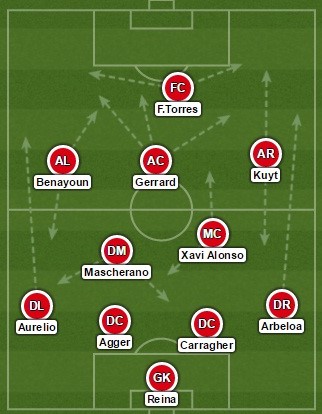 The Way We Were
Looking back on that season it serves as a stark reminder of the level we were at.  We pushed Ferguson's United all the way in the league and we were a team to be feared in Europe.
However, this is more of a fond reminiscence of a team I loved, and not an old man's ramblings about how they will never be the same again.  Klopp may well be the man to lead us back to that standard, a standard where Champions League (CL) knockout stages are the norm and not a freak occurrence.
Down to Business
After an undefeated preseason campaign, against the likes of Rangers, Villarreal and Lazio, the season began.  We advanced to the CL group stages after beating Standard Liege 1-0 on aggregate.  Seven points from nine in August left us in a solid position in the league, the highlight of the month being Gerrard's (very) late winner at Anfield against Middlesbrough.
United visited Anfield in mid-September.  Carlos Tevez's early goal proved to be just a minor setback as a Liverpool team without Gerrard and Torres fought back to win 2-1.  This game was Albert Riera's debut in a red shirt, and an impressive one it was.
Wins at Marseille (CL) and Goodison Park sandwiched the disappointing 0-0 at home to Stoke in the league.
Many of our youngsters also got a run-out in the 2-1 League Cup win at home to Crewe.  Another debut that night, for Philip Degen this time.  Unfortunately for Degen, he would break two of his ribs during that match.  It never really happened for Philip at Liverpool after that.  Maybe it never would have anyway.
Building up Momentum
In October Rafa was awarded one of his two PL Manager of the Month titles that season.  We won five of our six games that month.  The other result was a 1-1 draw against Atletico Madrid in Spain in the CL.
On our travels we were brilliant.  Man City (3-2) and Chelsea (1-0) were two memorable away wins against difficult opponents.  
The win at City was fantastic.  Liverpool went 2-0 down in the first half, but a brace from Torres and a late winner from Kuyt gave us all three points, leading to unforgettable team celebrations after the third goal.
We only lost two PL games all season.  November began with one of those setbacks.  Spurs beat us 2-1 at White Hart Lane.  Dirk Kuyt put us ahead in just the second minute.  We seemed to dominate until Carragher netted an own-goal with twenty minutes left.  Then you could just feel it was going against us. Pavlyuchenko scored the winner in the 90th minute.
A clearly disappointed Rafa could not hide his frustrations in the after-match interview.
"I can't believe we have lost this game.  After playing well in the first half we started the second half with four clear chances.  We hit the bar and Kuyt and Alonso had great chances that we didn't take.  Always it's important to create chances but you have to score from them. We were going forward, controlling the game and were dominant.  I am really disappointed but it was really bad luck because everybody could see we were better than them."
Atletico Madrid came to Anfield next in the CL and again it finished 1-1.  Liverpool went out of the League Cup in the Fourth Round.  Again the defeat was at White Hart Lane, this time Spurs beat us 4-2. Fulham took a point from their visit to Liverpool as well, Roy Hodgson's men getting a 0-0 draw.
December's highlights were again on our travels.  3-1 in Holland against PSV and a 5-1 hammering of Newcastle at St James' Park were the best results of the month.  Liverpool were top of the PL for Christmas in 2008.  At that stage Chelsea were the closest challengers, one point behind us but with a brilliant +29 goal difference, compared to our +15.
We also won our CL group, two points clear of Atletico Madrid.  The draw pitted their city rivals, Real, against us in the last sixteen.
Premier League Table – Christmas 2008

Champions League – Group table

Downfall
January 2009 was the damaging period for us that season.  Three league draws in a row (Stoke, Everton & Wigan) would see us drop from top spot.  We beat Preston in the FA Cup but then went out in the next round after a replay against Everton in early February.
By January 31st we were third, five points off United.  Ferguson's men were now just in the zone, and they did not concede a league goal in the month of January.
We started February with a brilliant 2-0 victory over Chelsea at Anfield thanks to two late goals from Torres.  A 1-1 draw at home to City preceded our fantastic 1-0 win at the Bernabeu as the CL knockout stages got under way.  Real Madrid were nullified and when Benayoun stepped up to score in the 82nd minute there was an air of disbelief in the famous stadium.  They didn't know what was in store for them at Anfield two weeks later.
It may well have been fatigue from the level of concentration and performance our players gave in Spain, but whatever it was we didn't turn up at Middlesbrough three days later.  An Alonso own-goal was followed by a strike from Sanli as 'Boro inflicted our second, and final, league defeat upon us.  We just never got going at the Riverside that day.
The Comeback?
Enter March, and this was the month Rafa won his second Manager of the Month title that season.  It was also the month that Liverpool played the best football I ever witnessed during his time at the club. It was brilliant to watch; a devastating mix of attacking play while remaining solid at the back.
Sunderland came to visit – we beat them 2-0.  Real Madrid arrived seven nights later, they were hammered 4-0.  We went to Old Trafford four days after that and came from behind to win 4-1.  Villa played us at Anfield the following weekend, they were trashed 5-0.  
It was unbelievable stuff, and as a fan it just felt like we could beat anyone.  That feeling can't be valued enough, the feeling that your team could beat anyone, anywhere.
We were back within one point of United by the start of April, but they still had a game in hand over us. Chelsea knocked us out of the CL at the quarter-finals stage after an incident-filled 7-5 aggregate victory.  
The Run-in
Rafa rallied his men and we won 19 of the remaining 21 available PL points.  The only draw came in the cracking 4-4 with Arsenal at Anfield.  Andrei Arshavin put in what was undoubtedly his best performance ever for the Gunners, banging in all four of their goals.  Anfield was a cauldron of noise again that night.
After that match it was five straight wins for the run-in, scoring fourteen and conceding only two.  We just needed United to slip-up.  However, in typical United fashion under Ferguson, they won eight of their last nine league games.  
We had scored 77 league goals, nine more than United, Chelsea and Arsenal.  We had not been defeated at Anfield in the league, and only lost twice on the road.  Gerrard and Torres were named in the PL Team of the Year.  Gerrard finished the season with 16 league goals from his attacking midfield position. Torres bagged 14 after missing some of the campaign through injury.  Dirk Kuyt got another 12.
It wasn't enough though.  Even now it's agonising to say that.  The long wait for that league title we all covet so much was to continue.
Premier League Table – End of season – May 2009

The Aftermath
Things would never be the same again for Rafa.  The Hicks-Gillett debacle would overshadow the following season as conditions worsened behind the scenes.  Liverpool finished seventh in 2010 and Rafa walked away that summer.  It seemed to be an impossible situation for him by that stage.
In truth we have still not recovered. 
Someone else might write about the 2013/14 season, with superstars such as Suarez to remember and the form of Sturridge, Sterling et al.  For me, however, that 2008/09 season is one I will never forget.
My mind is peppered with the memories of where I was when Yossi scored the winner at Fulham, going crazy after Kuyt won it late for us at City.  My disbelief at our 4-1 victory at Old Trafford and in equal measure, our 4-4 draw with Arsenal.  They will stay with me forever.  
Thank you Rafa, Stevie, Torres and co.
Information gathered from anfield-online.co.uk & statto.com