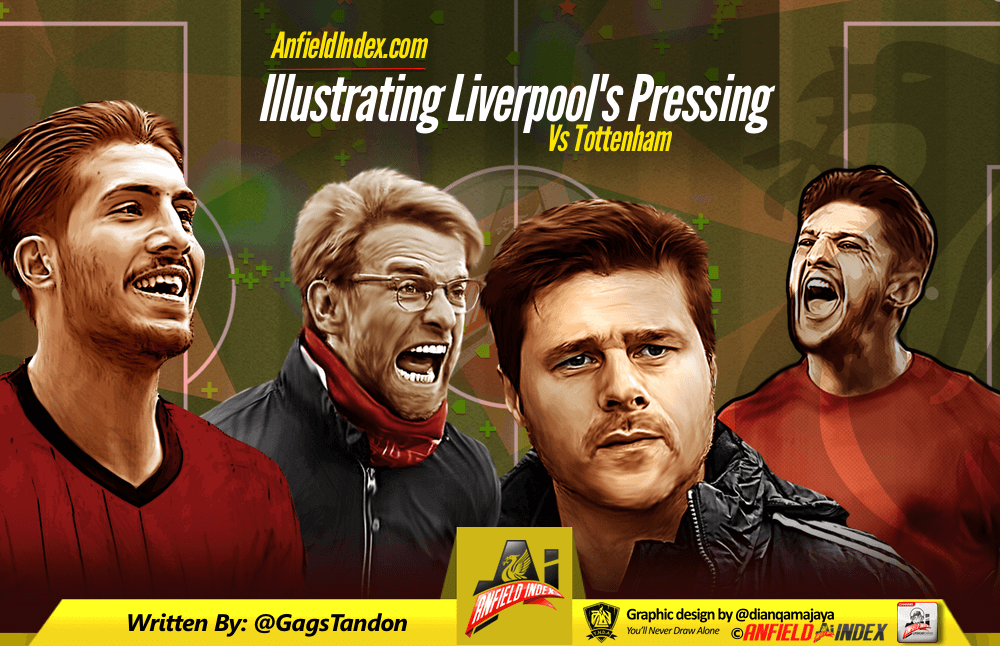 Illustrating Liverpool's Pressing vs Tottenham
We've been collecting Pressing Stats since 2013 on Anfield Index and after watching Liverpool draw with Spurs at Anfield I expected a really rough time when manually collecting these pressing stats. I wasn't wrong as Liverpool pressed the Londoners 239 times which is the second highest ever collected on AnfieldIndex. Whilst Liverpool will always miss Roberto Firmino in terms of his goals and assists output he is also the best this season at pressing the ball. In his absence it was Adam Lallana that stood up and pressed the ball every 1.96 minutes during the game, the best in the Liverpool side.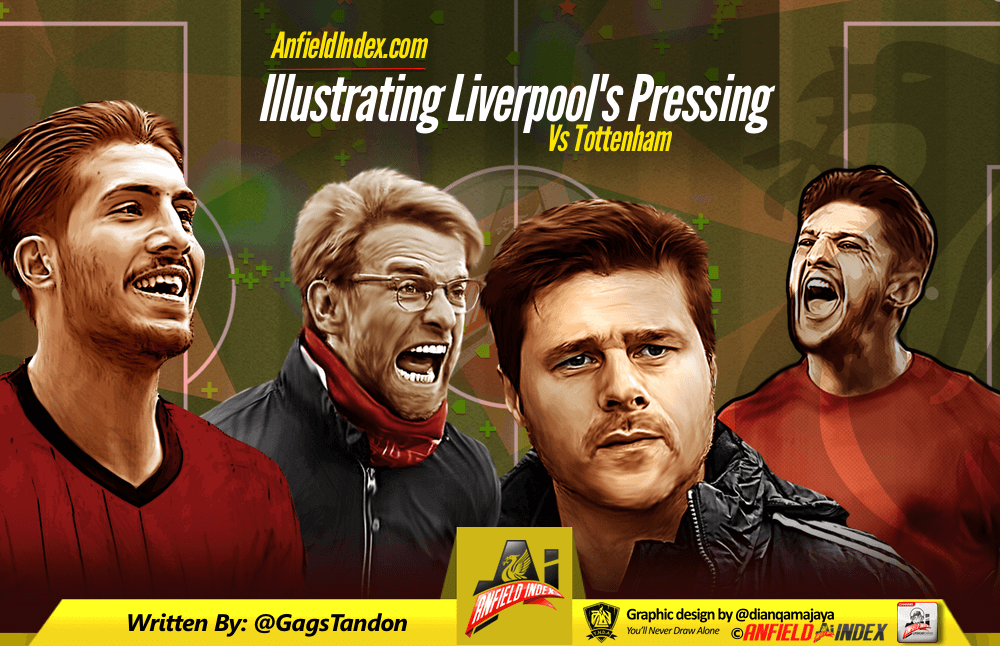 It was an end to end game and the draw was a deserved result but what did the stats say? Have a listen to our Under Pressure podcast below to find out about all of the analysis!
The podcast embedded above has all the analysis and the images below support the content so please do have a listen and any feedback either on this article on the @AnfieldIndex Twitter account is appreciated!
Liverpool had a few chances, Daniel Sturridge had the best and should have put Liverpool a goal to the good in the first half to change the game. Once Coutinho scored it seemed as though Liverpool would pick off Spurs on the counter attack but that didn't happen as an in-form Harry Kane drew Spurs level. Tottenham kept the ball well and dominated possession in the game however Liverpool did have the better chances overall.
Break down of player pressing vs Tottenham can be found below as well as all of the supporting images mentioned in the Under Pressure Podcast above.

Liverpool Pressing Vs Tottenham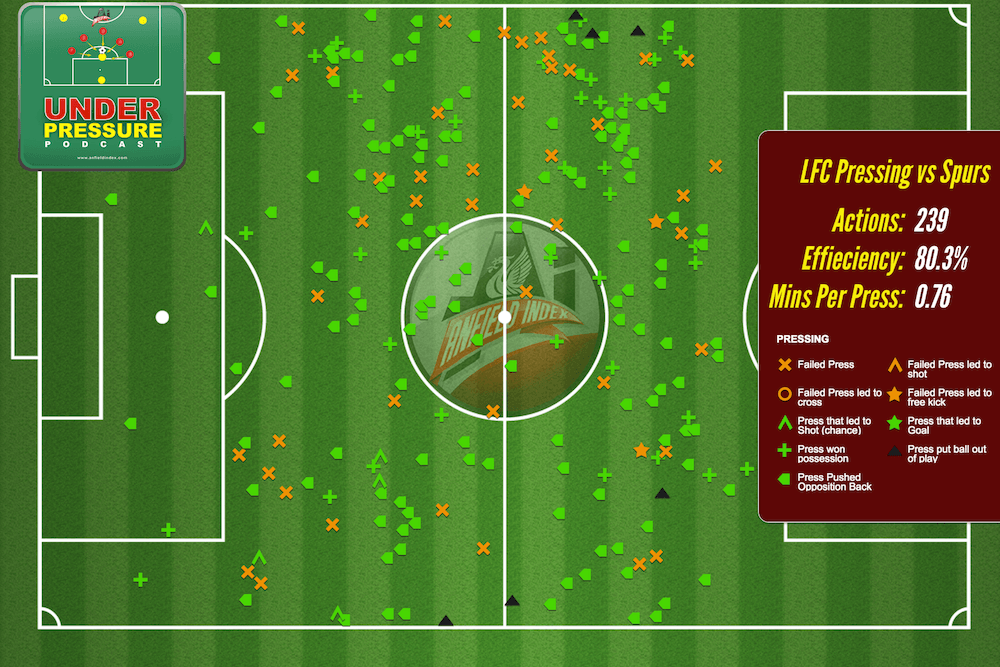 Coutinho Efficiency takes a hit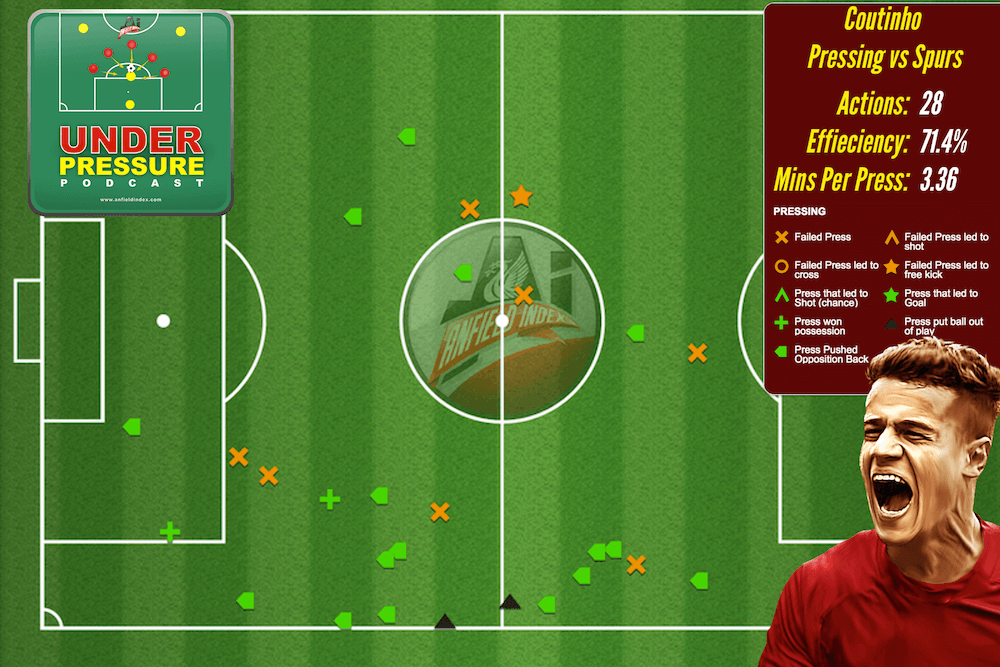 Emre Can

Lallana Pressing

Henderson Pressing
Milner Pressing
Make sure you listen to the podcast shared above for the full analysis. Much more to come on Anfield Index in the coming weeks!