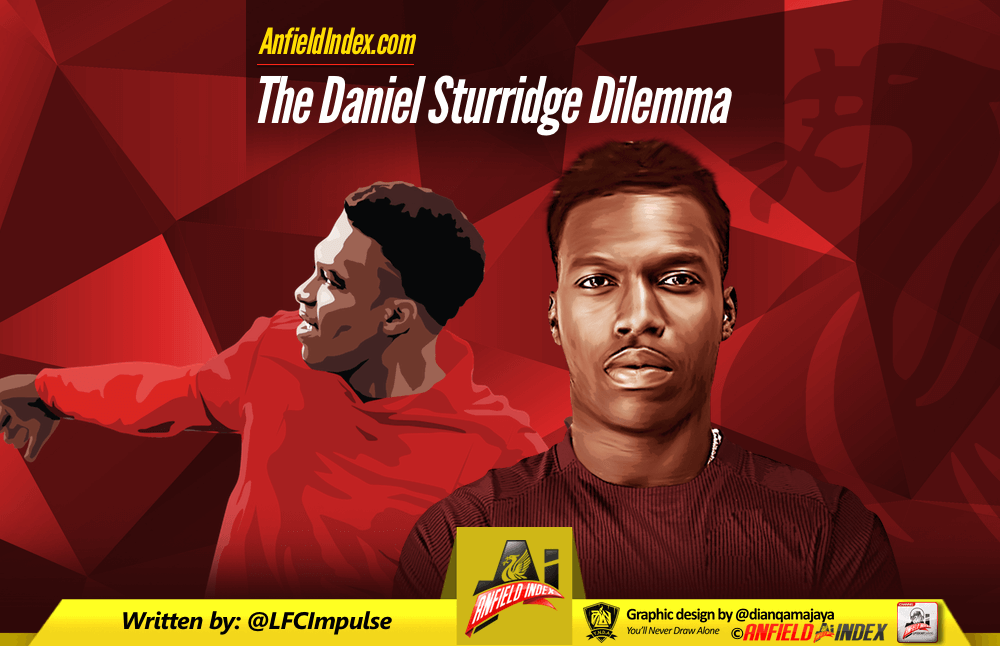 The Daniel Sturridge Dilemma

I'll cut straight to the chase: very few Liverpool players receive bipolar judgments from the Kop, and Daniel Sturridge is no different. "Sell him, keep him; bench him, play him" – the hymn that goes on rhythmically throughout the season without an end in sight.
There's no doubt in my mind that Jürgen Klopp adores Sturridge, at least to some extent. The Englishman's show of frustration upon his removal from the pitch in the Reds' 1-1 stalemate against high-flying Spurs was something that the German deemed as "normal". He was blown away by his performance against Southampton in a 6-1 win, whereby he deemed that the ex-Chelsea man could top his 2013/14 form. Without batting an eyelid – Klopp and Sturridge are a match made in heaven when all goes right.
"Now I know what everybody is talking about. I knew about his quality, not live in a stadium, but in an important tournament."
– Jürgen Klopp about Daniel Sturridge, December 2015
This leads to the questions that arise whenever things don't turn out as planned. Seen as sloppy or out of touch at times, injuries have definitely hampered Daniel Sturridge. Whether he's losing that extra burst of speed, or that few milliseconds of awareness and reflexes, it can be argued that he's not been anywhere near his scintillating form.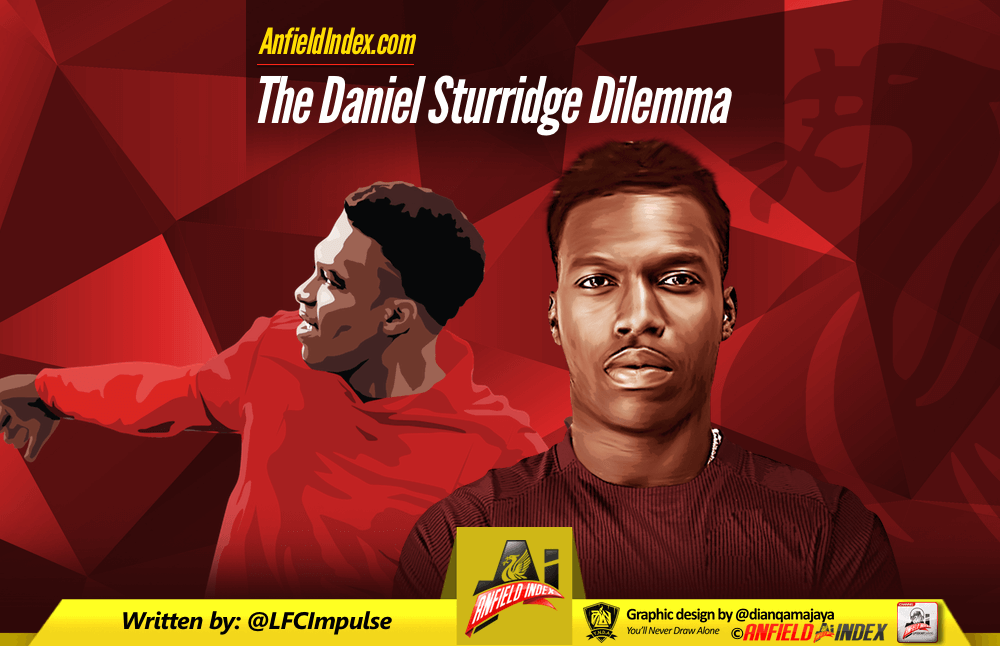 In other words: Jürgen Klopp may be completely wrong about Daniel Sturridge, and with that said, just what do we do with him? Is there ever a balanced way of looking at the dilemma? Is there ever a grey area, or are we forever destined to pick a side? Is it really picking what's best for Liverpool, or picking what's best for Sturridge, or picking what is seen as the greater of two evils?
Perhaps an on-the-fence look on the matter can help.
Keep – The Mental Obstacle
Again, there's no doubt in my mind that a player of Sturridge's calibre has a place in the Liverpool side. His abilities were never put in question given that he's able to return from a lengthy absence and still fire in goals that the side mourn for without him. Rather, it's always been his mental strength and fortitude that's been placed in front of a jury.
Being placed under a microscope viewed by fans globally, every single nook and cranny in his performance will always be scrutinised. Every small nick in his physical state ignites a debate as to how strong he is on a psychological level; "don't be a wuss – get up and play!" versus "let's talk science and facts" versus the occasional "let's see how YOU get on after an injury".
Like it or not, this line of conversation will thread on so long as Daniel Sturridge dons the Reds' kit, but this doesn't amount to anything if Klopp decides that he's a starter. The first order of priority here is to get him back to optimal physical levels, allowing him to perform at a higher intensity for a longer period of time. Injuries are bound to happen (see: Sergio Agüero), but it is the recovery from it that matters.
Questions still remain as to just how good Divock Origi can be, or if Danny Ings will suffer the same post-injury fate as Sturridge, or if a top-class striker will arrive in Merseyside. As such, there is still an increased reliance on Daniel Sturridge to provide firepower and to spearhead the ensemble. However, further dilemmas will arise if factors above work against Daniel Sturridge's favour be it injury-wise or personnel-wise.
Is he willing to be the hero we deserve, but a hero who comes off the bench rather than one who's in the first-XI sheet? Is he able to cope with the pressures of knowing that every time he steps onto the pitch, he may have to step off it before the final whistle blows? Many of these questions will remain but be wary about the fact that only a few can top him in what he does best.
Sell – The Competitive Obstacle
Now the easy way out would be to offload the Englishman to fund new signings. That's the mantra that stems from the opportunity to improve the squad with a more holistic approach, and who can blame them?
"Offer us [insert huge £ figure here and maybe a player as a sweetener] and you've got a deal!"
The mantra makes even more sense if the Reds' squad requires improvements and upgrade on multiple fronts; sell a striker to improve 3 positions. The ever-increasing need for a more "visible" midfield and a defensive unit being as solid as a rock also pushes the 'Sell Sturridge' agenda, where sacrificing one benefits many.
There are certainly pros to selling Sturridge – inflow of funds, vacancy in wages, the riddance of an 'automatic' starter (a la Steven Gerrard) – a list that should only contain a handful of items. While fine and dandy, selling a player in his case is much easier said than done; the buyer has to have the capacity to accommodate Sturridge in their team while the team has to be of a particular prestige in order to convince him to join them.
On top of the above, Liverpool simply cannot afford to offload him to a competitor. Why reap the benefits of acquiring a player (Daniel Sturridge) from a rival (Chelsea), only to allow others to do the same to us? Imagine an Arsenal side with a fit Daniel Sturridge, playing alongside Alexis Sanchez? Imagine Southampton with Sturridge leading the line, with support from the likes of James Ward-Prowse, Sadio Mané, Dušan Tadić, and co? Or what about him in a Manchester City side? Or a Chelsea side? Or a- …..yeah, the list goes on. We cannot make the mistake Chelsea did, to put it simply.
Concurrently, geographical location and lifestyle may also affect the decision-making process for the player. It's unlikely that Daniel Sturridge will ever ply his trade outside of his home country of England, but if he does, then that would be the ideal way out. Then again, how many top teams in Europe don't already have strikers of their own; are they able/interested in shipping Daniel Sturridge over?
There is also the mantra (yes, another one) of Liverpool not being able to adequately replace their best players in a timely manner. The club signed Roberto Firmino a season too late as Luis Suárez's replacement, for example. So what if it happens with Daniel Sturridge? What if he goes and the club's current strikers can't cut it (yet)? Even if we do sign a replacement – and with Jürgen Klopp as a pulling point, it shouldn't be difficult – what if the effects of settling into the league kicks in? Can we afford another transitional period in terms of the strikers up-top?
Regardless of which camp you're in, the decision as to whether Daniel Sturridge stays or go raises a multi-fold of questions, each having their own problems that stems from root causes in several different aspects. Unless and until these problems are solved, there is no answer that is cast in stone that resolves the Sturridge dilemma.
Personally, I'd love for the man to stay, rehabilitate, and hit the ground running in Red once he's back to optimal physical levels. It's a tall order, but there is hope when there is Klopp, and if he is indeed an avid admirer of Sturridge for the long-term, then we're in for a treat.