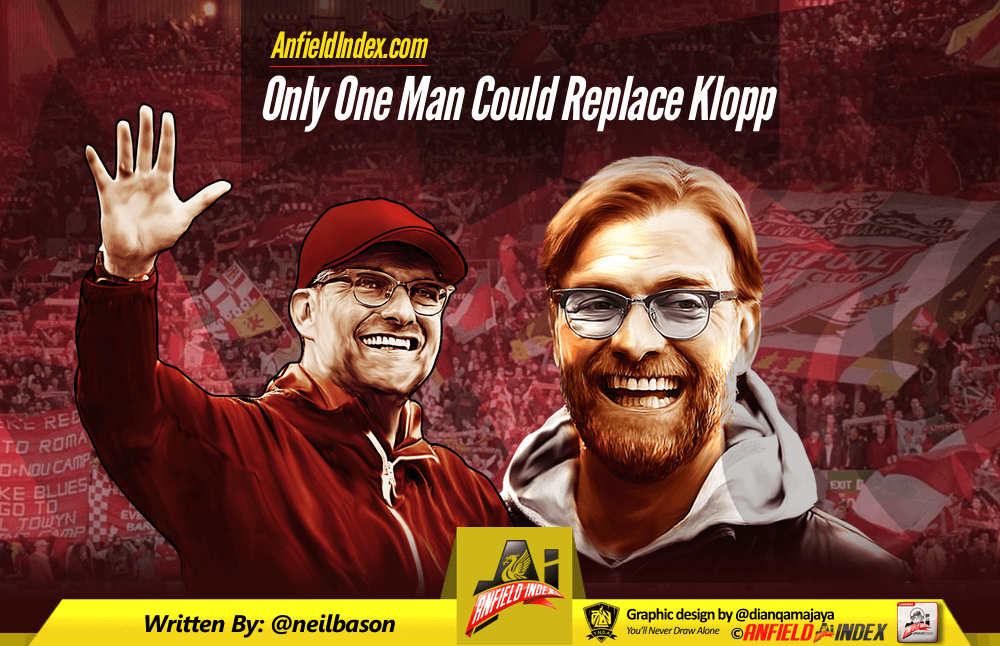 Only One Man Could Replace Klopp

See that man pacing the touchline, intensity and focus etched into his brow.
See that man tearing from the dugout, leaping and punching a fist through the air.
See that man smile and laugh, the gathered masses of the press sat comfortably in the palm of his hand.
That man is Jurgen Klopp, and Liverpool will never be the same again.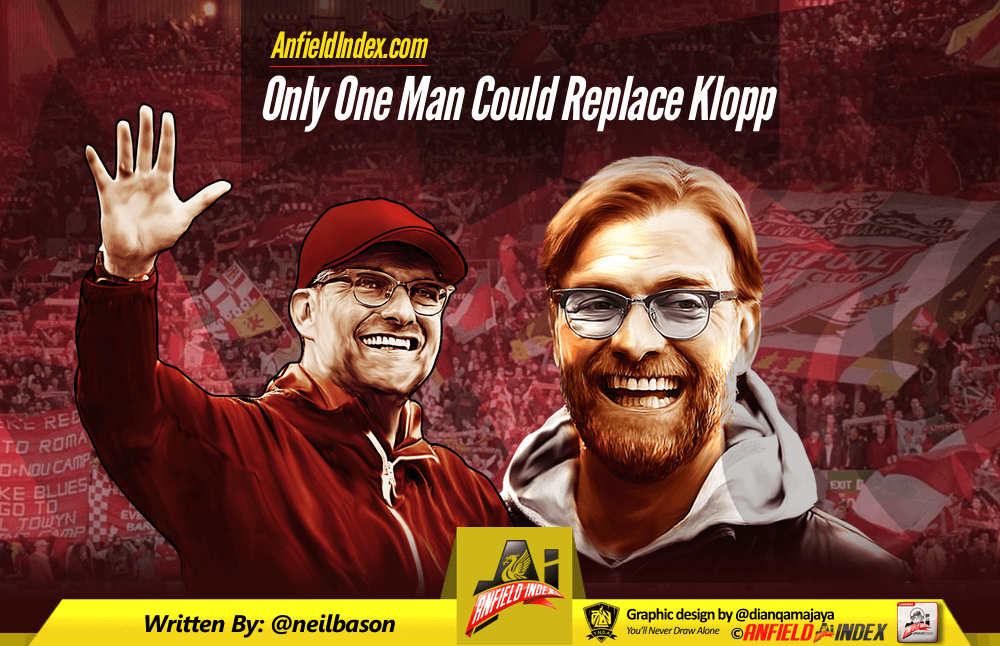 I was inclined to say that the arrival of our new manager was something of a breath of fresh air at the club. But that doesn't quite capture his impact. In fact that falls a long way short. When Jurgen Klopp arrived at Liverpool it was more akin to a tornado ripping through the previously sleepy landscape.
He has proved the shot in the arm the club, the players and the fans so desperately needed after the exhilaration and promise of Rodgers' almost season turned to despair and anger as the side slipped rapidly back into the old routine of inconsistent performances and sliding fortunes.
Strangely the performances under Klopp can still shift wildly from the sublime to the ridiculous one week to the next, but we can now deal with it so much better because at the helm is a man who is proving more than just a manager. We have a leader. One unafraid to be vocal, unfazed by the media spotlight, willing to go to war for his players and the club. We have a man who seems not only happy to be at Liverpool, but deeply proud to be here. He has instilled a new confidence and bite into the players and, as much as possible, has united a split fan base. There aren't many could have achieved that.
I could sing the man's praises all day long. For me he's the best thing to happen to Liverpool since the arrival of Barnes, Beardsley and Aldridge in my all-time favourite bit of transfer business. Bigger than Rafa, than Xabi, than Suarez. With Klopp the possible rise back to the pinnacle of English, and then European football, seems like it could actually happen.
But now I'm waffling, again. What I'm here to consider might seem a little bit odd in light of the fact that Klopp and Liverpool's relationship is still in its infancy. But it's something that has played on my mind since I was swept away in Klopp's tornado.
Who the hell can possibly sit in the manager's chair next?
I know that sounds like a daft question. I mean under Klopp the future for Liverpool is a complete unknown. He could continue to galvanise us and lead us to glory, or, it could crumble.
His record as Liverpool manager reads; 17 wins, 14 draws, 9 defeats. Nothing to really crow about, but because he brings something more to the table based upon who he is as a man, his apparent understanding of us as fans and our club, and his deep love for the game, he is already shaping up as an almost impossible act to follow. There isn't another manager currently plying his trade that I would swap our own for.
Klopp spent seven years at Mainz. He spent seven years at Dortmund. If he reaches a seventh year at Liverpool it would point to success. Very few managers in the English game get that far without it. At Liverpool what would currently be considered success is open for debate. Silverware in the shape of domestic cups, a league title, a sixth European Cup, or consistently making the top four? I would suggest that in the next seven years Klopp has got to achieve two of those four, and I firmly believe he will. And I firmly believe we'll roll into 2022/23 with him steering the ship. But then what? If history repeats itself we'll be looking for the next man. And in all honesty there's only one contender who could come in and not feel like a backwards step. We'd need a hero, a club legend, a passionate football man who holds the club close to his heart. We'd need Steven Gerrard.
Wait! Don't leave, I haven't lost the plot…yet.
Because Klopp has had such a huge impact upon the club and myself personally (yep, I'm feeling the first throes of hero worship here), replacing him seems inconceivable, but one day it will have to happen, and the only thing that could ease that pain would be to see Steven Gerrard take his place.
Gerrard's playing days are numbered now and he'll be looking at his next move. I truly hope that move sees him back at the club he loves integrated into the coaching staff. Over the coming years he could be learning under the wing of Klopp, and when the time is right, hopefully in the reasonably distant future, he will become the obvious successor.
It's how we used to do things. Shankly to Paisley, Paisley to Fagan, Fagan to Dalglish, Dalglish to Moran, Moran to Souness, Souness to Evans… alright the wheels come off slightly at the end there, but it still proved a period dripped in silverware, titles and glory. I would have no qualms about the club adopting that approach once again and placing the reigns into the hands of a genuine club legend.
Of course, only after a certain future German legend has said his fond farewells. Way down the line.