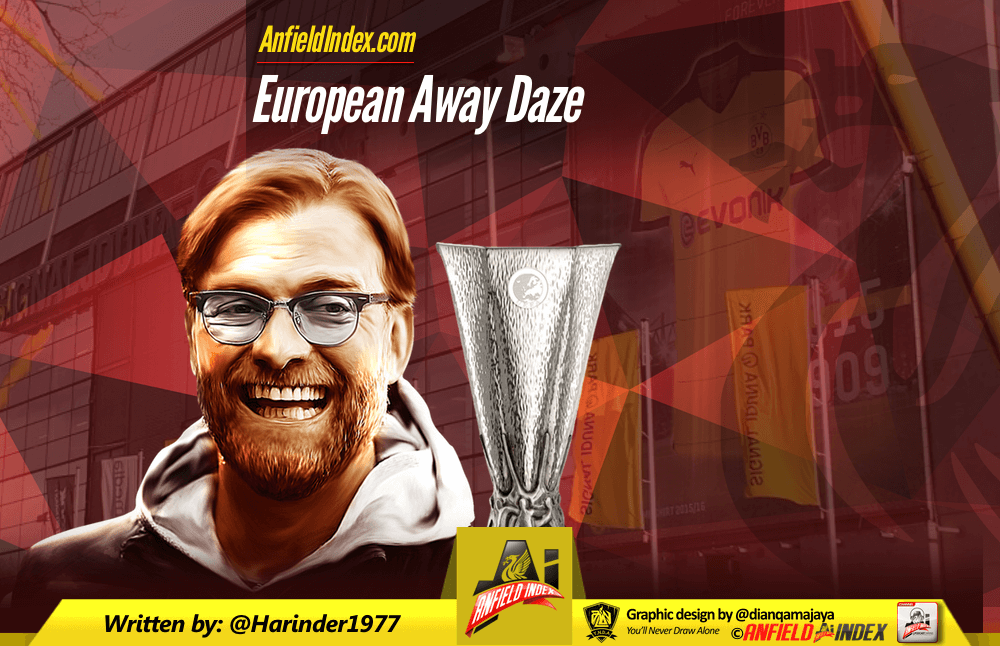 European Away Daze
Friday 18th March
The draw. This is where it really starts. The fabled legend who you can't quite recall doing something remarkable alongside the official from UEFA reminding you of something from the Eurovision Song Contest. There won't be any "dooze pwaan" for anyone here, just fate… and possible destiny. By the time the sixth team is drawn, we can easily deduce a trip to Dortmund is on the cards but home or away first remains a question. Once answered it's game on. Not a single care is given about the match day ticket at this point because there is an almighty rush to ensure accommodation and flights are secured. Oh, and leave. Permission slips from home as well as work! This is never as easy as everyone makes out and everyone knows which one makes it that little bit harder. Fear not though, you have this people. We will go the game.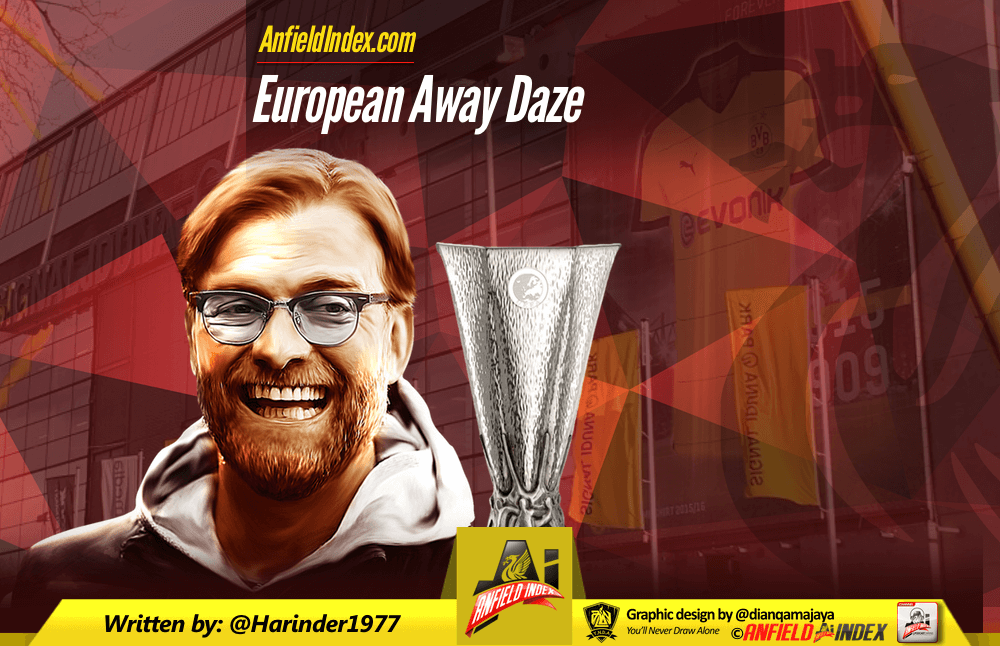 This "daze" I speak of by the way isn't a real daze in the sense of longing stares daydreaming of the trip, it's more a vortex that pulls you in. The parallel internet windows in front of you try and help in doing what needs to be done. Flights, accommodation and, of course, where the hell is it? "Getting there" is key and it's never ever as straight forward as we think it should be. This is proven by Ryanair! In the permutations of how to get to Dortmund, one of the routes that seems to work for some is via Dusseldorf. Weeze however, is not Dusseldorf and Ryanair have certainly made it interesting for a few people on the near 7am flight out on Friday morning! This all takes time. Not patience, but time. On one side the flights start changing price and on the other accommodation starts getting harder to find. Biting the bullet on one over the other is a tricky affair with the influx of messages from others and trying to co-ordinate it all so everyone gets there. Dusseldorf's main airport booked, hotel sorted and the rest we'll work out later. It's Liverpool. It's Dortmund. It's going to be one hell of a ride there and back! It's not even 2pm on Friday .
Tickets. Well, we need them. The magic of this tie up also means the magical revival of the old acquaintance from the back of beyond that you don't really know but they are going to pretend like you really do. When THAT direct message comes in saying "Mate, if you hear of…" what do you hear other than that voice of reason that thinks about where they've been hiding and why can't they go back there? You've not sorted yourself out yet but the non-best friend needs to know so they can sort out flights and accommodation. One does what any diplomatic person would do in that situation. Fuck all! Liverpool FC's site is taking a hammering along with your phone on the slightest news on sale and allocation details and now that really matters. Post the wallet hit on planes, trains, automobiles and the hotel we still need a ticket to the match. Every other club always seem to have it easier in letting supporters know what the deal is and in true Liverpool FC fashion our ticket office also don't do things the easy way!

Tuesday 5th April
It's the day before travelling out. Check double check and double check that double check. The tickets have arrived by special delivery and you count yourself lucky after hearing of those who still haven't received tickets on Tuesday 5th April. ​Check double check. AGAIN, Passport all good and checking in easy but it never helps with dealing with a myriad of questions about the what, where, how, who, when, what we thought we were all good on. Without fail the person you thought you'd diplomatically resolved will message asking if you have one for them? The story will be like one from X Factor where it's got a real backstory with its very own montage too with Dermot O'Leary and everything. This person will also get your number somehow so will progress to text messages/calls. Just keep calm and carry on packing! This is also where you check those small things like where the hotel is and who's responsible for not losing the tickets! It is usually at this point that the excitement of the whole journey kicks in for me. The journey into an unknown result is part and parcel of what makes a trip like this special and we have a few things in common with Dortmund other than Klopp. This one image says it all.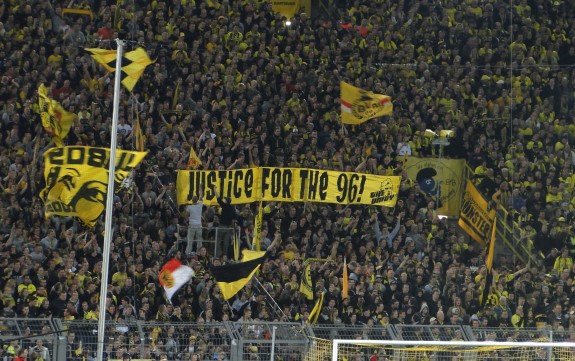 Wednesday 6th April
The day to travel. Repeat day before and the match itself. It's hard not to think about it really. It's happening. History has a way of repeating itself and let's face it we're the underdogs. That's ok. We're also Liverpool. We can find hope springs eternal anywhere and park any negative feelings as we cross the threshold of the turnstile to walk into the away stands and take our place amongst the travelling Kop. But all that is for another time. Thursday to be fair. It's still Wednesday when writing this and the next panic will be the traffic around the airports and those who are going from other places. As many start the rollercoaster of social media updates you get to see a few pleasant surprises of those making the journey. Some we've not seen for ages, others are an all too familiar part of the whole experience… fans who make that away day and bring an atmosphere with them. Oh, how could I forget?! When the Podfather orders you don't disobey…#Chimichangas (see Liverpool FC and a certain interview with a Dortmund fan!)
Thursday 7th April
​Well, they are a very confident bunch. A lot of very lovely Dortmund fans are under the assumption they are going to win. Clearly they haven't seen my prediction then with the Dortmund fan on LFC yet!
With the lads ready in Dusseldorf, the first negotiation was the traffic. Not really expected at 3.30pm but it's an adventure. Like everything in the journey of getting here we take all the roads as we find them. A predicted 45 minute journey took nearly three times that long! The arrival didn't disappoint the anticipation. The whole Westfalenstadion complex is huge. I've seen the Bernabeu and the Camp Nou but something really striking and imposing about this ground like no other that I've visited. I mean look for yourselves…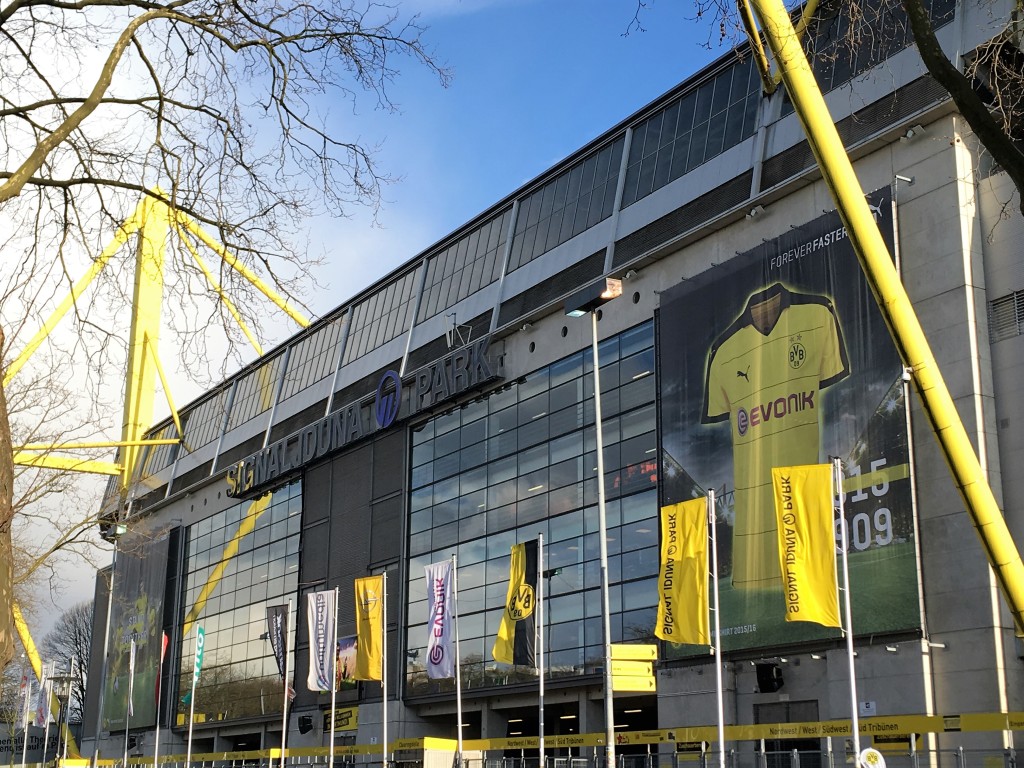 Whilst meeting old and dear friends we do what all supporters do at some point, try and work really where we are sitting. Whilst we look perplexed yet intelligent at this lovely yellow ticket a lovely young lady from Dortmund ask if we need help or any advice? Bless her. We then spent the next 10 minutes or so talking about life and the match seemed a little secondary for about few moments. This was because we were so taken by the warmth of many Dortmund fans around us. I'm not one for sycophantic love ins but today these folks have definitely made us feel at home. Then something I didn't expect happened. It's around 7.15pm and we hear fans singing YNWA courtesy of the Dortmund fans. Loud doesn't even begin to describe it. The first sight of infamous Yellow Wall is spectacular and when the band started up with You'll Never Walk Alone I was a little taken aback by it's pop level pace. There was only one way it would end. The unison made the timing right and the emotion just left many speechless. We won't get that at any other away that I can think of easily.  From the outset our fans are determined to make 3400 sound like 34,000 and pick any video clip from the world wide web and beyond. They all show us loud and proud!
The match? Well, this isn't a match review. I'm kidding. It would be a disservice not mentioning it. Gripping. Cruyff turn early jitters via Simon Mignolet. Doing it twice in one half wasn't expected. Some Liverpool fans didn't expect much to happen in our favour. Some even saying pre-match that they expected to see us lose (will revisit them). For about 20 minutes they really were in control. After that they showed some threats too and how they could exploit the spaces in the middle of the pitch BUT no goals. Then THE goal. Origi silenced the naysayers and doubters. What a repayment of faith! Low, hard, goal. I sincerely doubt anyone heard the really polite tannoy announcement about the safety of pyro because celebrations have a way of taking over. The partying wasn't without heart in mouth moments. Both within a few moments of each other. First THAT block by Lovren and then THAT second chance for Origi. Half time much needed. What do you do during half time? You sing. Bit of Bob Marley on the stadium speakers means we all sing "Don't worry about a thing". I don't think Dortmund were expecting that!
The second half heralded a starting 5 minutes that saw their equaliser. My screams of "don't let them cross" were not heard. Then four attempts on goal. Four. After that the match seemed to be a lot of pensive play in the midfield. A few free kicks, offsides and substitutions followed along with a final whistle. I'm sure there were a few more blocks too!
European aways like this are full of magic. Our fans with Dortmund fans had me feeling " Why can't football be like this all the time?". I'm sure I wasn't the only one. For some this is something they've seen so many times. Some hold in that childish excitement that comes before kick off. Others help write the stories you'd never expect to be written whilst you live them, it all. For a few it's the first time and there's nothing like your first time, so they say. My "last" time allowed me to meet our King Kenny. For my next one I'm hoping to go for the almighty Klopp hug! For this one, I was just happy to be happy with my fellow reds. What a night!
Friday 8th April.
Home. Tired. Aching. Sleepy.
And smiling. Well, who isn't?