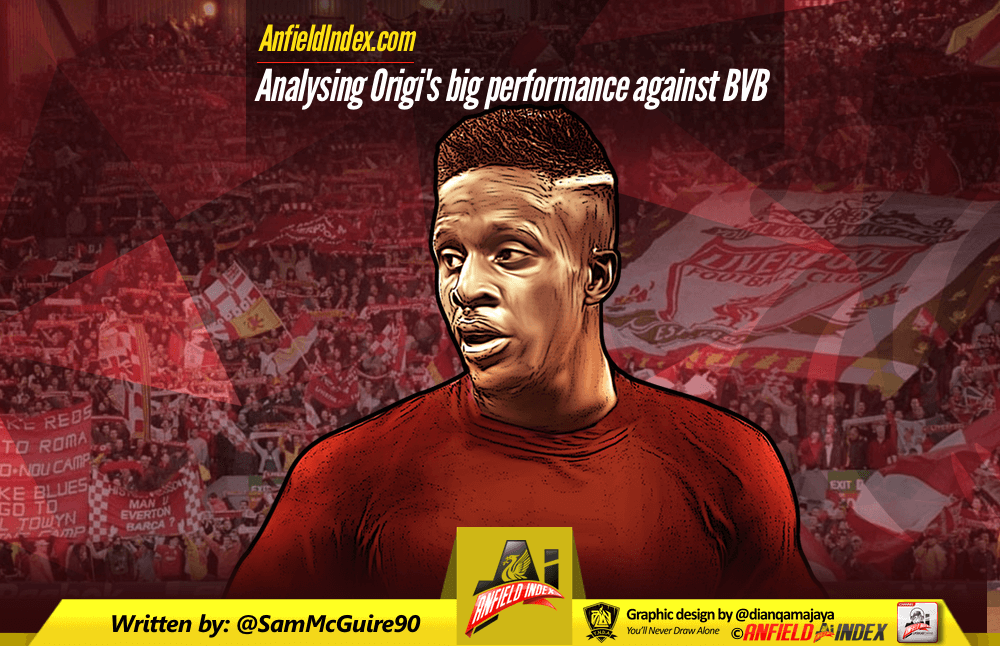 Analysing Origi's big performance against Dortmund
When Liverpool's starting XI for their quarter-final was announced the first thing many journalists looked at was the fact star forward Daniel Sturridge was on the bench. You could hear them furiously bashing on their keyboard as they raced against one another to announce that Sturridge was dropped. If a player drops down to the bench it can be because of a variety of reasons. Poor form, fatigue or a different tactic for the match. Divock Origi's inclusion was due to the latter. However, 'Origi starts as Klopp tweaks the tactic' doesn't have the same ring to it, does it?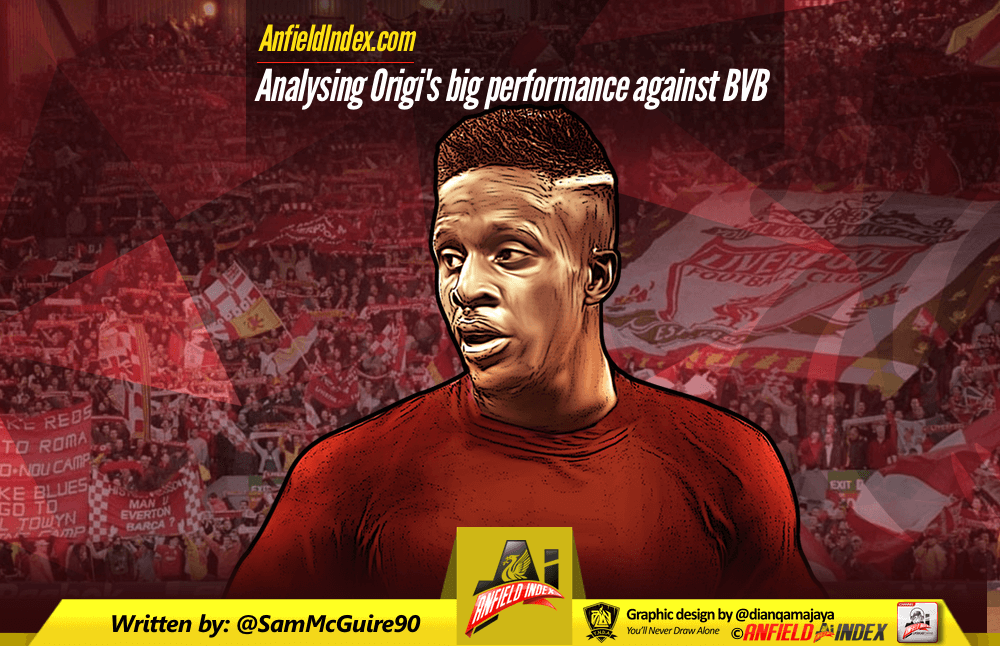 It took all of 30 seconds for Origi's inclusion to make sense. As you can see in both of the videos below Divock Origi was dictating where the Dortmund centre-backs, Hummels and Bender, could pass the ball. He was doing so by closing the passing lanes to key midfielder Julian Weigl. It's rare that you see a striker drop off like that to mark the 'deep lying playmaker' but Origi's work rate and selflessness allows for it.

https://vine.co/v/iIEg9dTTZ9n
https://vine.co/v/iIEgDuqZOq6
Many may not be familiar with Weigl but he's important to how Dortmund play. They like to play out from the back and acts as the third man in a triangle with the centre-backs. He's comfortable receiving the ball facing his own goal and then turning and starting the attacks.
Often teams aren't brave enough to push a midfielder that high to press him and strikers aren't that switched on enough to track him. In the videos though you can see Origi looking to see where Weigl is and sprinting to get closer to him so there isn't a pass on.
Many label Daniel Sturridge as "lazy" and that is a lazy insult. He's not lazy, he works defenders off the ball but defensively he's not as switched on as Origi is. Klopp knew that the match against Dortmund would be a battle and he needed ten outfield players on the pitch capable of putting in a proper defensive shift.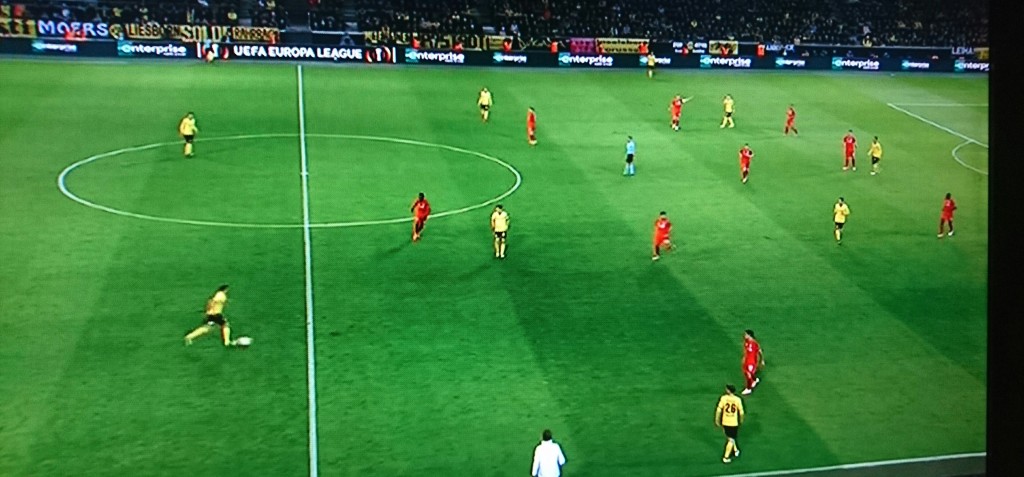 Origi's suffocation on Weigl was throughout the 90 minutes. Originally he was pressing Hummels but as soon as the ball was switched to Bender and Weigl dropped off Origi was straight over. It didn't take him out of the game but it lessened his impact dramatically.
It meant to build attacks Dortmund had to look to their full-backs and although they're usually heavily involved it's more often than not when the play is much more at an advanced stage in the oppositions box, not around the halfway line.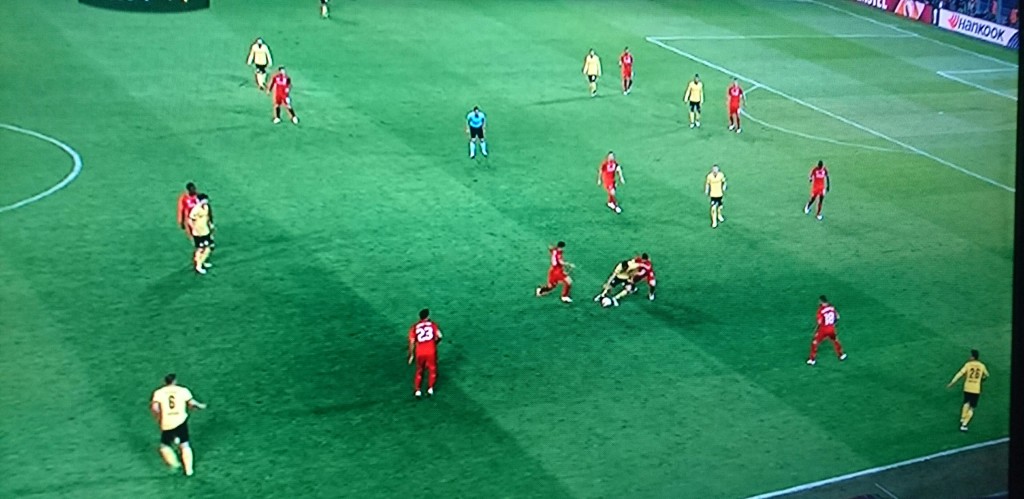 Origi would track Weigl to a certain part of the pitch depending on where the Dortmund centre-backs had the ball. In this screen-shot you see that Bender is ten yards into the Liverpool half so in turn Origi is fifteen yards into his own half ensuring Weigl doesn't have space to dictate the play in.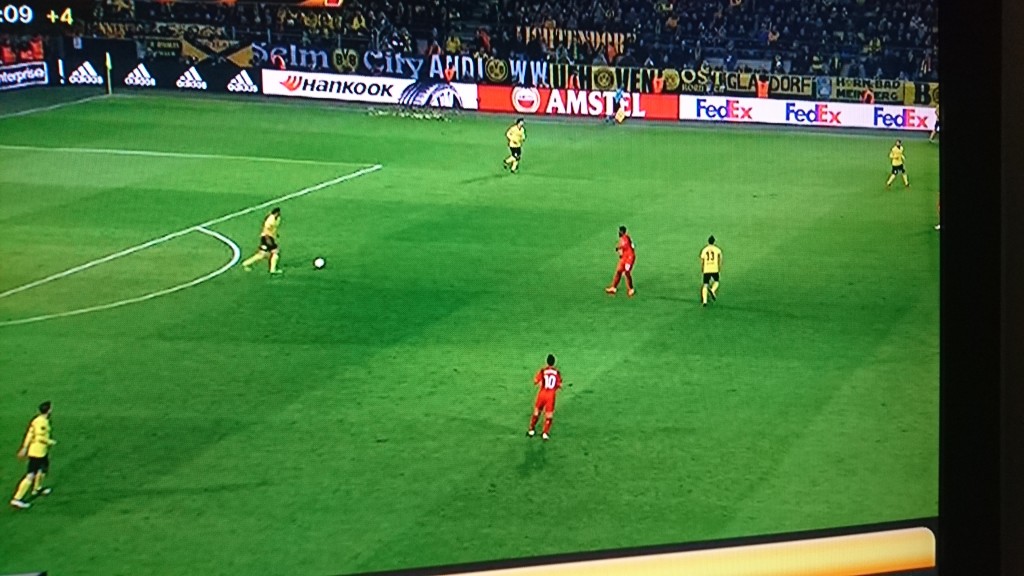 This still taken from added time in the first half. Dortmund look to build from the back and grab an equaliser before the first half comes to an end and look where Divock Origi is once again. As Weigl moves he moves, always ensuring that the centre-backs never have an easy pass to feet on to him.
Man-marking is nothing new but to have your 20-year-old lone forward disciplined enough to do such a tedious job just shows what sort of player we have on our hands with Origi. Weigl may not get as much credit as he deserves in England but he's been instrumental in Dortmund's fantastic season, especially in the absence of Ilkay Gundogan. Yesterday was possibly his quietest performance of the year and it impacted the side.
Dortmund looked disjointed. Liverpool nullified them. Without Origi's work against Weigl it's likely Dortmund would've dominated in the midfield and had Liverpool pinned back, turning the screw before inevitably breaking us down, all because Weigl and the midfield would've been afforded a lot more time than they were with Origi playing.
The Belgian will rightly get praised for his off the ball work last night, running the channels and holding the ball up. People will say his goal was lucky, but he worked the ball well and got a fortunate deflection. His biggest contribution against Dortmund was his defensive work. He vindicated Klopp's decision to start him.