It felt like groundhog day for Liverpool fans, as Bojan headed Stoke level after the Reds had dominated early on and had deservedly taken the lead through a Alberto Moreno stunner. This only seemed to fuel the players as Liverpool ran out 4-1 winners in a game that was all too easy. It was a victory which saw them leapfrog today's opponents into eighth position, two points behind Southampton but with two games in hand.
There were plenty of positives to be taken from the victory today.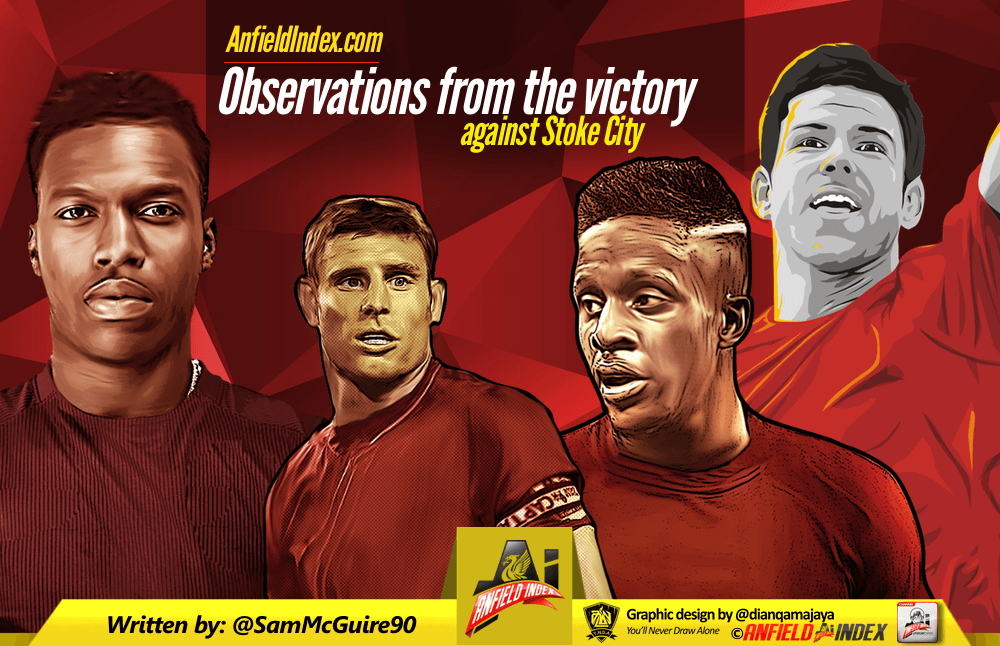 Squad Depth. With Dortmund on the horizon, Jurgen Klopp made seven changes to the side that played last Thursday. This was by no means a 'B' team with both Roberto Firmino and Daniel Sturridge coming into the team but it was a mix right through. Martin Skrtel and Kolo Toure aren't a regular centre-back pairing but started. Sheyi Ojo was rewarded for some fine performances in the under 21's with a start, and Kevin Stewart returned to the team after a spell out with injuries.
Liverpool had Divock Origi, Adam Lalllana, Dejan Lovren and Philippe Coutinho on the bench with Mamadou Sakho rested completely ahead of the home leg against Dortmund.
Goals in the team. There was a time when this Liverpool side looked barren and goals weren't as free flowing as many had hoped. It's still not fulfilling its potential but there are signs of life. Potentially five Liverpool players could hit double figures this season with Philippe Coutinho already doing so. Roberto Firmino (9), Daniel Sturridge (8), Divock Origi (8) and Christian Benteke (8) could all follow suit.
It's something that Klopp likes from his teams; a spread of goals. During his time at Dortmund, it was common to see 5/6 players scoring over 8 goals in all competitions with. It means that the team aren't reliant on one player and is something Liverpool should embrace as they look move on from the over-reliance on Sturridge.
Origi and Sturridge. It's been said before, but how much more effective does Daniel Sturridge look when he has a player playing closer to him? In Origi, he has somebody comfortable running the channels, going deep and playing on the shoulder of the last man and this gives him a lot more space and time to do what he does best. Origi's second goal could've just as easily been Sturridge's second with the England striker a mere inches away from diverting it in. Together these two look a real handful and the team look more potent. Against Southampton (twice) and Stoke Liverpool score every 24 minutes with these two playing together.
There is of course a negative from today's game.
Liverpool concede from yet another set piece. Following on from the Dortmund draw on Thursday, Liverpool seemed intent on giving the opposition a gift. Bojan was able to head the ball home completely free to bring the visitors back level just as Mats Hummels was able to do so in Europe. It's something that Liverpool need to rectify, and quickly. It looked as though Klopp had sorted this achilles heel but it has reared its ugly head in two consecutive games now and although we've yet to see defeat from it, it's only a matter of time.