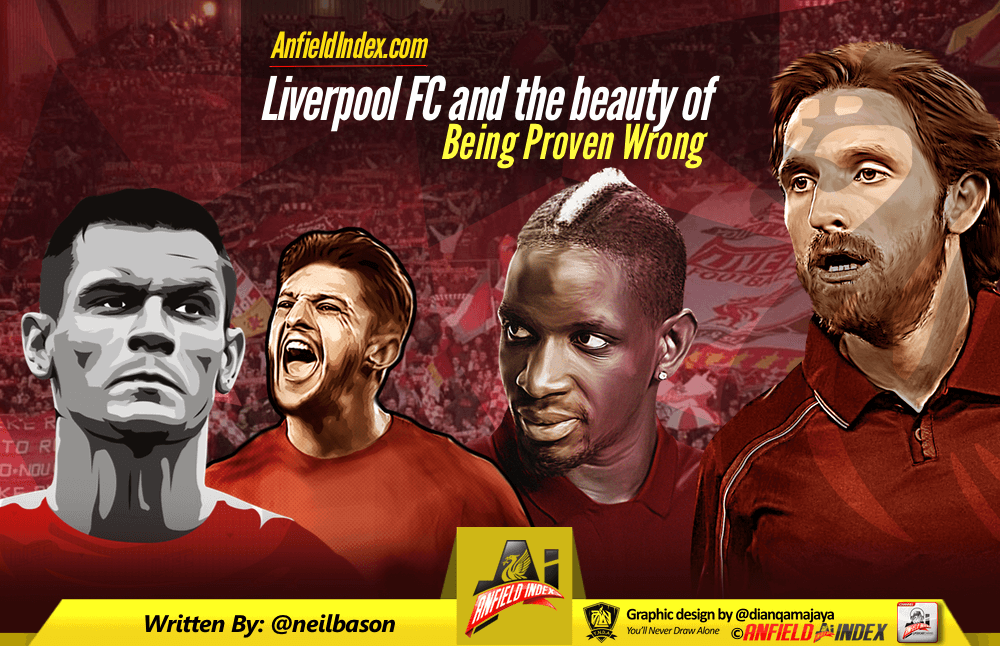 Liverpool FC and the Beauty of Being Proven Wrong

Sometimes being wrong is a beautiful thing.
I have an admission to make. I've been a bit of a tit. I allowed myself to become a judgemental, hypercritical and altogether hard-to-please bastard of previously unseen proportions. I don't know what it is about this season, but it definitely brought out the worst in me at times.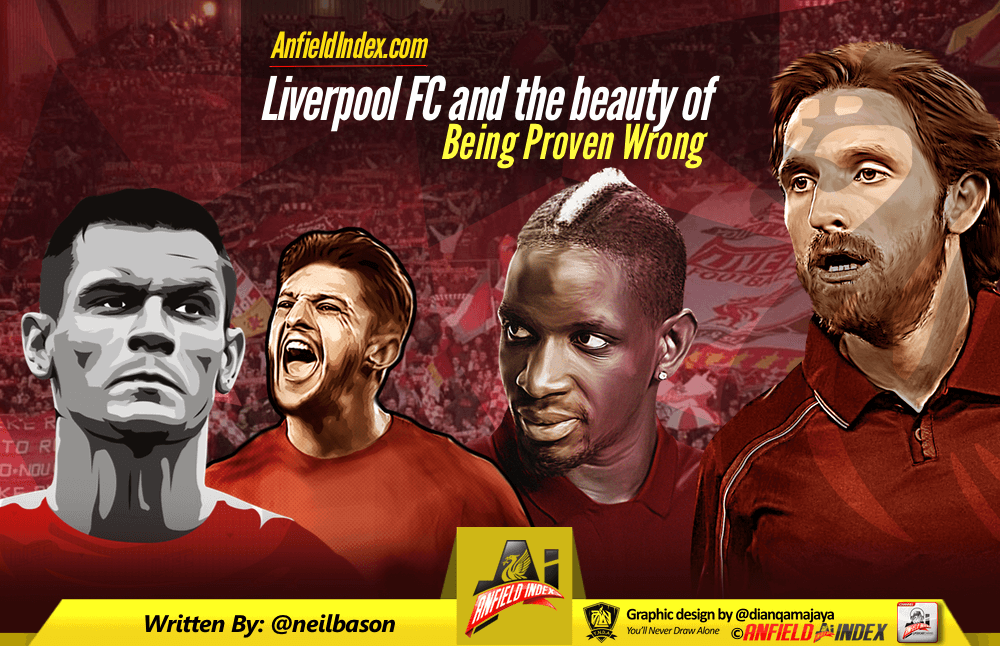 You see, it was only a few short months ago that I openly questioned why my beloved Liverpool Football Club had sold a player like Jonjo Shelvey, but kept the services of Joe Allen? Why had we allowed the promise of Martin Kelly to head for pastures south? Why was Adam Lallana wearing our shirt? Why did Mamadou Sakho seem intent on giving me a heart attack? And Dejan Lovren, just why?
And I felt every bit that I was spot on in my critiques of these failing players. So it comes with absolute joy that every one of them has proved me wrong.
Joe Allen now opens up an argument that he should be one of the first names on the team sheet and definitely in the mix before Henderson or Lucas. I'm unsure, but it's a valid argument to have on recent form.
Adam Lallana has found his fight and has become a constant thorn in the opposition side with his endless pressing, never say die attitude and flourishes of genuine skill.
Sakho still gives me moments of terror, but I can accept that he's also an absolute brick wall for us. Throw in some solid ability on the ball and the fact that on his day he produces centre-back displays that verge on the sublime, and I'll embrace that I might have been wrong about his long term role at the club.
And, Dejan Lovren. What a turnaround! From Sunday League to Premier League in the space of a few months. Restored confidence and an understanding of what his job as centre-back entails, that sometimes a foot through the ball is the best option.
The fact that these players have proved me wrong is great! I wholeheartedly welcome it. And I hope more is to come.
Alberto Moreno, a player I've had very little time for as a left-back, put in a performance against Stoke that opened up a slight doubt about my take on him. I haven't moaned about Mignolet for a good few weeks now, I thought Milner was a shout for Man of the Match against Stoke, and all this has led me to reach a point where I even refuse to write off Christian Benteke. Yep, it's become that serious.
The sole reason behind my thinking, and my embracing of being wrong about a player, comes from one simple fact: these lads are playing for Liverpool, they do well, the club do well, my mental health does well.
Because of this I've found it strange to see some of the reaction elsewhere. Of course, by elsewhere I mean Twitter. That fortress of pinpoint football opinion.
Without naming individuals, I've been amazed by the number of fans that because of an already ingrained dislike of a particular player, will continue to seek out faults with which to continually drag them down. All the above named players come in for this treatment, as do a number of others. No matter what the player does, a section of the Twitter fanbase will have a wave of negativity ready to roll in. It seems that at times we forget that we're all chasing the same goal and that these lads don't go out to have a shocker. I know I've been guilty of it in the past. Not just finding, but almost revelling in a player having a mare, as if it was a chance for me to say, "told you so." It's a deeply unhealthy bias that is harboured in some fans and a real shitty way to treat one of our own. We all have that one player we just can't get along with, and criticism is all well and good and sometimes undoubtedly warranted, but it has to be balanced by praise when due rather than blinded by a blinkered, unwavering opinion.
Now, as the season has progressed, as the influence of Klopp has begun to bleed into the very fabric of the club, it is me that has been proved the fool. And I couldn't be happier.
I'm done making instant judgements based on a couple of dodgy performances and tarnishing the player for months to come. The lads deserve better from me, and they deserve better from all of us guilty of doing the same. They deserve our support and I'm more than happy to give it. And yes Alberto Moreno, I even mean you.