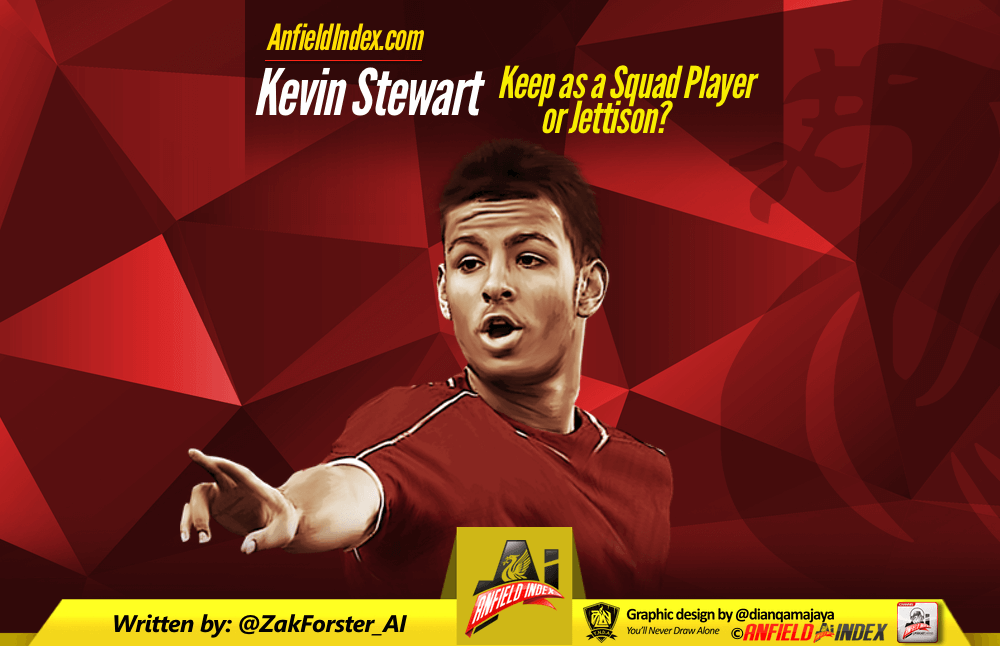 Kevin Stewart: Keep as a Squad Player or Jettison?
Kevin Stewart finally made his return to the Liverpool first team this weekend after suffering ankle ligament damage in February just as it looked like he was becoming a decent squad player.
Stewart is one of a number of players that have seen their opportunities broadened by the arrival of Jürgen Klopp. Youngsters such as Cameron Brannagan, Sheyi Ojo and Divock Origi have all found first team football a more frequent friend in recent months and each is showing great form and repaying the faith the manager has placed in them.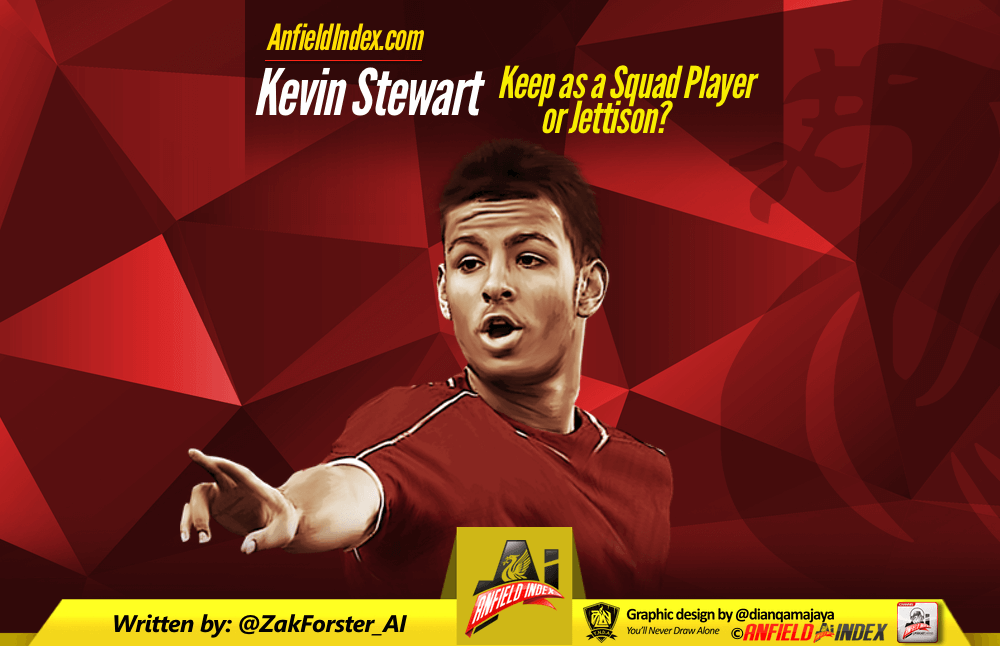 Brannagan impressed in the FA Cup run that ended against a strong West Ham United team and was given a special namedrop by the manager in his post Stoke City press conference. Ojo has scored and assisted since his initial breakthrough. Origi now seems to be on the way to fulfilling his potential after two goalscoring appearances in a row. But, what of Stewart?
The English midfielder signed a new contract this year which potentially keeps him at the club until 2020. However, with investment in playing personnel due this summer and starters such as Jordan Henderson and Emre Can ahead of him, is he going to be ready to step-up if and when he is needed?
Personally, I think Stewart is one of the players that is worth keeping this summer. A wide-ranging player sale is expected with Lucas Leiva and maybe even Joe Allen looking to leave (from central midfield). Now, currently, Stewart isn't better than either of those two players but both of those two are on significantly higher salaries and will demand more regular playing time.
Stewart has shown a willingness to get on the ball and has shown excellent workrate, especially during some of those lung-busting recovery runs which helped curb a few opponent counterattacks during the earlier mentioned FA Cup run.
His breakthrough stats make decent viewing but with a sample size of just 115 minutes of Premier League football available, I won't insult your intelligence by stating these stats mean anything more than a simple first look at the player.
Just quickly looking at these stats show that Stewart players 40 passes per 90 mins played (p90) in a forward direction which is very good considering his pass completion is still high at 89%. Joe Allen plays 30 for an 84% accuracy rating with Lucas playing 49 for 82%. Interceptions are also important for a defensive midfielder, especially if his positioning is not quite mastered yet, and at 2.35 p90 he outscores Allen (0.68) and Lucas (2.05).
Is Stewart likely to remain at Liverpool? Are you the type that would have a punt on this? If so you should try out MobileCasinoAustralia.com.au!
During his fleeting appearances so far, Stewart has only won 0.78 tackles p90 compared to 2.48 for Allen and 4.22 for Lucas. However, his tackles lost p90 figure is much better in comparison with just 2.35 lost compared to 4.51 from Allen and 4.57 from Lucas. Now, all three players are negative for tackles won and lost so none of them are excelling here but Stewart's win percentage is 25% compared to 35% and 48% from Allen and Lucas respectively, which actually means that despite his lower sample size (it's easier to have good stats with less time to have bad games) he's doing worse. That said, at least he hasn't made an Opta-defined defensive error yet.
That's the on-ball side and as you know Anfield Index manually collects pressing stats (off-ball statistics) for all Premier League games and Kevin Stewart made his debut in the Premier League. There's a good discussion on Kevin Stewart on the Under Pressure Podcast which you can listen to here but here are his stats if you missed the show.
The key for the pressing stats is on the right so you can understand what pressing actions Kevin Stewart has been attributed with. For his debut it was an excellent performance as Stewart pressed the ball every 2.74 minutes, for context this is the level that Liverpool's best presser this season Roberto Firmino has averaged all season. Firmino did press every 1.7 minutes in this game but Stewart's pressing was excellent against Stoke and he amassed 34 pressing actions with a pressing efficiency of 94%. If you're wondering what that means, pressing efficiency is where we measure of efficient the team or player's pressing was, so 94% of Kevin Stewart's pressing was successful in this game, meaning he was very efficient! It's only one game where Liverpool pressed crazily but the initial signs are good for Stewart.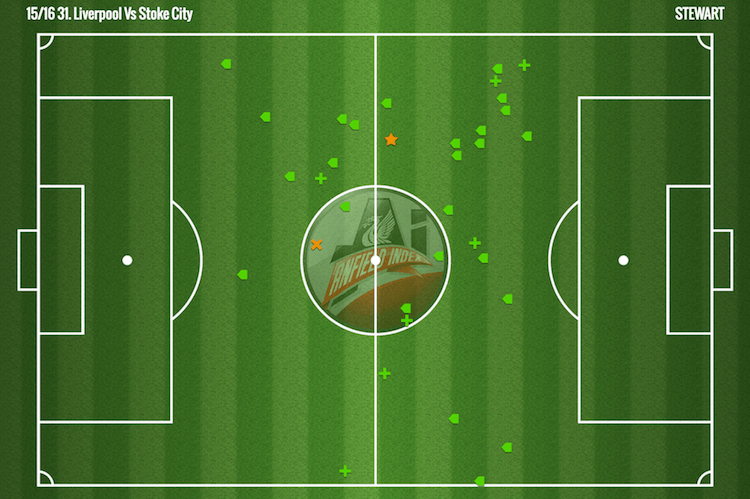 In all honesty there isn't a lot to be gained from looking at Stewart's stats at this point because we'd need a larger dataset. But, some of the initial figures are encouraging, especially the pressing, for someone who has literally come out of nowhere and entered the first team squad picture. Lucas is set to leave, Allen has just one year left on his contract and fresh recruits, such as Marko Grujić, will surely be bought but Klopp sees something in Stewart and the decision to keep him could save Liverpool a small fortune in both transfer fees and wages.