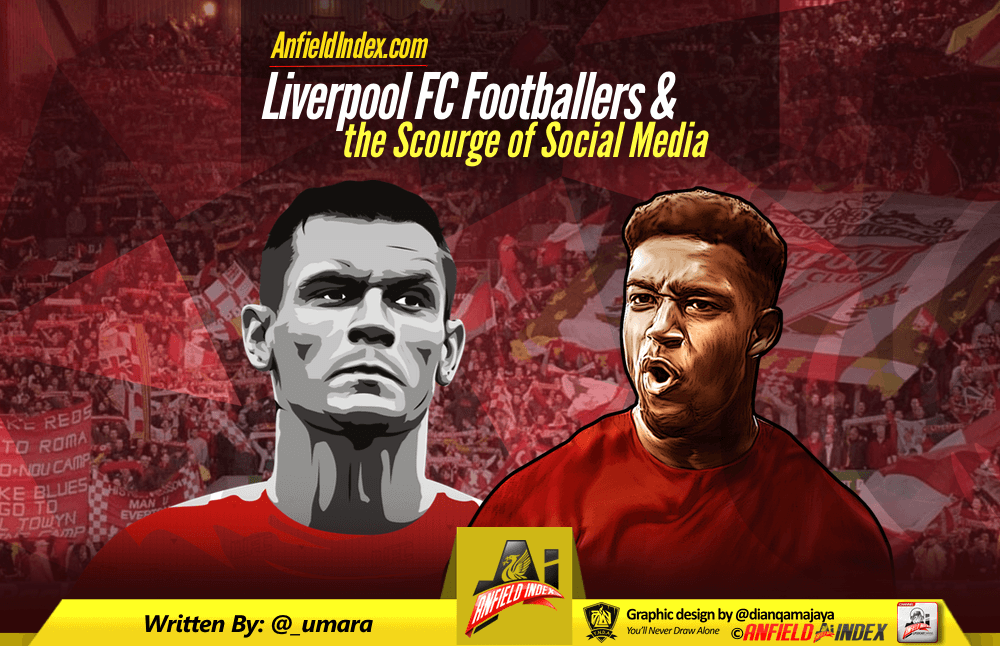 Liverpool FC Footballers & the Scourge of Social Media

In the words of Beyoncé, "Who runs the world?"
Not just girls apparently! We all do.
Since social media has become a global phenomenon, anyone and everyone's opinion is aired for all to see. What the people of the world have to say on a topical issue, is now readily available for your perusal. It doesn't matter whether it's right or wrong, people agree or disagree, we are offended or impressed, it's there if we choose to read it. And many of us do. For us ordinary folk Twitter, Facebook and Instagram are ways of communicating with people of common interests; people we may otherwise never have the opportunity to chat to. Anfield Index being the perfect example of this. We share our thoughts and our photos to the public via the aforementioned outlets, have entertaining conversations with people we'll never meet and sometimes "enjoy" pointless retorts with them too. Some of us even get ourselves into a little hot water from time to time, but for the most part without any wild repercussions.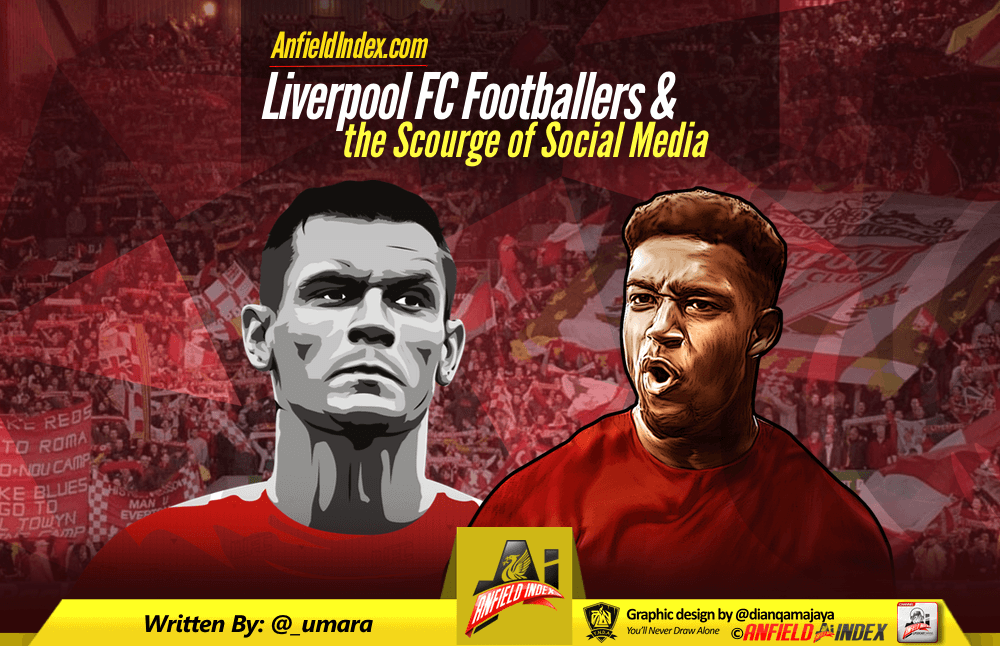 Now magnify the follower count and scrutiny by hundreds of thousands (even millions) and you have yourself a breeding ground for adulation and hero worship. Unfortunately, this inevitably comes with criticism, abuse and spectacular overreactions at the most mundane of statuses posted with the purest of intentions. Welcome to the world of a Premier League footballer. If they are winning and playing well it's all good, but if the fan base is unhappy (and God knows there is always something to moan about) then woe betide those poor footballers who dare to tread the unreliable waters of the Internet. It's been all too apparent for some of Liverpool's players who have had their own predicaments on the web.
It goes without saying that the majority of insulting behaviour by some is in direct correlation to players performing poorly. But does that really give the public the right to vilify them? Maybe it comes with the territory and the ridiculous wages. A long running case is that of Dejan Lovren. Due to an admittedly shocking start to his Liverpool career, it was open season for the world and his wife on the Croat. After a much highlighted error during the 3-0 loss to West Ham in August, Lovren was forced to deactivate his Twitter and Instagram accounts due to death threats, not just directed at him but his family too. It appeared that much of twitterati had turned into Don Corleone and couldn't wait to take the defender out. All that was missing was him waking up, gazing lovingly across the bed to a horses head. It's true that these fans are in the minority, but even the most level headed tweeter was prone to posting particularly nasty comments about the centre-back. After bravely returning to the world of social media some time later, he was again forced off it but this time by Southampton fans who berated him over his recent issues with the Croatian national coach. It's one thing after another for Dejan Lovren. Maybe his efforts are best focused on the training ground, with his family and very, very far away from social media.
But that's Dejan Lovren. It's completely fine to want to kill him. So you would think that LFC legends were immune from the staggering lack of respect shown on social media. You'd be wrong. Ex-Red Steven Gerrard intermittently comes under fire from followers on Instagram when posting pictures of his family. Just when you thought that innocent children would be left out of people's sordid agendas, up come a crop of degenerates to prove you wrong and question how we have even existed as a species for all this time. All Stevie has to do is post a picture of his daughter and the moralists emerge from under their rocks to teach him how to raise them. "Too much make up" and "her clothes aren't appropriate for her age" are just a few of the remarks that appear in the comments section. Add to that a whole list of disgusting ones that I'll leave to your imagination and you get the picture. It seems people suddenly become parenting experts better when sitting behind their computer or phone screens. You don't have to agree with him, but you can shut the hell up and be on your way. That way everyone is happy.
The most recent Red to be on the receiving end was future prospect, Jordon Ibe. A Twitter fury ensued when he deleted LFC references from his accounts and bio after being dropped by Jurgen Klopp for the 4-1 thrashing of Stoke. In addition, he posted a quote on Instagram that could possibly be interpreted as a dig at being left out of the squad. Some offered him words of support whereas others accused him of unprofessionalism and childishness. Even Daniel Sturridge was dragged into the mess as he had the audacity to remove "red or dead" from his bio. This obviously signifies that he has rebelled against Jurgen Klopp, will never try to score another goal again and will now leave in the summer for ever and ever. Oh, and he's also a bad influence on young Jordon Ibe. Troublemaker. The point is that Ibe's supporters are right to say that he can do what he likes. Indeed he can, but surely he would have anticipated this reaction from the fans. Social media can be used to make statements every now and then and this was a prime example of it. Not everyone will like it hence it fuels unavoidable discussions and debates, all in the cosy mentions of said footballer.
With all that said, the question begs itself – should footballers even have social media accounts? Is it worth the trouble? I'm sure clubs strenuously regulate what players can and can't say anyway, so what is the actual point if you can't even be candid? Whilst we all deplore the denigration, should we be surprised by it? It could be argued that they should be allowed to share images and moments with the fans, family and friends and in a perfect world, it would be great. But the harsh reality is that the negatives somewhat outweigh the few positives. Imagine having to read the soul-destroying replies and mentions that would shatter the confidence of any player? And that's even when they don't tweet or update statuses. Here's hoping they don't bother reading them. A possible solution could be for players to lock their accounts for private use, only because once they enter the shady world of social media, they leave themselves open to the dregs that plague society. The true football fan doesn't really care what players post on Instagram or Facebook. Let the football do the talking on the pitch. Everyone has an opinion on everything and football is no different. In fact, football has the power to bring out the best and worst emotions in people, and Twitter provides the perfect avenue to vent those emotions in the heat of the moment too. People will always talk, debate, react and dissect topics on social media and that can potentially have far reaching effects for our players. Unless footballers are able to balance the difficult task of detaching themselves from it all whilst running their accounts, it's highly questionable if it really is the place for them.