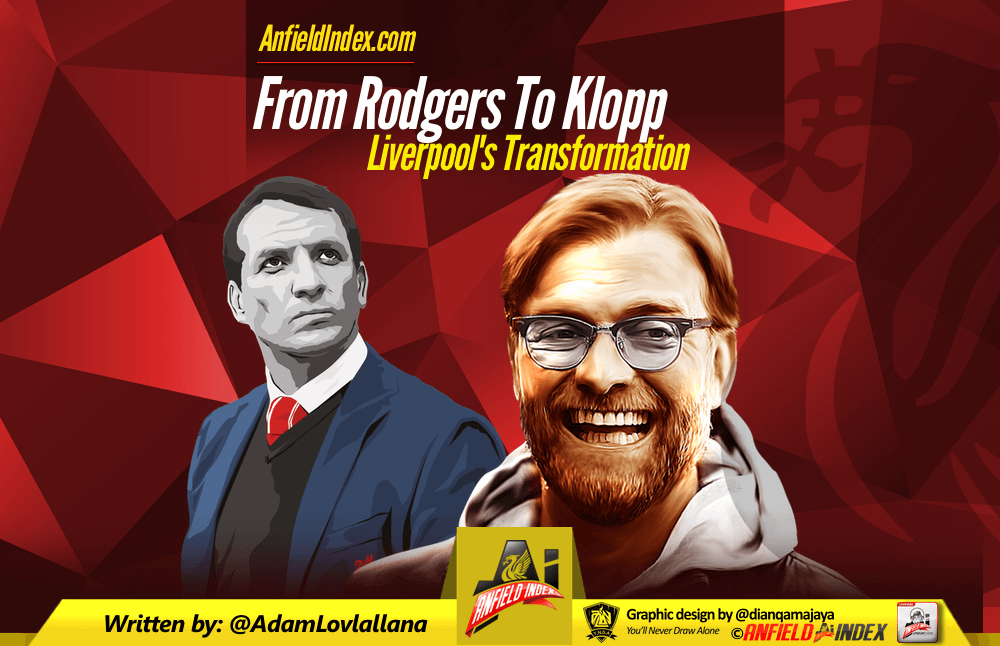 From Rodgers To Klopp: Liverpool's Transformation
It's hard to believe that Jurgen Klopp took over as Liverpool manager just six months ago. The Reds looked like a team that had lost its identity in the latter stages of Brendan Rodgers' reign but now, following their recent 4-1 win against Stoke City, Liverpool look like a side with confidence flowing through their veins. Klopp's positive, energetic style has already had a telling impact on the side in such a short space of time.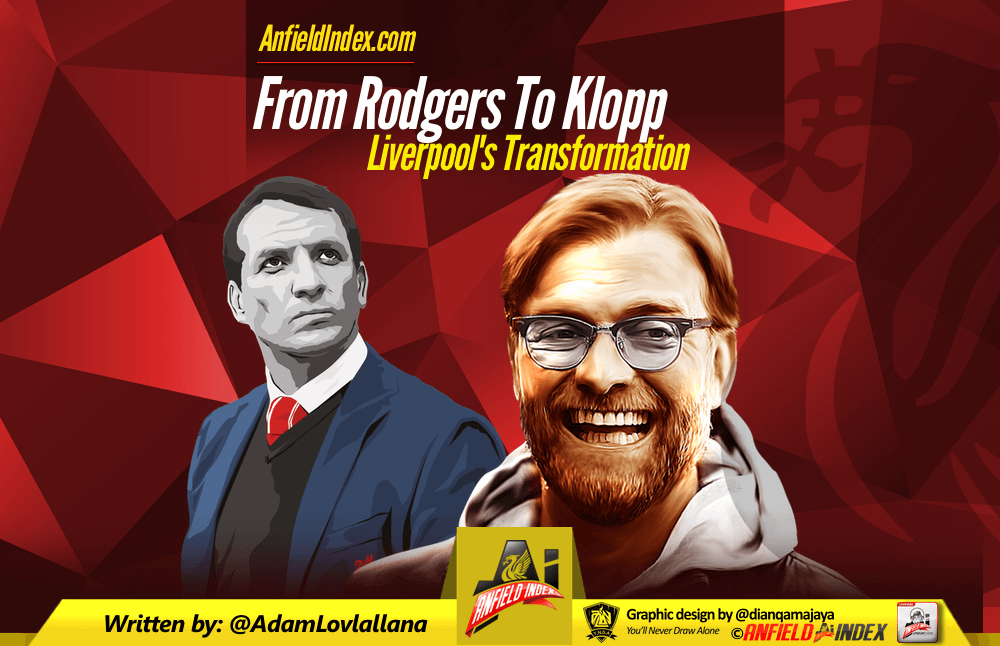 Liverpool Under Rodgers
This season under Brendan Rodgers, Liverpool looked uninspiring and lost. The lack of confidence in the side was apparent in every game, resulting in a cloud of doubt engulfing Anfield. There were times when even Rodgers seemed to lack confidence and belief that his side could come away with a win, especially in games against the top four. Rodgers didn't beat a top four team until his ninth attempt and had only one win in his first 12. It took until his eighth attempt to beat a top four side away from home.

Rodgers had a rollercoaster of a ride as manager, finishing seventh in his first season at the club. The following season was a truly magical one for everyone involved with the Reds as they surged towards the title in 2013/14. The partnership of Luis Suarez and Daniel Sturridge was the most scintillating strike force in the Premier League, with the duo recording a total of 52 goals.
It was a season that brought hope and belief to fans that the club would strive towards new success. However, the 2014/15 season didn't match expectations, with the Reds finishing in 6th place as well as exiting the Champions League in the group stage. Liverpool were also outfought and outplayed in the semi-final of the FA Cup against Aston Villa.
During his time at the club, Brendan Rodgers managed a total of 192 games in all competitions. The Ulsterman won 103 of those, drawing 42 and losing 47. Under his management, Liverpool scored a total of 347 goals and conceded 218. That gives a win percentage of 52%.
The Reds have always been famous for their expansive, attractive style of football but their positive approach deserted them at the beginning of the 2015/16 season as they started to play within themselves, becoming conservative and cautious. All too often players would pass the ball sideways or backwards rather than attempting to take on the opposition and surge forward to find a goal.
There was always the same transparent message attached to press conferences, with the phrases "I couldn't ask for anymore" and "we showed great character" typifying the majority of Rodgers' responses to the media. There was never an admittance of shortcomings after a bad performance, but simply a papering over of cracks that widened during the end of Rodgers' tenure.
A New Era
In just six months, Jurgen Klopp's side has produced outstanding displays, beating Chelsea away from home in his fifth game in charge, followed by the demolition job at the Etihad three weeks later and then knocking out Manchester United from the Europa League last month. Liverpool pressed and harried their opponent's right from the first whistle, forcing them into mistakes high up the pitch before hitting them on the counter attack.
The performances highlight the positivity that Jurgen Klopp has brought back to Liverpool. His energetic and lively touchline antics, while not a favourite of other managers, has transformed onto the pitch and resulted in entertaining football at Anfield, contrasting to the performances at the end of Rodgers' reign.
Steven Gerrard is one of many people who have heaped praise on Jurgen Klopp's impact at Liverpool, stating that:
"The atmosphere at the club is brilliant. The players are buzzing around the training ground and there are smiles all over the place. I think he has lifted the whole place. 
Jurgen Klopp has already begun to mould his own team and encouragement must be taken from how Liverpool's players have embraced the German's style. In his first game in charge against Tottenham, they became the first team this season to outrun Mauricio Pochettino's side. Klopp's men covered 116km, 1.2km greater than Spurs and over 4 kilometres more than the next-most distance covered under Brendan Rodgers in 2015/16.
Steven Gerrard: "The players should be sitting themselves down and realising what an opportunity they have to achieve success in the next two, three, four or however many years he is there."
The development of players such as Adam Lallana, Dejan Lovren and Divock Origi highlight the impact Jurgen Klopp has made since joining Liverpool. Players whose futures looked all but over under Rodgers have re-invented and reinvigorated themselves under the German.
For example, Philippe Coutinho has thrived under Jurgen Klopp and has scored more Premier League goals in the six months since Klopp's arrival than he did in two seasons under Rodgers. Players are confident, no longer afraid to express themselves. They, as well as the fans, have turned from doubters to believers.
Rodgers vs Klopp
Under Brendan Rodgers, Liverpool earned an average of 1.5 points per game, a lower figure than what they have average thus far under Jurgen Klopp. However, the most noticeable differences between the managers are the goals scored and goals conceded per game stats. This season under Rodgers, the Reds averaged just one goal per game, whereas for Klopp the figure is 1.8 goals. This highlights the increasing attacking initiatives shown by Liverpool since the German's arrival.
According to Sky Sports*, Liverpool achieved a shots per game average of 10.25 under Rodgers this season, significantly lower than the 10.90 achieved under Klopp's management. Furthermore, the Reds have a conversion percentage of 16.16%, contrasting to the 9.76% from Rodgers' side. While stats only convey change to a certain degree, they highlight how Liverpool have improved in the attacking department since Klopp took up the reigns.
| | | |
| --- | --- | --- |
| Under Rodgers | Premier League 2015/16 | Under Klopp |
| 8 | Games Played | 23 |
| 1.50 | Points Per Game | 1.57 |
| 1.00 | Goals Scored Per Game | 1.83 |
| 1.25 | Goals Conceded Per Game | 1.39 |
| 52% | Average Possession | 58% |
Defensively, Liverpool has improved by letting in fewer goals per game under Klopp. After his arrival, the 48 year old stated the importance of stabilising the back and he has worked well to do just that, with the defensive partnership of Lovren and Sakho impressing in recent weeks, especially against Borussia Dortmund. In addition, Liverpool has averaged higher possession stats, dominating the lion's share of the ball on numerous occasions.
Since joining the club, Jurgen Klopp has won 10 out of 23 Premier League games, drawing six and losing seven. This season, Brendan Rodgers won three league matches and recorded three draws, suffering two defeats.
Rodgers' first eight games against the 'big four'
Liverpool 2-2 Man City
Drew
Liverpool 0-2 Arsenal
Lost
Liverpool 1-2 Man Utd
Lost
Chelsea 1-1 Liverpool
Drew
Man Utd 2-1 Liverpool
Lost
Arsenal 2-2 Liverpool
Drew
Man City 2-2 Liverpool
Drew
Liverpool 2-2 Chelsea
Drew
In contrast, Jurgen Klopp won his first two, making easy work of Chelsea and Manchester City away from home. The German instilled belief into his players within a matter of days and his gegenpressing policy was implemented from the off, reflecting how quickly he had an impact on the team who looked so lacklustre in Rodgers' last eighteen months.
Familiar Issues
However it hasn't all been rosy for Klopp, with inconsistency the main issue for Liverpool, who have overseen defeats to Newcastle, Crystal Palace and Watford, three teams you would expect the Reds to be beating. There remains an element of self-destructiveness to Liverpool, especially when asked to defend their own six yard box from set pieces.
Evidence of this can be seen in the recent 4-1 win against Stoke when 5ft 7 Bojan Krkic was able to get free inside the area to guide Xherdan Shaqiri's ball into the bottom right hand corner. Liverpool are actually averaging a higher goals conceded per game than they were under Brendan Rodgers at the start of the campaign and they rank first in the Premier League for defensive errors (28).
A Bright Future
While it has only been half a year and there are still issues to iron out, especially in terms of consistency, Jurgen Klopp has transformed Liverpool and with a summer of change ahead, it's an exciting time to be a fan. Everyone is invested in Klopp's philosophy and despite a top four finish seeming highly unlikely come the end of the season, there is plenty of evidence to suggest that the 48 year old will get the Reds back where they belong.
* These stats do not include Liverpool's recent games against Stoke City and Tottenham Hotspur