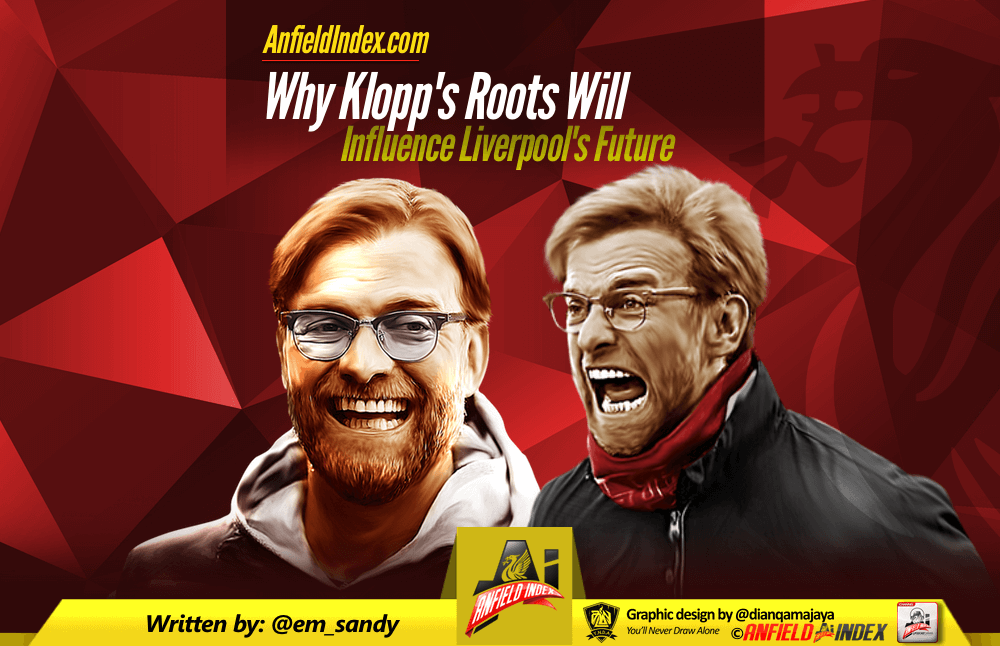 Why Klopp's Roots Will Influence Liverpool's Future
Jurgen Klopp is an exception within management for many reasons; he doesn't shy away from attention and is more than happy to speak to the press with emotion and honesty; he involves himself completely with every employment, submerging in the fantasy of every club and some could say 'too much;' he remains a 'Rockstar' at Dortmund despite the club having a miserable campaign in his final season.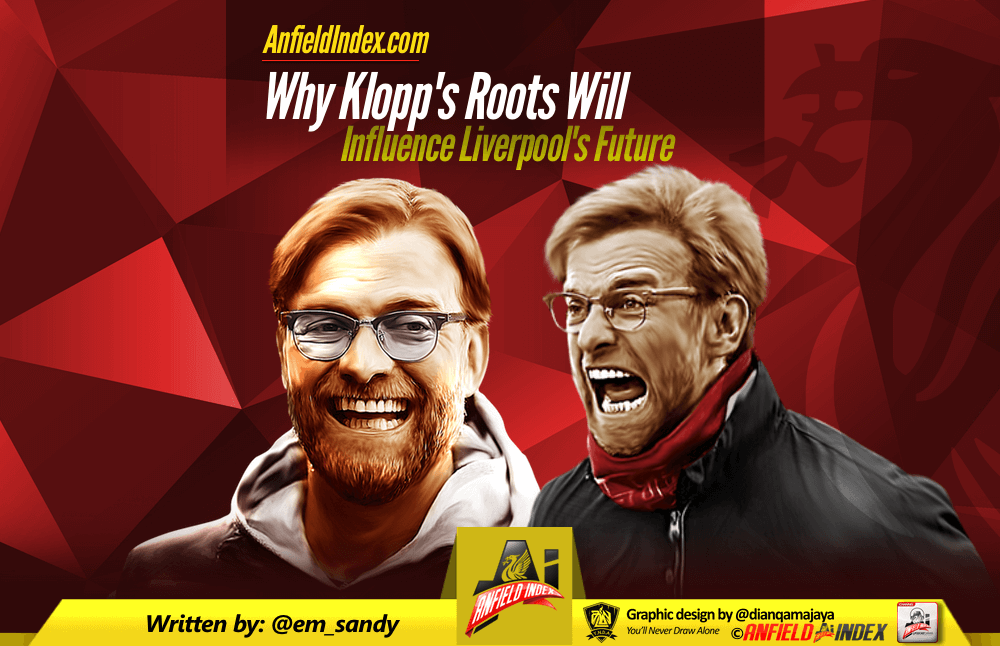 Anfield has warmed to the German as quickly and enthusiastically as the 'Yellow Wall' of Dortmund and it's easy to see why. Klopp understands a club. He understands the fans. He understands what football is and what it means. It's a simple trait but one that goes a long way and the love he shares for his clubs is returned in abundance by their fans. This quality can only bring hope, excitement and enjoyment within a club and it was something the Kop have craved since the European glory days and the departure of Rafa Benitez.

Hope is a big thing – something that drives a club and its fans in a unified direction. And it's clear hope is all around Anfield with the presence of Jurgen Klopp. With the summer transfer window looming, rumours of incoming players are already circulating like wild fire and time will only show the extent to which Klopp's influence at Liverpool will have over transfer dealings. His expert methods and passionate relationship with players proved to be a success at Dortmund and there's already a host of players lining up to be coached by the German.
Klopp's roots lie in his native country and after serving 19 years of his life to Mainz, he transformed Dortmund from a stagnated Bundesliga club to one of the most exciting, fresh and dangerous sides in Europe. In seven years at Dortmund, Klopp built a squad with four clear characteristics: counter attacking side, a team full of pace, a youthful set-up which highlighted all the qualities of German football and a squad encouraged to play with flair and freedom. With these qualities, Dortmund went on to win two Bundesliga titles, a DFB German cup victory over Bayern Munich and were runners up in 2013 Champions League. The squad, built around Marco Reus, Pierre-Emerick Aubameyang and Mats Hummels, is full of talent that Liverpool fans will know all too well.
It's these names that Liverpool fans hope the boss can attract and recent links with former Dortmund heart throb, Mario Gotze, have increased, exciting the Reds' supporters. Gotze is a symbol of Klopp's managerial roots. Trusted as a youngster and immersed fully into first team action, Gotze was one of Jurgen Klopp's protégé's and he went on to become a European star and Dortmund fans, like their manager, regarded him as one of their own. It was treason when he switched to rivals, Bayern Munich and like Torres' exit from Anfield, the fans took it personally. With a move back to Dortmund seemingly off the cards, a fairy tale story would involve the forward reuniting with his 'father,' Jurgen Klopp. The pair would be a symbol of just how important manager-player relationships can be in modern football and it would be a true statement of Klopp's influence over Liverpool's transfer dealings. A player would move purely to be coached by one of his favourite managers in the game, with money and club status irrelevant? Now that is a statement.
Klopp's appointment was a direction taken by Liverpool which made it clear they wanted progress and were willing to invest in a long-term project. Like Rodgers, Klopp is known for building his own team from the bottom up and Liverpool's youngsters would have been delighted to hear of his arrival. Many of them have taken advantage of their opportunities to impress – something Klopp always promised on his arrival. Since October, when the German was appointed, three Liverpool players under the age of 21 have made their Premier League debuts, with another three making first team debuts in the Europa League and cup competitions. A further six players, aged 21 or younger, including Divock Origi and Jon Flanagan, have notched up several appearances and have cemented a strong foothold in the first team squad.
Klopp's faith in Liverpool's youth has been clear to see and it's admirable. However, have many considered that Klopp and his staff have had proven success with European youngsters – the majority being bred amongst German footballers – and that he could look overseas to snatch young talent? Either way, Klopp's influence on Liverpool's academy can only be positive but it would be naïve to think they are automatically better off under his management because of his stature; he could lure the world's best youngsters to Merseyside and its most likely that England's youth will be the ones to make way…
In summary, Klopp's coaching style is reminiscent of European success and his philosophy has already reaped the benefits at Liverpool – with a cup final and a Europa League quarter-final already reached. From Germany, Klopp has brought passion and creativity to England and both are traits which will bode well for Liverpool. His faith and excitement surrounding youth is refreshing and fans can look forward to the summer where we will see a real indication as to what kind of team Klopp intends to build. The difference is, next season will be Klopp's team and that is something that even neutral fans can be excited about. If another Dortmund is to be made in the Premier League, an exciting era of football in Merseyside is about to begin.