Okay, let's be honest: When Liverpool loses; it feels like a personal betrayal. Like your best mate stealing your girlfriend while you're in hospital after a freak Frisbee accident. It feels both needlessly cruel, and damningly unfair. All you ever did was love and support a footie team with every fiber of your being!  What did we do to deserve this anguish? Our boys in red are superstars a great deal of the time, but at the end of the day Firmino and Origi are just as human as you, me, and your fat uncle Bob who always eats all the crisps during a game.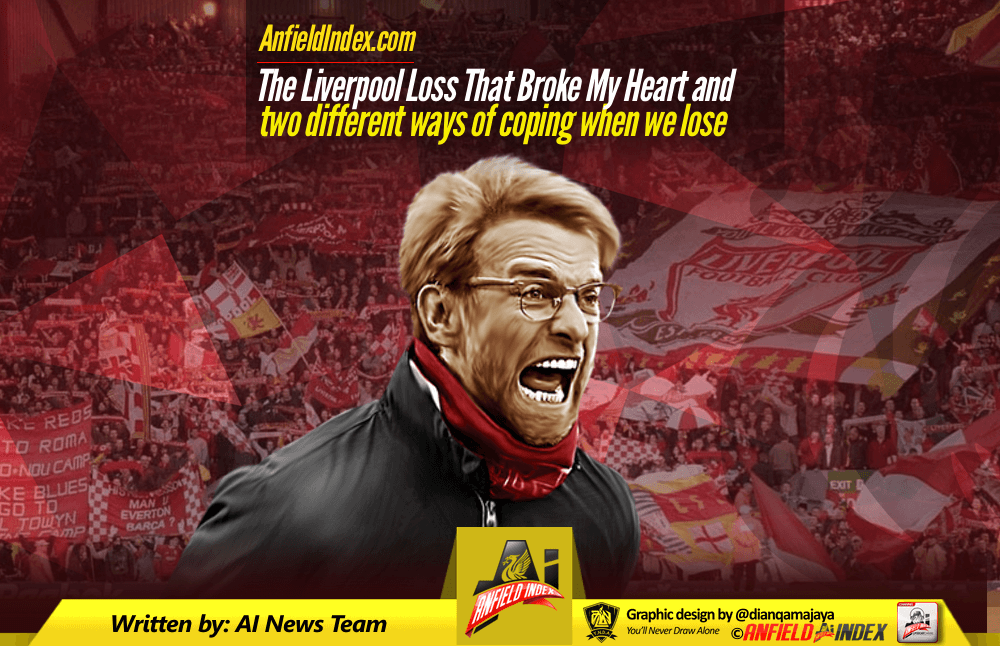 There is one loss that particularly broke me: The 5th round of the Carling Cup, when we lost to Arsenal: 09/01/2007

It somehow always hurts more when we lose at Anfield. It's an extra kick in the shin, if you will. We lost to Arsenal at home in the FA cup, only days before the 5th round of the Carling Cup. The wounds were still open, and stinging. As a result, this second loss to Arsenal hurt even more. Baptista scored goal after goal, and with each ball in the net, our hearts broke a little more. It made every fan want to slap Baptista's smug mug (as soon as we were done crying into our pint, that is).
So when the next heart-crushing loss comes, you'll want to get over the heartbreak as soon as possible. There are two main ways you can get over the Reds' loss.
Wipe the tears from face. Take yourself and the lads down to the pub. Have a pint. Bemoan the ref's calls. Have another pint. Scream at the telly when it plays the game's highlights. Have another pint. Pass out. Wake up with a hangover the next day. Hopefully your head hurts too much to remember Liverpool's loss.
So sometimes the loss feels so soul-destroying that you do not want to be around other people. A pint at the pub isn't quite going to cut it this time. You need to be alone, and maroon yourself in your room with only the most essential things to bring you back from that kind of a defeat:
Food: Now is not the time to be thinking about your six-pack (you can hit the gym when you feel like a functioning person again). You are sad, and in emotional turmoil. Comfort food is a must. I am talking pizza, greasy fish and chips. If it's really bad you may need to call in the cavalry: Mum's homemade Shepherd's pie.
Entertainment: Avoiding the source of your pain is the key here. You also need to have a win to get over the loss. Winning is going to make you feel better. The best option for you in this situation is playing online casino games from the comfort of your own room. In your current state, you don't want to leave the house. You might see an Arsenal (or an Everton) fan. And that won't be good for anyone involved!