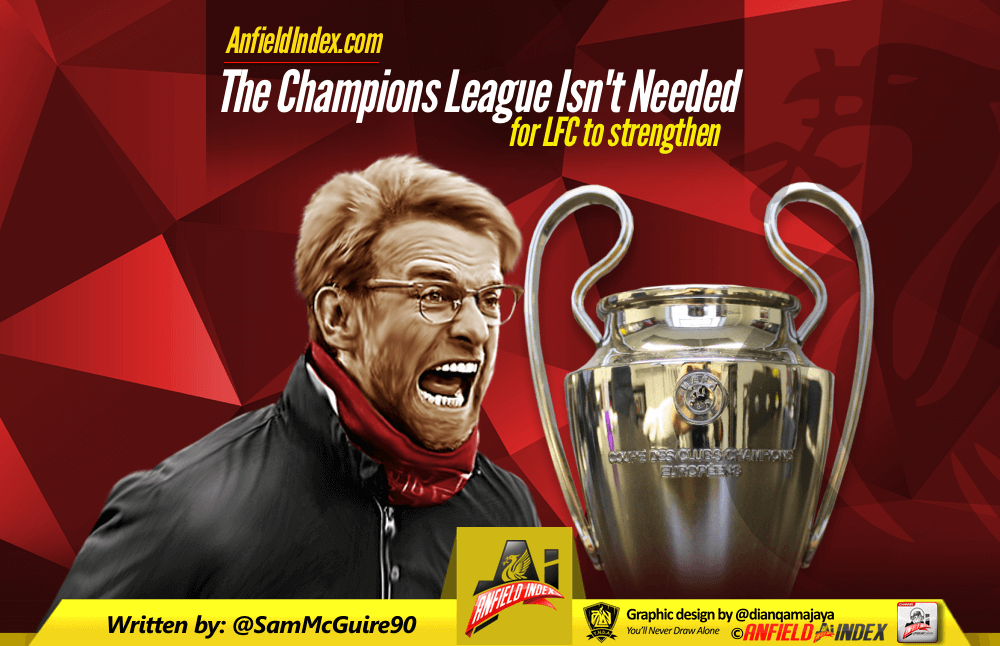 The Champions League Isn't Needed for LFC to Strengthen
Lucky number Slevin is a good film. If you haven't already seen it then you should put aside two hours of your life and give it a watch. There will be no spoilers in this piece but the plot is built around a con named 'The Kansas City Shuffle'. It's hard to really put into words what this con revolves around but Wikipedia does it's best –
In order for a confidence game to be a "Kansas City Shuffle" the mark must be aware that he is involved in a con, but also be wrong about how the con artist is planning to deceive him. The con artist will attempt to misdirect the mark in a way that leaves him with the impression that he has figured out the game and has the knowledge necessary to outsmart the con artist, but by attempting to retaliate, the mark unwittingly performs an action that helps the con artist to further the scheme.
Liverpool fans are currently participants in a Kansas City Shuffle style con. The gist on social media is Liverpool's shopping list for the summer window is dependent on the Reds getting Champions League football.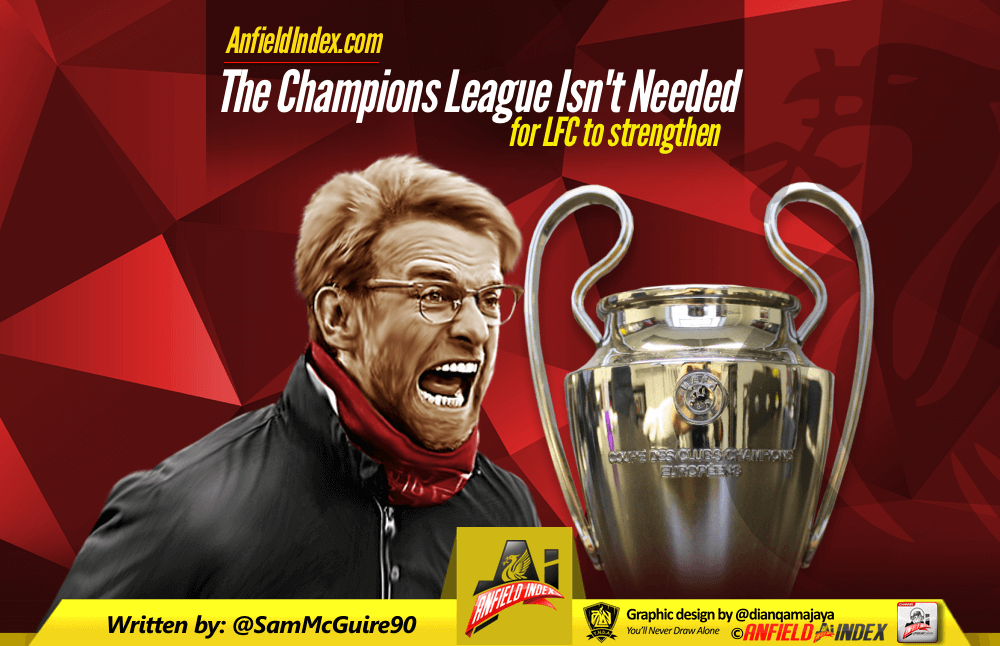 However, would it not make sense for Liverpool's transfer targets to in fact be linked to the selling club getting into Europe's elite competition?
Both the Bundesliga and La Liga get four Champions League spots with Ligue 1 getting three. Many will look at these league tables and see the usual suspects: Barcelona, Real Madrid, Atleti, Bayern Munich, Dortmund and PSG near the top of the tables. These leagues are viewed as 'boring' because there isn't a Leicester or a Tottenham leading the table.
Look at it a little more in-depth and you'll notice in Germany there are only two Champions League spaces (Bayern and Dortmund have two places already) left for six clubs, at a push. Hertha Berlin are currently in third place which is a surprise to the masses. They've been disappointing over the last few weeks and many doubt that they'll hold on to this position. Chasing them you have Bayer Leverkusen, Schalke, Mainz, Gladbach and Wolfsburg.
Both Schalke and Leverkusen have strategies which are dependent on them getting Champions League football. They both have young players with huge potential that they can turn a massive profit on. Without Champions League the fee these clubs can get for the players decrease. It means players like Jonathan Tah, Julian Brandt, Karim Bellerabi, Hakan Calanoghlu, Max Meyer, Leroy Sane and Leon Goretzka could all be available for 'knock-down' prices. That's without even casting your eyes over both Gladbach and Wolfsburg who, within their ranks, have an abundance of players Liverpool have been linked with: Mahmoud Dahoud, Granit Xhaka and Ricardo Rodriguez to name but a few.
In La Liga it's looking likely that Villarreal will sew up the fourth spot to join Real Madrid, Atleti and Barcelona in the Champions League. This means Athletic Bilbao, Sevilla, Valencia and Real Sociedad all miss out. The latter two won't even make the Europa League.
Krychowiak, Ever Banega, Carlos Vela, Illarramendi, Diego Reyes, Mikel San Jose, Inaki Williams and Laporte all won't be playing Champions League football next season. All of those mentioned would improve the Liverpool squad. Many of the Valencia players add to the Liverpool team and may be fed up with what's going on at that club.
PSG have Ligue 1 won already. Lyon, Monaco and surprise packages Nice and Rennes are all fighting it out for the remaining two Champions League spots. Marseille and Lille are languishing in mid-table. Worst case scenario both Nice and Rennes finish in those spots and push Lyon and Monaco out of them. Imagine it, Lyon, Monaco, Marseille and Lille all without Champions League football. Alexandre Lacazette, Nabil Fekir, Coretin Tolisso, Michy Batshuayi and Sofiane Bouffal could all well be attainable. Not to mention if Rennes do qualify for a European competition they're likely going to have to sell their prize possession Ousmane Dembele to reinforce their squad so they're able to compete with the big boys. It works in Liverpool's favour.
Liverpool don't need Champions League football. People have become fixated with it because it's been so important in the past but now, with the new TV money and a certain Mr Klopp in charge, it's not a necessity this summer as the club looks to build an empire for Klopp to run.
Liverpool need to be like sharks this summer. One drop of blood in the water is all that's needed. Wolfsburg miss out on Europe all together? The club should be on the phone to them immediately asking about Julian Draxler and Ricardo Rodriguez. We may not be able to offer them Champions League Football and Wolfsburg may be backed by Volkswagon but they can offer more money.
All of the aforementioned players are genuinely attainable for Liverpool without any European Football. The club just needs to become the ultimate opportunist club. Like with Philippe Coutinho, Daniel Sturridge and to some extent Mamadou Sakho. Make the most of their situation. So to those fans stressing about needing Champions League football to compete, look at the bigger picture.