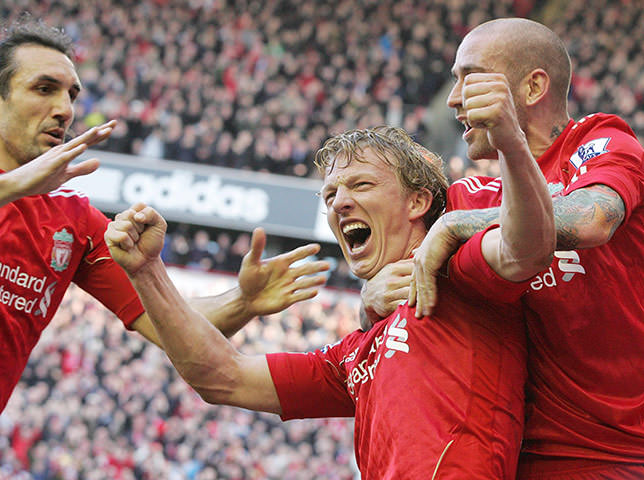 Dirk Kuyt, my player of the season
Since Dirk Kuyt's signing for Liverpool in the summer of 2006 he has gained many plaudits but has also come across his fair share of negative press.
For Liverpool fans he has been nothing short of brilliant since the £10million pound move from Holland.
But this season again he has really risen above the pack and is no doubt one of the first names on his manager's team sheet each week.

Supporters of other Premier League teams will continue to doubt Kuyt, but this season the Dutchman has gone about his business very quietly mustering up a set of impressive statistics to stake his claim as one of the Premier league's most consistent players.
This season Dirk has played a total of 2,461 Premier League minutes, during this time he has made 1300 passes, with a 71% pass completion rate.
That equates to a pass every 1.89 minutes, which fits perfectly in to Liverpool's pass and move style of play.
Out of his 923 successful passes 48 of them have gone on to create a goal scoring chance for his side, this is two 3 more chances than PFA award winner Gareth Bale has managed.
Liverpool's number 18 has also managed to assist 6 goals, which again is more than the Welsh winger, who is touted as one of the world's best players.
Without forgetting Kuyt's 11 league goals this season, he also adds a tremendous defensive edge to the side.
Leading from the front Dirk has put in 68 tackles, with 39 of them winning the ball. He has also managed to intercept 49 opposition passes.
Despite coming worse off in 243 of his 402 possession duals, this really shows Dirk's willingness to fight for the side.
Kuyt may have missed out on the end of season PFA awards, but there is no doubt this will not dishearten him and he will continue to strive to create the same level of performances he has put in over his five years at Liverpool after signing a new long term contract recently.