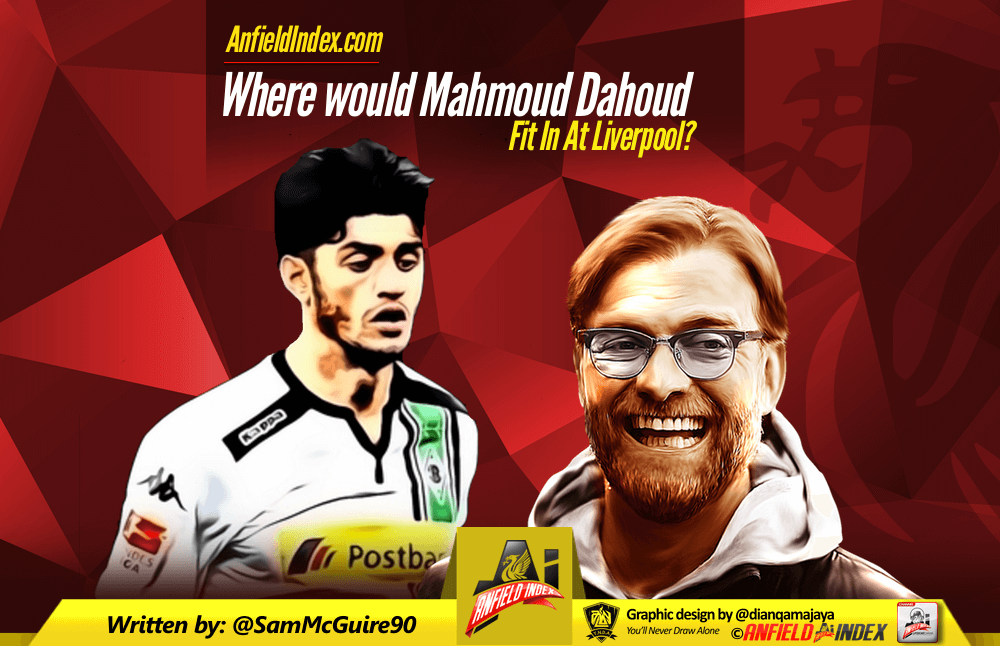 Where would Mahmoud Dahoud fit in at Liverpool?
Reports broke on Monday evening that Gladbach midfielder Mahmoud Dahoud was a target for Liverpool this summer as Reds boss Jurgen Klopp looks to find that so far elusive tempo setting midfielder.
Since this news became public knowledge there has been plenty of article detailing just who Dahoud is ,and how he managed an impressive 10 interceptions against Manchester City in his first Champions League match, but very little about how he'd fit in at Liverpool.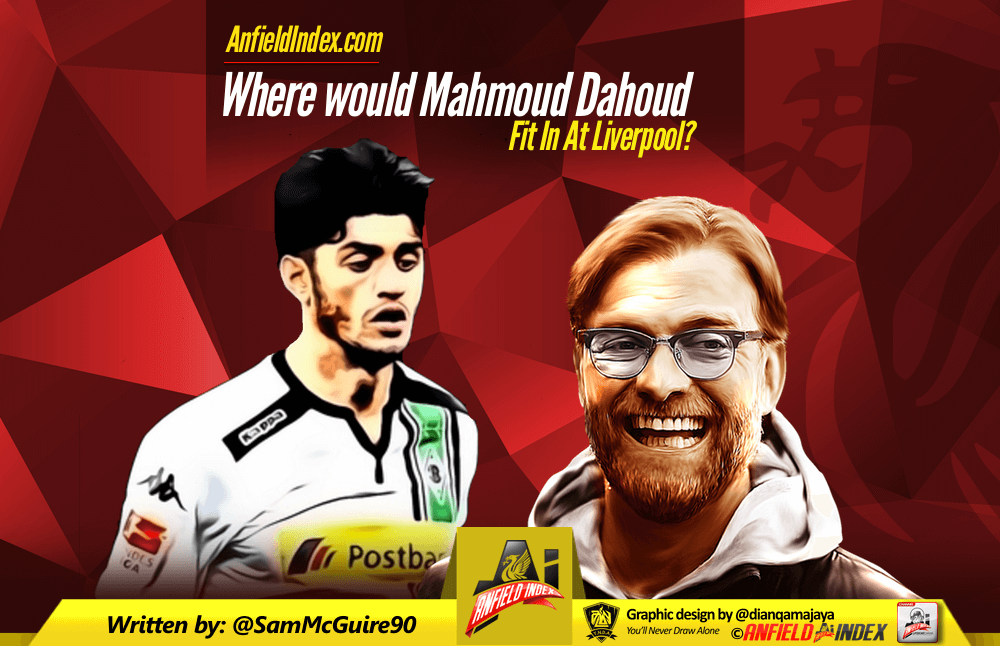 Perhaps it's because people don't want to guess, or assume, how Liverpool will play next season. Their hesitance could be because they're unsure just what Dahoud's best position is. After all, he's an all action midfielder with traits that could see him moulded into a deeper lying midfielder or an effective box-to-box midfielder. He's played both of these roles for Gladbach this season and looked like a natural.
It's the profile of the player that makes the link to him seem legitimate. If you look at the central midfielders Klopp has been fond of in the past, the likes of Ilkay Gundogan, Nuri Sahin and Sven Bender, you will see clear similarities with Dahoud.
Strengths.
The 20 year old has a mature style of play. When he's paired with Granit Xhaka he adapts to the Swiss international, then when Xhaka is suspended (a regular occurrence this season) Dahoud takes up that mantle of playmaker.
He has this rare trait in which it's like he has eyes in the back of his head. He often drops deep to pick up a pass from the defenders. Teams noticed this and started to press him, much like Divock Origi did to Julian Weigl in the first leg against Dortmund, but instead of being suffocated by this press Dahoud would effortlessly roll the oncoming presser. In one swift movement he'd have got through that first press and be running into the space the pressing midfielder had vacated. He has enough skill and confidence to basically play through a press when deep in his own half.
People may like players to retain the ball and take less risks but that's easy to defend against. Taking the risks that he does enables Gladbach to turn defence into attack in a matter of seconds.
Dahoud has superb technique in general but his striking technique when hitting a shot draws comparisons to a young Steven Gerrard. There's one in particular, against Juventus, that is eerily similar to the Middelsborough goal Gerrard scored. To go alongside this the midfielder also has quick and neat feet. He doesn't dawdle on the ball.
His directness alone would be a huge positive for Liverpool.
Viewers of the Bundesliga will know that the league is a pretty hectic one. Whereas in England only a few teams really press the ball in Germany it's a common tactic. Players get less time on the ball but despite this Dahoud currently averages an 84% pass success rate, that's including the games he played in the Champions League. Part of the appeal is his mentality, he just isn't phased.
On top of this he also does a lot of worth off the ball. Like a true box-to-box midfielder he aides the attack and the defence. This season he's averaging 2.9 tackles and 2.3 interceptions per 90 minutes.
Since the winter break in Germany Gladbach have played eleven games and in these games Dahoud has 2 goals and 4 assists. His overall tally for the season is 4 goals and 7 assists. Although output isn't what midfielders should be judged on it's a positive to see him contributing.
Where does he fit?
Despite his slight frame the youngster is no pushover. Tenacious and determined, he's complimented Xhaka in the Gladbach two man midfield this season and could strike up a similar partnership with compatriot Emre Can.
Over the past few weeks fans have seen Jordan Henderson and Emre Can as a double pivot. It's been improving as a partnership but it's not the most fluid and Henderson, troubled with his heel injury, looked to be playing within himself in such a disciplined role. Playing as a box-to-box in a midfield two is much more restrictive than playing that role in a midfield three, a role which Henderson previously played and excelled in.
This is a position Dahoud could takeover if he were to sign and Jurgen Klopp did intend to stick with a two man midfield. If Liverpool did line up with Emre Can and Dahoud as a pivot then the latter would be the aggressor for the most part, pushing on and assisting the press much more frequently, but if Emre Can went on a marauding run Dahoud would comfortably cover him.
No player is perfect but Dahoud is ideal for a proactive highly energised team. The rumoured £20 million may seem like a steep fee but given Liverpool paid £16 million for Jordan Henderson a few years back it's not entirely out of the question. The Liverpool midfield currently has the physicality with the likes of Emre Can, Jordan Henderson and the incoming Marko Grujic but fans have witnessed firsthand this season the influence Joe Allen, a smaller and more technically efficient player, has had on the team.
Mahmoud Dahoud would bring not only creativity to the team but also some much needed balance.