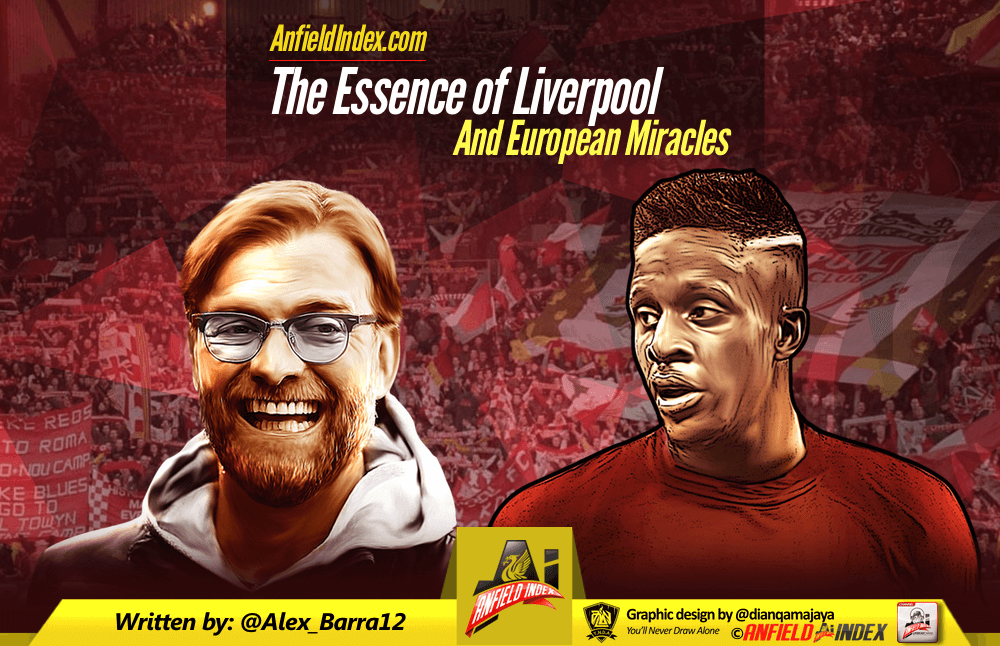 The Essence of Liverpool and European Miracles
Words can't quite describe that feeling, can they?
The anticipation that seems beyond its boiling point before the game, suddenly deflates like a balloon within twelve minutes of Dortmund's blitzkrieg. 2-0 down, journalists and pundits alike believe it to be game over.
Yet there's something there. Something lurks in the crowd, the buzz and feeling that Liverpool are European royalty for a very, very, good reason. Jurgen Klopp has turned most people from doubter to believer; the aura around Liverpool seems electric with possibility, and nobody would be all that surprised by Dortmund exercising their immense talent and rolling over Liverpool, even in front of an electric Anfield atmosphere.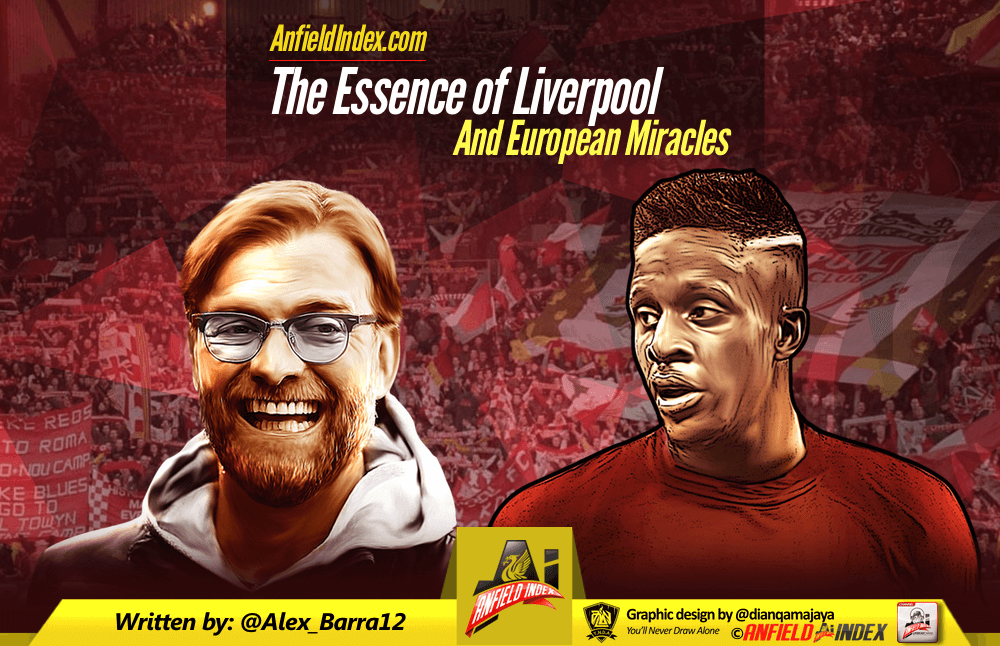 Divock Origi, the 20-year old showing signs of a superstar material, finishes sublimely, giving Liverpool hope. That's all they need.
Even when Marco Reus curled an effort around a hapless Simon Mignolet after a tremendous run, the buzz didn't die. In fact, it only grew. It grew to the point of detonation, and when Phil Coutinho hit a sizzling curling shot; proving he gets up for the big games, around Roman Weidenfeller, it combusted; the air was palpable with red desire; the sheer force of will to beckon another famous Anfield European night.
Phil Coutinho's call to the Kop, both arms rose to generate that thunderous support; it was a mirroring image to Steven Gerrard doing the same in Istanbul all those years ago. It was a call, to the infamous supporters who channel the sheer power of European nights to their own will, who rise on the biggest occasions, just like their manager.
As the Kop responded, so too did Jurgen's Redmen.
Mamadou Sakho's headed effort channelled the sheer force of the bellowing Anfield crowd, and suddenly Dortmund had to fight off not merely eleven players; but eleven players with the force of forty thousand people behind them. They were up against players driven by their world-class manager, in a miraculous, even surreal occasion.
Daniel Sturridge's awkward first touch, his lovely pass through to Milner, and the superbly hit cross brought the split second of heart-wrenching, dogged anticipation as every Liverpool supporter watching that screen – all harbouring the intensity, the dream of another miraculous Anfield night at the forefront of their minds – desperately sought someone to rise above the rest.
Their hopes were answered. The Kop went mental.
The whole of Anfield went mental.
Every pub in Liverpool erupted. Every Liverpool household with a functioning television or radio all over the world exploded in delirium.
Jurgen Klopp's men had created another fantastical tale to be passed down to the grandchildren of those lucky enough to see it.
Why?
Because Liverpool football club embody the essence of a sport, of dreams, of believing in the impossible and seeing miracles unfold right before someone's own eyes. Because the occasion, the game itself, the fixture hanging in the balance; all of it joined forces with Liverpool's European pedrigree to create the aura of extreme importance. Because Jurgen Klopp told every Liverpool supporter he'd turn them from doubter to believer.
And when Dortmund's third goal went in, very few people were believers.
Yet when Philippe Coutinho's arms beckoned to the Kop, and that effect carried through to a worldwide audience clad in red, there was a genuine sense that yes, Liverpool could do it. Yes, Liverpool had entered a deep European slumber since their losing effort in the Champions League final to Milan, following the miracle of Istanbul. It seems only perfect that the biggest opportunity to awake from that slumber came in a fashion so similar to that night in Istanbul. It was a miracle spurred on by Jurgen Klopp's Liverpool, it epitomised everything that fans had been so fervently hoping for upon the German's arrival.
In ninety minutes of pure heavy metal football, fans were sent on a rollercoaster ride that culminated in the greatest high of them all. The sheer beauty of football exists in the minds of Liverpool fans, and will for a while. It's a defining moment for Klopp's Liverpool; a squad that over a year-previous proved entirely ineffectual against Besiktas in the same competition. Now, not only can they be proud of defeating two of the biggest clubs in the completion; they can pride themselves on being favourites; or perhaps a close second to perennial Europa League winners Sevilla.
What Klopp, and Liverpool proved this week; is that while the Champions League holds the prestige: The Europa league was the main attraction when two of the world's biggest clubs went at it. And it was a deserved attraction too.
The bigger, underlying point, is that despite the shakiness of the season; despite the disappointments littered through this season, Jurgen Klopp is re-building Liverpool, he's bringing back the bouncing European nights in an electric Anfield. That's part of it; part of the recovery, in order to turn people from doubters to believers.
What the famous win against his former club represents is the shift from accepting mediocrity, accepting near-finishes, to drawing every last ounce of energy from the players and fans. Only once during Brendan Rodgers' tenure did the infamy of the Anfield atmosphere ever reach fever pitch; that was the 3-2 against Manchester City in the unbelievably exciting 2013/14 Premier League season.
Yet the occasion that was last night seems to have usurped that. Klopp was the focal piece of the first leg, but last night was all about one name.
Liverpool Football Club.
The players, the manager, the coaches, the fans. They united as one to cause a miracle, to create a story.
You can be assured that young players all over the world were watching that performance; that noise emanating from the crowd, and they'll have been paying attention to Jurgen Klopp, because how could you not? If Mario Gotze wasn't enticed by the prospect of reuniting with his former mentor before, he certainly would be now. And even if the Europa League campaign ultimately fails at the last hurdle; people look back on that Manchester City tie in 2013/14 with magical retrospect. They'll look back at this occasion with even more mysticism. The job isn't done, of course, and it won't count for nearly as much should Liverpool fall at the two final hurdles.
But should they win it, it will be the start of something magical.
Antoine Griezmann – admittedly a Liverpool supporter himself – even tweeted about how the match was a perfect example of the beautiful game. Young players from all over the world will look to a club with the stature of Liverpool, and a story like the one that transpired last night, and see a bright future, a project worth investing in. Add the potential of being Europa League winners and being in the Champions League? That's more than tantalising for any young player in world football.
If one thing emblemises the Klopp effect, it was last night. The combination of sheer willpower, desire, and feeling, combined to create a tale of mystical proportions. It epitomises Klopp, and everything he's done. It epitomises the brilliance of Liverpool football club, to be able to pull that out when all was seemingly lost. It epitomises a future; brighter than ever, of hope, of potential, of so much.
The future is more secure than it's ever been, and if last night was anything to go by, it's going to include the most heart-wrenching of lows, coupled with the highest of highs.
And those highs, that delirium, it's why football is that phenomenal. It's why even after a thousand words of serenading and embellishing, nothing can really describe the feeling of utter joy when Dejan Lovren's header sailed into the Kop End. It was simply football, in all of its absolute brilliance.