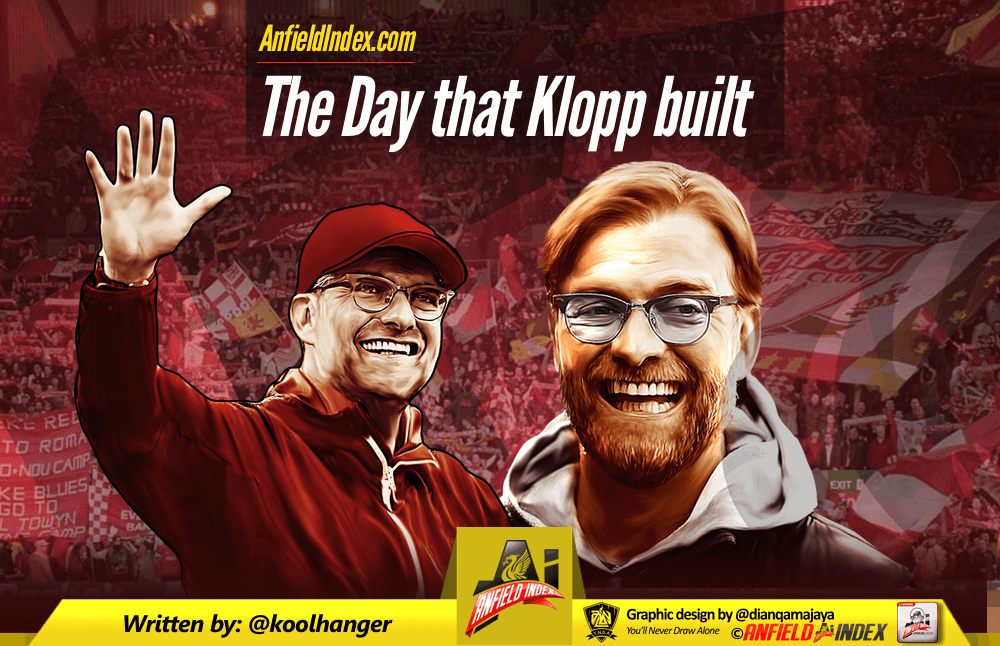 The Day that Klopp built

What the F*ck was that?!
Not the most eloquent of headings, I know, but it's how I feel.  I doubt I'm alone.
What happened at Anfield last night?  It was fairytale stuff, with the Hollywood finish.  It was the kind of scenario I would have joked about with friends before the game.  Needing to win 4-3, being two down at half-time, and bagging the winner in injury time.
Fantastically, ridiculously, brilliantly, amazing.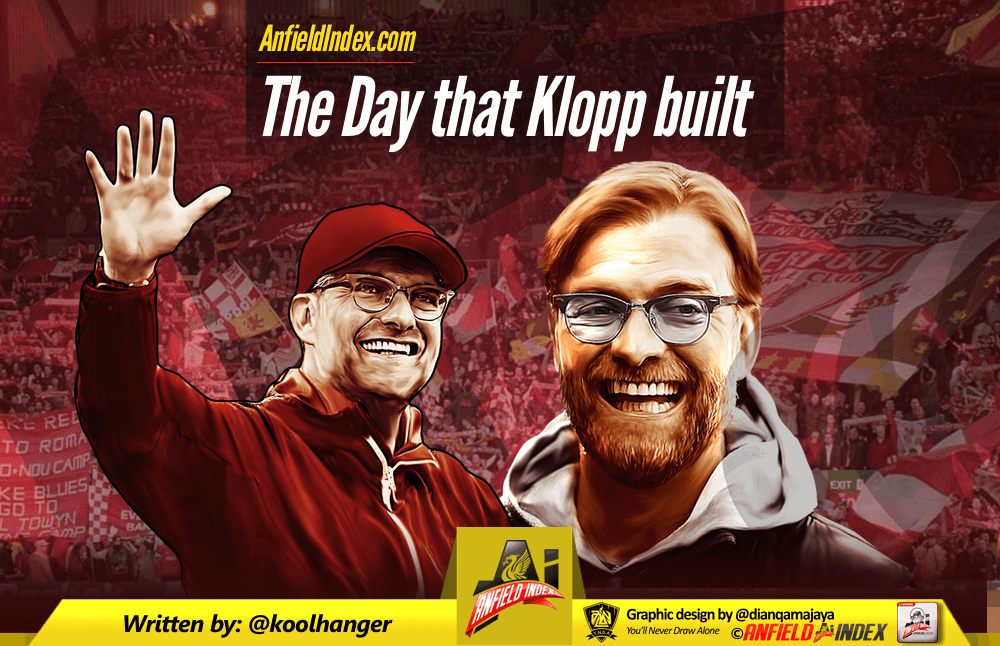 A Night to Remember
Yesterday (Thursday) – the morning begins with more than the normal match day excitement.  The common tone of "Let's do this" emanated from my twitter feed throughout the day.  
The nine to five went by as normal, trying to keep my focus, and make some kind of progress with my work project.  Worrying that my disinterest may be detected over the phone or via email, I keep all contact with Senior Management to a minimum.
Five o'clock arrives like an old wreck of a train, but I get on anyway.  I'm going where it's headed, and it's headed home.  
Straight out for a quick jog then, nothing too strenuous of course.  The most running is in my head, as the varying options for Klopp's starting line-up bounce around with every unconcentrated step.
Home and shower, some quality family time and then bring my daughter to bed.  It's 7:30pm now, the coverage is starting.  Patience is needed with the bedtime stories though.  Best be patient and get this bedtime routine right first time.  Everything has to go smoothly tonight so I can't f*ck it up before it starts.
I'm back downstairs in time for Klopp's pre-game interview, Christ, I'm nervous now.  
My wife has kindly given me full control of the "big" tv tonight.  To be fair, she normally does when the Reds are involved.
Time for YNWA….
Incredible.  An amazing choir of like-minded folk, on the eve of our most significant date.
Time for a sneaky bet before the madness begins.  Firmino, Origi or Coutinho?  Which one to score at anytime?  I pick the Bobby Dazzler of course, Firmino it is.  Sure to win with that…
Kick-off.  We look stretched.  I knew it.  Dortmund's style suits them best when away from home, same as us.  We're gonna struggle.
Mignolet with a cracking save from Aubameyang, but there's Mkhitaryan to follow up.  One down and five minutes gone.  Nine minutes in and it's two, Aubameyang finishes it himself this time.
Cue the slagging, cue the gloating texts from United fans.  Twitter probably went into meltdown, I don't know, I didn't check.
We've settled now though.  Surely we can get something out of this.  We need three now but that's if we keep them out for the remaining 60 minutes.  Right…
How are we not scoring?  Half-time is fast approaching and we're squandering chances, Origi at the near post, Lallana missing it completely, Coutinho pulling it wide.  Maybe it's just not our night.
Empty the dishwasher at half-time.  I had promised I would and I guess it will distract me for a few minutes.  I can live without a dissection and analysis of that first-half anyway.
Back in my seat for the restart. We look lively again.  Can does a brilliant and powerful run right down the middle, combining with those around him until finally its through in front of Origi.  Get in, just… get in!!
Let's keep it tight now though. We might score three but we'll never score four.  Got to stay awake at the back, have to cut –
Shit. Reus makes it 3-1. What a ball from Hummels. Their centre-half just split us open with a through ball. Reus bent it in at the far post. Now it's the ultra's in yellow who get to celebrate again.  Whatever slim hope Origi had raised in me has disappeared again.
Then we turn the screw once more. Sturridge and Allen come in. Firmino and Lallana go off (you owe me a fiver Bobby – no goals from you tonight).  We're playing well, really well.  But they're still lethal on the break.  How do we do this?  How do we even go about it?
We still look capable of something out there.  I gradually realise that 90 mins is quite a long time, and it might just be possible to bang in four goals.  
But I'm just dreaming.  Stevie's gone and those days are behind us. Let's not get greedy now.
Then it's Coutinho, our modern-day hero. What a player, the little magician. The dogsbody, Milner, lays it on a plate for him and Coutinho buries it.  He absolutely buries it. 
Weidenfeller pulled off some great saves last week but there's no stopping that.  2-3.
We press and we press and we press. A poor Coutinho corner then somehow bounces its way into the six-yard box, and there's Sakho. A cult hero who is surely gonna go mainstream soon enough, as soon as people realise we need him at the back.  We needed him up front last night.  3-3.
Anfield's been rocking all night, but now it's f*cking convulsing. A building with a rapid heartbeat.
We're in injury-time now. Dortmund are jittery. I always marvel at how football is such a complete game of confidence.  An hour ago they looked unplayable, let alone unbeatable.  Now it's the mighty Reds who can't be stopped.
Free-kick on the right.  Sturridge makes a smart run out wide to give an option for the pass. That's what Danny is all about, that smart movement. His footwork lets him down momentarily and it looks like he's lost it.  But no, he plays a brilliant ball through the gap to Milner.
Here he is.  The man who infuriates us all with his corners but his open-play crosses have been good. James Milner lays up the best hanging-ball-to-the-far-post-from-the-byline that you will ever see.  I mean this was majestic and grandiose.  The best cross you will see from that situation.  We've got men lining up for it.  It's Lovren, it's f*cking Lovren.  Get the f*ck in and f*ck anything else.  Get in, get in, get in!!!!  Get in and stay in.
Anfield enjoyed that.  It took one deep breath and exhaled.  It exhaled in a roar.  When words just can't express your delight, when literature can't keep up with emotion and will not do it justice.  That's when we roar and scream.  That's what we did.  
You probably did it at Anfield, I did it in my sitting-room.  My friends did it in the pub.  We all did it.  It was the perfect moment.  Only football can give you those moments.
It was one of the best matches I have ever seen in all my years as a fan.  It was incredible, right up there with Newcastle in the Premier League in the `90's.
I'm still exhausted.  Thanks for reading and letting me get it out of my system.
Let's go win it now.