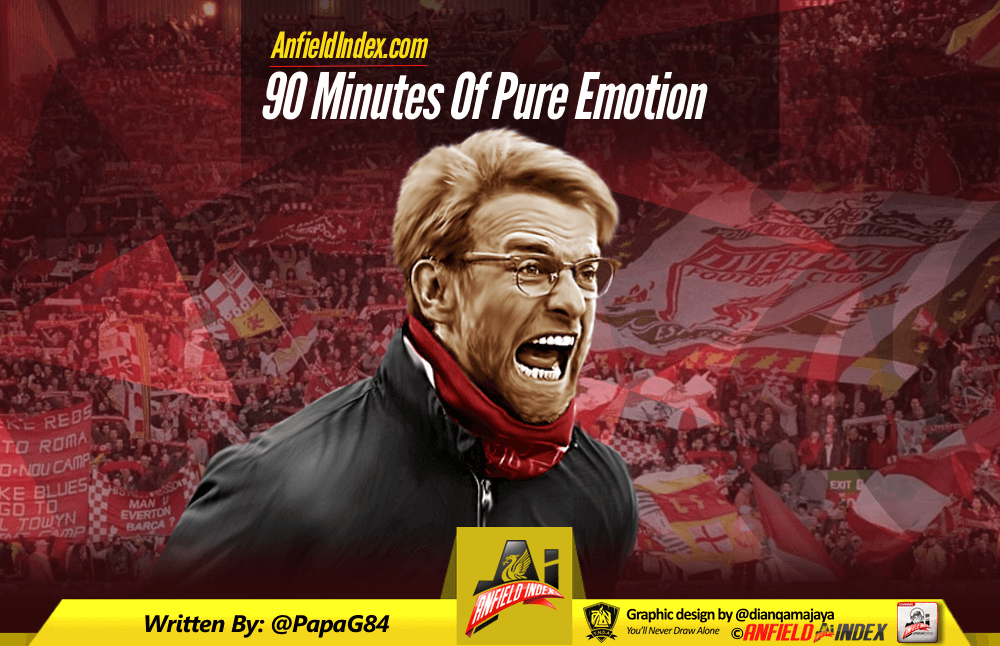 90 Minutes Of Pure Emotion
This is what I was expecting to write, after Thursday's exhilarating performance.
When Liverpool crashed out of the Europa League on Thursday, the backlash on social media was bitter and full of vitriol. Whilst losing hurts, especially in the last competition Liverpool had an opportunity of winning this season, sometimes you have to accept you were beaten by a better more established team, with better players. Whilst tough to take, you have to respect the opponent in front of you, learn from the result, pick yourself up and dust yourself of, then fight harder and smarter the next time.
With the greatest of pleasure, I get to write this instead.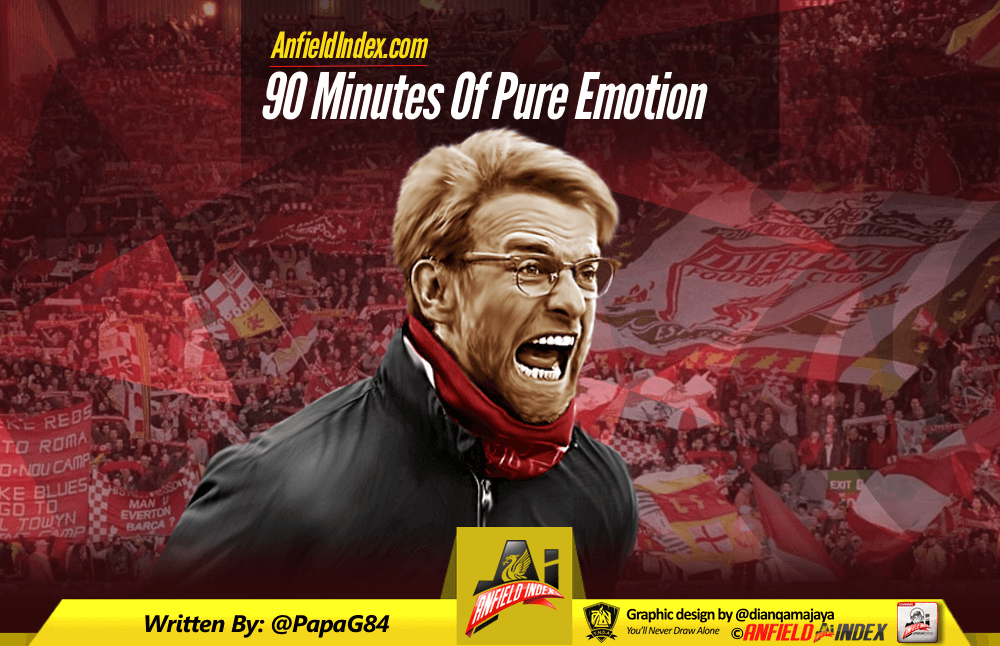 European nights like this are one of the reasons Liverpool are so well known and adored not just in Liverpool, England or even Europe, but all over the world. No club in world football, has had so many
momentous victories, in the face of adversity, snatching a result from the jaws of defeat. It defies all statistics, all logic, but once again it's happened. This club is a rollercoaster ride of emotions, but I wouldn't change a thing about it.
After a breathtaking and heartbreaking opening 10 minutes, in which Liverpool conceded two goals, of sublime quality. It felt that all was lost, hope turned to fear, excitement to horror. As a long standing supporter, I've experienced these emotions before, I've read the script, but even as an optimist, I couldn't see how we could beat that Dortmund side. They epitomise everything Liverpool stride to become. The front three, with that pace and movement, could grace any team in Europe, they've excellent.
Dortmund exude confidence and control, they press so quickly and intelligently, that it makes it at times impossible, for the opposition to gain any footing in a match. In the first 45 minutes, Liverpool were schooled, they went toe to toe and could have been completely embarrassed. But this is a team, that doesn't know when it's beat. In such a short space of time, Jürgen has changed the mentality. Last season and at times this, if we go one goal down, let alone two, heads drop. We'd never battle back to draw, let alone win games. But that's all changed, in fact everything's changed.
Anyone not caught up with the emotion of this game, is watching the wrong sport. I witnessed every range and whilst I was tense, uncomfortable and at times in utter disbelief, I still felt if we kept playing, chances would come. One player in particular gave me hope, Divock Origi. I've previously written of his rise to prominence, but even I've been amazed at quite how mmuch he's developed in recent weeks. It's not just his improved strength, control and movement, which have transformed our attack, but also his fearless, unwavering confidence.
For 45 minutes, the game look lost. For all the chances Liverpool created, it just seemed one of those nights. As half time arrived, the narrative was set, could this be another Istanbul? I felt if we could get 1, then just perhaps we could gain some momentum and score more. Then I was reminded who the opponents were, one of the calmest and most composed in Europe, so as much as I hoped, I never really believed.
Quite what Jürgen said at half time, will never be revealed, but his team talk clearly worked and Liverpool stormed out of the blocks when they re-entered the pitch. Emre Can, the player at the centre of Liverpool's recent improvements, played two of the most delicate 1-2's you'll ever see, cutting through the heart of the Dortmund midfield, before playing a sublime through ball for who else, but Origi to effortlessly finish. I celebrated of course, but cautiously, knowing that we still had a mountain to climb. But the comeback was most certainly on.
Even when Hummels majestically strode through the midfield, threading the perfect ball for Reus to effortlessly finish, the impetus somehow still very much felt with Liverpool. The sense of purpose and drive was only increased when the tenacious Joe Allen and resurgent Daniel Sturridge were introduced five minutes later and began to impose themselves on the match. For all the criticism of Liverpool's squad, having those two players available to come off the bench, shows how much more Jürgen has gotten out of his players in recent weeks & months.
They believed they could win, which is a distinct transformation from the side that played against Manchester City in the League Cup Final. The squad is far more competitive, with players playing at a much higher level now. The younger players have not just taken on the manager philosophies, the senior players have also. Whilst Jürgen can be all smiles and hugs at full time, don't forget he's a disciplined manager, who expects each and every player in the squad, to deliver to their capabilities. Incredibly on nights like this, some delivered above and beyond their level, they raised their games for the biggest of occasions.
It was ironic that the two goals that gave the home side the most unlikeliest of victories, came from two players, supporters are most divided over. For all his critics, which I was certainly one, Dejan Lovren has significantly improved under Klopp. Not to the level required yet, but to a point where he's earned my trust and respect. Whilst I don't believe he has a role as more than a squad player just yet, he's certainly improving in most aspects, although consistency for both him and Mamadou Sakho remains an issue.
Both had questionable games at the back, but then you have to consider the quality of opponent, who're electric in attack. However both showed incredible determination and composure in front of goal, to win Liverpool the game. That shows genuine character, which considering their previous goals return for the club, is frankly astonishing. The game was all but won, but not before Gundogan was offered a freekick in the most dangerous of positions. It wouldn't be Liverpool, without giving one more heart stopping moment of fear, but thankfully it went just wide.
Oppositions supporters may argue, this is just the Europa League, but any football supporter who doesn't expect this Dortmund side to compete into the latter stages of the Champions League next season is crazy. Given Liverpool's forgettable performances in the Champions League last season, the Europa has been a breath of fresh air. It's a competition that deserves respect and if Liverpool navigate past The Yellow Submarine's, I'm sure the final, no matter the opponents, will certainly be eventful. The silverware will undoubtably
I personally feel it's time to move on from the Brendan Rodgers era, draw a line under what's gone on and treat everything and everyone as Jürgen Klopp has, with a fresh and clean start. To me this is the game, that allows those who still retained that anger and frustration, to let it go. We're in a new chapter, with new and most certainly exciting challenges to come. Whilst, there is still a transition ahead, anyone who doubted what we can achieve under Klopp, must now believe anything is possible.
For this squad, much maligned and written off. To produce that come back, tells me everything I needed to know about Jürgen Klopp's man management skill. Not that I didn't know this before from his time at Mainz and BVB, but this is a new league a new club, with a higher expectation and in my opinion demand. The difference with Klopp and nearly all of the world's elite managers, is his fearless approach to these occasions. Nothing on the surface fazes him, he stands like a conductor on the side lines, controlling his orchestra of players, whilst raising his audience with each gesture, it's majestic to witness.
Football isn't about perfection, if it was, we'd have not won on Thursday. Whilst everyone is keen for find flaws, which undoubtably will be addressed on the training ground and with the arrival of new personnel in the summer. I'm just delighted we showed the fight and passion to bounce back, from 3 goals down, TWICE! Liverpool's more recent European history script, is to be the underdog, a tag they seem to thrive on. You could pick a world 11 to play for Liverpool and they'd still make that game an Everest to climb.
Whilst this approach is not for the faint hearted supporter, there is no feeling quite like it, when you hear that crowd roar, you see the players with fire in their bellies and determination in their eyes. Thursday was an incredible night, something that will stay with me always. I honestly believe it's the turning point for our fortunes, whether that means winning the Europa League or not. Everyone will now believe, no matter the odds and circumstances, that this side can win. The players and supporters, may have finally realised quite how lucky they're to have Jürgen at the helm. Whilst he's no God, he's worked his first miracle at the club, and it left with me nothing but joy.