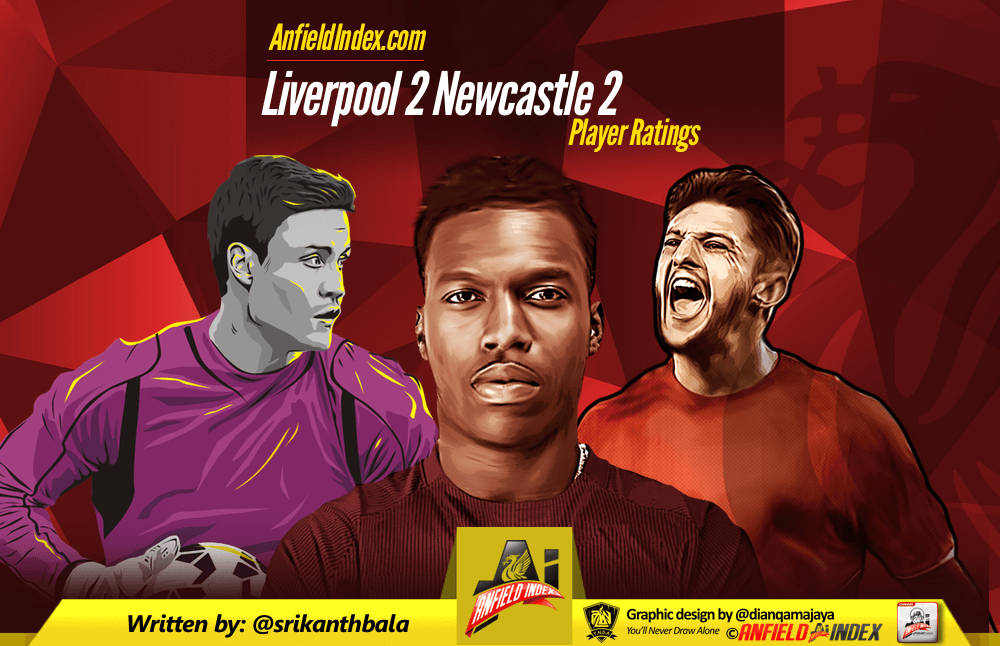 Liverpool 2 Newcastle United 2: Player Ratings
Liverpool threw away another 2 points. Liverpool had another goal keeping error. The winning momentum has been halted now as Liverpool get into their biggest game of the season.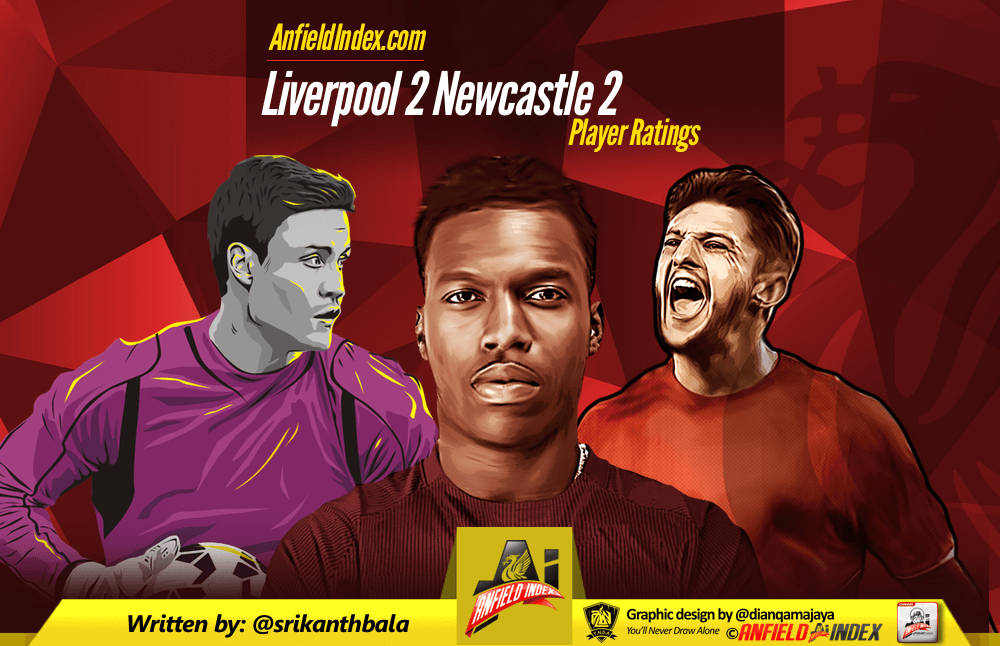 This is how the Reds fared.

Simon Mignolet (5) – Had a first half very much similar to the second half against Everton with literally nothing to do. The second half. The second half was a different story though. His absolute hash of positioning in coming out to get the ball meant an easy goal for Newcastle. Newcastle again had a big chance where Mignolet came out and made a challenge but Liverpool survived. He was beaten by a huge deflection off of Lovren for the second goal and his distribution was below average as usual.

Connor Randall (6) – Randall was rewarded with another start for Liverpool in the Premier League. He made a real clumsy challenge in the box which could have been a penalty on some other day. He got forward whenever he could, got clumsier in the second half as Newcastle put Wijnaldum on his flank and he struggled to cope up with his power. The youngster was replaced around the 70 minute mark.

Kolo Toure (6.5) – Kolo Toure handled much what was thrown at him with good competence. Kolo Toure was not troubled much in the first half but the second half was a different story altogether. Kolo was alert to any counter attacking threat and adopted a safety first approach and put the ball into touch often.

Dejan Lovren (6) – Dejan Lovren put in a performance best described as a 'performance of two halves'. Lovren was dominant aerially in the first half, inspite of getting hit in his throat. He was beaten aerially by Cisse for the first goal, but has a case that he was hampered by Mignolet. The second goal was deflected off of his leg after he was beaten by Wijanldum in the air in the box initially leaving Mignolet with no chance.

Alberto Moreno (7) – A solid attacking performance with a not so efficient defensive performance. Was alert enough to take a quick free kick for the first goal and had another assist for the Lallana goal. That both the Newcastle goals came off his flank did him no favours though, especially the second goal as he was nowhere to be seen when Newcastle attacked.

Kevin Stewart (6.5) – A real solid performance from the youngster at the base of the midfield as Liverpool lined up in a diamond. He was efficient in passing the ball and stepped up and screened the defence winning couple of interceptions. A good performance again.

Joe Allen (7) – An excellent performance from Allen, especially in the first half as he occupied the lines between midfield and attack pretty well. He was swift to latch onto any loose balls and had a good chance to score, but hit it straight at the keeper. Was taken off in the second half for Lucas.

James Milner (6) – A good performance from Milner, unfortunately with no assists this time around. It is clear what Milner should do though; ball into the box from open play off his left foot as it almost works these days. His set-piece delivery was poor like previous games though. His versatility enabled Liverpool to get in Coutinho as he slotted into right-back late on.

Adam Lallana (8) – Man of the match today as he was the usual trigger for pressing off the ball. His feints and drags were out in full force on a sunny afternoon. His goal was top notch as he literally stroked the ball into the top corner. His effort dipped ever so slightly in the second half as Newcastle went into attack mode. Very encouraging performance.

Roberto Firmino (6) – A below average performance from the Brazilian in terms of final output, but was impressive in controlling the ball today. Had the 'hockey assist' for Liverpool's second goal. Had a goal rightly ruled out for offside. Was substituted for Ojo late on.

Daniel Sturridge (8) – A goal in 68 seconds meant Liverpool got off to the perfect start and put the crowd at ease. Exhibited excellent control off the chest and his preference to shoot early put Liverpool ahead. Occupied wider areas whenever needed and even contributed defensively. Could have easily had a penalty in the second half. Interesting to see if he starts against Villareal though considering he played full 90 minutes today.

Substitutes
Lucas Leiva (6.5) – Came on to replace Joe Allen and made a huge vital interception to prevent a sure shot counter attack from Newcastle. Did his defensive duty efficiently.
Coutinho (6) – Came on late in the second half and tried to take the attack with his usual close control off the ball. Couple of his attempts were blocked.
Sheyi Ojo (6.5) – Very bright when he came on. He was very direct and used his pace to get into the box. Could do with more minutes.