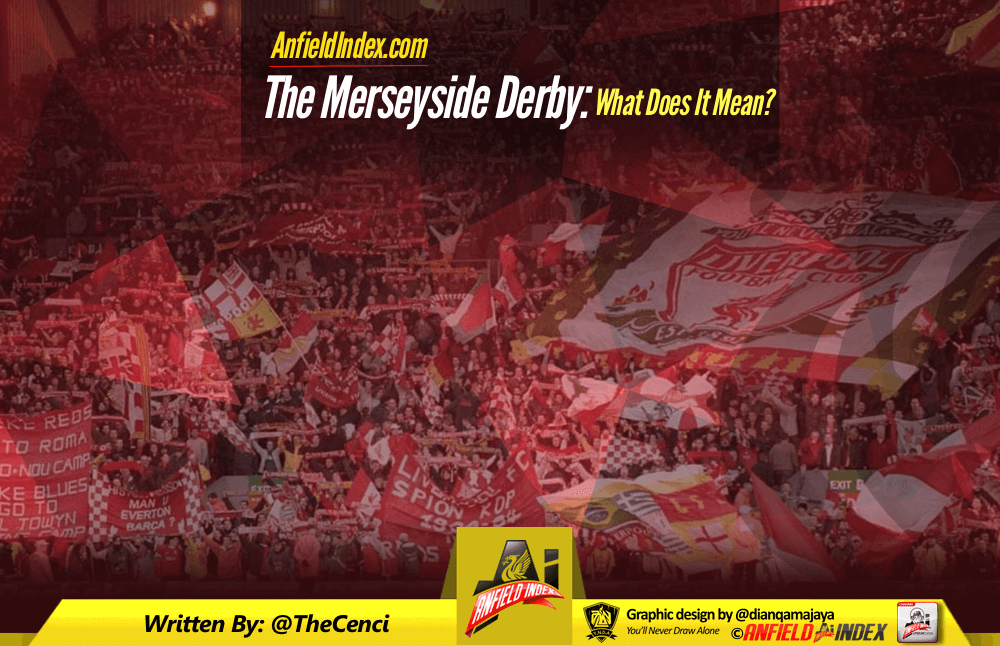 The Merseyside Derby: What Does It Mean?

Like most football rivalries, the Merseyside derby is steeped in history.
I don't mean that contretemps in 1892 when chairman John Houlding thumbed his nose at the Everton board and told them that he'd had enough of high rents and was off to set up his own club called, yes, 'Everton FC and Athletic Grounds Ltd', nor do I mean tales of Alan Ball and Brian Labone, Billy Liddell and Gordon Hodgson. No. I mean the history in your head.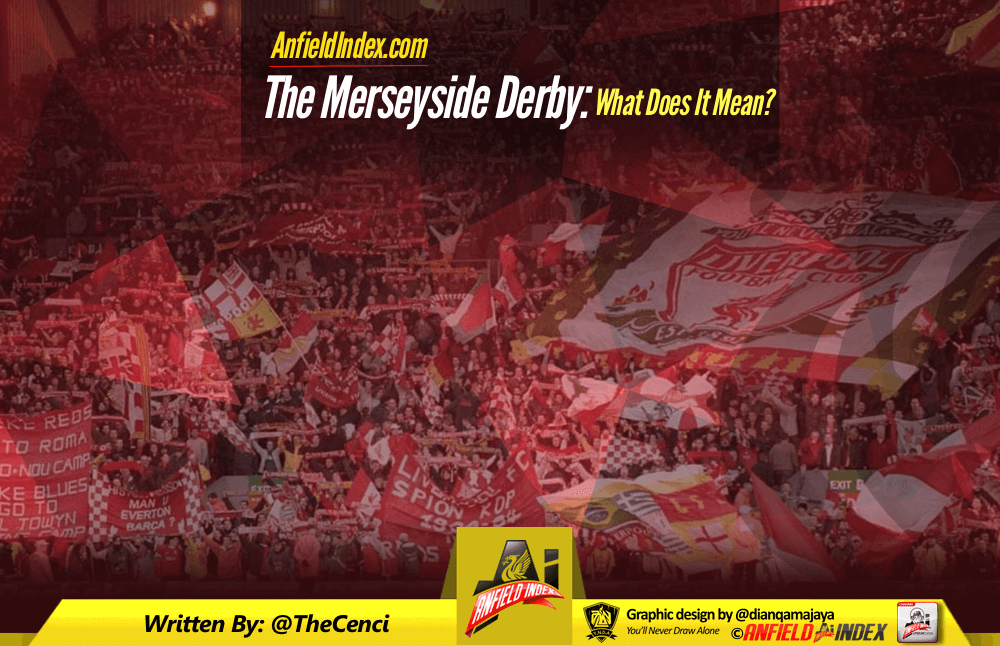 We all have our first derbies be them in the ground or watching them at home. Being from Liverpool and with a Blue Dad I've never known a time when the Derby was the most talked about game in the city, but the first one that really meant something was the first FA Cup semi-final at Maine Road in March 1977. We were going for the Treble and they'd just lost the League Cup final to Villa. This was a game that mattered.
I was eight years old and my Dad – a tolerant man with a calm intelligence – had suddenly got angry about 'them lot'. I was a Red but with a deep love for Everton's Duncan McKenzie who was Johan Cruyff with a silly accent so didn't mind them too much, but the old man was suddenly spitting feathers.
It took a while for me to make out why he'd chosen this time to vent spleen on the League Champions and UEFA Cup holders. It was because this was their chance to finally hurt us following years of consecutive Red victories.
Everton were on their way to having a side then. McKenzie gave them their sparkle but they had a Scouse captain in Mick Lyons and a goal scoring midfielder in Martin Dobson. All right, it wasn't McDermott-Case-Souness-Kennedy but they could hurt teams. That League  Cup final reminded the Blues of better days – they hadn't won the league for seven years or the cup for nine – and they could smell blood. Red, red blood.
Being a semi-final, the tie was played on neutral ground. This time it was Maine Road – one of my favourite stadia back then with its huge stands, clad in corrugated iron. The pitch was a mess. Puddles all over the place and not much greenery.
You can probably picture the opener from Terry McDermott. Ten minutes in he sent a left foot chip over keeper David Lawson .  It later won that year's Match of the Day Goal of the Season and the sight of Terry Mac sprinting past his teammates to  no one in particular became an iconic image. McKenzie equalised, Jimmy Case looped a header into the roof of the net to put us 2-1 up but Bruce Rioch levelled with a tap in. 2-2 and we lived to fight another day. We stuffed them in the replay and on the same ground a week later.
I'm tempted to leave that there. I'd love to as any of our neighbours from across the park who happened to be passing would wrinkle their noses at the lack of the words 'Clive' and 'Thomas'. I'll add the word 'Porthcawl' too as, for some reason, newspapers liked to add the name of the referee's place of birth in brackets.
Clive Thomas (Porthcawl) was the referee that day and there was one thing that everyone knew about Clive Thomas. It was this. Clive Thomas was a big fan of Clive Thomas. He liked to be a character on the pitch. The 23rd man in a game set for just 22. He'd break up goal celebrations if he thought they were too fancy and rule out goals for little reason. Everton absolutely hated him and, this day aside, we were never that keen.
In the remaining seconds with the score at 2-2 substitute Bryan Hamilton stuck the ball away and wheeled off in delight. Enter Clive Thomas (Porthcawl). He disallowed it for seemingly no reason. The Liverpool players certainly didn't shout for  anything as the ball rippled in the net. If anything they looked crestfallen as they accepted their fate, but Clive saw something. Was it for offside? A handball? He's never said, choosing only to tell the press that 'there was interference'. He had form for this too. Two years earlier, in the FA Cup semi-final he ruled out a perfectly legitimate Ipswich goal against eventual winners West Ham. The (non) goal scorer that day. Bryan Hamilton.
I don't suppose he holidayed in Porthcawl much after that.
Of course, that was decades ago and many things have changed about the derby. For instance, Wednesday's game will not feature old men with pitchforks trying to drain away puddles in the goal mouth while the players are ready to kick off as they did that day. Nor will you see puddles for that matter. Shame. I rather miss a mud bath of a pitch.
But the rivalry is still there. They hate us, we laugh at them. Only the other day a mate of mine tweeted 'Tonight is the biggest on-off party in Everton's history' after we comfortably cruised past Dortmund.
(Bear with me on this. I'm trying not to think about Dortmund. I still wake up shaking)
But is it the biggest game of the season? Most people would say that the United games is the main fixture nowadays and I've often wondered if the derby was more of an occasion for those in and from the city or regularly travel to it. For those people they have to go to school or work and listen to the sneering or joyful shouts across the room. If the clubs for eight divisions apart we'd still contest it like it was an even contest
It still means the world to me and the Goodison derby will always be my favourite away game – far more than United away. It's my favourite ground too. The church in the corner, the rotten wooden stand and the harsh concrete concourse which looks like a prison corridor. It's beautifully horrible and I hope they never change it.
It will never get tired, it will never decrease in importance and it will never stop me getting palpations on match day, no matter what the media will tell you about United games being the last word in the English game.
There's more of an old school edge to those games – particularly the Goodison game as we're right on top of their fans. The goal celebrations are longer and louder, the songs are fiercer and the atmosphere a lot more toxic than Anfield games where the distance between the Kop and the away end is too far. Of course, this is one of the few games where rival fans sit next to each other but it was better when we were altogether on the standing Kop when one side of the stand would shout at the other.
Is it too toxic now? Arguably. The songs are nasty and vindictive but it would hurt more if they beat us regularly. The way to further anger a furious man is to laugh at him. That makes us arrogant and patronising, I suppose. Good.
So what does the derby mean? It means that the points are a secondary concern. It means that you either run to work the next day or call in that headcold you've been working on. It means that you can't think of anything other than the game in Derby week –and it is a week, not a day. It's something to look forward to and I, personally, am expectant, jubilant and petrified at the prospect of it all. Great, isn't it?
By the way, it was definitely a goal and they should have gone through to Wembley instead of us, though I chose not to say so at the time. Cheers.