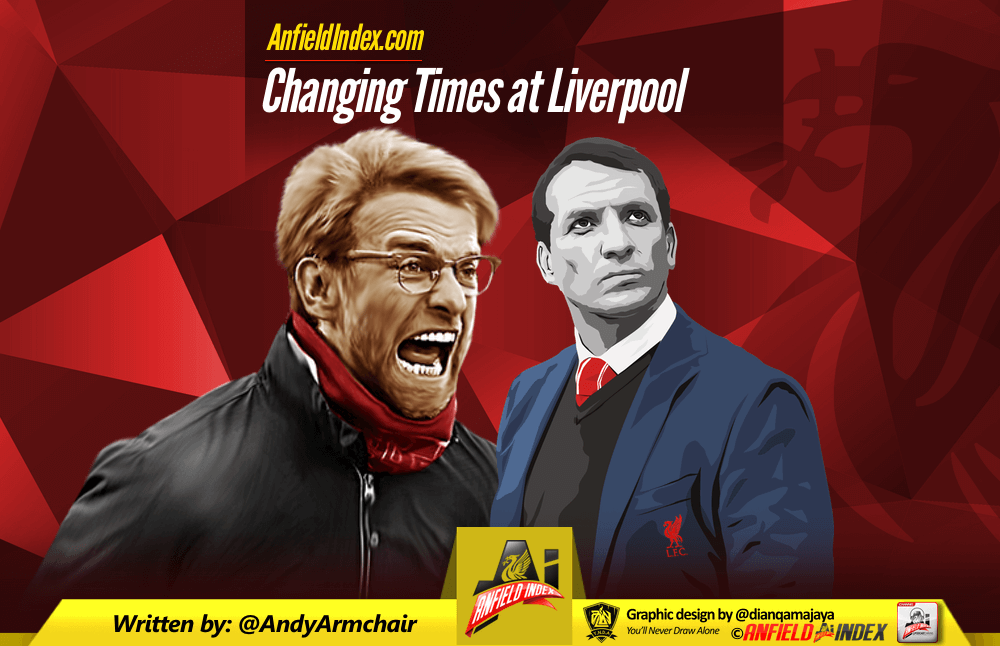 Changing times at Liverpool
On the eve of a Merseyside derby, the manager is under increasing pressure from the supporters over results and performances on the pitch. Back in October, that statement concerned the then Liverpool manager Brendan Rodgers, now the same can be said for Everton manager Roberto Martinez. How times have changed.
It's almost four years since we were treated to photos of Martinez strolling along the streets of Miami with John W Henry, coffees in hand. How different things may have been for both clubs if FSG had opted to appoint Martinez instead of Rodgers. As it was, FSG decided Rodgers was their man, though Martinez and Dave Whelan will try to convince you he picked Wigan over Liverpool. Of course you did mate, I believe you, honest I do, cross my heart. Martinez eventually got his job on Merseyside, though he swapped the boulevard of Miami for Coronation Street. Maybe it was a pep talk from Gail and Audrey that convinced him this time.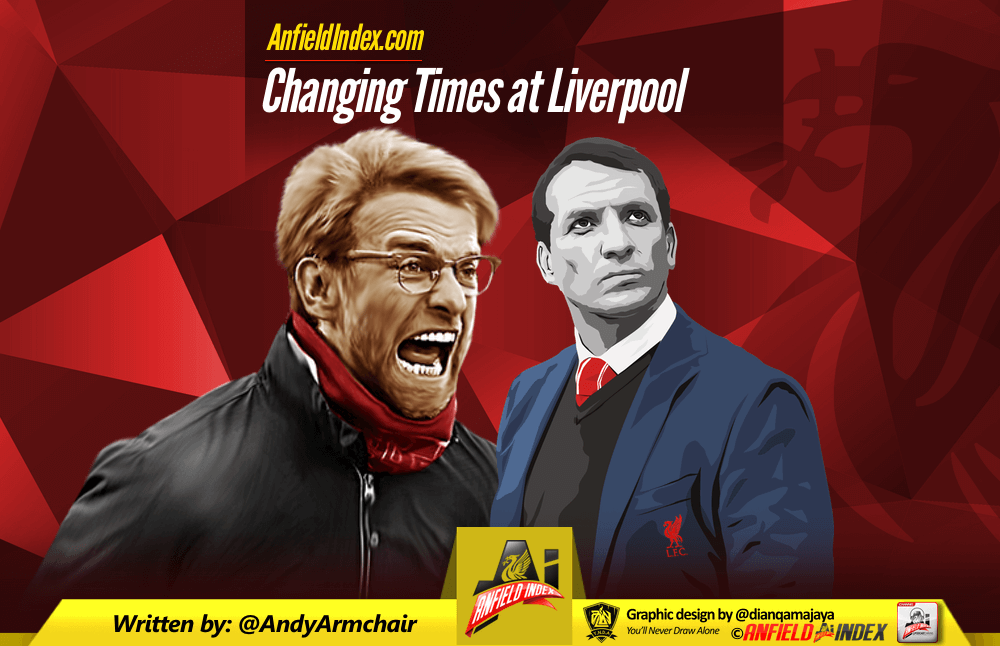 Martinez initially did well at Everton, transitioning them from the means-to-an-end functional outfit under David Moyes, to a more progressive, possession based footballing side. He's introduced young players into the team and although they now have a more talented squad, the results are not matching expectation and he's coming under scrutiny. Heading into October's derby match, Everton were fifth in the table, winning three, drawing three and losing just one of their opening seven matches. They were understandably confident ahead of the clash at Goodison because, in contrast, Liverpool were a ticking time bomb. The Reds had started the season in unconvincing fashion, stuttering to a few wins, with confidence fragile and the 6-1 pummelling at Stoke on the final day of last season still all too fresh in the memory.
There were times towards the end of last season when I felt quite sorry for Rodgers, he looked a broken man, unsure how to fix all that was broken. The glory, fun, passion and excitement of 2013/14 was like a distant memory, a magical moment in time that Brendan could not recapture and the time had come for a parting of the ways. It was not just the result at Stoke, but many of the performances that led up to it that made his departure that summer a seemingly inevitable one. However, unlike his backroom staff, he survived and that probably only intensified a lot of the ill feeling toward him from a lot of the fan base. It made for a very fractious atmosphere and a team liable to collapse and crumble under pressure.
The derby game in October that finished all square, proved to be Brendan Rodgers last game in charge of Liverpool, it was the catalyst of change. Everton's form fell away and they've struggled to string a run of wins together ever since, whilst Liverpool wasted little time after Rodgers departure in appointing Jürgen Klopp. The German had built his reputation at Borussia Dortmund, winning back-to-back Bundesliga titles and reaching the 2013 Champions League final. His passion, enthusiasm, magnetic charisma, beaming smile and laugh had the media eating out of his hand, not to mention the swash-buckling style he had his team playing. But he also displayed his intelligence, steel and ruthlessness at the Westfalenstadion, don't let the smile and hugs fool you, he is a winner who knows exactly what he's doing.
His presence, his authority, his personality and reputation created an immediate lift. As the media were to soon find out, he is straight-talking, no sugar coated platitudes, spin and bullshit. It may ruffle a few feathers, but it resonates with fans because we can see he gets us and he gets the club. He famously told everyone he wanted to turn us from doubters to believers, but that is a harder task than was perhaps expected by many because there were deficiencies ingrained in this squad. That transmitted itself to the fans. When we went behind in a match, we didn't expect to come back and win, a quality prevalent under Rafa Benitez and the glory teams of years ago. There was the fragility, unless we took the lead in a game, we were in trouble; that was the doubt, and it fed a lack of belief.
Whilst there have been changes in shape and style of play under Klopp, the fighting spirit, the never say die attitude – the belief; that's been the biggest change, and it's only in its infancy. The game against Dortmund at Anfield was a prime example of the change. Yes, we struggled to deal with Dortmund's attacking trio in the first half and we were on the ropes going into the break, but we came back. The fightback, the dramatic injury time winner, it epitomised the change going on at Anfield and the change going on at Melwood.
So, comparing the last Merseyside derby to this one, in the words of Bob Dylan, these times they are a-changing.