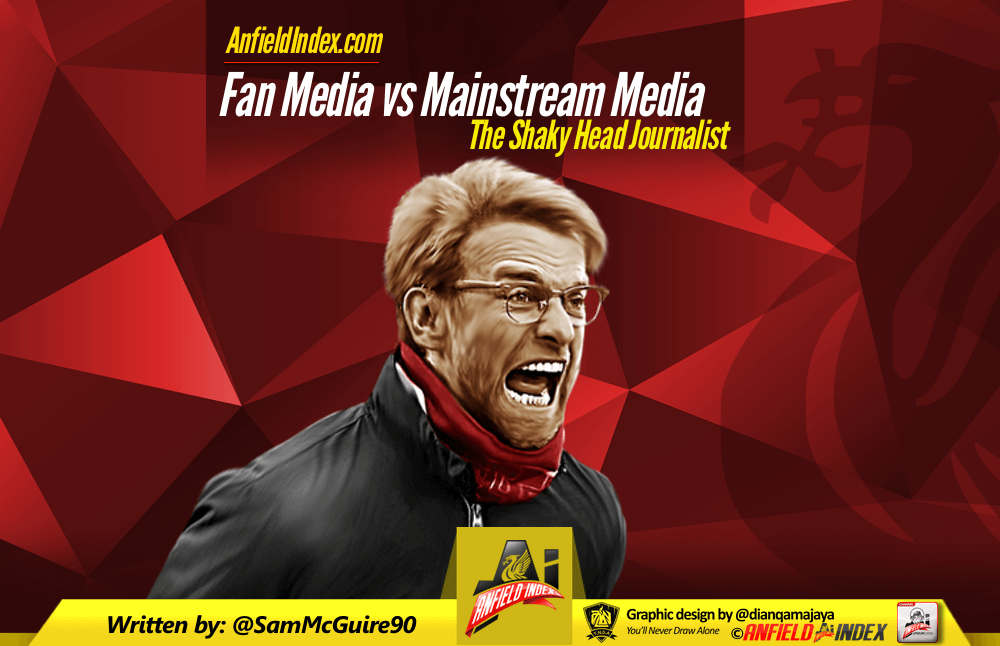 Fan Media vs Mainstream Media - The Shaky Head Journalist
It's not often you get chance to compare football  with wrestling without it being a stretch but now feels appropriate. The mid 90's saw the emergence of World Championship Wrestling (WCW), a wrestling company intent on taking on the already established World Wrestling Federation (WWF now known as WWE). Ted Turner, founder of CNN, had an idea. He didn't want to share the market with WWF, he wanted to own the market. Eric Bischoff went about making it a reality.
Monday night wars was born.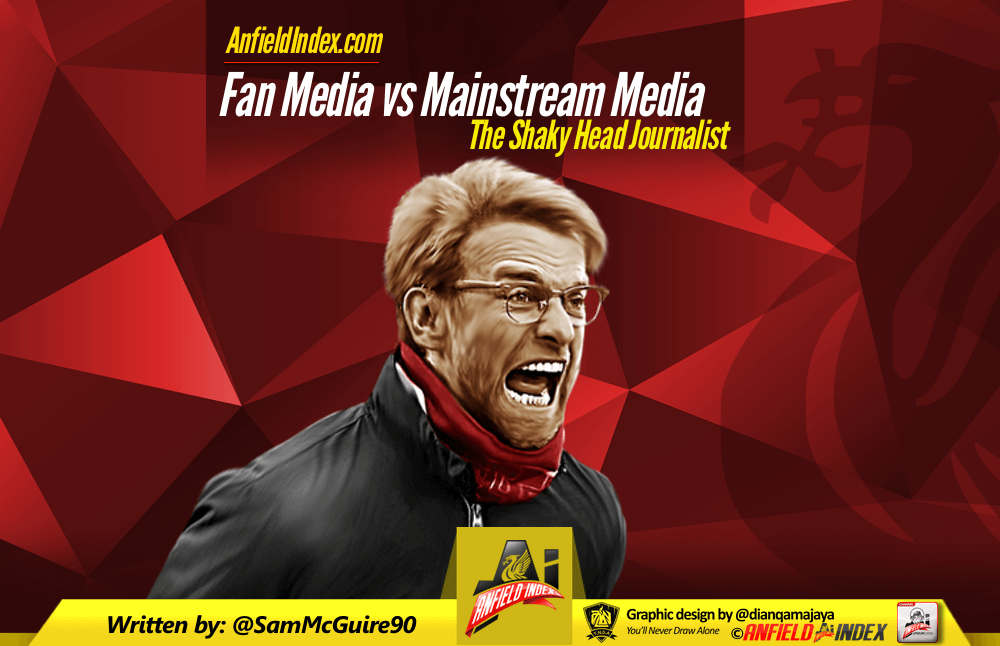 If you're an 80/90's kid you'll probably remember it fondly. You had two companies vying for your attention. Both permanently trying to out-do one another. It was about pushing the boundaries without breaking the law. They wanted an edgier product that fans could relate to. WCW rolled out the NWO angle with Hulk Hogan, Kevin Nash and Scott Hall. WWF had D-Generation X and Stone Cold Steve Austin.
It was about bridging the worlds of sports entertainment and reality. They didn't just want to entertain people with generic acts from the 1980's anymore. It was reality TV before the phrase was even coined. A prime example of this was when DX did a live skit of then American president Bill Clinton's  'I did not have sexual relations' speech. They were saying what everyone was thinking. It was risqué but they were catering to a specific audience. It worked so well because it wasn't what people had come to expect.
How does this relate to football I hear you ask? Well It does, kind of. Football journalism.
Mainstream media was going about it's business before Fan Media started chipping away at it.
The internet changed the game. Mainstream media was originally the be all and end all. Now Fan media isn't just rivalling them, in some instances it's leading the way.
I know some people won't like to hear this. The ones that go out of their way to say any piece that appears online that isn't affiliated with a known newspaper is just a 'blog' (yes they even use the apostrophes). AnfieldIndex have exclusive pressing stats that The Sunday Times have used. AnfieldHQ have had interviews with players and excerpts from these have been used on Sky Sports News. The Anfield Wrap regularly have writers of theirs appearing in The Mirror. LFCFansCorner had an exclusive with Sheyi Ojo and Tiago Ilori. Then there This is Anfield which is basically a hub for everything Liverpool related.
Fan sites go out of their way to be different. They're always looking to evolve and adapt. The writers on these sites are always looking to standout. Most don't have a degree. They just have a passion for the club and a desire to express themselves. With so much competition it's imperative to do so otherwise you just get lost in the noise and your hard work goes unnoticed. Football media is no longer just about news. It's about opinions, it's about debates and it's about tactics.
Fan sites give normal everyday people a chance. A chance to air their opinions. A chance to showcase their tactical knowledge (@edAfootball, @FManalysis and @Cleon81 all write tactical pieces that educate the reader). A chance to tell a story like only football writers can (just look at @thesefootytimes, you could easily spend a week on their website reading the many, many football stories). They're catering for the modern day football fan.
Football media should be at its finest right now with everyone striving to be the best but instead it's had the opposite impact. It's made sites lazy. Competition should bring the best out of you but many have gone into safe mode. They need a steady flow of traffic and don't want to do anything to rock the boat. There are talented writers out there that established sites could use to bring back some originality but instead they go off the follower count and have these well followed fans just spout the same clickbait articles. Same shit different author.
There's of course always the fail safe option. Asking Harry Redknapp to do a column where he talks about how Jamaican International Wes Morgan deserves an England call-up. Or you can go down the route of putting made-up stats into an article and having somebody write a piece based on that. Nothing like reading an article that implies Liverpool pay Christian Benteke £150,000 per week with zero evidence to back it up.
You can add different people into the mix but if it ultimately ends up with the same narrative it's a waste. Instead of following the WWF model they're mirroring WCW when the company stuck with the NWO storyline and just kept adding more and more people into the group.
Fan media vs Mainstream media was evident this weekend when Darren Lewis of The Mirror highlighted just how mainstream media is getting left behind with his actions.
The journalist had the audacity to shake his head when Jurgen Klopp answered his question. He wasn't shaking his head in disagreement, it was more to do with the fact Klopp wasn't playing the game. His game. The Liverpool manager wasn't giving Lewis the answer he wanted for his piece. The Reds had just defeated Bournemouth 2-1 with a 'weakened' team. A weakened side that still contained Roberto Firmino and Daniel Sturridge. Not many teams could field an inferior side with those two players in it.
Of course journalists are allowed to disagree with managers. Fans are forever doing it. Managers are human and all humans make mistakes. The issue isn't the journalist disrespectfully shaking his head at the manager in a press conference, but why he was doing so. Lewis wanted to make the victory all about Sturridge to get quotes for a Sturridge driven article. The striker was in inspired form against Bournemouth. An attacking force – clinical, creative and hungry for more. Not bad for an 'unhappy' player as reports suggested a while back.
He finished the game with an assist of sorts, a outrageous backheel that was saved and palmed into the path of Roberto Firmino, then he scored what turned out to be the match winning goal with a classy header.
But this wasn't Daniel Sturridge vs Bournemouth.
The journalist reacted like a petulant child when Klopp didn't give him what he wanted.
It was a great team performance as Klopp rightly points out. Sheyi Ojo was once again impressive. Jordon Ibe on the other flank reminded fans why they were so excited about his emergence last season. Joe Allen carried on dominating the midfield and Kevin Stewart was again tidy in midfield. It's hard to judge Danny Ward on that debut but the quickness of his distribution and his reflexes were hard to overlook.
Bournemouth have accumulated 24 points since the turn of the year, they even managed to take a point off Leicester with 10 men. This Bournemouth side isn't relegation fodder and yet a Liverpool team with six youngsters started managed to get a victory away from home.
You're literally tripping over positives from a Liverpool perspective and yet  Lewis was intent on centering it around Sturridge.
After the conference Lewis wrote an article stating Klopp could drop Sturridge for the Derby because that's a headline that sells papers and garners clicks. Clickbait in mainstream media eh?
A sensationalised headline after Klopp answered a question about the striker not being 'un-droppable' despite such good form. I know some journalists aren't responsible for their headlines but the content itself is built around Sturridge. Three of Lewis' last six articles are built around recycling the Sturridge narrative.
Lewis, all by himself, manages to sum up the state of British journalism.
A clickbait driven agenda with no intentions of educating his readers.
It's a team game.
I don't know if Lewis understands this and he's choosing to ignore it for agenda purposes or if he's stuck living in the 90's but teams no longer have a one size fits all team. He's pushing the opinion that Sturridge should be first choice for Liverpool and this automatically means he should start every single game even if it's to the detriment of the team, which in some instances it would be.
You just have to look at the performance Divock Origi put in against Dortmund in the first leg to realise his inclusion was tactical based. He was put in to harass Julian Weigl and disrupt Dortmund's build up, something Sturridge wouldn't have done as effectively. Why not write about that? Educate readers on the benefits of having a strong squad with a variety of strengths.
It's slightly archaic to use an everyday knife to cut up a steak when there's a perfectly good steak knife in the kitchen drawer. If you use the steak knife would that be an indication that the normal knife is no longer first choice? Is it not good to have options?
He could've also written about how despite fielding weakened sides against both Stoke and Bournemouth Klopp's managed to get the mix right and pick up six points. You know, positives? Instead he chose to out himself and Klopp called him up on it.
WWF embraced the talent they had at their disposal and utilised it. They eventually broke the WCW stranglehold on ratings for Monday night wars before ultimately buying out the competition. Media wars won't have the same outcome but if it carries on the gulf between established sites and fan sites will get smaller by the year.