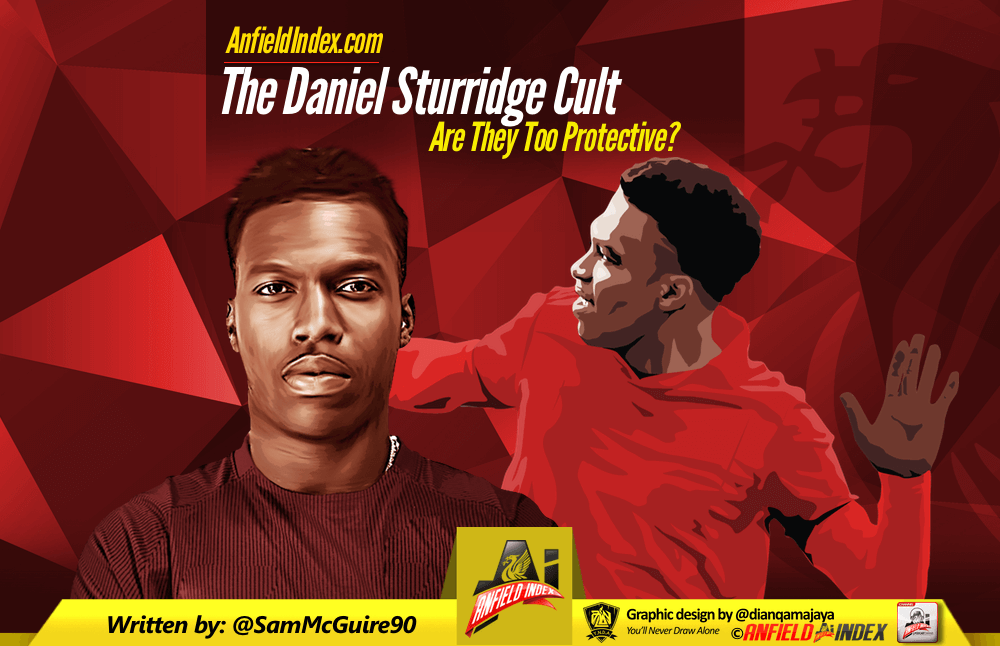 The Daniel Sturridge Cult - Are They Too Protective?
Don't be alarmed but Daniel Sturridge has a cult following. These people are next level groupies. They wear Daniel Sturridge shaped rose tinted glasses and sleep in homemade Daniel Sturridge dancing man silhouette pyjamas. It's not reached Jonestown levels yet but it can't be far off.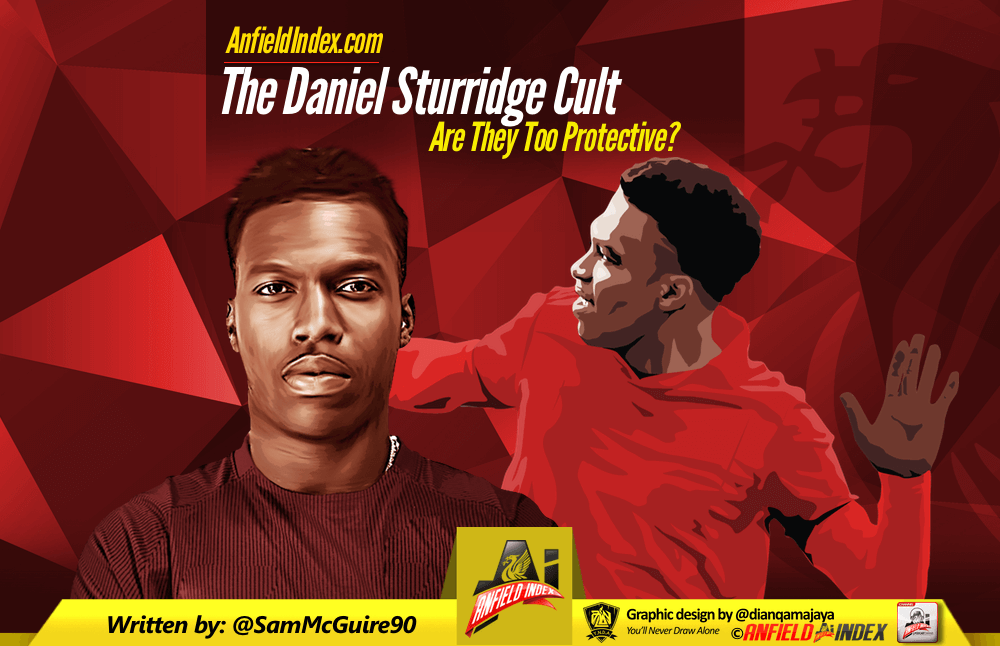 A few weeks ago I naively posted on Twitter that I'd not start Daniel Sturridge in the first leg against Dortmund. I just thought, after weighing up all of their strengths and what they'd offer, that it'd be best for the team if Divock Origi started. It was an innocent tweet. I wasn't trying to troll people or bait them. The general response was as follows –
"Why wouldn't you start our best striker in a big game?"
"If your best player is fit you start him. It's a no brainer."
"Bet you want to sell him don't you?"
Talk about jumping the gun?
People get a little too defensive now when it comes to all things Sturridge. He's had a lot of unwarranted criticism thrown at him this season so people now view anything that isn't praise being heaped on his shoulders as a personal assault.
I've voiced my thoughts on Sturridge. He's possibly probably definitely the best player in the squad. He's noticeably a class above most on the pitch in most of the matches he appears in. His goal scoring record is exceptional and, despite what many will have you believe, he genuinely seems to love the club.
It'd take an absurd amount of money to convince me that it would be a good idea to sell him.
However just because I'm very much a #TeamSturridge guy doesn't mean I'm blinded by my affection towards him. As an Individual I have nothing but praise for him as a player but as part of a team, sometimes he's not what's needed. There seems to be a misconception that only target men can fit a style. The Benteke's and the Carroll's aside people seem to think the Sturridge's of the world can 'do a job' in most systems and you want them in the line-up for their 'moments of magic'. Careful not to mention the other 89 minutes and 55 seconds of non magic in the games not suited to the individual.
As cliché as it sounds football is a team game. It's simple really; a better team can beat a side littered with better individuals. Yet people let their own bias get in the way of this sentiment at times. Reds boss Jurgen Klopp really hit the point home after the win against Bournemouth. The journalist, Darren Lewis, wanted to make the victory about Sturridge but Klopp was adamant on highlighting it was about the eleven players on the pitch and one player can't win the game singlehandedly. A player may score a solo wonder goal in a 1-0 victory but without the defence they don't keep a clean sheet.
Klopp's right, of course.
People get caught up with teams fielding their  *best XI's*. This may be FIFA and Football Manager games playing a role in their mindset. The highest rated XI is your best team. It gives you the best chance of winning. That team should then play whenever it's possible. On paper that works, but football isn't played on paper.
Under Brendan Rodgers we witnessed how detrimental it was playing players just because they're the best available even if they don't fit the style. Those moaning about that are now advocating Sturridge playing every single game.
Football is like chess and you wouldn't find chess masters sticking to a game plan that is counterproductive to what's necessary for the opponent they're facing.
One tactic really doesn't fit all. Klopp knows this and tweaks things to get the best out of the team.
Against Dortmund in the Westfalenstadion it was always going to be a tricky game. Under Klopp Dortmund used to be the ultimate counter attacking side but under new boss Thomas Tuchel they'd added a passing, patient build up style to their repertoire. In the absence of Ilkay Gundogan it was Julian Weigl that would get the ball off the centre-backs and build play. To disrupt Dortmund you had to disrupt Weigl and knock him off his game.
Liverpool couldn't really push one of their two centre-midfielders onto Weigl as they had to keep the shape and protect the defence. Using the striker to almost man mark Weigl was the route Klopp chose to go down. Origi was exceptional in the game. It was a performance you couldn't really envisage associating with Sturridge. Not because he couldn't, if asked he probably would, but because it'd have a negative impact on both the player and the team.
Similarly could you see Liverpool putting in the performances against Manchester City at the Etihad and Chelsea at Stamford Bridge if Sturridge had started? It would've been a completely different scenario. Sturridge isn't lazy but he's not as energetic off the ball as the likes of Adam Lallana, Philippe Coutinho and Roberto Firmino. It's an observation not an insult.
Sturridge has had a lot of unfair, unnecessary and unjustifiable criticism this season. Defending him against that is welcomed but don't become one of those parents that thinks their child does no wrong. The needs of the many outweigh the needs of the few.