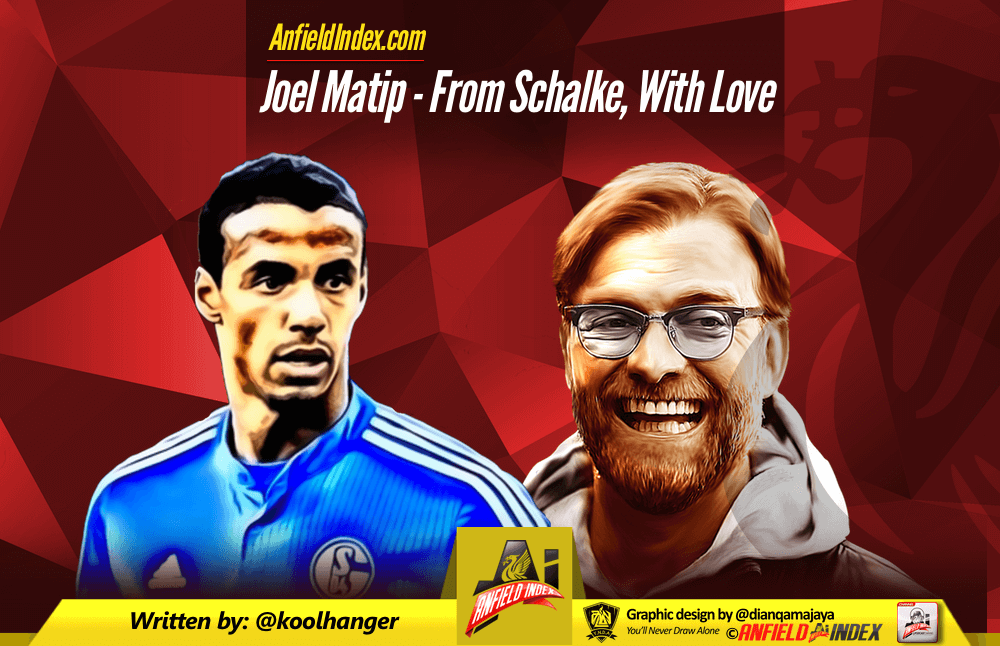 Joel Matip - From Schalke, With Love
So, Who Have We Got?
Joel Matip's profile makes positive reading for Liverpool fans.  His demeanour reminds me of Lucas Leiva, a smile never too far from the surface.  But we should not let that fool us.  Matip is by no means a soft touch on the pitch.  He puts his body on the line when necessary, displaying bravery and commitment in droves.
Matip's long, slender, 6'4" frame seems to glide across the field at times.  The 24 year old is confident enough to bring the ball out from the back at his feet, transforming defence into attack in a matter of seconds.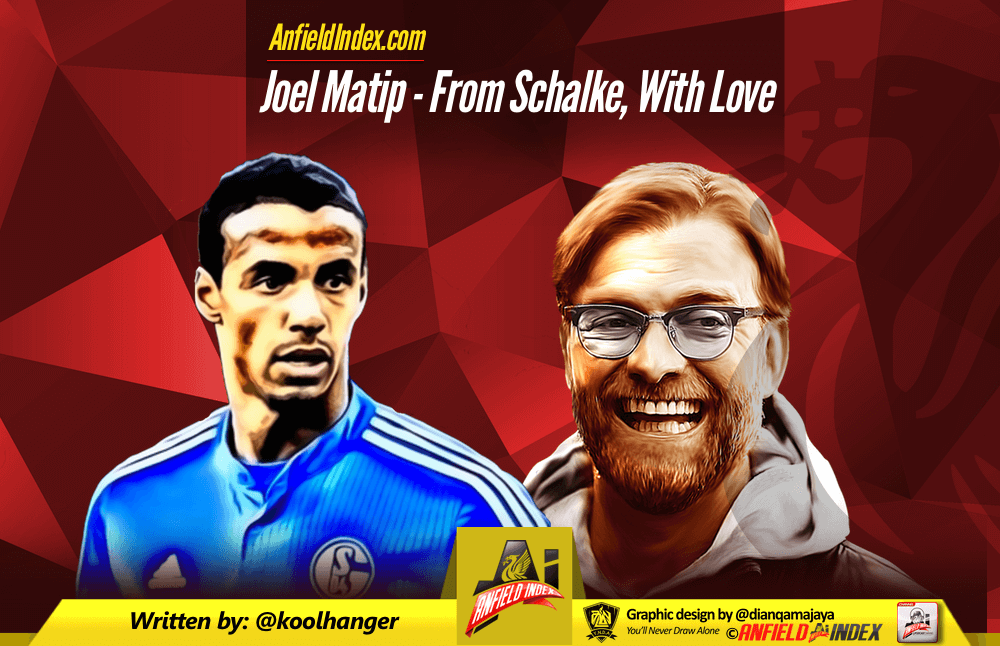 A Little Bit of History
Born in Bochum, Germany, to a German mother and Cameroonian father, Joel Matip was a product of the VFL Bochum academy before then moving to Schalke in 2000.  
In the youth team he had a six-month spell where he was played up front.  By all reports this spell was a success for Matip and he only returned to central defence after being laid off with a long-term injury.  
The youngster made his professional debut in the Regionalliga – Germany's fourth tier – for Schalke's 'B' team in October 2009, aged just 18.
As if that wasn't impressive enough, Matip then made his breakthrough in the Bundesliga with the Schalke first team the following month.  He scored Schalke's equaliser in that game, against Louis van Gaal's Bayern Munich.  Matip was also awarded the man of the match award that day.
Joel made 20 appearances that season for the first team, and was mainly used in the midfield anchor role. He has also played at full-back on occasion but his natural position is in the centre of defence. Matip was helped in no small way by pairing up with Howedes at the back for Schalke in 2011/12. Matip's game has come on a lot in those last few years and he is now a hugely respected figure in the German league.
On the International Stage
Matip made his Cameroon debut at age 18, under then coach Paul Le Guen.  Matthias Sammer had tried to turn Joel's head and make him declare for Germany but his heart was set on representing the country of his father.
He has gained great experience with his national team, both at the African Cup of Nations and also at the two World Cup's he has graced, the first when he was still 18, in 2010.
Player Overview
Matip's best attributes are his aerial advantage, his long legged strides which provide a certain pace that should cope with most strikers, and his strength in the tackle.  As mentioned earlier he is also capable of bringing the ball out from the back.  He is a very mobile centre-half and may be well suited to playing a high-line at the back, something Klopp asks of his teams generally.
Matip's concentration is probably the main concern for us.  He can, on occasion, be caught napping at the back and will need a good vocal leader beside him to help keep him focused throughout.
The Man Himself
The talk from the Schalke camp leads us to believe that Joel Matip is held in very high regard there, both as a man and as a footballer.  While stressing the fact that they have done everything they could to keep him, there is a huge amount of respect shown to Matip by those in charge at the Veltins Arena.  
Schalke's Sporting Director, Horst Heldt, said that "His decision is nothing against Schalke. He wants to try something new.  We have held extensive discussions with both the player and his agent since May.  It became clear very quickly that certain decisive factors meant we would not be able to influence his decision."
Matip himself seconded this viewpoint, speaking about his decision to join Liverpool this summer –
"I have always said that there is only one reason I would leave Schalke – to experience something completely new.  For that reason, I never considered a move to another Bundesliga club.  Even though the decision wasn't easy, I am certain that this is the right moment for me to take the next step in my career."
I'm sure it is Joel.  Here's hoping you hit the ground running next season.