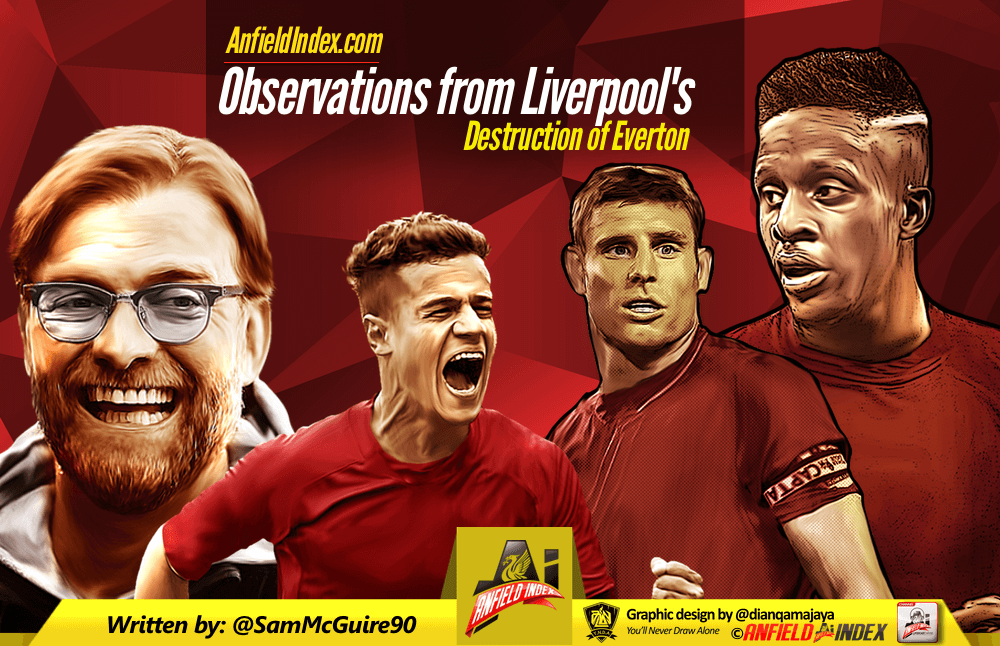 Observations from Liverpool's Destruction of Everton
Ridiculous, isn't it? This feel-good factor that Jurgen Klopp has managed to drum up around Liverpool seemed a million miles away at the beginning of the season. Another win. Another four goals. Another feather in the managers cap as he watched over his Reds side beat Chelsea, Manchester United, Manchester City, Borussia Dortmund and now Everton in his debut season here.  In those ten games, Liverpool have scored an emphatic twenty-three goals and conceded only nine. Klopp is bringing the fear factor back.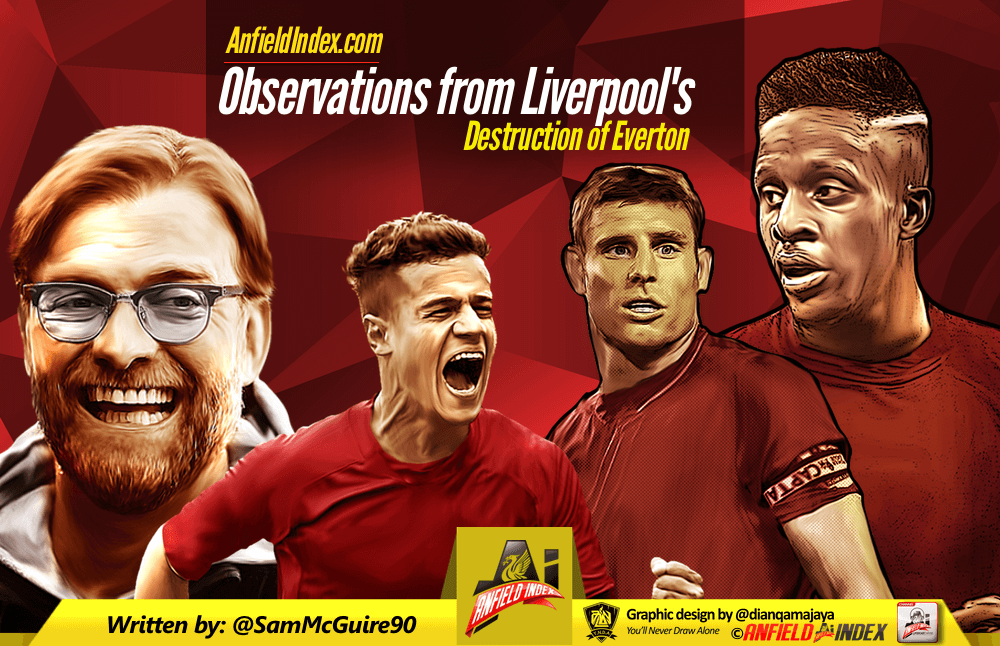 Plenty of observations. The only negative from the game was Divock Origi going off injured but if reports are to be believed, it's only a sprain. Now, onto the positives.

David Moyes is amazing and it's no wonder Everton fans want him back. Prior to kick-off he was in the Sky Sports studio talking about the Derby. He said his Everton side used to play like Jurgen Klopp's Liverpool. That's right, David Moyes' ultra defensive Everton side and Jurgen Klopp's extremely potent Liverpool side are one and the same. It's this type of delusion that Everton fans need back in their lives right now. A deflated bluenose is no fun.
James Milner's enigmatic performances continue. I don't think it's possible to understand how it has come to this, but Liverpool's number seven has fourteen assists for the season after another two in the victory today. He is not a centre-midfielder but he is effective in the final third and some of his link-up play is underrated. His left foot is better than his right. His set piece crossing is shocking but his open play crossing is deadly. He's a walking contradiction, but he's ours.
The Lovren and Sakho bromance. They celebrate one another's goals together. They snapchat together. They cover one another. There's an unconventional partnership there and it's nice to see. They may have their moments but as a unit they have been fairly solid lately. It's a bit like a modern day Romeo and Juliet. People don't want them to work as a partnership, their bias will prevent them from acknowledging it's a good idea but for whatever reason it's working. They deserved this clean sheet.
Daniel Sturridge is an elite striker. This isn't an observation in isolation but today really hit that point home. His goal today took his Liverpool total to fifty goals in eighty-seven games. He has scored four and got one assist in his last five Premier League games. He's a player on top of his game and fans don't even realise it. Liverpool no longer rely on him and it's this freedom that's allowing him to go about his business. His business being boss at football. We as fans need to cherish him. He has reached double figures for the season and looks sharper than he's looked in years.
The team is scoring. I remember a few months back when goals were a myth. There was more chance of finding water in the Sahara desert than there was Liverpool scoring three goals. Liverpool didn't look a threat and it was a real worry. The match against Everton was the third consecutive home game that Liverpool had scored four goals in. Four different goal scorers yet again as the goals are flying in from everywhere. There was talk that Liverpool need to buy 'goals' this summer, but maybe Klopp has found a way of unlocking goals from what he has at his disposal instead. Since the turn of the year, Liverpool have scored fifty goals in all competitions.