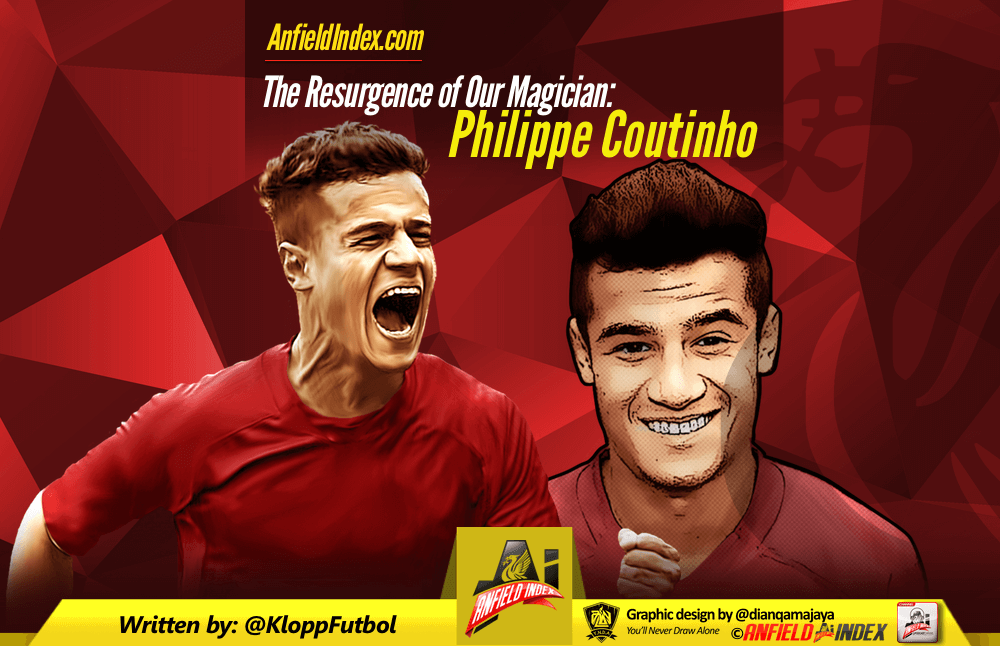 The Resurgence of Our Magician: Philippe Coutinho
Since Jurgen Klopp took over there seemed to be a raging debate about whether Philippe Coutinho would make the cut under our German manager. Did he have the energy and the enthusiasm to keep up with the dynamic style of play that our boss wanted to employ? We had all seen evidence of fantastic pressing from Coutinho in the past but could he do it week in, week out and still make an impact on games?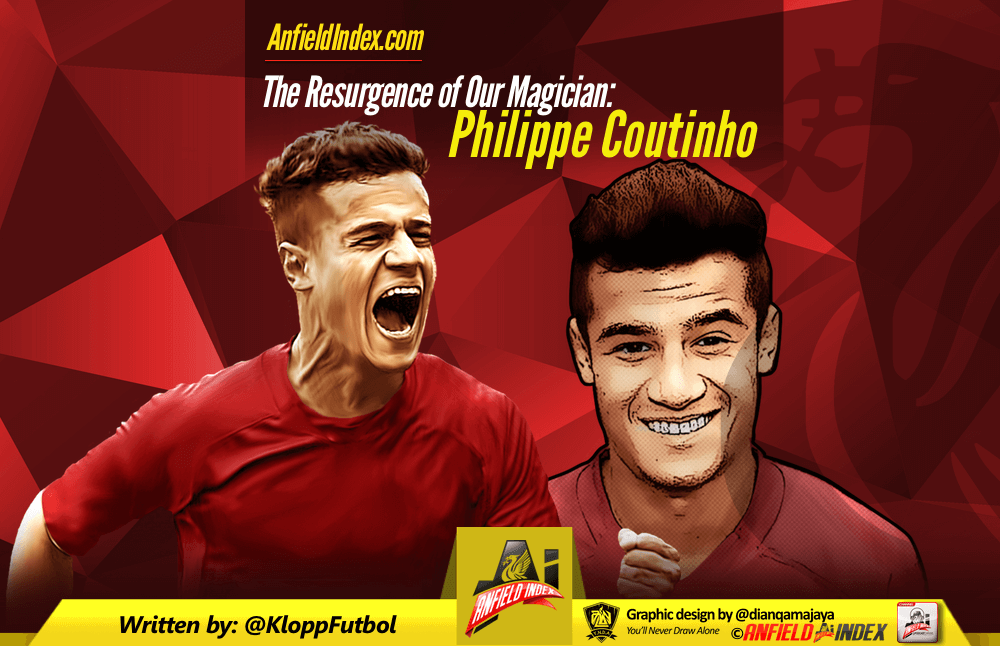 We have all known since he first arrived that Coutinho had the potential to be one of the best in the world. He's always had a silky touch, an eye for a pass and a wicked shot but his problem has been maintaining a good period of form. He would often produce performances in bursts. Four or five games where he would demolish teams and then slip back down again for the next 15 to 20 games. The same thing happened to him after Klopp arrived at Anfield. Over three games, against Chelsea, City and Palace Coutinho was out of this world. He hit 4 goals and an assist in those 3 games which effectively won us two and should have won us the third. Following that he had a spell between December and the beginning of January where he failed to register a single goal or an assist. It was no coincidence that our form stumbled at that time as well. The 3-0 defeat to Watford, 2-2 draw against West Brom and the horrific performance against West Ham all fell within this dead period.

Since returning from injury against West Ham on 9th February our little magician has been on fire. In 13 games Coutinho has managed to grab himself 7 goals and 3 assists, including goals against Tottenham, both Manchester clubs, Dortmund and most recently a goal against Everton. There seems to be more of a maturity about Coutinho's game now. Before the injury, his play seemed to be rather predictable. He would receive the ball on the left-hand side, cut inside onto his right foot and send the ball into the stands. Each game this pattern would repeat and the fans would grow more frustrated with him. Now his eyes seem to have widened and he seems to see the whole picture. Whilst shaping to shoot he looks out wide and spreads the ball out to the wide man. He seems to be giving the team much more of a chance to succeed whilst in possession. His work rate has also remained just as productive too. Coutinho averages 1.4 tackles a game as well as 0.7 interceptions. Compare this to Lallana (1.9 and 0.6) and compatriot Roberto Firmino (2.1 and 0.4) you can see that the team effort is very high right now.
As mentioned before Coutinho has scored goals in some absolutely massive games for the club this season. The goal against Dortmund sent Liverpool back into the ascendancy, the goal in the cup final gave us fresh hope and the goal against United was perfectly timed. The club have been seeking a talisman ever since Suarez left and there is genuine belief that Coutinho can provide that kind of influence. But there is something many people forget about the success of Suarez in his final season. It wasn't just his own individual brilliance, it was the whole team. Suarez was surrounded by Sturridge, Sterling, and Coutinho in the Liverpool attack, which allowed him unbelievable space to score his goals. Now Liverpool can build that same kind of fire power again. In Firmino and Sturridge, the Reds have a quality supporting cast to allow Coutinho to flourish in this side. There is also a firm belief that Liverpool will chase a fourth man to make another deadly attacking quartet. If Liverpool could add another player of the quality of the aforementioned trio then the sky really is the limit. This team are the top scorers in the Premier League for 2016 right now and after a summer of spending, you would only expect more goals to flow. Let Coutinho be at the centre of that and only good things will follow.