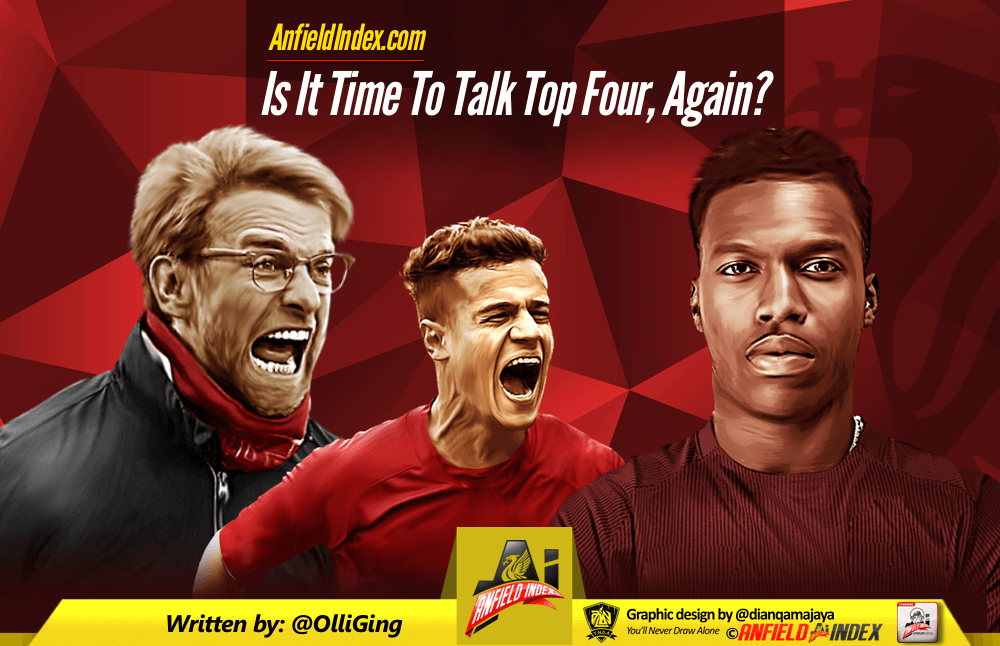 Is It Time To Talk Top Four, Again?

Boom. Boss, tha. Sehr Gut. Etc. That was alright, wasn't it?
A 4-0 win over the Ev, after a 4-3 win against Dortmund. It's all glossed over a lovely Sunday afternoon kick around against Stoke, as we stuck yet another four goals past the Potters – a team Liverpool have struggled against ever since Tony Pulis and his rugby players made their way into the Premier League.
We're on a real roll at the moment, which kind of suits our manager – he likes rock and roll football don't you know? Side-note: Klopp should be given some sort of trophy at the end of season awards for best laugh, highlighting the chuckle that went around the home bench after Lucas' tame shot towards the end.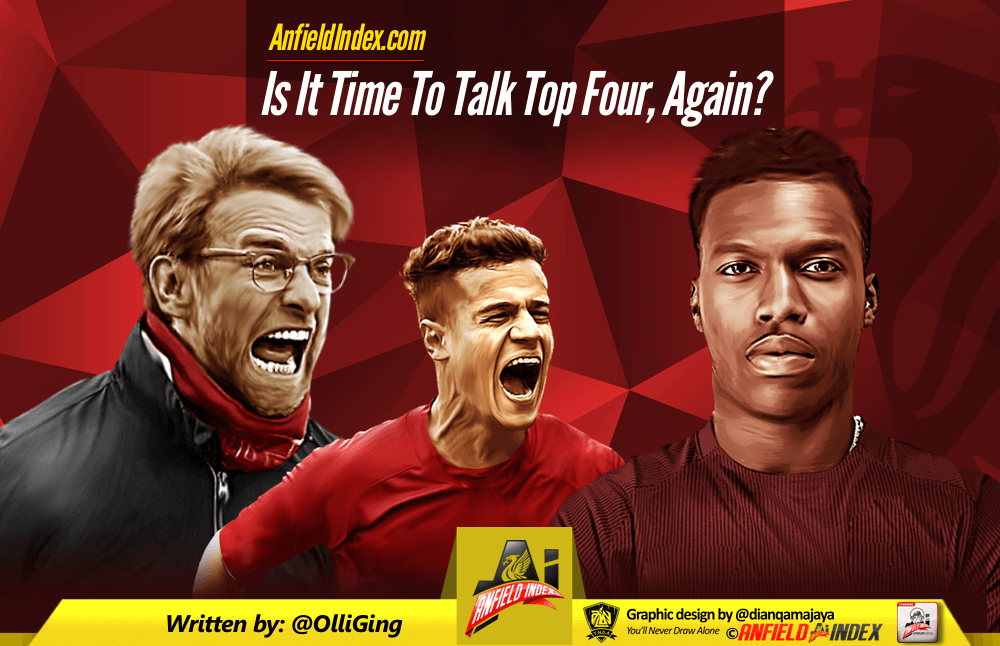 But this piece isn't about the glorious win over Everton, as lovely as that would be. It's about our form at the moment. Yes, it's time to talk about the Champions League.
Just like many others, I thought that the ship had sailed when Martin Skrtel lost 3-2 away to Southampton. Oh, pardon me, when Liverpool lost 3-2 away to Southampton. But it might just be back on.
Let's look at the facts. We're seventh in the league, but go above West Ham if we win our game in hand. That's us up to sixth. Obviously, we could still finish below the Hammers, but I still want to focus on who we need to catch.
Up in fifth, you find Manchester United. According to the media, Van Gaal's side are pushing hard for the top four with just a few games left in the season. If, and it's a big if, we win our game in hand on Saturday, we're just two points off United. For the record, I wish United well for their semi-final against Everton this weekend, in the hope that Funes Mori is seen alone in the stands kissing the Everton badge as John Stones gives the ball away for United's fourth. Anyway, back to the Reds.
So, we're close to United if we win at the weekend (Newcastle at home, for those who didn't know). The two teams that sit in third and fourth? Manchester City and Arsenal. The current state of play with the Gunners is that we're six points behind them, each having five games to play. At the time of writing, Arsenal are scheduled to host the aforementioned Pulis' West Brom on Thursday night. Do us a favour, Tony? (Unfortunately this didn't happen!)
However, Arsenal always finish in the top four, so we might be wise to turn our attentions to City. We're seven points behind them right now, with a game in hand. Win on Saturday, and that's down to four points.
Looking at the fixture lists, one huge reason for Liverpool to be hopeful is their run in. I've always been a firm believer that there are huge amounts of easy points to be picked up towards the end of the season, against teams that have nothing to play for. You'd rather play a mid-table team than one scrapping to avoid relegation.
See Wednesday night as a prime example. Everton have nothing to play for in the league, lose 4-0. Neither do Watford, who are beaten 3-1 to West Ham. And finally Crystal Palace, safe from relegation, go down 2-0 at Old Trafford.
Once Liverpool have played Newcastle, the remaining games are Swansea City, Watford, Chelsea and West Brom. None of these teams are battling relegation or chasing Europe, so there are points to be had.
Looking at the other run-in's, no team seems to have a really difficult set of fixtures. United seem to have the toughest, facing West Ham and Leicester City in their final four. In addition, they travel to relegation-threatened Norwich, before a fairly comfortable looking home game against Bournemouth on the final day. No reason to suggest we can't catch them.
It's City or Arsenal that Liverpool desperately need to start falling, and fast. After West Brom, the Gunners play both Sunderland and Norwich. Dropping points to either of them could let Liverpool in, based on the fact that Arsenal and Manchester City face each other on the penultimate weekend of the season. After that, Wenger's team are likely to beat Aston Villa at home on the last day.
City have a tricky run in too, but you'd expect them to beat Stoke City on Saturday. That's followed by a tricky trip to Southampton before the Arsenal game. The Citizens' league season ends away to Swansea City.
There are points there for those above Liverpool to drop. The way we're playing, you'd back us to capitalise on any weaknesses.
Of course, we're likely to prioritise the Europa League, with our chances of winning that competition probably higher than those of finishing in the top four.
However, as we saw in the win against Bournemouth, Klopp's got every player dancing to the same beat. Whoever is selected will go out and play a similar style, and help us win.
Yes, all of this is likely to mean nothing if we fail to beat Rafa's Toon Army on Saturday. It could mean nothing even if we take maximum points from our remaining games, but what's the harm in trying?
If it all goes to pot, then let's hope it's because we're nervously awaiting a final in Switzerland on May 21st.