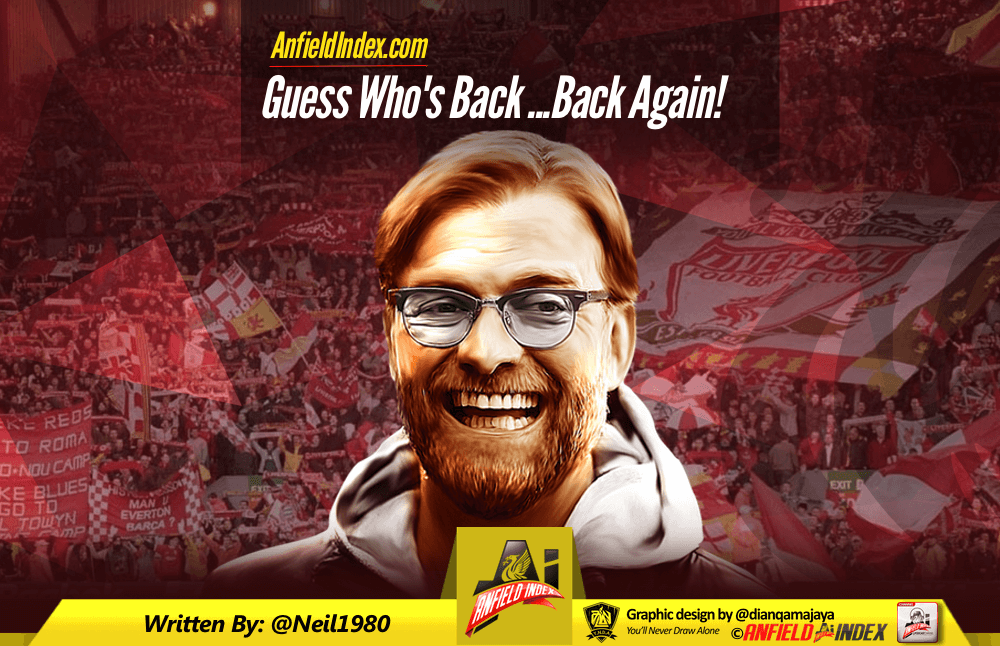 Guess Who's Back ...Back Again: Liverpool FC
No, the title isn't autobiographical; although admittedly, it has been quite a while since my last piece for Anfield Index. What am I on about then? Well, I think it's pretty obvious; I'm sure you'll agree, it's time to talk about the resurgence of Liverpool FC.
Days before the first leg of the Borussia Dortmund quarter final, I found myself quite perturbed, somewhat pissed off, and fairly bemused at what I was hearing, and reading, from some, on how the club had been doing since the arrival of Klopp at Anfield in October. Although not the most prevalent opinion, there was, most certainly, a note of disappointment from quite a few that expectations were not being met. Oh they of little faith!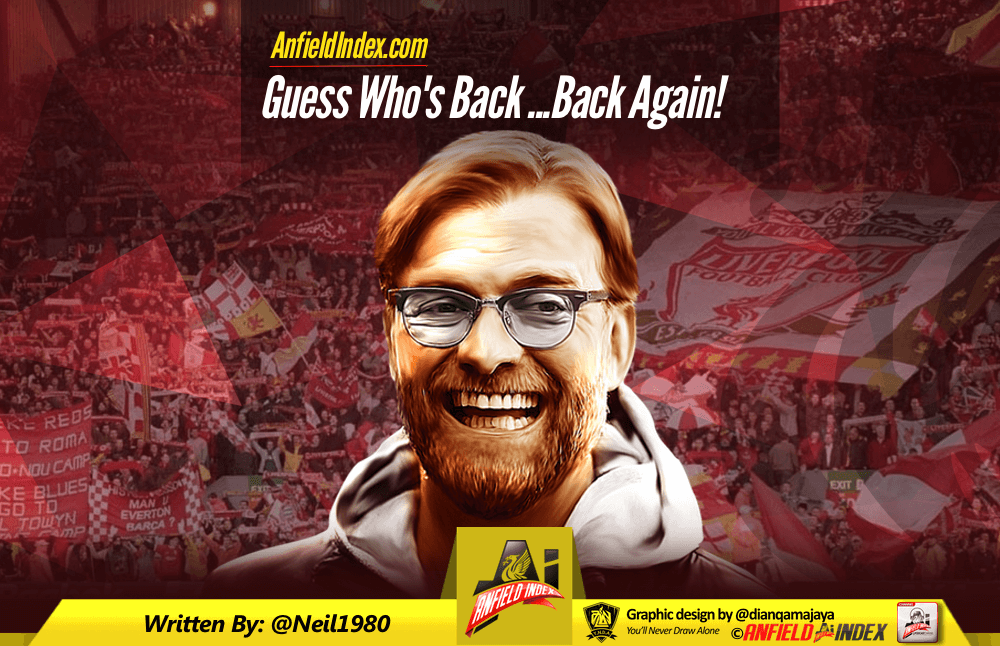 At that point Liverpool had lost just once in 90 minutes in their previous ten games, that being Martin Skrtel's implosive extravaganza at St. Mary's. Granted, we'd lost on penalties to City in the League Cup final, but hey we'd at least made a final for the first time in four long seasons!
Fast forward to the present day, and Klopp's Liverpool have still lost just the one game (inside 90 minutes) in the last fifteen – not too shabby eh!? Within this run, the Reds have now notched four straight victories in all competitions, and scored four goals in each of the last three home games, including against Borussia Dortmund and Everton.
The signs; evidence in fact, of the steady and gradual improvement under the new management team were there for all to see, and those who'd cared to look were certain in their outlook of an immensely exciting present bursting to unfold. Results were encouraging, as already alluded to, but they weren't the only symptom of advancement – the grit, the hard work, pressing and mentality shift also laid bare the labour going on behind the scenes, in shaping the Liverpool of the present and near future.
A fantastic performance in earning a point at the Westfalen Stadion (where no pundit, his dog, nor his pet 'Arry gave us a sniff), was followed up by a thumping of Stoke which saw Klopp and his team put Mark Hughes firmly back in his box …..OOOH III'M SSSOOORRRRYYYYY! It was, however, the following match -the Dortmund home leg of course – where the real fireworks exploded!
This was a pivotal moment; a red letter day; a watershed, this was the moment that Liverpool Football Club remembered, rediscovered and reclaimed it's identity as European heavyweight. A game which put LFC fans through the emotional torment that only our great club can. Two – nil down in ten minutes; three – one down after an hour, in need of three goals to get through, against one of Europe's top sides; no chance! But wait …….. we only bloody did it, again! An evening as incredible as Olympiakos, as unbelievable as St. Etienne, as unlikely and unforgettable as Istanbul, is now permanently etched into the history of the club, and, perhaps more importantly, fairly and squarely embedded in these players' minds.
Since then an away victory with a shadow side, at Bournemouth, has quickly been followed up by a ruthless demolition of a toothless Everton, in one of the most embarrassingly yet fabulously one sided Merseyside derbies you'll ever see. That victory, by the way, pretty much completed the set for the Reds and Jürgen Klopp in the manager's first half season in charge.
What do I mean by that? Well, let's see:
Ddomestic cup final – check
European semi-final – check
Batter City away – check
Thump Chelsea away – check
Dump Utd out of Europe – check
Smash Everton to bits – check
Dunno about you, but I'm pretty sure that list exceeds my expectations already, and the season's not over yet. Couple all this with the development of Origi; the reintegration of a strong, fit Sturridge, the improvement of Lovren and others, along with the general progress in terms of defensive shape, hard work and the cultivation of a never lie down, never say die, winning mentality and I think it's fair to say that LFC is only going one way.
To have achieved all of the above in roughly half a season, with the list of extenuating circumstances such as they've been and continue to be, is nigh on miraculous. I'm not sure whether you expected Klopp to come in and for us to win the league immediately (some of us did get a little carried away) or not; however, I think it's fair to say that the improvement has been stark and at this stage can't be argued with.
Who knows, perhaps those of us who hoped for an immediate title challenge were only a season off – and those who yearned for silverware pronto may yet have a European trophy to celebrate in the very near future. One thing, however, is certain: after six years in the footballing wilderness, Liverpool is back on the map and Klopp has put us there!